When the weather is hot and sticky, there is nothing quite like a cool and creamy dessert to cool you down. When I have dinner guests in the summer I like to serve them one of my favourite desserts, Iced Coffee Panna Cotta after the meal.
These light and delicious treats have just the right amount of 'pick me up' to keep the party going. If you're anything like me and can't get through the day without your coffee fix, then this is the dessert for you!
What's a Coffee Panna Cotta?
Panna Cotta (cooked cream) is simple dessert from Italy made from infused cream, sugar and gelatine. The cream is poured into forms or molds and served chilled.
The classic panna cotta recipe is simply flavoured with vanilla, but I like to add a little coffee to give them a real kick. These simple ingredients make a wonderfully elegant dessert.
The name of this Italian dessert is actually a little misleading, as the cream is really only warmed enough to dissolve the gelatine not cooked. It really only takes minutes to prepare with minimal time near a hot stove. Phew!
Make in advance
Speaking of preparation, my Coffee Panna Cotta recipe is brilliant in the warm weather, as you prepare it the day before you need it. This means there is nothing at all to do on the night but whip it out of the fridge and serve it up
Ingredients
To make Coffee Panna Cotta you'll need the following main ingredients:
Gelatine: I use sheets of gelatine as they are easier to dissolve, however the recipe will also work well with powdered gelatine.
Coffee: I use strong espresso from my coffee machine, though you could use instant espresso powder in a pinch.
Cream: The main ingredient! I use whipping cream with a minimum fat content of 30%. Heavy cream is also suitable for this recipe and yu can replace up to half with whole milk.
Sugar: for sweetness and structure.
Dark chocolate: To top the panna cotta with.
How to make Iced Coffee Panna Cotta
First, soften the gelatine in cold water, this is called 'blooming' the gelatine and it allows it to dissolve easily in the cream. While the gelatine is softening, heat the coffee and sugar together.
When the gelatine has softened, squeeze out the excess water, then stir it into the coffee mixture with just over half of the cream.
Divide the coffee and cream mixture evenly between 6 small coffee cups or tea cups, then whip the remaining cream with the powdered sugar until stiff. Dollop a big spoonful on each cup, then chill for at least 4 hours, until set. 
Before serving, use a vegetable peeler to shave dark chocolate curls over the top. If you fancy, serve with chocolate coated espresso beans.Yum!
Variations
While these panna cotta are fabulous just as they are, you could definitely give them even more oomph by adding a splash of liqueur to the cream. My Homemade Espresso Liqueur or my Homemade Irish Cream (Baileys!) are fantastic here.
What to serve with creamy panna cotta?
While some people like just the cool creaminess of the panna cotta, it's nice to serve panna cotta with some crumbly cookies or shortbread. The easy shortbread in my recipe for Rosé Vanilla Poached Apricots is ideal here. Otherwise some Biscotti/Cantucci or Amaretti would be great.
---
FREQUENTLY ASKED QUESTIONS
Can I make this recipe decaf? I can't drink coffee late at night.
Absolutely! Just use your favourite brand of decaf coffee.
I DON'T DRINK COFFEE AT ALL, BUT THESE LOOK TASTY! ANY SUGGESTIONS?
Sure! Heat 1-2 Tbsp of unsweetened cocoa powder with 250ml of water and use to replace the coffee. Chocolate flavors are great in panna cotta. Alternatively, you could try my recipe for Pink Champagne Panna Cotta.
I want to make these more than a day in advance, is that possible?
Yes! Make the panna cottas but don't put any whipped cream on top. Allow to set, then cover with clingfilm pressed directly onto the surface of the panna cotta. Top with whipped cream and grated chocolate just before serving.
I CAN'T GET SHEET GELATINE WHERE I LIVE, HOW MUCH POWDERED GELATINE SHOULD I USE?
For this recipe, you can use 2 tsp of powdered gelatine. Sprinkle the gelatine over 50ml (3 Tbsp) of cold water, allow to bloom for 5 minutes and then proceed as per the recipe.
Can I make this recipe with agar agar powder?
I'm still wrapping my head around agar agar! If you've tried it out, let me know how it goes!
---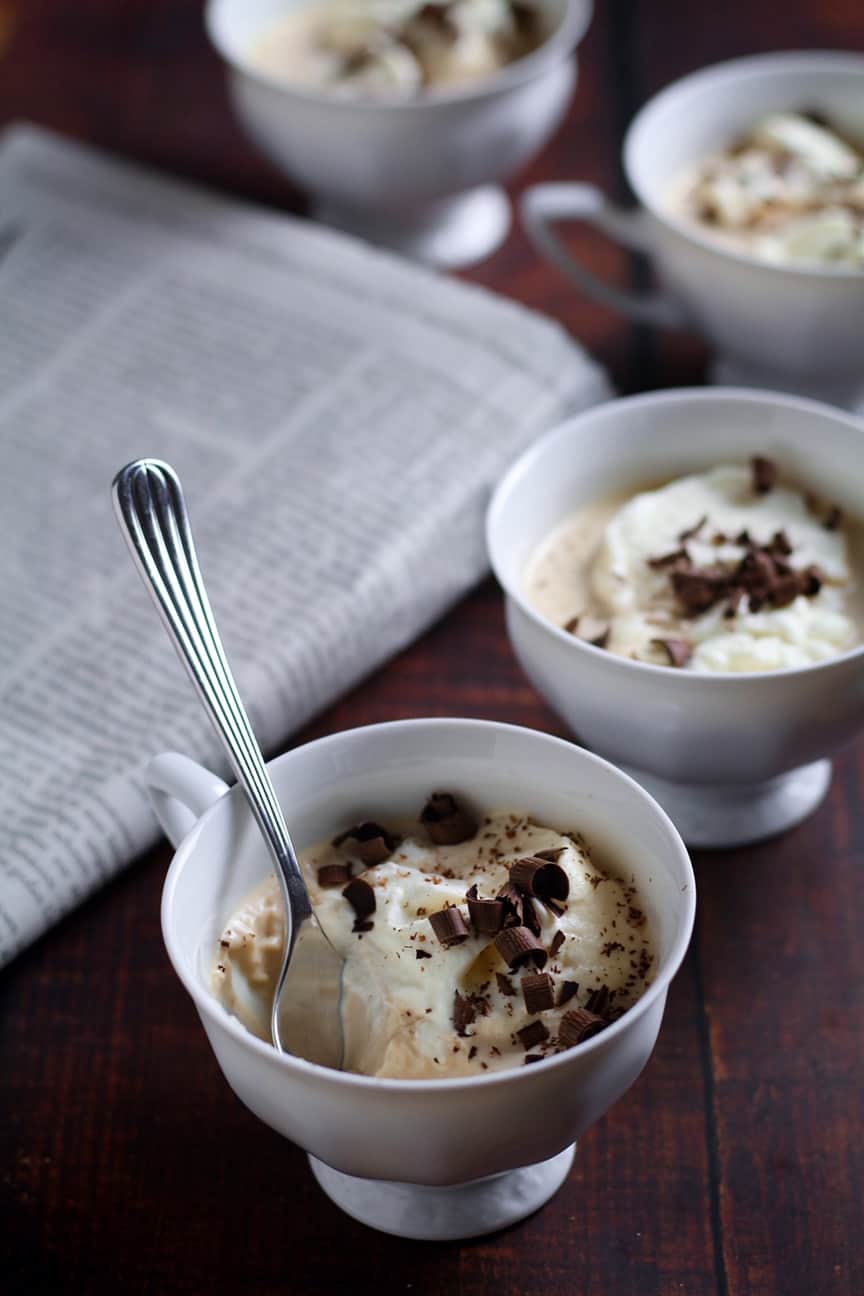 Iced Coffee Panna Cotta
Iced Coffee Panna Cotta
Total Time:
3 hours
10 minutes
The perfect way to round off a meal, these Panna Cotta were inspired by the Austrian Franziskaner coffee. Served with a big dollop of cream and a grating of chocolate, they are naughty but so good!
Ingredients
4 sheets 'gold strength' gelatine
250ml (1 cup) strong coffee
75g (6 Tbsp) sugar
400ml (13.5 oz.) whipping cream
25g (3 Tbsp) powdered sugar
25g (.75 oz.) dark chocolate
Instructions
SOFTEN GELATINE: Place the gelatine sheets in a small bowl of room temperature water and allow to soften for 5 minutes. Meanwhile, gently heat the coffee and sugar in a medium saucepan over a low heat, stirring until the sugar dissolves.
COMBINE LIQUIDS: R from the heat, squeeze the liquid out of the gelatine sheets, then stir them into the hot coffee mixture, one at a time. Stir in 250ml of the cream, then divide the mixture evenly between 6 coffee or teacups.
ADD WHIPPED CREAM; Whip the remaining cream and the powdered sugar until stiff. Spoon over the top of each panna cotta, then cover loosely with plastic wrap and chill until set. This takes 3-4 hours, depending on your fridge.
GARNISH AND SERVE: Before serving, grate over the dark chocolate. If you like, serve with a bowl of chocolate covered coffee beans on the side.
Notes
If you or your guests can't have caffeine, simply replace the coffee with decaf.
Nutrition Information:
Yield:

6
Serving Size:

1
Amount Per Serving:
Calories:

316
Total Fat:

26g
Saturated Fat:

16g
Trans Fat:

1g
Unsaturated Fat:

8g
Cholesterol:

76mg
Sodium:

20mg
Carbohydrates:

21g
Fiber:

0g
Sugar:

21g
Protein:

2g
Nutrition information is calculated automatically and isn't always accurate.
If you enjoyed this recipe, please leave a star rating in the recipe card and share it using the buttons below so that others can find it too!