The big chill outside continues, so I suppose we have to accept that winter, real winter is finally here. I'm banishing any winter blues by keeping busy baking, and today I've been cooking that most famous of Italian biscuits: Cantucci – in this case deliciously crunchy Almond and Apricot Cantucci.
Now, like the vast majority of English speakers, I grew up calling these crunchy treats 'biscotti', but biscotti simply means cookies or biscuits in Italian, of which there are loads of different types. The type that we are all familiar with from cafés and restaurants is known around these parts as cantucci, or cantuccini if they are particularly small. Whatever you call them, they are very tasty!
Stored in an airtight container, cantucci keep for ages, which makes them perfect for Christmas gifts, especially with a bottle of Italian dessert wine or vin santo! I've made them here with almonds and apricots as I love the flavour combination, though you could make them simply with almonds or other nuts, or add other dried fruit of your choice.
While cantucci are delicious just as they are, it is the season of excess, so if you fancy you can dip one end of each biscuit in melted chocolate – the purists will say this is entirely un-Italian, but neither is spaghetti and meatballs and we all eat that too. As far as I am concerned, it's been a hell of a year and we deserve to dip in chocolate if we want!
Are you getting stuck into your Christmas baking? Which are your favourite Christmas treats? Let me know in the comments below! xJ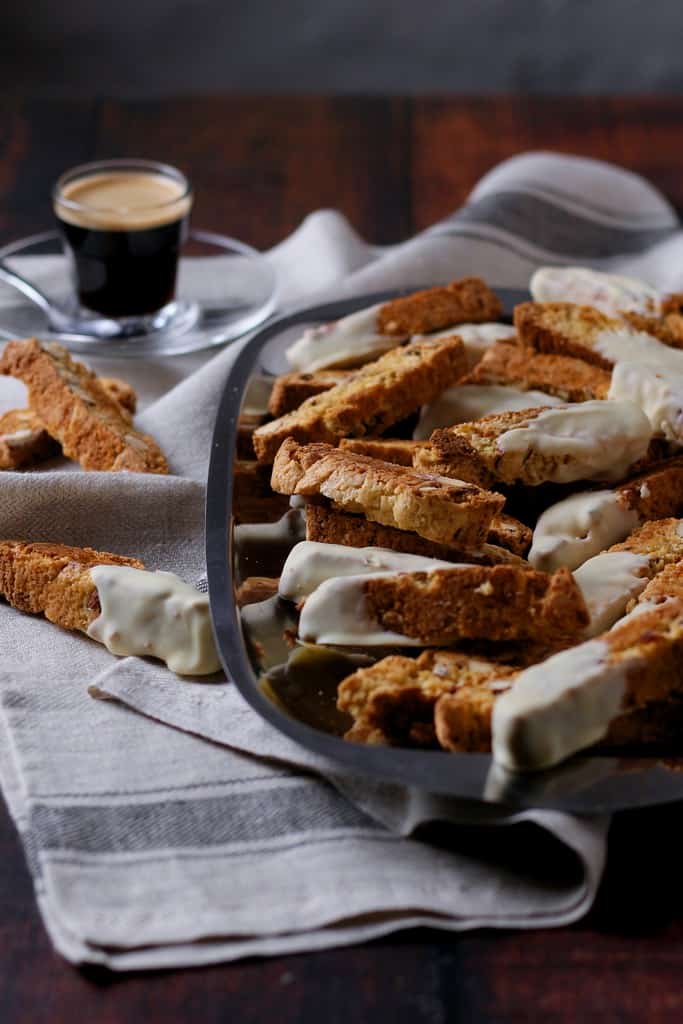 ---
Let me know if you try this recipe in the comments below, or using the hashtag #daysofjay on Instagram. Happy cooking!
---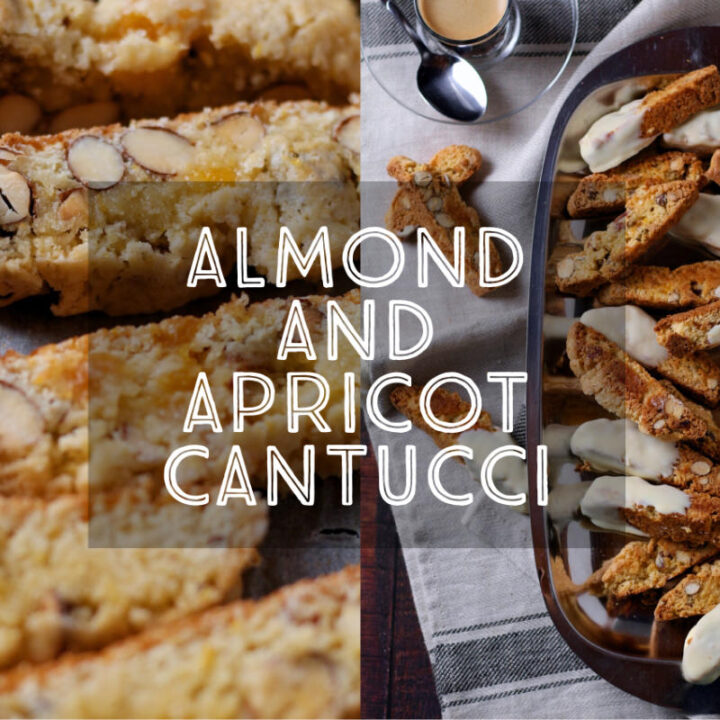 Almond and Apricot Cantucci
Yield:
Approx 35 cantucci
Often known in the English speaking world as 'biscotti', Cantucci are a deliciously crunchy Italian treat. My recipe for Almond and Apricot Cantuccini is so easy and perfect for the festive season. Serve with a strong espresso or a glass of Italian vin santo.
Ingredients
150g almonds
250g plain flour
175g sugar
1 tsp baking powder
zest of one orange
2 large eggs, beaten
25g butter, melted
1 tsp vanilla or almond extract
50g dried apricots, chopped
optional:
150g white or dark chocolate
Instructions
Heat the oven to 200°C / 400° F / Gas 6 and line an oven tray with baking paper. Spread the almonds evenly over the tray, then roast for 7 minutes, before removing from the oven and setting aside to cool. Reduce oven heat to 180°C / 350°F / Gas 4.

In a mixing bowl, whisk together flour, sugar, baking powder and orange zest. Stir in the eggs, butter and vanilla or almond extract, until the mixture is soft and crumbly.

Roughly chop the roasted almonds and add to the mixture along with the apricots. Use your hands to knead the mixture to a soft dough.

Divide the dough in half, then using slightly wet hands, shape into two even logs (30cm x 5cm) on the baking paper lined tray.

Bake in the preheated oven for 20 minutes until lightly golden, then remove from the oven and allow to cool for 5-10 minutes. Using a sharp or serrated knife, cut each log into 1.5cm slices, then return to the tray laying the cantucci flat - depending on the size of your oven, you may need two trays. Bake for an additional 10-12 minutes until golden brown and dry, then remove from the oven.

Transfer to a rack and allow to cool completely. If you like, chop the chocolate and melt 75g in a heatproof bowl set over a pot of simmering water. Remove from the heat and stir through the remaining chocolate until melted. Dip one end of the cantucci in melted chocolate then place on a tray lined with baking paper to set.

Cantucci will keep for weeks stored in an airtight jar. Serve with coffee or Italian dessert wine (Vin Santo)
Nutrition Information:
Yield:

35
Serving Size:

1
Amount Per Serving:
Calories:

110
Total Fat:

5g
Saturated Fat:

1 cantuccig
Trans Fat:

0g
Unsaturated Fat:

3g
Cholesterol:

13mg
Sodium:

45mg
Carbohydrates:

15g
Fiber:

1g
Sugar:

8g
Protein:

2g
Nutrition information is calculated automatically and isn't always accurate.
---
FREQUENTLY ASKED QUESTIONS
Can I make Apricot and Almond Cantucci / biscotti in advance?
Yes! They keep for weeks in an airtight container, so go right ahead.

I have a nut allergy! Can I still make cantucci?
Absolutely! Just leave the nuts out. If you like, replace them with seeds for added crunch.

What is Vin Santo?
Vin Santo is a famous Italian dessert wine. It can be quite expensive to buy outside of Italy, but the good news is that cantucci taste great with any decent dessert wine or even espresso, so if you can't get vin santo, pair them with a glass of local wine.
---
Traditional cantucci are made simply with almonds, but there is no reason you can't add other flavours. Cranberries and pistachios give them a beautiful festive touch.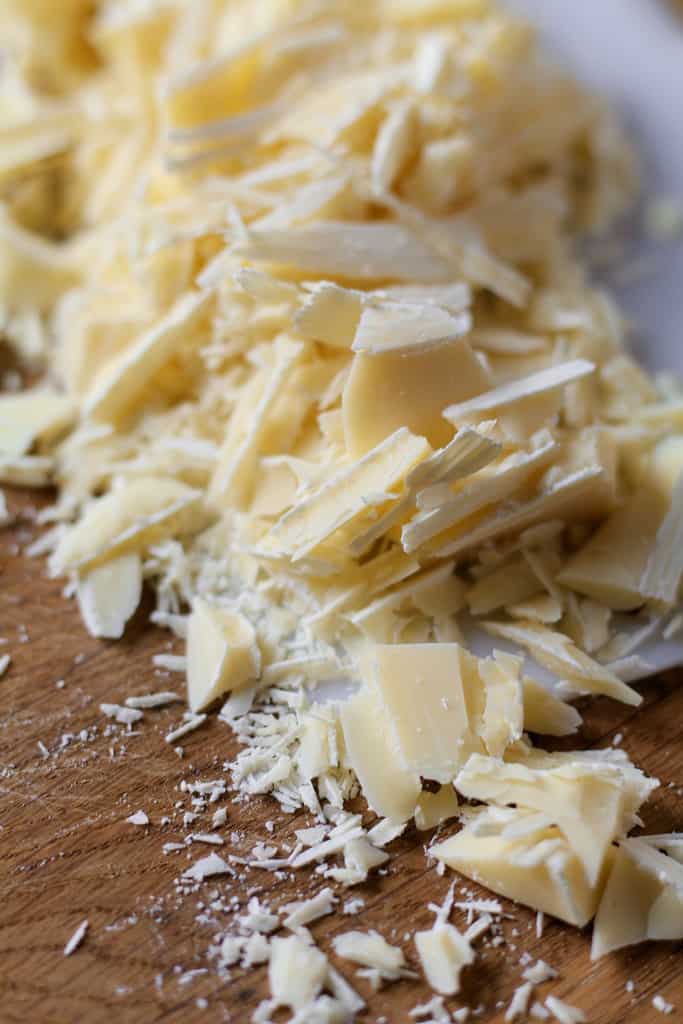 Almond and Apricot Cantucci
---