My favourite German Christmas cookies are too good to save just for December! I love baking these buttery, chocolatey, melt-in-the-mouth Chocolate Pinwheel Cookies all year round.
Classic German Christmas cookies
You better believe it. I've said it before and I'll say it again: Christmas Cookies are serious business here in Germany. It's typical here to bake several different cookie varieties, and this is the one that I think is the most beautiful, Pinwheel Cookies.
What are Pinwheel Cookies?
Here in Germany, this type of cookie is actually known as Schwarz-Weiß Gebäck or Black and White Cookies. Usually made in spirals or chequerboard squares, these buttery and crumbly cookies are melt in the mouth good.
Are Pinwheel Cookies hard to make?
Aha, tricky question. Yes and no. All pastry requires a little patience and attention to detail, however the only secret to making perfect Pinwheel or Black and White Cookies is to have a little patience.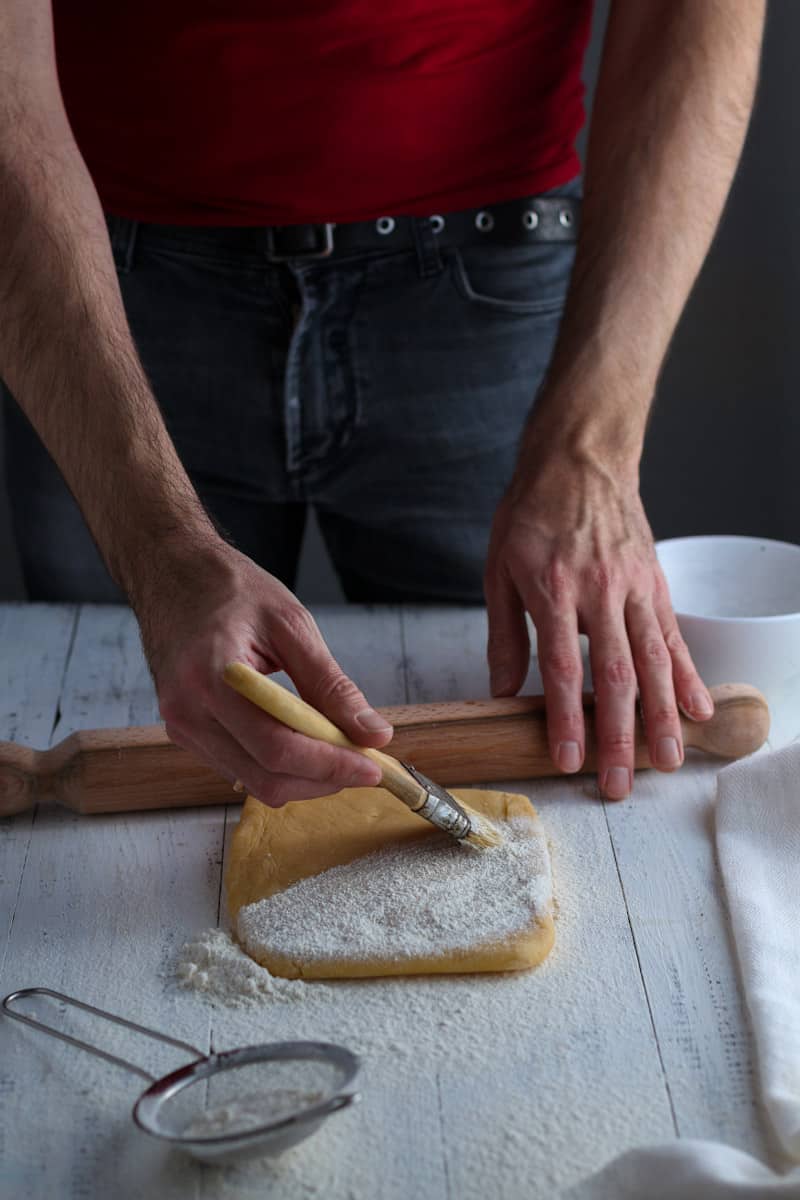 Make this recipe in stages.
The great thing with cookies or pastry making is that you can break up the process to make life a bit easier on yourself.
I often make up the dough in the evening and then roll and shape the cookies in the morning when I am feeling fresh.
I've also put lots of photos in this recipe so you can see how to get the best results.
---
FREQUENTLY ASKED QUESTIONS
The pattern on my Chocolate Pinwheel cookies was squashed or misshapen. What happened?
It's vitally important to keep this cookie dough cold so that you get crisp lines and patterns. Ensure that the dough has completely chilled before cutting for the best results.
Can I freeze Chocolate Pinwheel Cookie dough?
Yes, absolutely! Cookie dough always freezes well.
Can I make these Pinwheel cookies with butter substitutes?
Baking is a science and when you change ingredients you will have a different result. I always use butter in my baking, but if you try a butter substitute let me know the results in the comments below!
Do I have to use vanilla sugar in these cookies?
I use vanilla sugar in these cookies as I don't want to add any more liquid to the dough than necessary. This helps to prevent spreading. If you want to use vanilla extract add a teaspoon or two more flour to the dough to balance out the liquid.
What cocoa should i use to make the chocolate swirls dark?
I use European style unsweetened cocoa powder (actually the only type available here in Germany) which is sold in the US as 'Dutch Processed' or alkalized cocoa. It's very dark which gives the cookies their colour. You can use 'non-Dutched' cocoa powder but the colour will be lighter.
---
Even More German Christmas Cookie recipes!
If you're keen on trying more delicious German Christmas cookie recipes, why not give Spitzbuben, Speculaas, Zimtsterne or Vanillekipferl a go? (Try saying that ten times fast!)
Or try a seriously tasty Chocolate Hazelnut Babka instead!
Chocolate Pinwheel Cookies
Resting Time:
1 hour
45 minutes
Total Time:
2 hours
19 minutes
With perfect spirals of chocolate and vanilla, my melt-in-the-mouth Chocolate Pinwheel Cookies are as good to look at as they are to eat. Made from crumbly, buttery shortbread they make a perfect and beautiful Christmas gift, though they are delicious any time of year!
Ingredients
for the dough:
300g plain flour
250g cold unsalted butter, cubed
125g powdered / icing sugar
20g vanilla sugar
pinch of salt
1 medium egg (ca 60g in the shell), beaten
additionally:
2 Tbsp plain flour
2 Tbsp unsweetened (Dutch Processed) cocoa powder (see notes)
Instructions
COMBINE FLOUR AND BUTTER: Place the flour and butter in the bowl of a food processor with the blade attachment fitted. Run the food processor until the mixture resembles fine bread crumbs.
MAKE THE DOUGH: Pour the flour and butter into the bowl of a stand mixer with the paddle attachment fitted. Add the powdered sugar, vanilla sugar and salt and mix to combine. Add the beaten egg and mix until the mixture begins to clump together.
FLAVOUR THE DOUGH: Divide the dough into two bowls - at this point, it should still be fairly loose and pebbly. Add two tablespoons of cocoa to one bowl and two tablespoons of flour to the other. Knead each dough briefly, just enough to bring it together. Pat each dough into a flat rectangle, wrap in clingfilm and chill for 45 minutes.
ROLL OUT THE DOUGH: Starting with the vanilla dough, roll it out on a lightly floured surface to a rectangle ½ a centimetre thick. Set aside and repeat with the chocolate dough.
TRIM THE DOUGH: Place the vanilla dough rectangle on top of the chocolate dough, turn so that one of the long sides is facing toward you and trim the edges. For a tidy finish, trim the vanilla dough ½ centimetre shorter on the long side furthest away from you. Squeeze together any dough cutoffs and re-roll and cut as desired.
SHAPE THE COOKIES: Fold back the top dough and brush lightly with water, pressing down gently to seal. Brush the top dough with water, then starting with the long edge closest to you, roll the dough gently, but tightly into a log, brushing the edge with water and pressing gently to seal. Transfer to the fridge and chill for 1 hour.
SLICE AND BAKE THE COOKIES: When the dough has chilled, heat the oven to 180°C / 350°F / Gas 4 and line an oven tray with baking paper. Use a sharp knife to cut the dough into 1cm rounds. Arrange the cookies on the oven tray allowing a little room to spread, then bake in the preheated oven for 12-14 minutes until lightly browned. Allow to cool on the tray for 5 minutes before transferring to a rack to cool completely.
Notes
A NOTE ABOUT COCOA POWDER:
I use European style unsweetened cocoa powder in this recipe (actually the only type available here in Germany) which I is sold in the US as 'Dutch Processed' or alkalized cocoa. It's very dark compared to natural cocoa and this is what gives the cookies their colour. 

Dutched or alkalized cocoa will usually have 'Potassium Carbonate' listed as an ingredient - this is used to raise the level of alkaline in the cocoa and gives it the distinctive dark colour and softer texture.
Recommended Products
As an Amazon Associate and member of other affiliate programs, I earn from qualifying purchases.
Nutrition Information:
Yield:

30
Serving Size:

1 cookie
Amount Per Serving:
Calories:

120
Total Fat:

7g
Saturated Fat:

4g
Trans Fat:

0g
Unsaturated Fat:

2g
Cholesterol:

23mg
Sodium:

8mg
Carbohydrates:

13g
Fiber:

0g
Sugar:

5g
Protein:

1g
Nutrition information is calculated automatically and isn't always accurate.
If you enjoyed this recipe, please leave a star rating in the recipe card and share it using the buttons below so that others can find it too!