Christmas baking in Germany is unlike anything I've ever experienced. I grew up in the land of Christmas puddings and pavlova, quite frankly, store bought more often than not, delicious, but nothing on the level of care and dedication Germans put into their utterly delightful Christmas biscuits or Plätzchen – my absolute favourite of which is the Zimtstern or Cinnamon Star.
All of the Plätzchen are a little fiddly to make, delicate morsels that dissolve in a moment on the tongue, but Zimtsterne have a reputation as being one of the trickier ones. Good news then, that as I love them so much I have spent years perfecting a technique to make them as easy (and delicious!) as possible.
I have a theory that the art of Plätzchen baking is deliberately a little time consuming, a pre-TV and internet way of filling the colder, darker days before Christmas. There are hundreds of different types of biscuits, from all the regions of Germany and, of course, no mention of Plätzchen should go without a shout-out to my mother-in-law Monika and Aunt Peggi who are absolute artists when it comes to Christmas baking. Opening a tin full of little jewel-like biscuits from the family is truly one of the great pleasures of the season.
With this recipe, I've tried to minimise the hands-on time, but the effort is truly worth it when you bite through the shatteringly crisp royal icing into the soft, spiced biscuits underneath. Delicious! Happy Baking, xJ.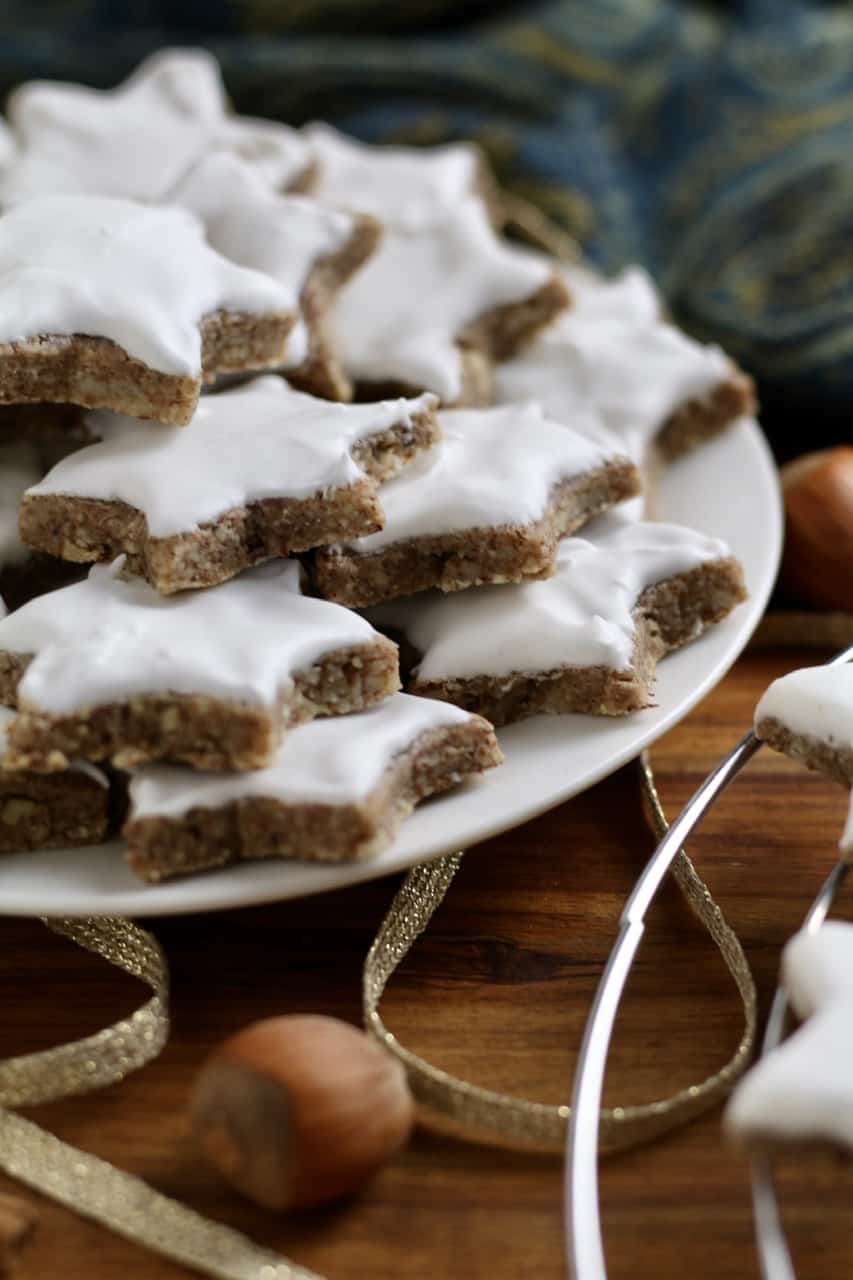 ---
Let me know if you try this recipe in the comments below, or using the hashtag #daysofjay on Instagram. Happy cooking!
---
---
Zimtsterne / Cinnamon Stars
Total Time:
1 hour
50 minutes
The ultimate German Christmas cookie, Zimtsterne should be in every Christmas bakers arsenal. I've worked out a fantastic recipe so you can make them easily at home.
Ingredients
for the dough:
400 g ground hazelnuts, see note 1
200 g marzipan
2 egg whites
75 g icing sugar
2 tsp cinnamon
1 tsp lemon juice
for the frosting:
1 large egg white
½ tsp lemon juice
175 g icing sugar, sifted
Instructions
Place 300g of the hazelnuts in a mixing bowl with all the other dough ingredients and use your hands or a wooden spoon to knead to a smooth dough. It will be a little sticky to start with but should get less as you go along. If necessary add up to 50g more hazelnuts so that you can handle the dough. When the dough is smooth and pliable after 3-4 minutes, flatten into a disk, wrap In cling film and place in the fridge for 1 hour.
After an hour, remove the dough from the fridge and roll out to 1 cm thickness on either a bench top sprinkled with ground nuts, or easier in a large freezer bag with the long sides cut open. Return to the fridge (or freezer if your freezer is big enough!) while you prepare the frosting.
Heat the oven to 120°C / 250°F / Gas 1/2 and line two oven trays with baking paper. In a clean bowl using an electric beater, beat the egg white and lemon juice until light and fluffy. Add the icing sugar 1 tablespoon at a time until it is completely incorporated. Continue beating for 4-5 minutes until the mixture is thick and glossy.
Here you have a choice:
Option 1: Either remove the dough from the fridge or freezer, cut as many stars as possible with an approx 4cm star shaped cutter, placing them on the prepared trays, then re-rolling the dough to cut out as many as possible, adding some of the reserved ground nuts as necessary. Use a spoon or small palette knife to spread a thick layer of the frosting on the top of the biscuits, then bake, one tray at a time on the bottom shelf of the oven for 20 minutes. Allow to cool on the tray for 5 minutes before transferring to a rack to cool completely. Store in a metal biscuit tin (not an airtight container!) for up to 4 weeks.
Option 2: If you fancy a really professional finish on your Zimtsterne and have a large freezer space, remove the dough from the fridge, spread thickly with the frosting, smooth the surface then place in the freezer for two hours. Remove from the freezer and use a star shaped cutter to cut out as many stars as possible, placing on the baking trays as you go. I find it easier to push the stars through the cutter from the bottom, however the dough and frosting should be firm enough to handle easily from their time in the freezer.
Any remaining of cuts can either be cut into small pieces and baked as is, but I like to re-roll it with the reserved ground nuts and repeat the process. Bake the biscuits one tray at a time on the bottom shelf of the oven for 25 minutes, allow to cool on the tray for 5 minutes then transfer to a rack to cool completely before storing.
Notes
Note 1: if you can't get ground hazelnuts use ground whole almonds instead. Make sure to use whole ground almonds as they will give the biscuits the correct texture.
Note 2: You may have some ground nuts left over, store them in an airtight container in the freezer until you need them again.
Nutrition Information:
Yield:

40
Serving Size:

1 biscuit
Amount Per Serving:
Calories:

112
Total Fat:

7g
Saturated Fat:

1g
Trans Fat:

0g
Unsaturated Fat:

6g
Cholesterol:

5mg
Sodium:

5mg
Carbohydrates:

12g
Fiber:

1g
Sugar:

10g
Protein:

2g
Nutrition information is calculated automatically and isn't always accurate.
---
FREQUENTLY ASKED QUESTIONS
The Zimtsterne dough is really sticky! What can I do?
Remember, if the dough is too sticky to work with, add more ground nuts and keep it chilled!

How do I store Zimtsterne?
Always store German Christmas biscuits in a biscuit tin, if you find they get hard after some weeks, place a piece of sliced apple in the tin, they will soften again.

Can I use other nuts to make Zimtsterne?
Yes! almonds or walnuts will work as well.
---
---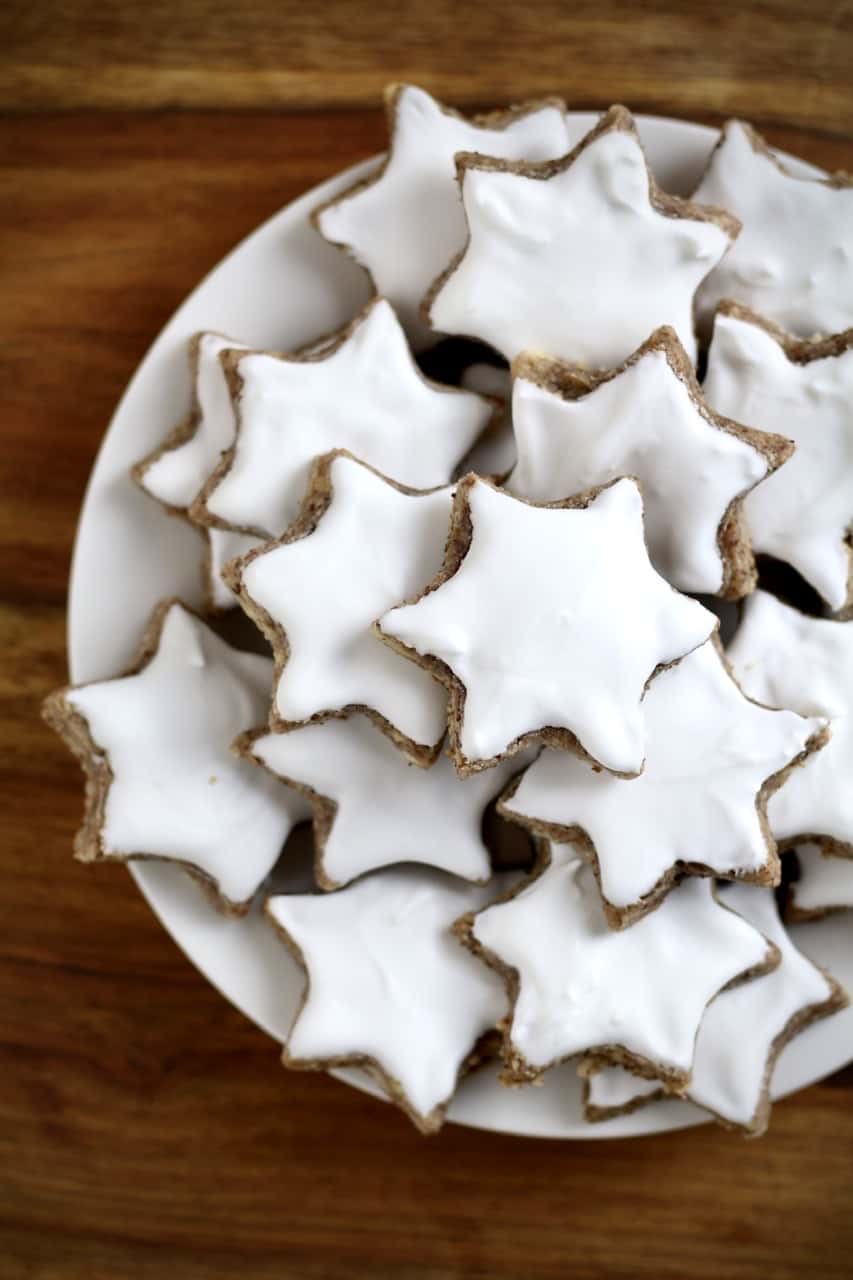 ⭐️ZIMTSTERNE / CINNAMON STARS ⭐️