Christmas baking is in full swing here in Munich, filling the kitchen with the scents and flavours of what the Germans call the Weihnachtsbäckerei – the Christmas bakery. While my mother in law and aunt make many different types of Christmas biscuits or cookies, I stick to just a few of my absolute favourites and today I am making Vanillekipferl or Vanilla Moons.
OK, so the name translates as Vanilla Crescents, but where is the romance in that? I always think that Zimtsterne (Cinnamon Stars) and Vanillekipferl (Vanilla Moons) sound like the sort of thing that would be served in a fairytale, so you'll have to allow me my fantasy here.
Vanillekipferl are possibly the most beloved of all the Christmas biscuits or plätzchen. Deceptively simple, they are made from an almond shortbread, scented with vanilla and the very best ones melt in your mouth. These are seriously dangerous cookies as they slip down so easily they can be gone in an afternoon without you even noticing – don't say I didn't warn you!
The trick with this sort of baking is to keep the pastry as cold as possible before it goes in the oven. If the pastry is too warm it tends to spread and lose its shape, so if you are reading this recipe from Down Under, make sure you have the air conditioning cranked up high to get the kitchen nice and cool before you even consider these, trust me, I am talking from experience!
In case you missed them, why not try my other favourite German Christmas biscuit? Zimtsterne (Cinnamon Stars) are deliciously spiced and make a beautiful Christmas gift.
How's your Christmas baking going? Let me know in the comments below! xJ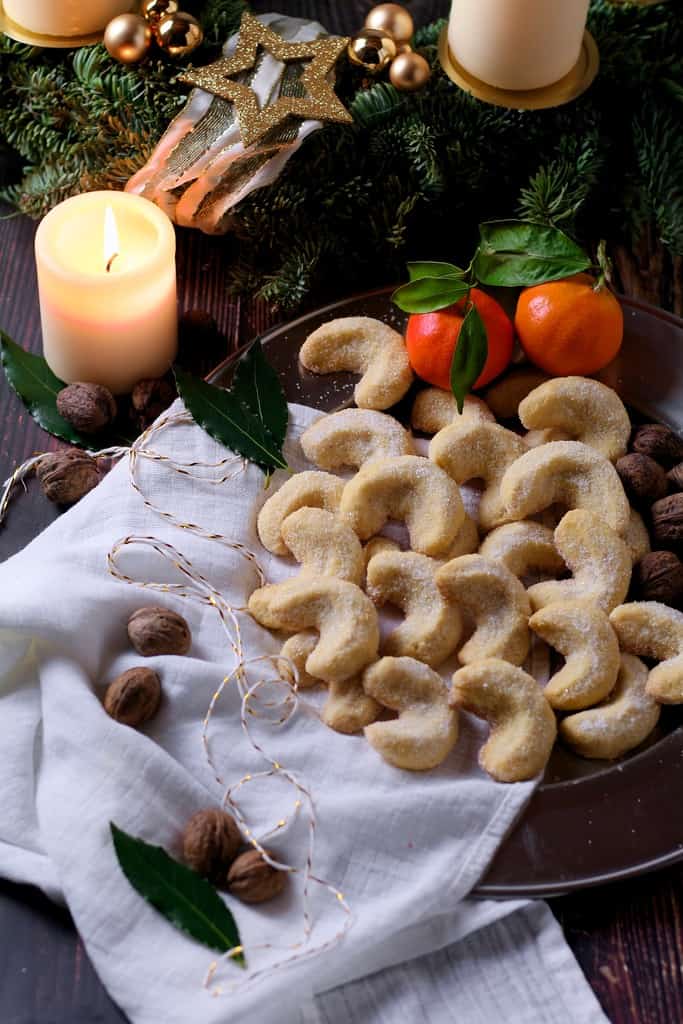 ---
Let me know if you try this recipe in the comments below, or using the hashtag #daysofjay on Instagram. Happy cooking!
---
Vanillekipferl - Vanilla Moons
Chilling Time:
30 minutes
Christmas wouldn't be Christmas in Germany without the wonderful tradition of 'Plätzchen' - tins of mixed, homemade biscuits. Possibly the most beloved of all are Vanillekipferl, crumbly, buttery crescents or moons.
Ingredients
125g plain flour
100g ground almonds
75g sugar
1 tsp vanilla sugar
1 egg yolk
100g unsalted butter, softened
to decorate:
3 Tbsp sugar
3 teaspoons vanilla sugar
Instructions
In the bowl of a stand mixer, combine the flour, almonds, both sugars, egg yolk and butter. Run the mixer until the mixture forms pebbly crumbs. Using your hands, squeeze the mixture together, kneading briefly to form a smooth dough.

On a lightly floured surface, roll out into a long sausage shape, wrap in clingfilm and refrigerate for half an hour.

Heat the oven to 180°C / 350°F / Gas 4 and line an oven tray with baking paper.

Cut the roll into thin slices (approx. 1cm), cut each slice in half so you have two half circles. Use your fingers to squeeze and curve each piece into crescents. It is best here to make an exaggerated 'U' or horseshoe shape as the biscuits puff up in the oven.

Transfer to the baking tray, leaving space between each biscuit and bake for 12 minutes until just very slightly brown on the tips.

While the biscuits are in the oven, whisk together the sugar and vanilla sugar. Immediately after you take the biscuits out of the oven, sprinkle generously with the vanilla sugar.
Pour the remaining vanilla sugar onto a plate, and when the Vanillekipferl have cooled for 2-3 minutes toss them very carefully through the vanilla sugar mixture to cover. Set aside to cool completely on a wire rack.

Store in an airtight container for up to 2 weeks.
Notes
Some people prefer to cover their Vanillekipferl with icing / powdered sugar - I like the crunch of ordinary sugar crystals! If you'd prefer powdered sugar just use it instead of the plain sugar.
Nutrition Information:
Yield:

30
Amount Per Serving:
Calories:

78
Total Fat:

5g
Saturated Fat:

2g
Trans Fat:

0g
Unsaturated Fat:

3g
Cholesterol:

13mg
Sodium:

17mg
Carbohydrates:

8g
Fiber:

0g
Sugar:

4g
Protein:

1g
Nutrition information is calculated automatically and isn't always accurate.
---
FREQUENTLY ASKED QUESTIONS
I have a nut allergy! Can I make vanillekipferl without them?
You can leave them out, though the texture will be different. I'd suggest replacing the nuts with 50g plain flour and 50g cornflour or cornstarch for the best crumbly texture.

Can I make Vanillekipferl in advance?
Yes! Christmas biscuits are always made well in advance of the big day. Keep them in metal biscuit tins for the best results.

Help, my Vanillekipferl spread out too much! What went wrong?
You have to make sure the dough is very cold before it goes in the oven. Next time try refrigerating the formed kipferl for 15 minutes before you bake them.
---
It's important to keep the dough as cold as possible while you work. If you think the dough is getting too warm, put it in the fridge for 15 minutes to firm up.
Vanillekipferl – Vanilla Moons
---