Pavlova will always be a Christmas dessert for me, the perfect sweet treat even when you are groaningly full of ham, turkey and all the other delights of the Christmas table.
The trouble is, of course, that Christmas in New Zealand and Australia is high summer, when strawberries and other berries are at their peak. Now that I live in the Northern Hemisphere, I bake my berry pavlova in July and August instead when I can get the most fresh and delicious berries to top it with (without spending a fortune!)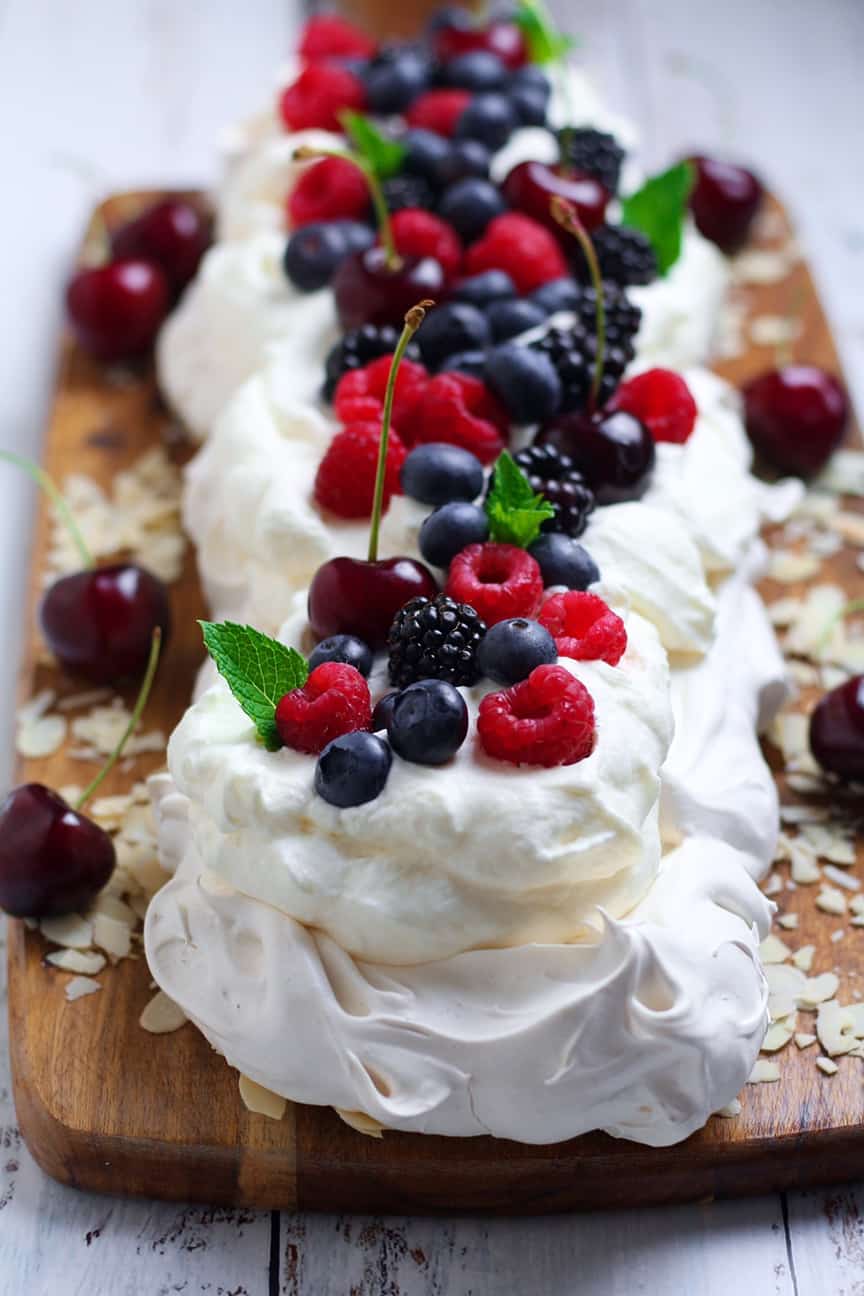 The perfect Party Pavlova
Today's recipe for Summer Berry Pavlova Slice is a pav with a difference. While a towering pavlova is a showstopper at the Christmas table, they can be tricky to transport and are sure to collapse into a pile of cream and berries as soon as they are sliced.
When I am bringing a pavlova to a party or a picnic I want something a bit sturdier that can be transported and served easily. A long, sliceable pavlova is perfect for parties as it divides up neatly into individual slices.
The secret is in the meringue!
A meringue is a meringue, right? Well, actually there are 3 different types of meringue. French, Swiss and Italian.
Pavlova is normally made using the French technique, which means beating sugar into cold egg whites until the sugar dissolves. This is the simplest, but least stable of meringues.
My trick is to make a Swiss meringue as the pavlova base. Now before you get worried that I'm being too technical, I promise this is an easy technique and it makes a perfect pavlova.
Rather than beating the dry sugar into the egg whites (a thankless task as it never dissolves properly), the egg whites are heated gently to dissolve the sugar. This, in turn, creates a much more stable meringue.
Nice to slice
I also like to make my pavlova as a long slice rather than the traditional round. This might be the perfectionist in me, but it means everyone gets an even amount of meringue, cream and berries.
My friend Kevin (a.k.a the Pavlova Whisperer) taught me another brilliant trick: scattering almonds under the pavlova when baking will stop the pav from sticking to the paper and give it a delicious crunch. Give it a go, it's so good!
Was the Pavlova invented in New Zealand or Australia?
As many of you know, my heart belongs to both New Zealand and Australia, so I won't enter the great Pavlova Debate here, but I will say that the baking this famous antipodean creation is nearly as hotly contested as a sporting event. Every family has a technique or secret method for the perfect pav.
---
FREQUENTLY ASKED QUESTIONS
How far in advance can I make pavlova?
Pavlova can be made up to 3 days in advance. Bake the meringue and allow to cool, then store in an airtight container in a cool, dry place.
Once decorated with cream and fruit, pavlova should be kept in the fridge and is best eaten within 24 hours. Though I find this more stable version lasts 2-3 days lightly covered in cling film.
DO I HAVE TO USE A STAND MIXER TO MAKE PAVLOVA?
No, though it will make your life easier. I find that most hand mixers do not have enough power to sufficiently whip the stiff meringue, though it does work. I have once made pavlova with a hand whisk, it is possible but a lot of hard work!
What can I do with my leftover egg yolks?
---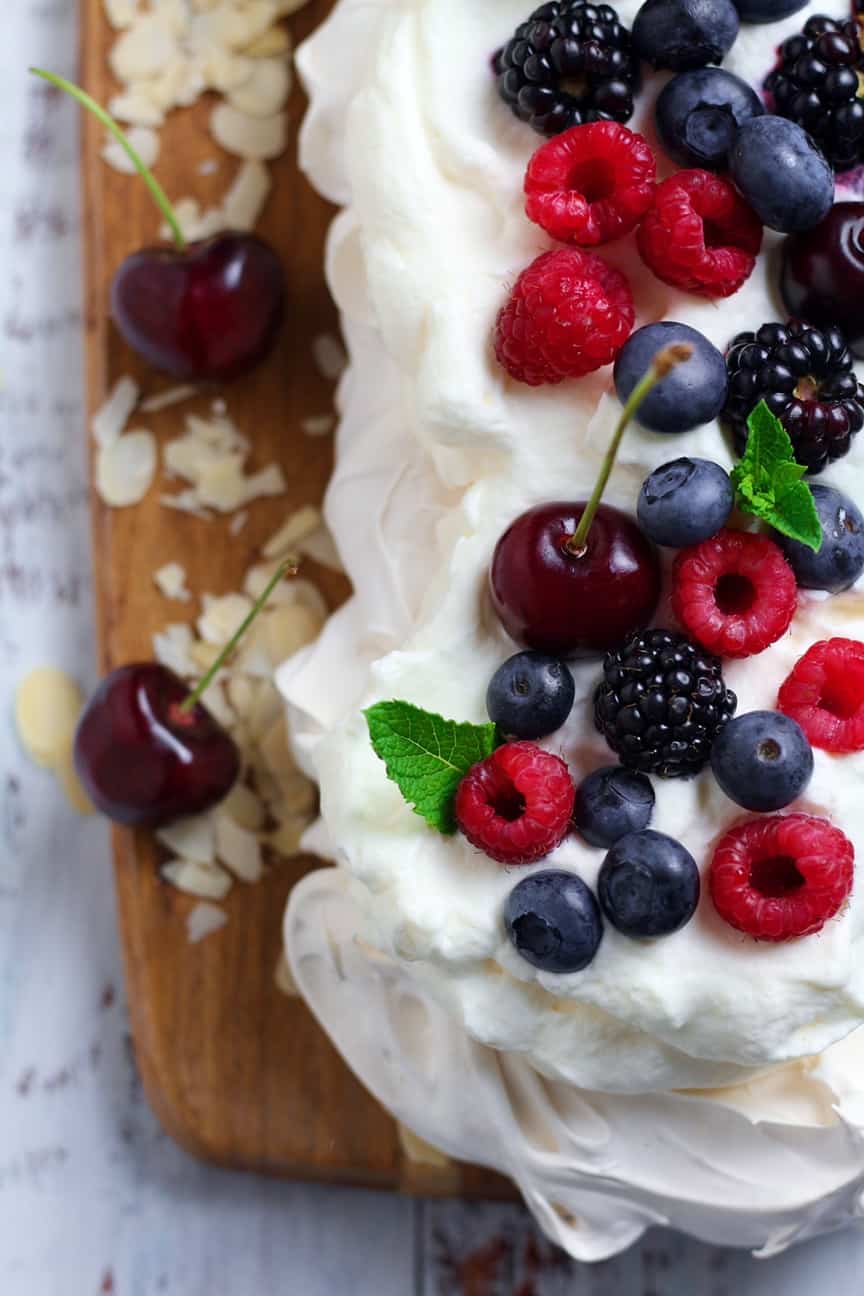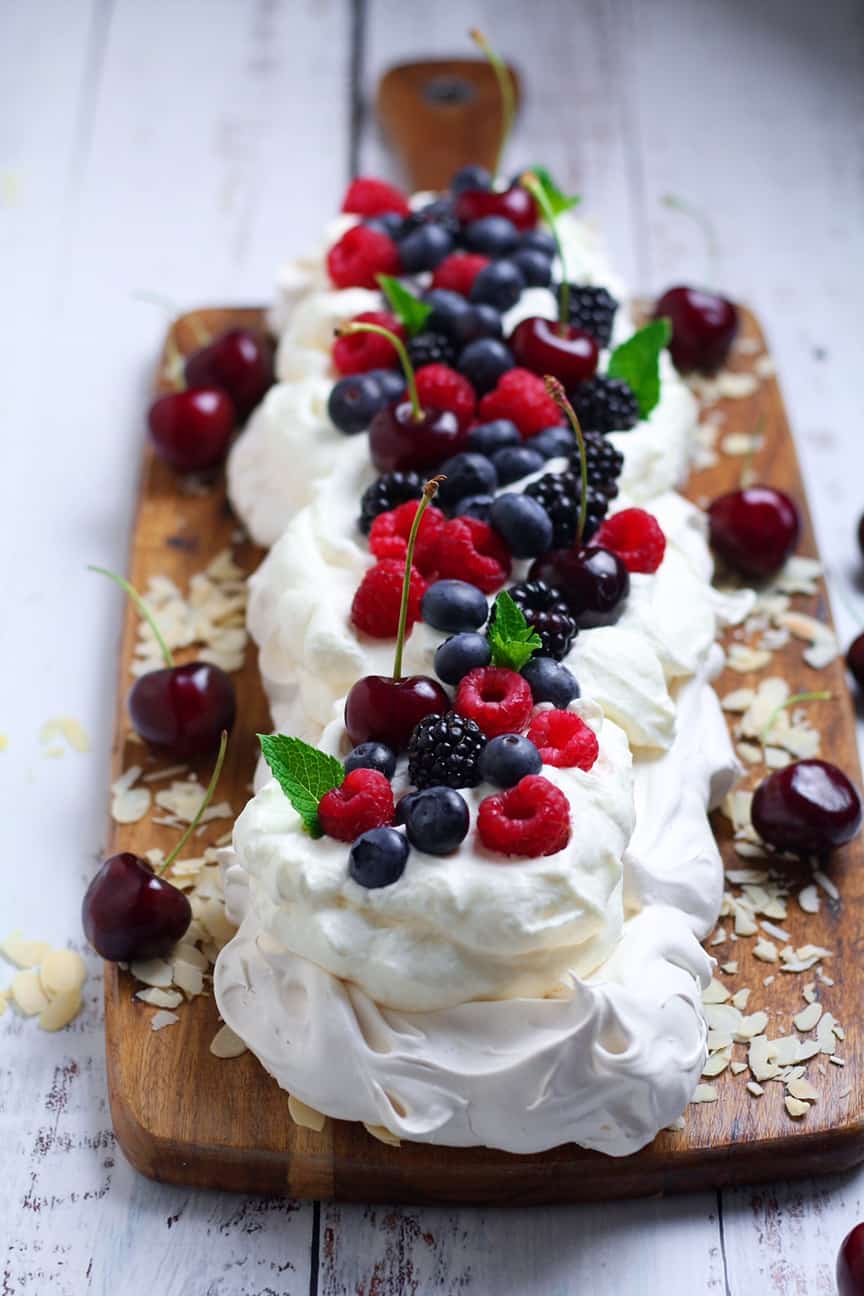 BERRY PAVLOVA SLICE
Berry Pavlova Slice
Total Time:
3 hours
30 minutes
My Berry Pavlova slice is a totally delicious combination of light and airy meringue, piled high with juicy berries. The perfect sweet and delicious summer dessert.
Ingredients
for the pavlova:
4 egg whites
250g (1 cup) white sugar
pinch of salt
2 tsp cornflour / cornstarch
1 tsp white vinegar
1 tsp vanilla extract
5 Tbsp flaked almonds
for the topping:
250ml (1 cup) heavy whipping cream
2 tsp powdered sugar
fresh berries, or other fruits
Instructions
PREPARE: Heat the oven to 150°C / 300° F / Gas 2 and line an oven tray with baking paper.

WARM THE EGGS WHITES: Place the egg whites, sugar and salt in a heatproof bowl set over a saucepan of simmering water. Stir gently for 5 minutes until the sugar has dissolved. Remove from the heat and pour the egg whites into the spotlessly clean bowl of a stand mixer with the whisk attachment fitted.

WHISK THE MERINGUE: Whisk on high speed for 10-15 minutes until the mixture is thick and glossy. Whisk in the cornflour, vinegar and vanilla extract.

SHAPE THE MERINGUE: Scatter the flaked almonds in a long rectangle in the middle of the baking paper. Use a big spoon to scoop out large dollops of meringue, placing them on top of the flaked almonds. Smooth over the top so the cream and fruit have a 'shelf' to sit on.

BAKE PAVLOVA: Turn the oven down to 100°C / 225°F / Gas ¼. Bake the pavlova for 1 hour, then turn off the heat and allow to cool completely in the oven.

DECORATE: When the pavlova is cool, remove from the tray and place on a serving platter. Whip the cream and powdered sugar until stiff, spread over the pavlova and top with berries and seasonal fruit.
Recommended Products
As an Amazon Associate and member of other affiliate programs, I earn from qualifying purchases.
Nutrition Information:
Yield:

6
Serving Size:

1
Amount Per Serving:
Calories:

426
Total Fat:

22g
Saturated Fat:

10g
Trans Fat:

1g
Unsaturated Fat:

10g
Cholesterol:

48mg
Sodium:

133mg
Carbohydrates:

54g
Fiber:

3g
Sugar:

49g
Protein:

7g
Nutrition information is calculated automatically and isn't always accurate.
If you enjoyed this recipe, please leave a star rating in the recipe card and share it using the buttons below so that others can find it too!