I know we say this every year, but I can't believe how fast 2019 is speeding by. Christmas already seems like ages ago and the supermarkets are optimistically stocked with hot cross buns in anticipation of Easter. Meanwhile, I'm taking the time to enjoy Sydney at its most beautiful,  basking in the sunshine with day after day of cloudless skies.
It's in these hottest days of summer that my mind turns to cool and creamy desserts. Light and bright flavours to wake up tired taste buds, and most importantly, things that can be prepared well in advance, in the cooler part of the day so that at the end of the meal all I need to do is whip something out of the fridge and tuck in.
These beautiful desserts are an absolute show stopper. They take a little time to firm up in the fridge but the actual hands-on work is minimal. Creamy, delicious vanilla panna cotta, topped with a bright, jewel-like rosé jelly is a wonderful after-dinner treat, and perfect for a special occasion (Valentine's Day I am looking at you!) I've called these Pink Champagne Panna Cotta, but I actually like to use a Pink Moscato. Because Moscato is already sweet, and a little lower in alcohol you only need to add a very small amount of sugar to turn it into a dessert and the beautiful berry flavour pairs perfectly with the creaminess of the panna cotta.
It's best to begin making these the night before you need them. I start with the heavier panna cotta section, allow them to set overnight, and in the morning mix up the champagne jelly to top. The jelly will need at least 4 hours to set depending on the weather and how cold your fridge is, so do plan ahead. These jellies are lovely served with a tumble of fresh raspberries to compliment the berry flavours in the wine. Speaking of which, there should be enough Moscato leftover in the bottle for two glasses – cheers!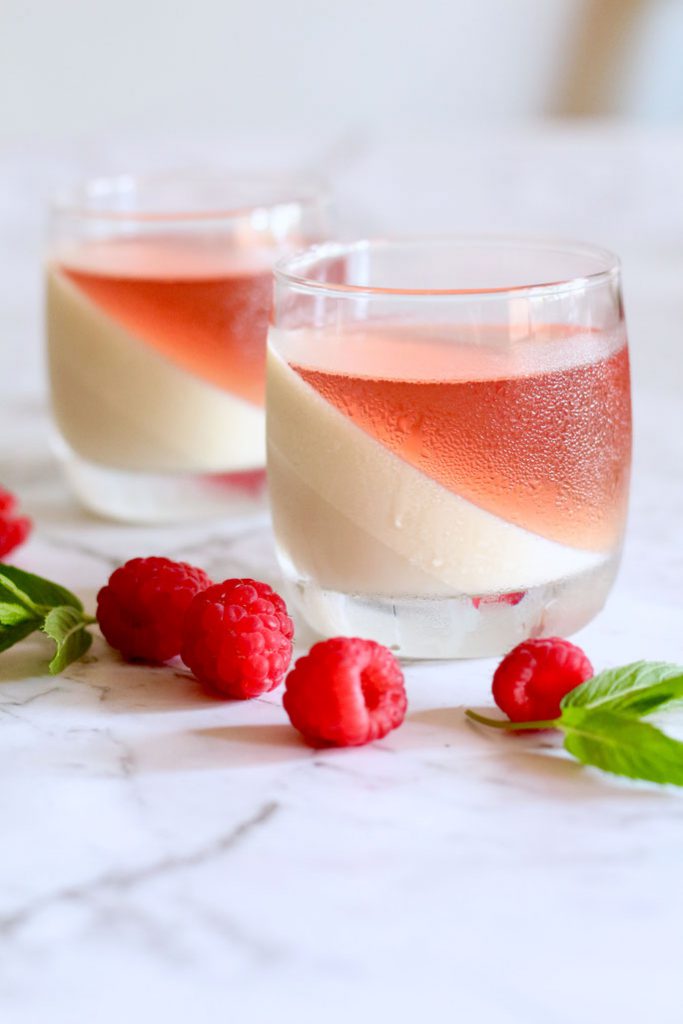 Let me know if you try this recipe in the comments below, or using the hashtag #daysofjay on Instagram. Happy cooking!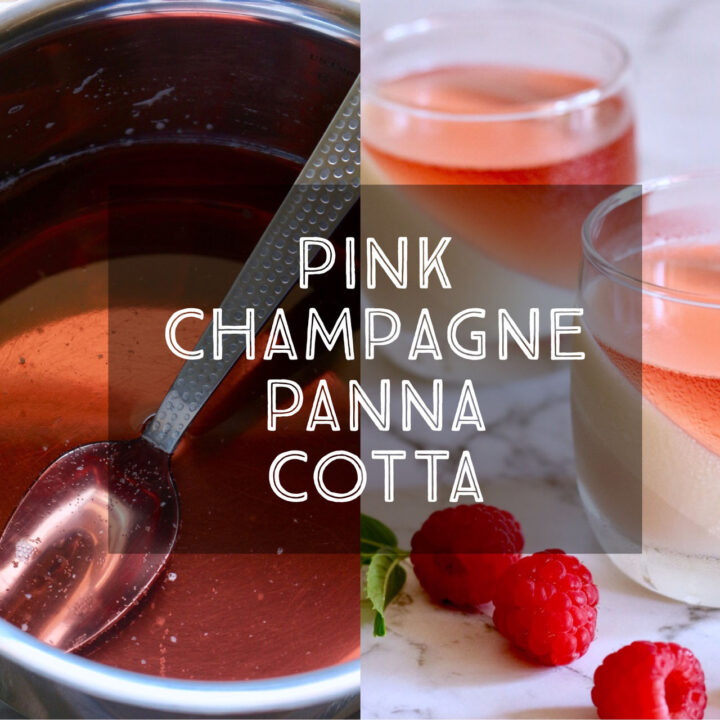 Pink Champagne Panna Cotta
Total Time:
5 hours
20 minutes
Creamy, delicious vanilla panna cotta, topped with a bright, jewel-like rosé jelly is a wonderful after dinner treat, and perfect for a special occasion (Valentine's Day I am looking at you!)
Ingredients
for the panna cotta:
100 ml milk
2 tsp powdered gelatine
400 ml cream
1 vanilla pod or 2 tsp vanilla extract
75 g caster sugar
for the jelly:
500 ml sparkling pink moscato or other sweet rosé
2.5 tsp powdered gelatine
50 g caster sugar
to serve:
Instructions
Begin by preparing the serving glasses. The easiest way to do this is to put paper towels in ramekins or a tea towel into a muffin tin, then place four 250ml glasses resting at a 45° angle.
Pour the milk into a small, wide bowl. Sprinkle over the gelatine and leave to bloom for five minutes. Meanwhile, heat the cream, the scraped out seeds of the vanilla pod and the pod itself (or the vanilla extract) in a small saucepan until nearly boiling, you'll see small bubbles forming around the edge of the pan when it is hot enough.
Remove from the heat, use tongs to remove the vanilla pod (don't throw it away! See note) and stir in the gelatine and sugar until completely dissolved. Set aside to cool, stirring occasionally. When the mixture is at room temperature, transfer to a small jug and pour one quarter into each glass. Carefully transfer to the fridge, and chill until set, around four hours or overnight.
When the panna cotta is set, make the jelly by pouring 100ml of the Moscato into a small wide bowl. Give it a bit of a stir to knock some of the bubbles out, then sprinkle the gelatine evenly over the top. It will probably foam up a little but that is ok. Leave to bloom for five minutes.
Pour the remaining Moscato into a small saucepan and add the sugar. Stir in the sugar and heat very gently, just until the sugar is dissolved. Stir in the gelatine mixture and keep heating very gently, stirring until the gelatine is completely dissolved. Remove from the heat and allow to cool to room temperature.
Transfer the mixture to a small jug, then remove the panna cotta glasses from their holder. Tilting them the opposite way from the direction the panna cotta has set, carefully pour the Moscato jelly mixture down the inside of the glass until it is level with the top of the panna cotta. Transfer to the fridge and allow to set for at least four hours.
Serve chilled, scattered with fresh raspberries.
Nutrition Information:
Yield:

4
Serving Size:

1
Amount Per Serving:
Calories:

638
Total Fat:

37g
Saturated Fat:

24g
Trans Fat:

1g
Unsaturated Fat:

11g
Cholesterol:

116mg
Sodium:

44mg
Carbohydrates:

48g
Fiber:

2g
Sugar:

37g
Protein:

4g
Nutrition information is calculated automatically and isn't always accurate.
TIPS & TRICKS:
Vanilla pods are expensive and they can be used more than once! When you have removed the pod from the cream, wash it with warm water, then allow to dry on a paper towel. When dry, you can cut it up and add to a jar of sugar to make vanilla sugar, or add it to a small bottle of vodka or rum. Over time the vanilla will infuse the alcohol and you will have home made vanilla extract. Keep adding vanilla pods as you use them for a stronger vanilla flavour.
Sparking wine can foam up a little when you are cooking with it, just keep stirring gently and it will eventually clear. Do not bring to the boil as it will cook all the alcohol out and where is the fun in that?! If, however you are preparing this for people who do not drink alcohol you could definitely swap the moscato for sparkling grape juice or clear rhubarb juice – you'll need to adjust sweetness to taste.
Sometimes the panna cotta will split into two layers, one creamier and the other more like a jelly – I don't mind this at all, if it is is a problem try using all cream rather than a mixture of cream and milk, and make sure the mixture is quite cool before stirring well and pouring into the glasses to set.
---