Autumn has definitely arrived here in Munich, with chill winds and drizzly rain keeping everyone inside. The perfect weather for a warm and delicious Roasted Butternut Squash Risotto!
To me, a risotto like this is one of the ultimate comfort foods. The delicious combination of creamy risotto rice, sweet roasted pumpkin and fragrant sage is like a big warm hug in a bowl. The ideal fall recipe for when squash and pumpkins are at their best.
About this recipe
The popular opinion seems to be that risotto can be complicated to cook, but I think that's not the truth at all. Yes, you need to be in the kitchen and add a ladleful of stock now and then, but on a chilly day like today standing near a warm stove is exactly where I want to be!
Roasting the cubed butternut squash brings out all the intense flavour and natural sweet notes in the squash and adds a wonderfully earthy richness to the risotto.
Teamed with some sharp and tangy Parmesan cheese and crispy fried sage leaves, this simple meal is filling and satisfying.
I've given the instructions here to make enough risotto to feed two people, though it is simple enough to double the recipe if there are more mouths to feed.
Key Ingredients
This easy risotto recipe is made with simple ingredients:
Butternut squash: The star of the show! One smallish squash will be perfect for this recipe. Half of the squash is pureed and stirred through the risotto which adds to the lovely creamy consistency of the dish, while the other half is simply cubed and served over the top.
Fresh sage leaves: Don't use dried sage in this recipe! Track down a bunch of fresh sage for the best results.
Arborio Rice: Sometimes you'll see this short grain rice simply sold as risotto rice. This type of rice is starchy with an extra creamy texture when cooked.
Parmesan Cheese: A good cheese is the secret to a delicious risotto: You can use Parmigiano-Reggiano (commonly known as Parmesan), Grana Padano or Pecorino Romano. I'd recommend a well-aged Parmesan for the most intense flavour.
Chicken or Vegetable Stock / Broth: If using bouillon powder or cubes, be sure to use a low-sodium variety, or thin it out with extra water. Because the rice completely absorbs the broth it can easily become too salty otherwise.
Dry white wine: Because you only use about half a glass of wine in this recipe, I'd suggest using a wine you'd like to drink! Risotto makes a perfect date night meal, so serve up the rest of the bottle with your romantic dinner!
---
Frequently Asked Questions
Can I make Risotto in advance?
Risotto is best made fresh, though you could prepare the roasted squash in advance. To reheat, stir a couple of spoonfuls of water through the risotto, and reheat in a covered dish in the oven at 180°C / 350°F until piping hot. A dutch oven is excellent for this as they heat so evenly), or in the microwave.
Can I double a risotto recipe to feed more people?
Absolutely! Double all ingredients. Because you are using more liquid, the cooking time will be longer. Try using a large saucepan or large skillet to help the liquid evaporate quicker.
Can I make risotto without wine? I don't drink alcohol.
Yes! You can replace it with water. I would add a teaspoon or so of apple cider vinegar to the water to replace the acidity of the wine.
Which is the best rice to use for risotto?
Risotto is made with short-grain rice. I always use arborio rice, as it has a lovely chew and absorbs liquid well. Specialist grocery stores will also carry Carnaroli rice, which makes an especially creamy risotto.
How to store cooked risotto?
Store cooked risotto in an airtight container in the fridge. reheated in a covered saucepan in the oven (a dutch oven is great for this as they heat so evenly), or in the microwave.
---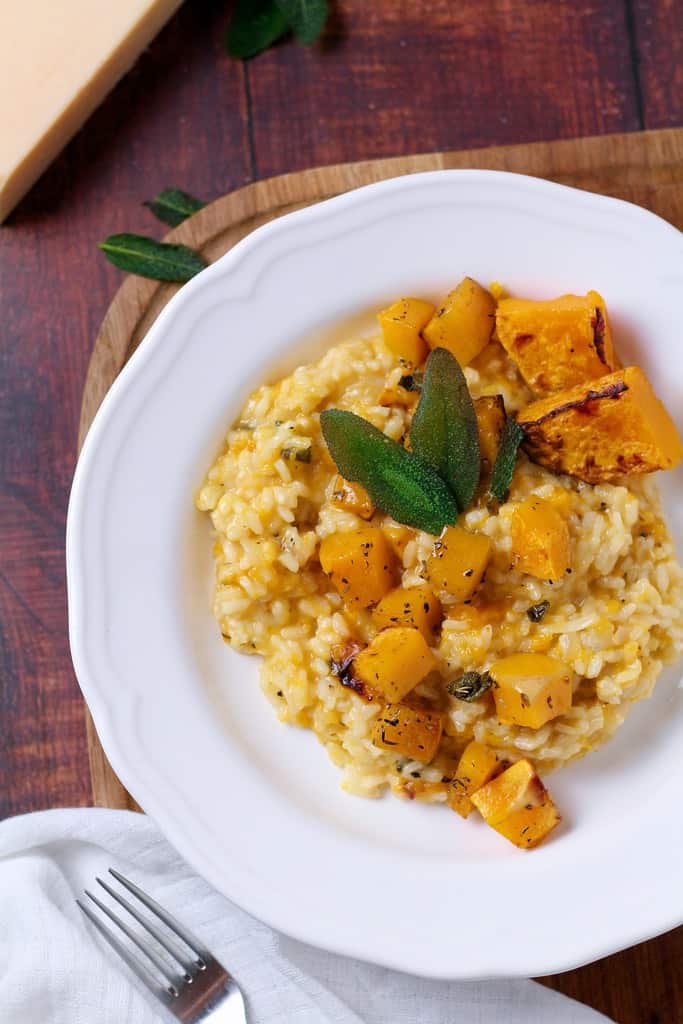 Looking for more delicious risotto recipes?
Why not try one of these!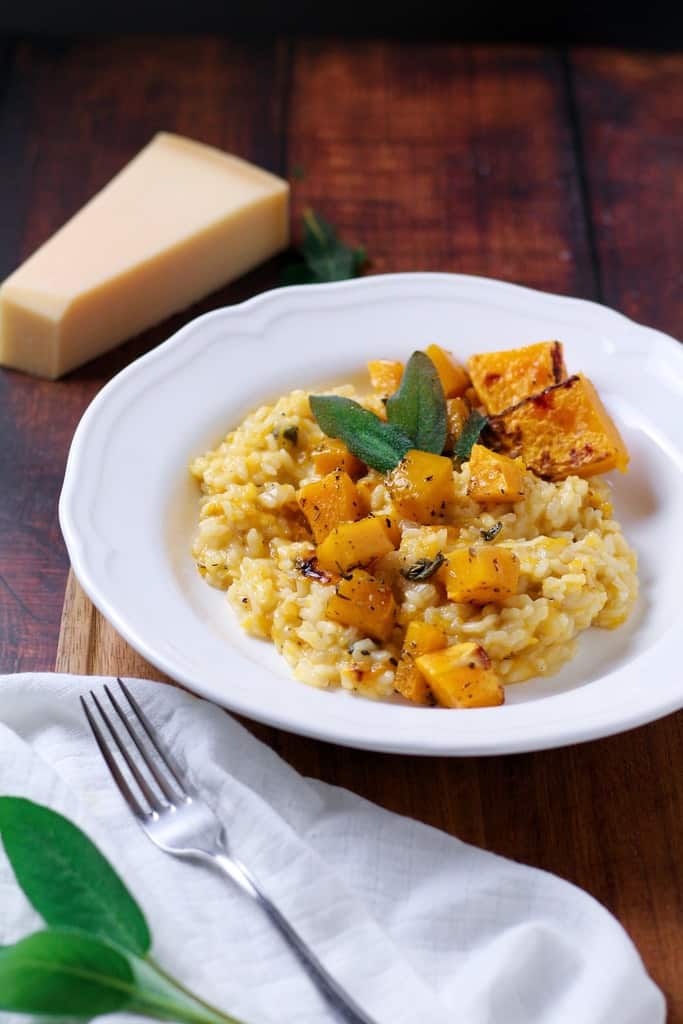 Roasted Butternut Squash Risotto Recipe
Butternut Squash and Sage Risotto
Pure comfort food, Roasted Butternut Squash Risotto or 'Risotto alla Zucca' is a classic of the Italian kitchen. The combination of creamy risotto rice with sweet roasted pumpkin and fragrant sage is a match made in foodie heaven. This easy meal serves two, but the recipe can be doubled to feed four.
Ingredients
500g (1 lb.) butternut squash, peeled and cut into 2cm chunks
2 Tbsp olive oil
1 tsp dried thyme
small bunch of sage, leaves only
1 litre (1 qt.) chicken broth or vegetable broth
50g (1/2 stick) butter
1 medium onion, finely diced
200g (7 oz.) arborio rice
125ml (½ cup) dry white wine
50g (½ cup) Parmesan cheese, finely grated
sea salt or kosher salt and freshly ground black pepper
Instructions
ROAST THE SQUASH: Heat the oven to 200°C / 400°F / Gas 6 and line an ovenproof dish with baking paper. Put the butternut squash into the prepared dish with the thyme and one tablespoon of the oil. Finely chop half of the sage leaves and add to the dish. Season well with salt and pepper, then roast in the preheated oven for 30 minutes until light golden brown.
HEAT THE BROTH: Meanwhile, heat the broth / stock in a small saucepan until simmering, then keep warm. Heat the remaining oil in a frying pan and fry the remaining sage leaves over medium heat until crisp, then drain on a plate lined with a paper towel.
COOK ONION AND RICE: Melt half of the butter in the same frying pan and sauté the chopped onion gently for 5-6 minutes until softened but not browned. Stir through the rice and cook, stirring to coat in the butter for 2-3 minutes. Pour the wine into the pan, bring to a simmer and cook until it has evaporated.
ADD STOCK: Add the stock to the pan, one ladleful at a time, stirring the rice until each ladleful has nearly evaporated. You don't have to stand at the pan the whole time, just keep an eye on it and stir regularly over low heat. It will take around 25 minutes for all the stock to be used up. Test the rice and if it is cooked with a slight bite to it (al dente), carry on with the recipe, otherwise, add a splash of white wine or a little bit of water and cook a further 5 minutes.
ADD SQUASH: Use a fork to roughly mash half of the squash, then stir it through the risotto with the Parmesan and remaining butter. Taste and season with pepper if necessary, then serve immediately, topped with the remaining pumpkin and sage leaves. If you like, stir through a little olive oil for added richness.
Notes
Imperial and cup measurements are approximate. For best results I use and recommend a digital kitchen scale like the one below.
Recommended Products
As an Amazon Associate and member of other affiliate programs, I earn from qualifying purchases.
Nutrition Information:
Yield:

2
Serving Size:

1
Amount Per Serving:
Calories:

1142
Total Fat:

79g
Saturated Fat:

29g
Trans Fat:

1g
Unsaturated Fat:

43g
Cholesterol:

343mg
Sodium:

1310mg
Carbohydrates:

67g
Fiber:

9g
Sugar:

8g
Protein:

81g
Nutrition information is calculated automatically and isn't always accurate.
If you enjoyed this recipe, please leave a star rating in the recipe card and share it using the buttons below so that others can find it too!