This Apricot Puff Pastry Braid is going to become your secret weapon. No, I'm serious. It's just rustic enough so that people will believe you when you say you made it, but beautiful enough to have come from a fancy pâtisserie.
Best of all? Not only is my easy recipe incredibly delicious, but it's also super quick to make.
About this tart
The genius of this tart is in the simplicity, and that is what makes it so flexible. 
First, a puff pastry base – frozen or ready-rolled is absolutely fine here – is topped with enriched cream cheese, or creme fraiche. Then, it's loaded up with fresh fruit and the pastry is simply woven together and baked. 
Once you know the trick of weaving the pastry braid, this recipe will be on constant rotation in your kitchen, I promise. It's brilliant if you have unexpected guests suddenly drop by!
Use a good quality pastry
I use a big ready-rolled puff pastry sheet to make this tart, which is easy to come by in Germany. Elsewhere in the world puff pastry is often sold frozen. If that is the case where you are, simply join two defrosted squares of pastry together, using a little cold water to seal the join.
If you can, try to find an all-butter puff pastry, as is always the case when you bake with few ingredients, use the best quality you can afford to allow the flavours to really sing.
How to Make a Puff Pastry Braid
It looks complicated, but it's really very simple. Scroll down to the recipe card at the bottom of the post for the full recipe.
First, lay out the puff pastry on a lightly floured surface. I lay it directly on the baking paper to make life easy.
Next, use a sharp knife or pizza cutter to cut strips all along two opposite sides of the pastry.
Stir together cream cheese, vanilla extract and a little sugar, then spread it all along the middle section of the puff pastry.
Then, top with sliced apricots, and a little more sugar and fold the pastry strips diagonally inwards. If you're unsure, check out the step-by-step photos.
Brush the tart with beaten egg, and sprinkle over some sugar (coarse sugar like turbinado sugar looks great).
Then bake in the oven to golden brown perfection!
How to store this tart
This tart will keep, covered with plastic wrap or in an air-tight container for 1-2 days at a cool room temperature, though it is best on the day it is baked.
Variations
I love the sweet, juiciness of apricots, but this tart will take most different flavours that you throw at it, so the fruit choice is up to you. Plums, peaches, nectarines or fresh berries are all fantastic, and if any juices leak out between the lattice pastry, so much the better.
Finely diced apple makes an almost-strudel – though if you want the real thing, check out my recipe here.
---
FREQUENTLY ASKED QUESTIONS:
I always have problems working with pastry. Any tips?
Pastry is always easier to work with in a cool environment – if it is particularly hot where you are, consider making the tart early in the morning (it makes a fabulous breakfast) or, if you have space, chill a large chopping board in the fridge and roll your pastry out on that.
How should I serve this tart?
It goes without saying really, but this tart is wonderful with whipped cream, or a big scoop of vanilla ice cream.
How long does this tart keep?
It keeps well for 2-3 days, but I guarantee it will be eaten long before that! It's best on the day it is baked.
---
Apricot Puff Pastry Braid REcipe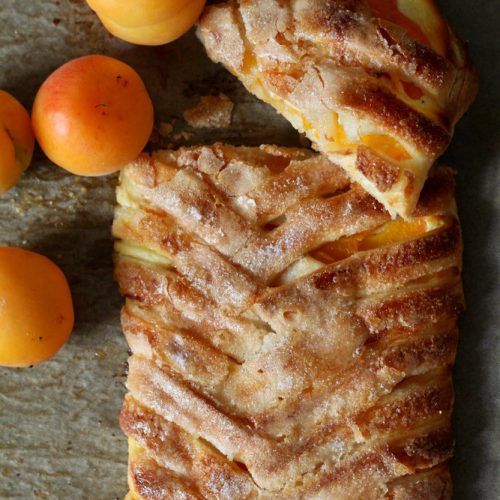 Apricot Puff Pastry Braid
Made with flaky puff pastry, juicy apricots and delicious cream cheese, my Apricot Puff Pastry Braid comes together in minutes! This is a brilliant recipe when you need a sweet in a hurry. Serve with whipped cream or ice cream.
Ingredients
1-2 sheets puff pastry, rolled out to 25x30cm (10x12 in.)
125 g (¼ lb) cream cheese, room temperature
1 large egg, separated
1 tsp vanilla extract
5 Tbsp / 70g white sugar
6 apricots, ca. 200g (7 oz.)
Instructions
PREPARE: Heat the oven to 200°C / 400°F / Gas 6. On a piece of parchment paper lightly dusted with flour, use a rolling pin to roll out the puff pastry to a rectangle approximately 25 x 30cm, (10x12 in.) then lift the paper and pastry together onto a large baking tray.
CUT PASTRY: Using a sharp knife or a pizza cutter, cut horizontal strips 8cm (3 in.) long at 1.5cm (.5 in.) intervals along two opposite sides of the pastry.
MAKE CREAM CHEESE FILLING: In a medium bowl, whisk together the cream cheese, egg yolk, vanilla extract and 2 tablespoons of sugar until smooth. Pour over the centre of the pastry, being sure to stay within the strips.
SLICE APRICOTS: Halve, de-stone and finely slice the apricots, then toss together with 1 tablespoon of sugar (or vanilla sugar, if you have it). Allow to rest for a couple of minutes, then divide evenly over the top of the cream cheese mixture.
BRAID THE PASTRY: Fold strips diagonally over the tart filling, starting with the left side, then the right and continuing to the end to create a braid. Tuck the bottom strips under the tart at the end. If the edges aren't quite sealed, fold the pastry up a little bit at each end to enclose the filling.
MAKE THE EGG WASH: In a small bowl, whisk together the egg white with 1 tablespoon of sugar, then use a pastry brush to brush evenly over the tart. Sprinkle over the remaining tablespoon of sugar,
BAKE: Bake in the preheated oven for 30 minutes, until puffed and golden brown. Allow to cool on the tray for 15-20 minutes before cutting and serving.
Nutrition Information:
Yield:

4
Serving Size:

1 slice
Amount Per Serving:
Calories:

454
Total Fat:

19g
Saturated Fat:

8g
Trans Fat:

0g
Unsaturated Fat:

9g
Cholesterol:

81mg
Sodium:

177mg
Carbohydrates:

61g
Fiber:

6g
Sugar:

49g
Protein:

15g
Nutrition information is calculated automatically and isn't always accurate.
If you enjoyed this recipe, please leave a star rating in the recipe card and share it using the buttons below so that others can find it too!