The very best Greek Village Salad or Horiatiki you will ever eat will be in a small, unassuming restaurant somewhere in the Mediterranean, with the sun shining, plates of delicious mixed meze and lashings of local wine. No matter how hard you try to recreate the recipe at home, this is one of those meals that always reflects the time and place that you have eaten it. That doesn't mean that you can't make a perfectly delicious Greek Village Salad at home, however, and this summery favourite is always welcome at my dinner table.
While this sort of salad has become known worldwide as a Greek speciality, similar combinations of ingredients can be found right through the Eastern Mediterranean and into the Balkans. From Turkish Çoban salatası or Shepherd's Salad to Bulgarian or Croatian Shopska salad, the winning mixture of fresh tomatoes, cucumber, olives and salty cheese is hugely popular.
The recipe I have for you today is how I learnt to make it in Cyprus, where, much to the horror of the purists, they often add parsley or a wonderfully old fashioned type of lettuce called purslane. Whether you want to add greenery to your Greek Salad is completely up to you, I'm always keen to eat as many greens and healthy vegetables as I can, so I always include them.
With a Greek-style salad, it is important to use the best quality feta you can lay your hands on. Real Greek feta cheese is made from sheep and goat milk and has a very distinctive tanginess. Feta made from cow milk is cheaper though, so use what suits your budget. Serve your salad with plenty of fresh bread and, if you fancy, a few small plates of mixed meze. Tzatziki, cooked prawns tossed with olive oil, garlic chilli and olives or marinated baby octopus are some of my favourite additions.
Do you have a favourite memory of eating food in the Mediterranean sunshine? Are you for or against adding greens to Greek Salad? Let me know in the comments below! xJ
---
Let me know if you try this recipe in the comments below, or using the hashtag #daysofjay on Instagram. Happy cooking!
---
Greek Village Salad Horiatiki
Cook Time:
1 hour
15 minutes
Total Time:
1 hour
25 minutes
Greek Village Salad or Horiatiki, a winning mixture of fresh tomatoes, cucumber, olives and salty cheese is a hugely popular Mediterranean recipe and a classic for good reason.
Ingredients
300g ripe tomatoes
1 medium cucumber
a handful of Kalamata olives
200g Feta cheese
½ medium red onion
1 tsp dried oregano
optional:
small bunch purslane, leaves only
salad leaves
for the dressing:
50ml red wine vinegar lemon juice
½ tsp sugar
60ml olive oil
sea salt and black pepper
Instructions
Roughly dice the tomatoes and cucumber. Add to a large bowl and toss with the purslane or salad leaves (if using).

Add the olives to the bowl and crumble over the feta, leaving it in large chunks. Slice the red onion finely, then scatter over the salad. Sprinkle over the oregano.

In a small bowl, whisk together the red wine vinegar or lemon juice and sugar. While whisking, pour in the olive oil in a thin stream, whisking continuously until the dressing is glossy and combined. Season to taste with salt and pepper, then pour over the salad just before serving.

Nutrition Information:
Yield:

2
Amount Per Serving:
Calories:

651
Total Fat:

56g
Saturated Fat:

20g
Trans Fat:

0g
Unsaturated Fat:

34g
Cholesterol:

89mg
Sodium:

1301mg
Carbohydrates:

23g
Fiber:

5g
Sugar:

13g
Protein:

18g
Nutrition information is calculated automatically and isn't always accurate.
---
FREQUENTLY ASKED QUESTIONS
What is purslane?
Purslane (Portulaca oleracea), sometimes known as Duckweed, or 'Semizotu' in Turkish is a leafy salad green, popularly added to this style of salad in Cyprus and Turkey. You can often find it for sale at Turkish grocers. If you can't get any, simply leave it out, or consider replacing with lamb's lettuce/mâche which has a similar texture.

Can I make Greek Salad in advance?
This is a sturdy salad, so you can make it in advance. Do let it warm up a little before serving to allow for the best flavour. Only add the dressing directly before serving.

What should I serve with Greek Salad?
Meze! A salad like this is almost always served at the start of a meal in Cyprus, alongside a collection of small dishes of food. I like to make up some tzatziki/cacık, and serve some marinated prawns and baby octopus.
---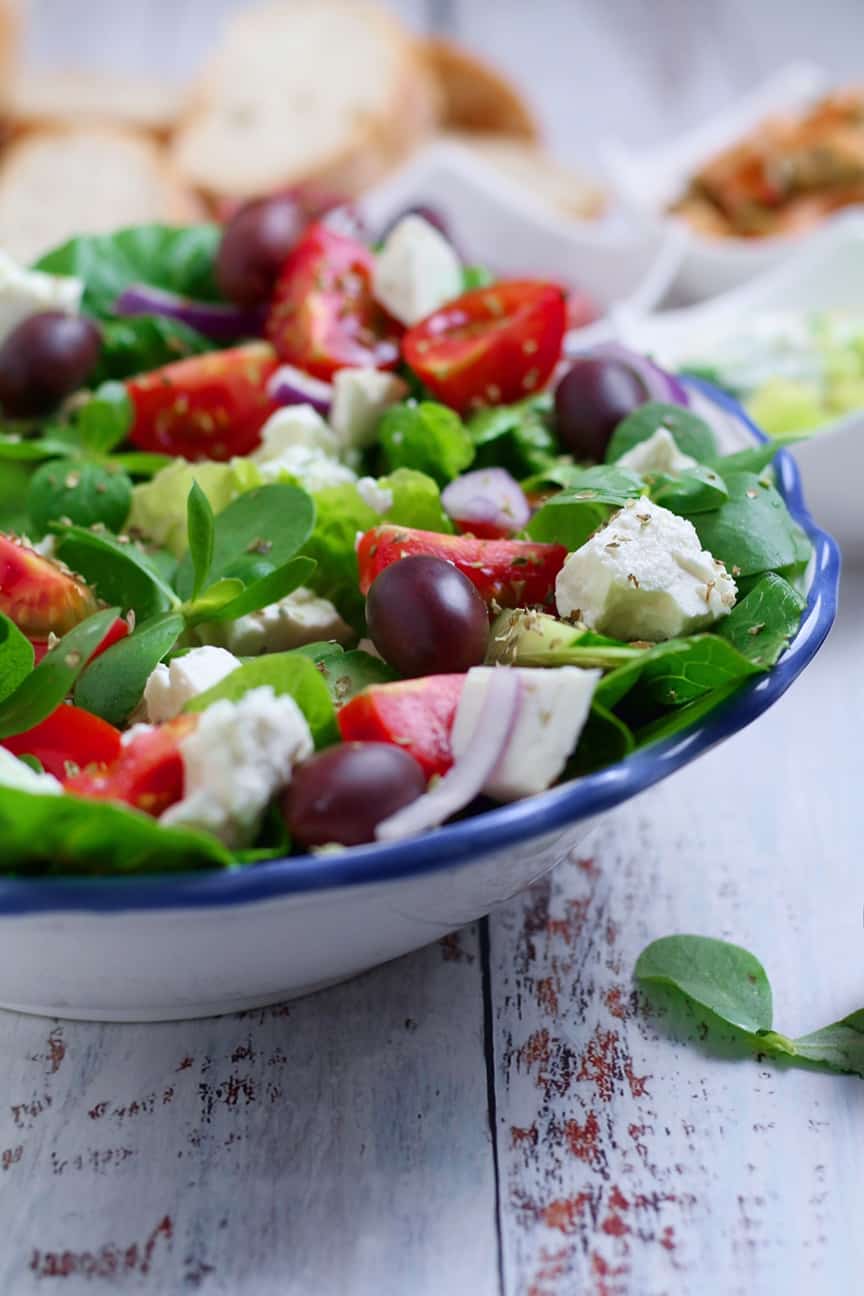 GREEK VILLAGE SALAD HORIATIKI
---