As contrary as it sounds, whenever the weather gets hot, my favourite way of cooking is to use the oven. I know it seems insane when the mercury is pushing 40°C outside to turn on a ferociously hot oven, but there is a method to my madness. The way I see it is that cooking a meal in the oven requires only some peaceful preparation before you can shove the dish into the heat and get as far away as possible while the oven works its magic, coming back a short time later to a delicious meal and a fragrant kitchen.
Secondly, meals cooked in the oven lend themselves to, in fact, are often improved by reheating, which means I can cook a meal in the late evening or early morning when it is cool, and then simply heat it up when I need it. This is, by the way, the ultimate solution to a summertime dinner party. Prepare the whole lot in advance, and simply warm it through before your guests arrive. This means you, the host, can relax and enjoy yourself knowing all the hard work has been done. Far better than frantically sweating over a sizzling hot pan, while everybody else is drinking a cocktail or a cool glass of wine on the terrace.
This recipe is exactly one of those that is perfect for summer cooking. Bursting with the Mediterranean flavours of tomato, garlic, zucchini, feta and fresh prawns all brought together with zingy lemon juice and the cool minerality of handfuls of fresh parsley, it is a huge flavour hit with very little effort.
In summer I also love dishes that make plenty of tasty sauce so everyone can just tear off big chunks of bread and dip them in the cooking dish and this recipe definitely delivers. If you feel like pasta instead, there is no reason you couldn't stir the cooked prawns and vegetables with their sauce through a big pot of spaghetti and let everybody help themselves- it's really up to you.
I usually use frozen prawns, quickly defrosted in some cool running water to make this recipe, mostly because Munich is a long way from the ocean so fresh prawns are very difficult to come by and not very good when you do get them. If you are lucky enough to live by the ocean (I'm looking at you Sydneysiders!) go ahead and use them.
Do make sure to peel and devein the prawns before cooking, this way the flesh soaks up all the flavours and they are much easier for you and your guests to eat – and this meal is all about easy!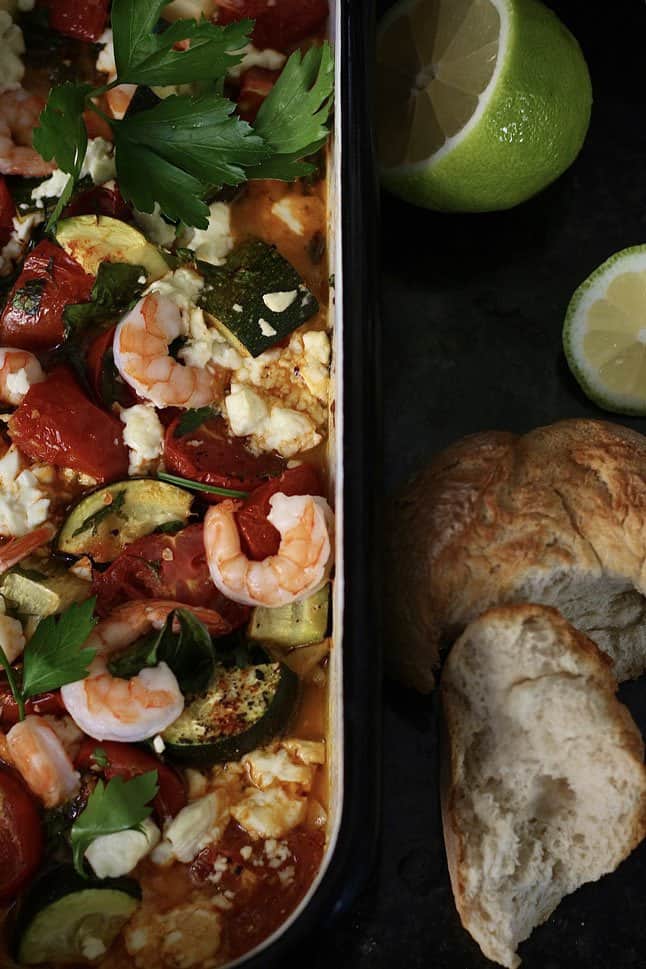 ---
Let me know if you try this recipe in the comments below, or using the hashtag #daysofjay on Instagram. Happy cooking!
---
---
Roast Tomato and Feta Prawns
Roast Tomato and Feta Prawns is perfect for summer cooking. Bursting with the Mediterranean flavours of tomato, garlic, zucchini, feta and fresh prawns. Yum!
Ingredients
1 kg mixed tomatoes, (as juicily ripe as possible)
1-2 zucchini
3 Tbsp olive oil
1 tsp sea salt
juice of 1 big, juicy lemon, (apporx 2-3 Tbsp)
1 tsp paprika powder
½ tsp hot chilli flakes
small bunch of flat leave parsley, roughly chopped
500 g raw prawns, peeled and deveined
200 g feta cheese
freshly ground black pepper
Instructions
Heat the oven to 220°C / 425°F / Gas 7. Roughly chop the tomatoes into quarters or eighths, you want roughly bite-sized. Chop the zucchini into roughly the same sized pieces. Place them in a large, deep-sided ovenproof dish, drizzle over the olive oil, scatter over the garlic and sprinkle with the sea salt and a good few grinds of pepper. Toss to combine, then cook in the top third of the oven for 20 minutes.
If you haven't prepared your prawns, do so now, otherwise escape the kitchen heat and find a cool breeze or a cool glass of something elsewhere.
When the 20 minutes is up, remove the dish from the oven. Squeeze over the lemon juice, sprinkle over the paprika, chilli and parsley and add the prawns, stirring gently to combine. Crumble over the feta, then return the dish to the oven for another 25 minutes until the prawns are cooked through and the kitchen smells amazing.
Serve in the cooking dish with plenty of fresh bread, and some extra parsley and lemon on the side.
Nutrition Information:
Yield:

4
Amount Per Serving:
Calories:

474
Total Fat:

24g
Saturated Fat:

10g
Trans Fat:

0g
Unsaturated Fat:

13g
Cholesterol:

308mg
Sodium:

2280mg
Carbohydrates:

27g
Fiber:

5g
Sugar:

18g
Protein:

40g
FREQUENTLY ASKED QUESTIONS
This sauce looks great but I don't eat seafood! Can I cook this dish with other meat?
Swap out the prawns for some chopped, lightly browned chicken. Vegetarian? Just leave out the meat altogether, this is a lovely rich dish as it is. Maybe add a handful of pitted Kalamata olives towards the end of cooking time.

Can I prepare Roast Tomato and Feta Prawns in advance?
If you are cooking ahead, prepare to the end of step 1 , then simply continue from step 2 when you are ready to serve.
---
---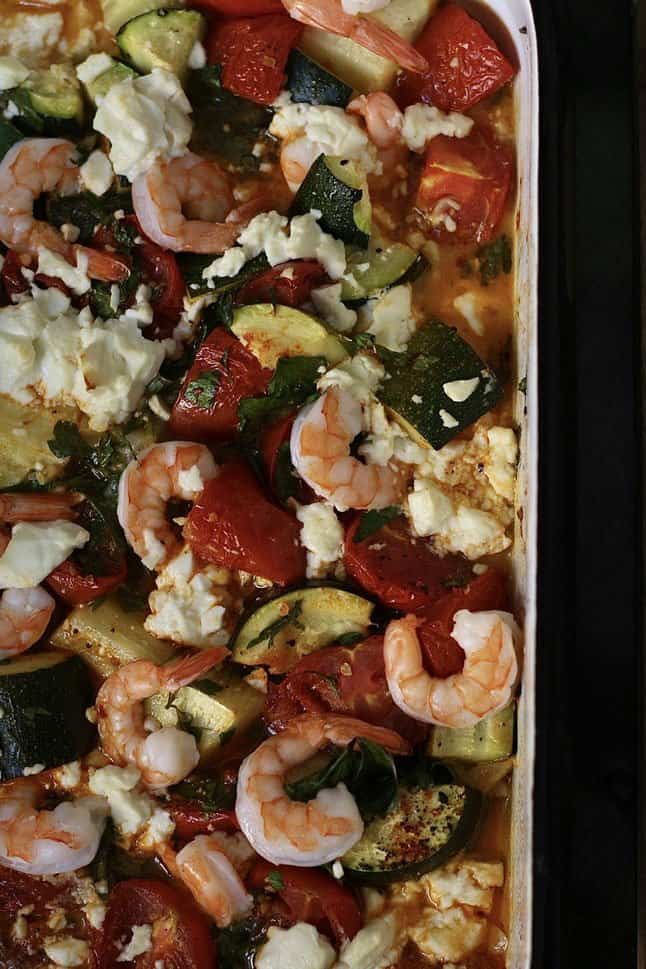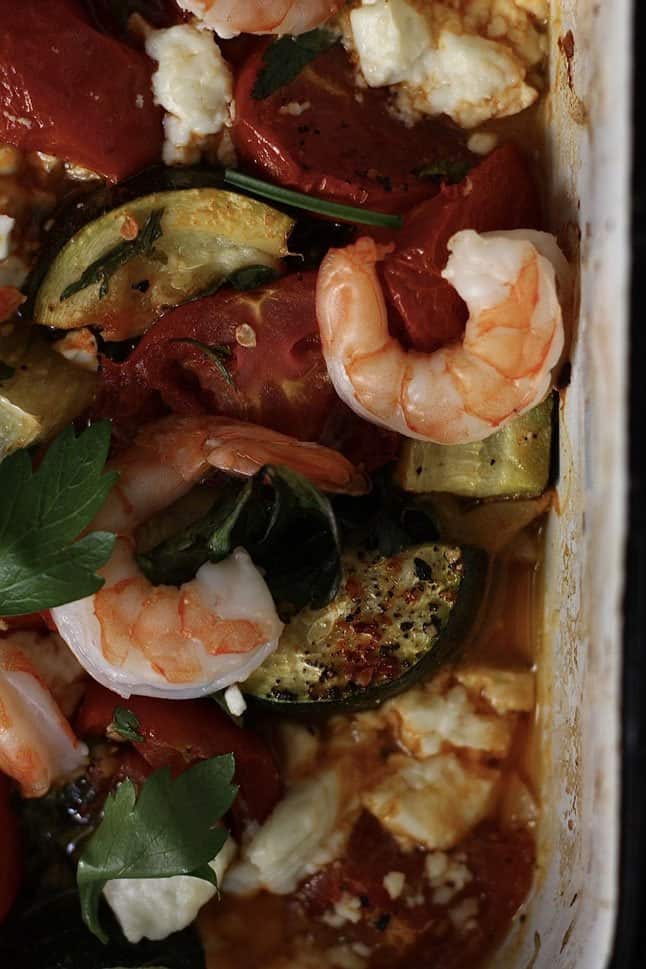 ---
ROAST TOMATO AND FETA PRAWNS
---
Looking for more seafood recipes? Why not try:
---