Munich is quiet today. The streets are empty of all but the occasional car, and the weather has turned to cool and drizzly. We're all staying inside by order of the government, hoping to keep ourselves and our loved ones healthy and safe. It feels like the city is collectively holding its breath, waiting to see what the news of the day will bring. Even without the current situation, this would be a day for being inside anyway, tucked up with a good book or in a warm kitchen, so it doesn't feel like a hardship.
It's also a day for another comforting meal. Something nurturing, wholesome and flavoursome. Who could resist Creamy Chicken and Mushroom Pies? Crumbly short pastry cases, filled with chicken, mushrooms and vegetables in a creamy sauce. All topped with a layer of buttery puff pastry… are you hungry yet?
You can take the boy out of New Zealand, but you certainly can't take New Zealand out of the boy! Anyone who has ever been to New Zealand or Australia will know that we take our meat pies very seriously. While the classic is, of course, a mince pie, this creamy chicken version ticks all the boxes. A rich, creamy gravy, tender chicken pieces and buttery pastry. I've given instructions here to make the shortcrust yourself, though if you really want you can use store-bought. It's so quick and easy to make though, it's worth giving it a go!
Stay safe out there and look after each other x J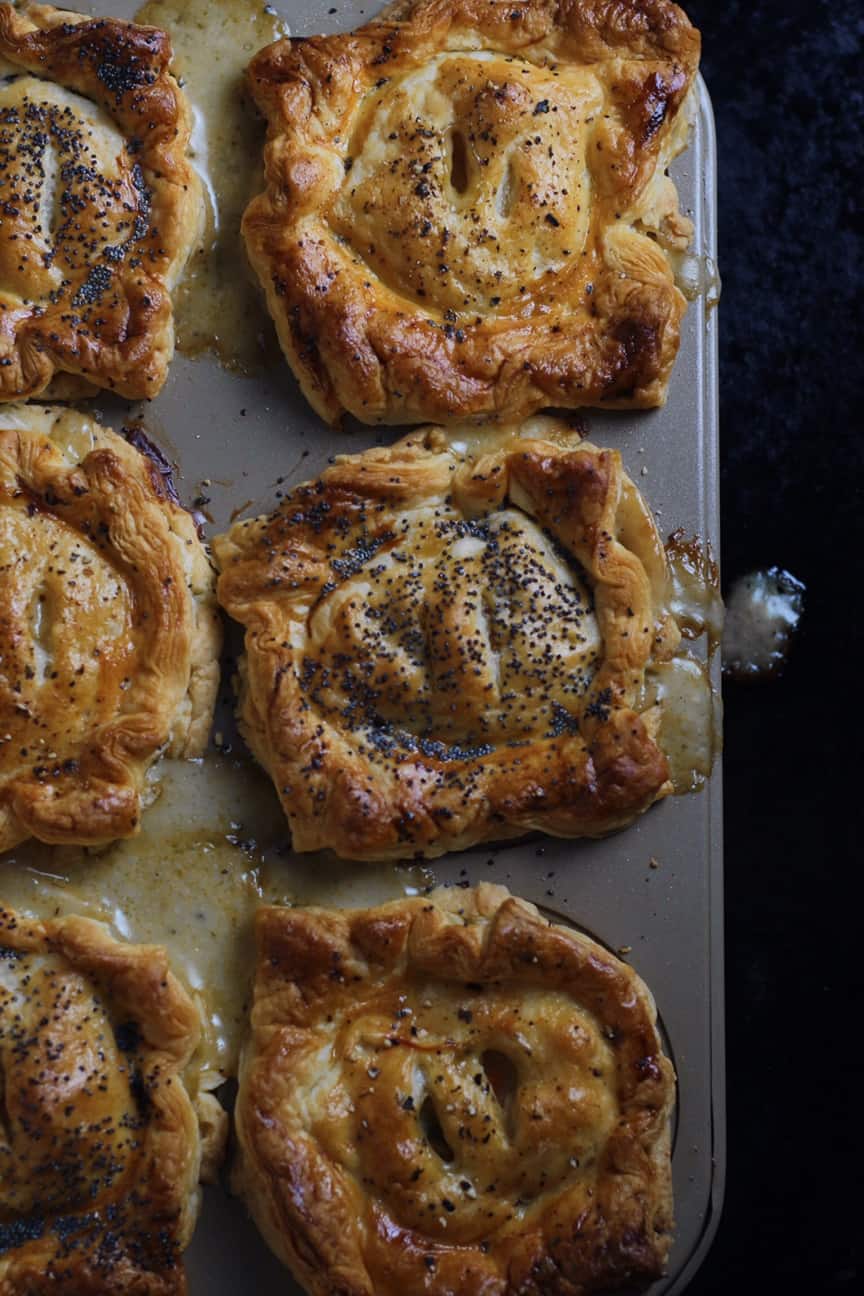 ---
---
Let me know if you try this recipe in the comments below, or using the hashtag #daysofjay on Instagram. Happy cooking!
Creamy Chicken and Mushroom Pies
Total Time:
1 hour
10 minutes
Tender, crumbly pastry, filled with chicken, mushrooms and vegetables in a smooth and creamy sauce. Pure comfort food.
Ingredients
for the pastry cases:
250 g plain flour
125 g unsalted butter
2 tsp sugar
1 tsp sea salt
1 large egg, beaten
for the filling:
1 Tbsp butter
1 Tbsp neutral oil
300 g chicken breast, roughly diced into 2 cm cubes
1 carrot, peeled and diced
2 sticks celery, diced
2 spring onions, sliced
100 g mushrooms, diced
100 g bacon or prosciutto, diced
1 tsp dried thyme leaves
100 ml white wine
1 ½ Tbsp cornflour / cornstarch
300 ml milk
1 tsp chicken stock powder
for the topping:
1 roll puff pastry or 2 squares frozen puff pastry, defrosted
1 egg yolk
2 tsp poppy seeds, optional
Instructions
Grease a 6 hole 'Texas' muffin tin (see FAQ's) and set aside. Place the flour, butter, sugar and salt in the bowl of a food processor with the blade attachment fitted. Process on high until the mixture resembles fine bread crumbs, then pour in the beaten egg yolk and process until the dough clumps together, approximately 1 minute. If the dough is not coming together add 1 Tbsp of ice water.
Turn the dough out onto a lightly floured surface, knead a few times until the dough is smooth, then shape into a ball. Dust again with flour and roll out to the thickness of a fat coin. Use a saucer or similar as a guide to cut out 4 rounds of pastry and press them into the prepared tin. Stack up the remaining dough, roll it out again and cut out the remaining two pastry cases, dusting with flour as necessary to stop the dough from sticking. Transfer the muffin tin to the fridge while you prepare the filling.
To make the filling, heat the butter and oil in a large, heavy-based saucepan. Add the chicken to the pan and cook, stirring occasionally until it is no longer pink, around 3-4 minutes. Remove the chicken from the pan with a slotted spoon, and set aside in a bowl. Add the carrot, celery and spring onions to the pan season with a little salt and pepper then cook gently for 5 minutes until the carrot has softened. Add the mushrooms, bacon and thyme to the pan and cook for a further 3 minutes.
Pour the white wine into the pan, and use a wooden spoon to scrape off all the browned on flavour on the bottom of the pan. Stir the cornflour into the milk until smooth, then pour into the pan, stirring until well combined. Sprinkle over the chicken stock powder, then bring to the boil. Turn the heat down to low, add the chicken and juices to the pan, and simmer for 3 minutes, stirring. Remove from the heat and set aside to cool for 15 minutes.
Heat the oven to 200°C / 400°F / Gas 6 and place a baking tray on the middle shelf of the oven. Cut the puff pastry into 12cm squares and beat the egg yolk in a small bowl with 1 Tbsp cold water.
When the filling has cooled, remove the pastry cases from the fridge, divide the filling evenly between the cases, then top each with a square of puff pastry, pinching and crimping the edges to seal. Brush with the beaten egg, sprinkle over the poppy seeds if using, then cut a small slit in the middle of each pie to allow steam to escape. Bake in the preheated oven for 40 minutes, until puffed and golden brown.
Allow to cool in the tin for 10 minutes before lifting out. Twist each gently to loosen, then tip the tin and use a thin knife to help you. You may find it easier to place a cooling rack on the top, then invert the pies instead. Serve with cooked vegetables or salad.
Nutrition Information:
Yield:

6
Serving Size:

1 grams
Amount Per Serving:
Calories:

691
Total Fat:

38g
Saturated Fat:

17g
Trans Fat:

0g
Unsaturated Fat:

19g
Cholesterol:

178mg
Sodium:

971mg
Carbohydrates:

50g
Fiber:

3g
Sugar:

3g
Protein:

33g
Nutrition information is calculated automatically and isn't always accurate.
FREQUENTLY ASKED QUESTIONS
What is a 'Texas' muffin tin?
Sometimes called a jumbo muffin tin, a Texas muffin tin has larger cups than standard, around 180-200ml capacity each. They are easily found online or at kitchen supply stores.

I don't have the right muffin tin! What can I substitute?
This amount of pastry and filling will easily make a 20-22cm deep round pie or 25.26cm shallow, so if you have a dish in those sizes you can use that instead. Alternatively, you can cook individual pies in 200ml capacity ramekins.

I don't have a food processor! Can I still make Creamy Chicken and Mushroom Pies?
Definitely! Whisk together all the dry ingredients in a bowl, cut the butter into small cubes and use your fingers to rub it into the flour mixture until it looks like breadcrumbs. Stir in the egg and 1-2 Tbsp of iced water, then knead until the mixture forms a smooth dough. Proceed as per the recipe.

I don't eat meat, can I still make these pies?
Of course! Leave out the chicken and bacon and add an extra 250g mushrooms. Substitute vegetable stock for the chicken stock and taste to make sure it has enough salt.

I'm watching my weight! Can I make the pies without pastry or with less pastry?
Definitely! You can leave out the base pastry and simply bake the pies in individual dishes with a pastry lid, or you can leave out the puff pastry and top them with mashed potatoes – or any combination of the above!

Can you freeze Creamy Chicken and Mushroom Pies?
Every Aussie and Kiwi knows the answer to this – Absolutely! Allow the pies to cool completely before wrapping well and freezing. Reheat in a low oven from frozen – lightly cover with tin foil to stop the pies browning too much.
---
---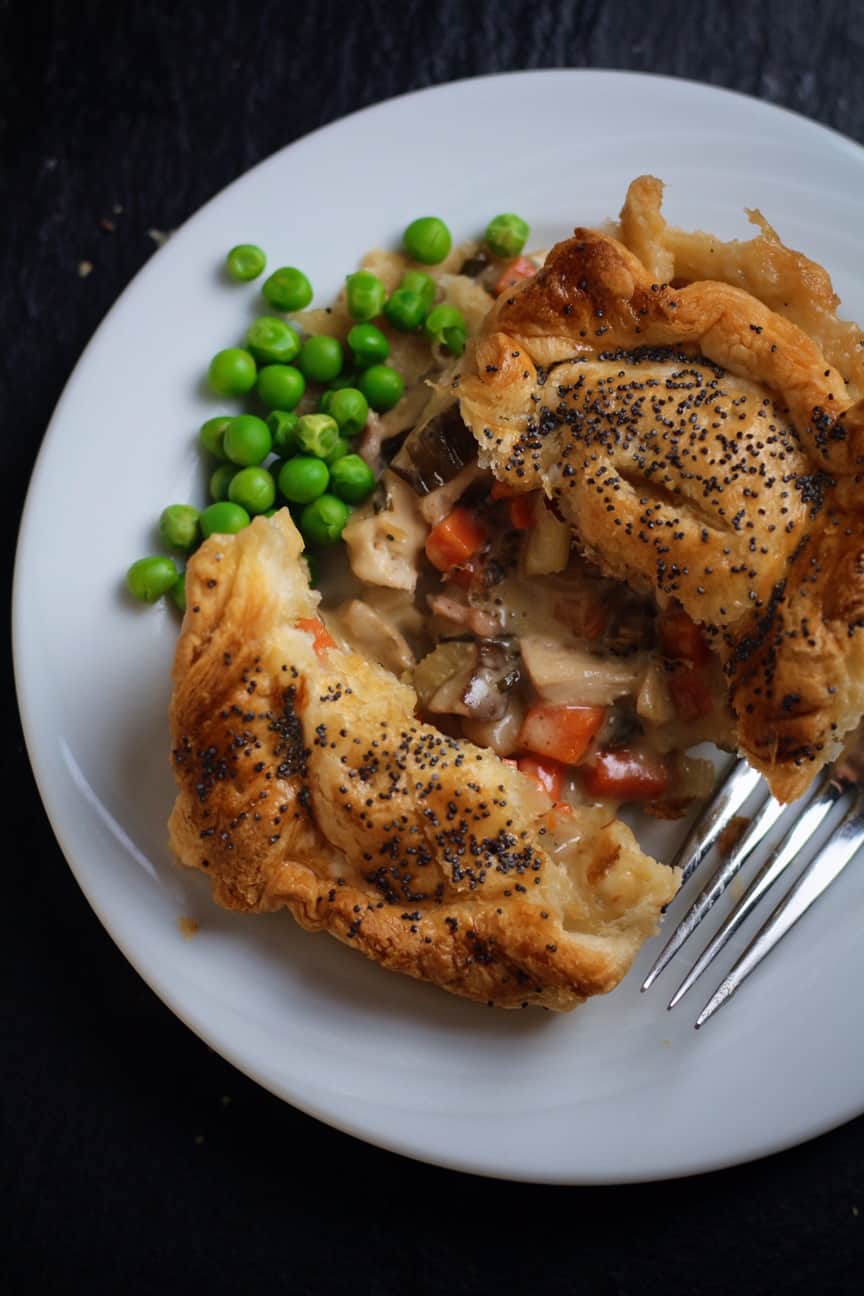 CREAMY CHICKEN AND MUSHROOM PIES
---
Looking for more savoury baking recipes? Why not try:
---