If you've ever been to Vienna, you'll know that the Austrians take coffee very seriously. Often grander than palaces, with sparkling chandeliers, acres of gleaming dark wood, and waiters in immaculate black tie, the famous Viennese coffee houses are time capsules of another era. Whether you step inside for a quick espresso, or, as the locals do, linger for hours reading the newspaper, you will be treated with the greatest formality and respect.
There are so many wonderful treats to be had in the cake cabinets, Sacher Torte probably being the most famous. But whether you're eating Kaiserschmarrn or Apple Strudel, you'll need a coffee to go with it. Now the rest of the world is fairly much in agreement on the names of coffees, but in Austria, they have invented even more. An Einspänner is real rocket fuel, strong black coffee, topped with whipped cream and served with powdered sugar, while a Mozart comes with sherry brandy on the side for an extra kick. A Melange is perhaps closest to a cappuccino, topped with milk foam, and a Franziskaner replaces the milk with whipped cream. It's also the inspiration for today's recipe: Viennese Coffee Panna Cotta.
If you've been following along, you'll know I love playing with gelatine. Perhaps it's the big kid in me! Jellies, panna cotta and set desserts are great for entertaining as they're made in advance, so no last-minute fussing in the kitchen. Serving a coffee panna cotta at the end of the meal is a great way to round things off – if you're worried about all that caffeine, simply use a good quality decaf coffee instead.
Are you a coffee addict like me? How do you drink your coffee? Let me know in the comments below! Take care out there and happy cooking, x J.
---
Let me know if you try this recipe in the comments below, or using the hashtag #daysofjay on Instagram. Happy cooking!
---
Viennese Coffee Panna Cotta
Total Time:
3 hours
10 minutes
The perfect way to round off a meal, these Panna Cotta were inspired by the Austrian Franziskaner coffee. Served with a big dollop of cream and a grating of chocolate, they are naughty but so good!
Ingredients
4 sheets 'gold strength' gelatine
250ml strong coffee
75g sugar
400ml cream
25g powdered sugar
25g dark chocolate
Instructions
Place the gelatine sheets in a bowl of cold water and allow to soften for 5 minutes. Meanwhile, gently heat the coffee and sugar in a small saucepan, stirring until the sugar is dissolved.

Remove from the heat, squeeze the liquid out of the gelatine sheets, then stir them into the hot coffee mixture, one at a time. Stir in 250ml of the cream, then divide the mixture evenly between 6 coffee or teacups.

Whip the remaining cream and the powdered sugar until stiff. Spoon over the top of each panna cotta, then cover loosely with clingfilm and chill until set. This takes 3-4 hours, depending on your fridge.

Before serving, grate over the dark chocolate.

Nutrition Information:
Yield:

6
Serving Size:

1
Amount Per Serving:
Calories:

316
Total Fat:

26g
Saturated Fat:

16g
Trans Fat:

1g
Unsaturated Fat:

8g
Cholesterol:

76mg
Sodium:

20mg
Carbohydrates:

21g
Fiber:

0g
Sugar:

21g
Protein:

2g
Nutrition information is calculated automatically and isn't always accurate.
Disclosure: Some of the links on this website are affiliate links,
meaning, at no additional cost to you, I will earn a commission if you click through and make a purchase.
---
FREQUENTLY ASKED QUESTIONS
Can I make this recipe decaf? I can't drink coffee late at night!
Absolutely! Just use your favourite brand of decaf coffee.
I don't drink coffee at all, but these look tasty! Any suggestions?
Sure! Heat 1-2 Tbsp of unsweetened cocoa powder with 250ml of water and use to replace the coffee. Alternatively, you could try my recipe for Pink Champagne Panna Cotta
I want to make these more than a day in advance, is that possible?
Yes! Make the panna cottas but don't put any whipped cream on top. Allow to set, then cover with clingfilm pressed directly onto the surface of the panna cotta. Top with whipped cream and grated chocolate just before serving.
I can't get sheet gelatine where I live, how much powdered gelatine should I use?
For this recipe, you can use 2 tsp of powdered gelatine. Sprinkle the gelatine over 50ml of cold water, allow to bloom for 5 minutes and then proceed as per the recipe.
---
I like to serve these in coffee or tea cups, but you can use any small bowl or dish you have handy.
The trick to getting beautiful chocolate curls is to use a vegetable peeler!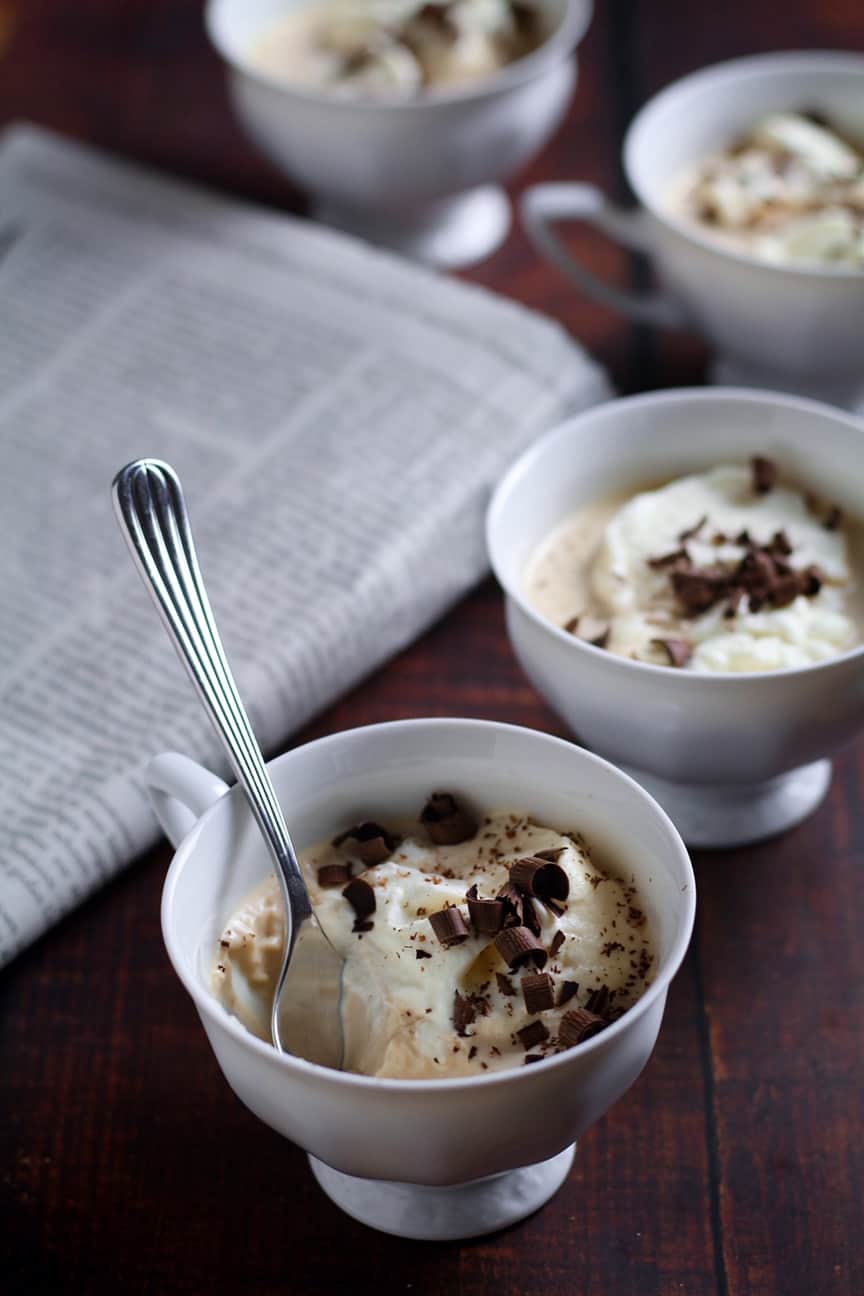 VIENNESE COFFEE PANNA COTTA