Teriyaki has to be of the most addictive flavours to come out of the kitchen. Salty, sweet and sticky, it's the perfect quick and tasty sauce for stir-fried meats like chicken and pork. What most people don't realise is how simple it is to make at home, even with regular store cupboard ingredients. My easy recipe for Teriyaki Chicken and Rice is so speedy, you can have it all ready to go in the time it takes the rice to cook.
While it might seem less effort to simply grab a jar of teriyaki sauce from the supermarket, I promise the flavour is so much better when you make it yourself. The sauce in this recipe has 6 ingredients, and you can easily substitute the more exotic ones for those that you have around the house. Mirin is a type of rice wine, similar to sake, but for cooking, purposes can easily be substituted with dry white wine or sherry. If you can't get any sesame oil, just use a tablespoon of neutral oil instead and scatter some extra sesame seeds at the end.
This recipe makes enough for 2-3 portions. If you'd like to double it you will need to fry the chicken in batches, otherwise, it won't brown properly. Bear in mind the sauce will also take longer to reduce. I like to keep things simple and serve this easy Teriyaki Chicken with basmati rice and sliced cucumber, but you could easily make this part of a larger Japanese style feast with Pork and Spinach Gyoza or Homemade Sushi!
I always like to use chicken thighs for stir-frying as the flavour is better and they are nearly impossible to overcook. If you or somebody that you are cooking for prefers breast meat, you can substitute it in this recipe, though I would thin the sauce with a tiny bit of water to help keep the meat moist.
What is your favourite Japanese recipe? Have you ever been to Japan? My sister has lived there for many years and I have only been to visit her once! Hopefully, when international travel opens back up I can visit again. Take care out there and as always, happy cooking! xJ
---
---
Let me know if you try this recipe in the comments below, or using the hashtag #daysofjay on Instagram. Happy cooking!
---
Teriyaki Chicken and Rice
Teriyaki has to be of the most addictive flavours to come out of the kitchen. Salty, sweet and sticky, it's the perfect quick and tasty sauce for stir-fried meats. My easy recipe for Teriyaki Chicken and Rice is so quick, you can have it ready to go in the time it takes the rice to cook.
Ingredients
for the rice:
200g basmati rice
small knob of butter
1 tsp sea salt
for the sauce:
75ml light soy sauce
3 Tbsp sugar
3 Tbsp rice wine vinegar
2 Tbsp Mirin (or dry white wine)
1 Tbsp sesame oil
3cm ginger, peeled and finely grated
for the chicken
400g boneless, skinless chicken thighs, cut into bite-sized pieces
1 Tbsp neutral oil
2 cloves garlic, finely diced
1 spring onion, finely sliced on the diagonal
1 tsp sesame seeds (white or black)
Instructions
To cook the rice combine 1 cup (250ml / 200g) rice with 2 cups (500ml) water in a medium saucepan with the butter and salt. Cover and bring to the boil then reduce the heat to the minimum and cook for 10 minutes. Remove from the heat and rest for 5 minutes before removing the lid and fluffing the rice with a fork.

Meanwhile, whisk together all ingredients for the sauce and set aside.

When you have taken the rice off the heat, heat the oil in a wok or large frying pan. Cook the chicken over high heat until browned and beginning to crisp. Reduce the heat to medium and add the garlic to the pan, stirring for 30 seconds.

Pour the sauce into the pan, stir through the chicken to coat, then simmer for 4-5 minutes until thickened. Remove from the heat and allow to cool for 2 minutes, then serve over the rice. Scatter with sliced spring onion and sesame seeds.
Nutrition Information:
Yield:

3
Serving Size:

1
Amount Per Serving:
Calories:

520
Total Fat:

24g
Saturated Fat:

7g
Trans Fat:

0g
Unsaturated Fat:

17g
Cholesterol:

173mg
Sodium:

2885mg
Carbohydrates:

39g
Fiber:

1g
Sugar:

17g
Protein:

37g
Nutrition information is calculated automatically and isn't always accurate.
---
FREQUENTLY ASKED QUESTIONS
I've tried making teriyaki chicken before and it's very salty! Why is it so salty and can I fix that?
Teriyaki is supposed to be fairly salty, with a sweet/savoury flavour profile. Make sure you are using light soy sauce as dark soy sauce gives this dish too much punch. If you can find a sodium-reduced soy sauce you can use that too.
Why do you give the measurements for rice in cups in the recipe? Isn't it more accurate to use grams?
I grew up in New Zealand where it is still very common to use cup measurements when cooking. While some recipes require ultra accuracy, long-grain rice is a simple ratio of 1 part rice to 2 parts water. If you find the rice cooks up a little soft, simply reduce the water by 50ml next time.
Can I make teriyaki chicken in advance?
This is a great meal to make in advance and will keep for at least 3 days in the fridge after cooking. You can also make the sauce up well in advance and have it ready to go when you are. Cooked chicken can be a bit dry when it is defrosted if you are planning to freeze the cooked teriyaki chicken, loosen the sauce with 1-2 Tbsp water before freezing.
---
This easy teriyaki sauce comes together so quickly, and all with easy to find ingredients – it's great with meats as well as tofu or vegetables.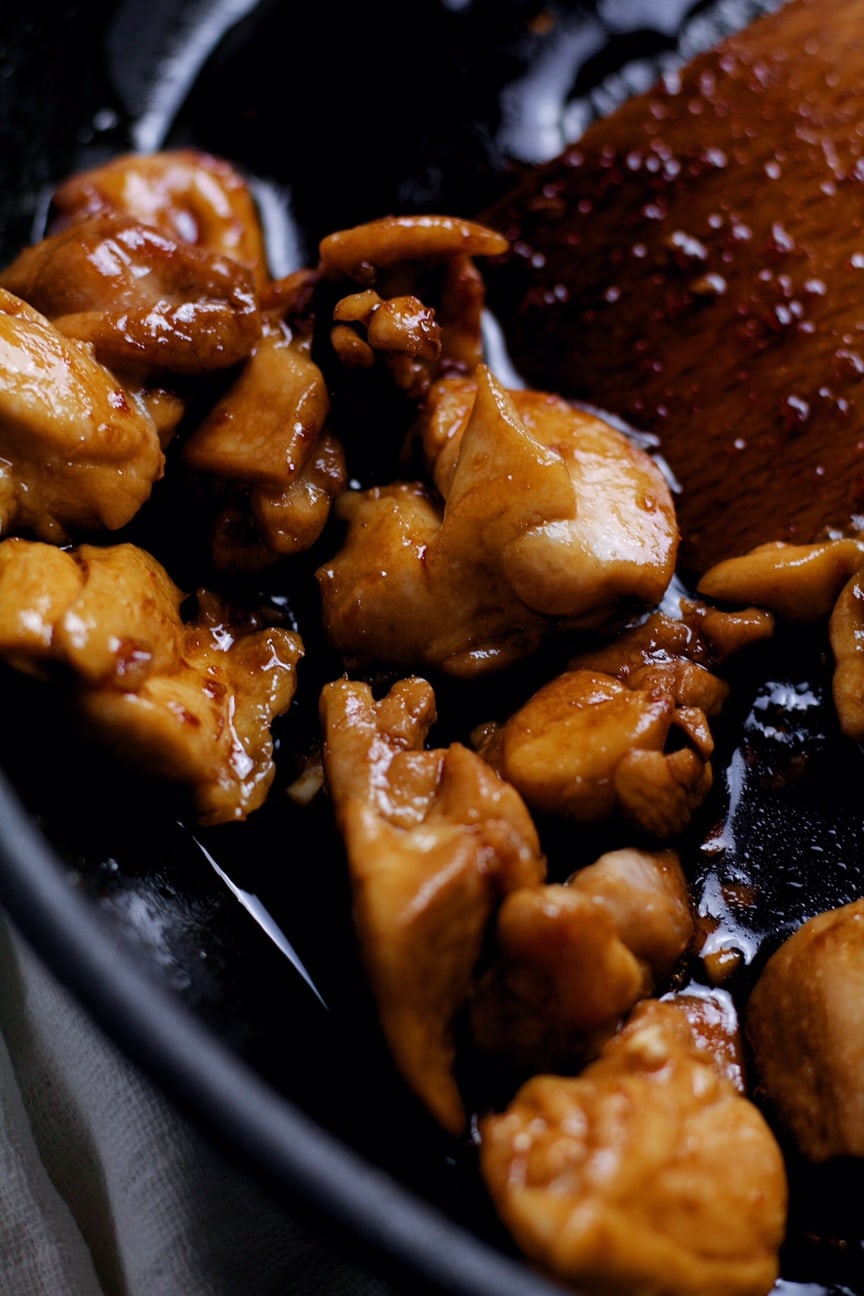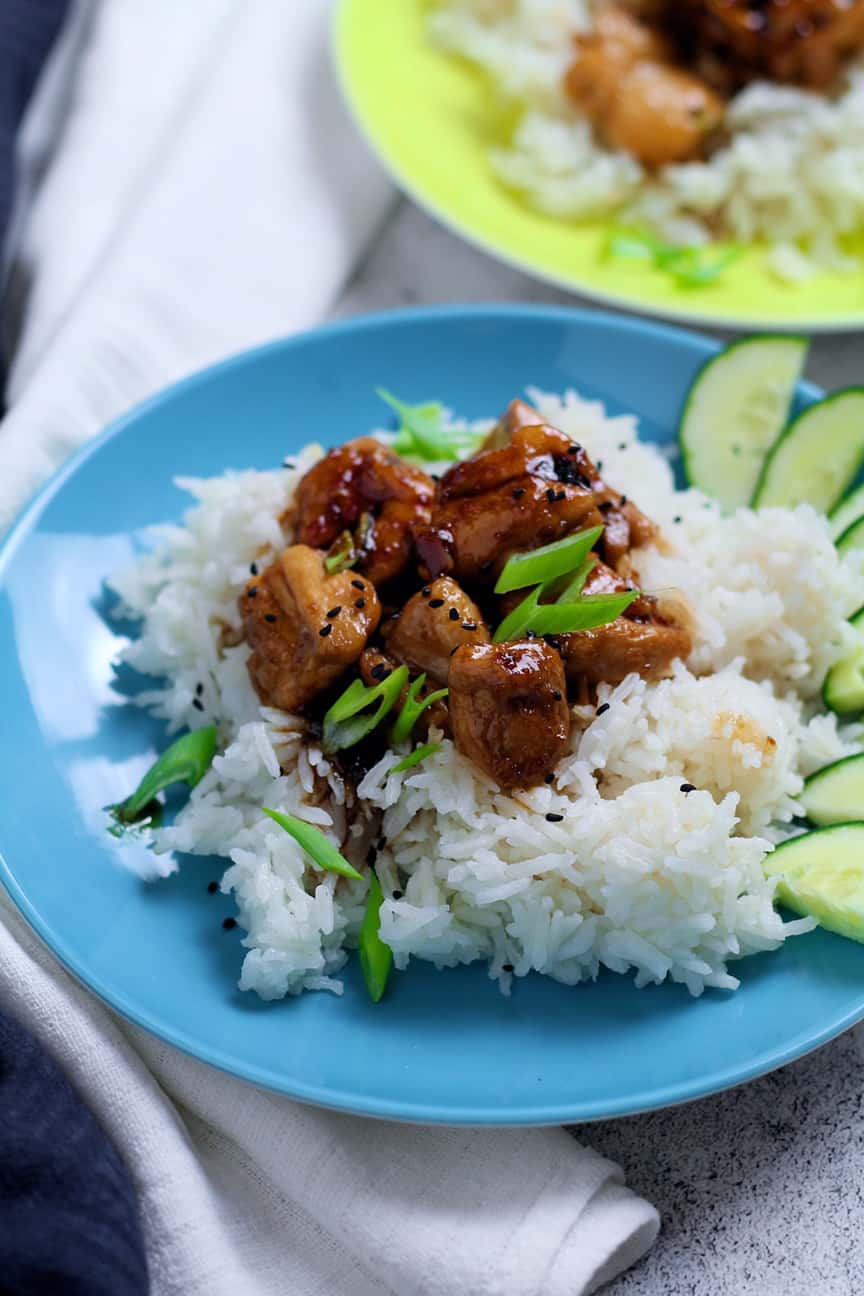 TERIYAKI CHICKEN AND RICE
---