Happy New Year! I hope everyone had a safe and happy holiday season. I'm out in sunny Sydney at the moment, escaping the snow in Munich, and as always, enjoying all the amazing different types of food available over here. Sydney is a paradise if you love Asian food, as not only can you find restaurants serving truly delicious cuisine in every suburb, there are also loads of Asian supermarkets stuffed to the gills with exotic (and tasty!) ingredients.
Since we arrived here I've had a bit of an obsession with dumplings – particularly Japanese 'gyoza' – incredibly delish little dumplings filled with pork and vegetables, then fried, steamed and served with a tangy dipping sauce. Best of all, once you get the hang of folding the wrappers, they are fun to prepare, quick to cook and even quicker to eat! The filling goes a long way too so you get even more bang for your buck.
Classic gyoza are filled with pork, cabbage and garlic, but I've been playing around with a few flavour combinations and I think the one below, while decidedly not traditional, is a real winner.
I buy the wrappers here in Australia at Woolworths, but they will be available in Asian supermarkets everywhere, usually called Gow Gee Wrappers. Square wonton wrappers will work as well, and just need to be folded a little differently. There are loads of videos around on Youtube showing how to fold these delicious little morsels – don't stress too much if they're not perfect the first time, you'll get better with practice and this method of cooking is very forgiving.
---
Let me know if you try this recipe in the comments below, or using the hashtag #daysofjay on Instagram. Happy cooking!
---
Pork, Spinach and Ginger Gyoza Dumplings
Classic gyoza are filled with pork, cabbage and garlic, but I've been playing around with a few flavour combos and I think the one below, while decidedly not traditional, is a real winner.
Ingredients
for the filling:
125 g baby spinach leaves
200 g pork mince
225 g tin water chestnuts, finely diced
2 spring onions, finely sliced
small bunch coriander, chopped
thumb sized piece of ginger, grated
1 clove garlic, finely diced or crushed
1 egg, lightly beaten
1 Tbsp cornflour / cornstarch
1 Tbsp soy sauce
1/2 tsp sea salt
additionally:
40 Gow Gee or wonton wrappers
2 Tbsp neutral oil
for the spicy dipping sauce:
50 ml soy sauce
50 ml rice wine vinegar
1 Tbsp sesame oil
1 tsp sugar
1 small, hot chilli, sliced
Instructions
Begin by mixing together the ingredients for the spicy dipping sauce. Pour into a small bowl and set aside.
Put the spinach leaves in a large, heatproof bowl. Pour over enough boiling water to cover, drain immediately, then rinse under cold running water. When cool enough to handle, use your hands to squeeze as much water out of the spinach as possible, then chop finely.
Put the spinach in a mixing bowl with all the rest of the filling ingredients. Stir, or knead using your hands until well combined.
Place 6-8 wrappers on a work surface, fill a small dish with water, and dust a large platter or tray with cornflour/cornstarch.
Put about a teaspoon of filling onto each wrapper, dip your finger in the water and run it around the edge, then fold the wrapper over the filling, pleating and pinching to seal. This takes a little practice! You can also try holding the wrapper in your left hand while making the pleats with your right if you find it easier.
Transfer the completed dumplings to the prepared platter or tray, and repeat with the remaining filling and wrappers. At this point you can freeze the dumplings, or proceed to cooking.
To cook the dumplings, heat two tablespoons of neutral oil in a large frying pan (it needs a lid!) over a medium heat. Place the dumplings close together in the pan and cook without moving, for 2-3 minutes or until golden brown and crisp on the underside. Carefully pour in 125ml of water, then cover with the lid - this can splash a little, but move quickly and you'll be fine.
Allow the dumplings to steam for 4-5 minutes or until the water has evaporated, then using a spatula detach them from the pan, transfer to a serving platter and serve immediately with the spicy dipping sauce and any extra coriander you have left over. If you're cooking from frozen allow an extra minute or two steaming time to ensure they are cooked through.
Nutrition Information:
Yield:

4
Serving Size:

10 Dumplings
Amount Per Serving:
Calories:

464
Total Fat:

31g
Saturated Fat:

8g
Trans Fat:

0g
Unsaturated Fat:

19g
Cholesterol:

119mg
Sodium:

1852mg
Carbohydrates:

20g
Fiber:

3g
Sugar:

4g
Protein:

27g
Nutrition information is calculated automatically and isn't always accurate.
---
FREQUENTLY ASKED QUESTIONS
How do I stop the gyoza wrappers drying out?
While you are working with the Gow Gee or wonton wrappers, keep the packet under a damp tea towel so the don't dry out. If you are having trouble folding them check out youtube for some excellent video tutorials.

I don't eat pork. Can I use other meat to make gyoza?
You can mix up the filling of these as much as you like – pork, chicken or beef mince all work, or completely vegetarian with some cabbage or more spinach. If you like them spicier, add a little chilli to the mix!

Can I freeze Pork, Spinach and Ginger Gyoza?
To freeze the uncooked dumplings, cover loosely with cling film and place them on the tray into the freezer. When they have frozen, transfer to a freezer bag.
---
Keep the gow gee wrappers under a damp cloth while you are working to stop them drying out.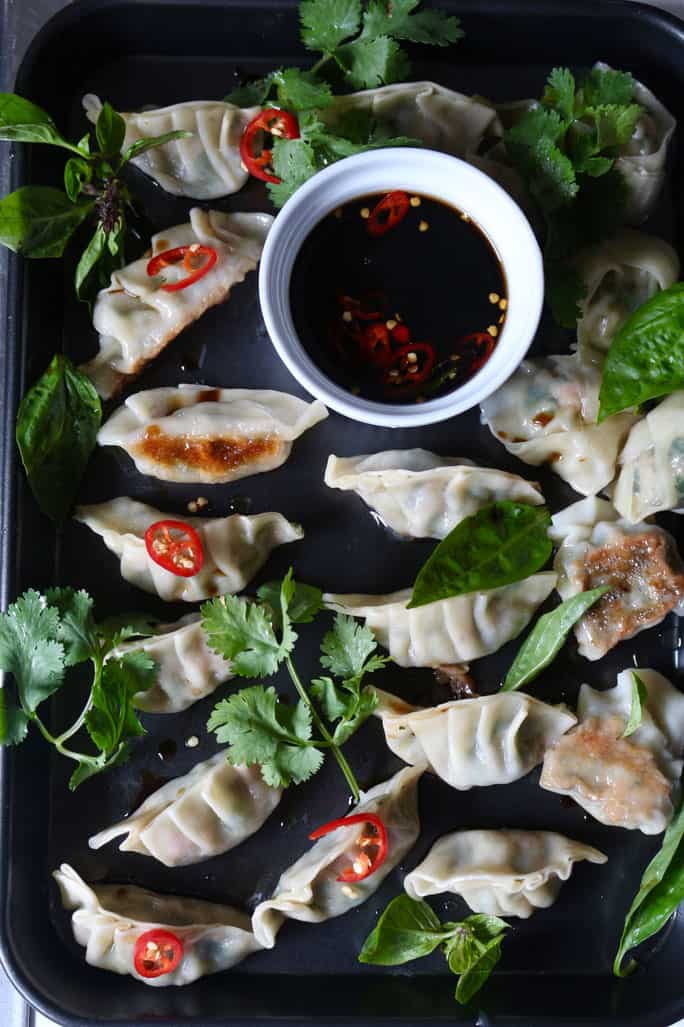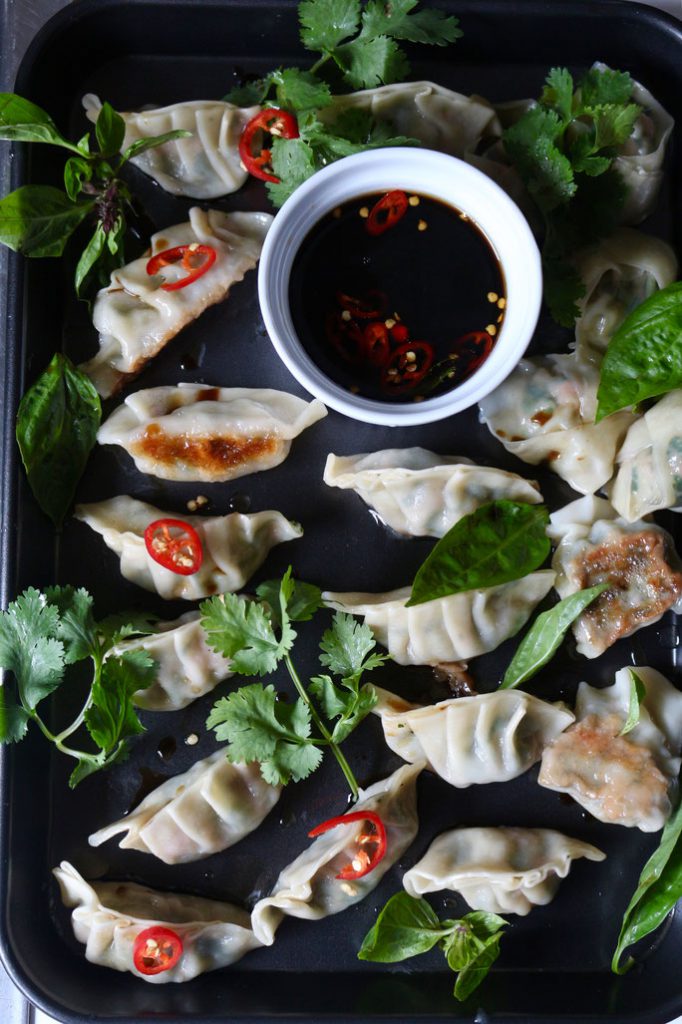 PORK, SPINACH AND GINGER GYOZA