The cuisine of Thailand is world-renowned and rightly so. Often balanced on the finest edge of salty, sweet, sour and spicy, good Thai food is a flavour sensation, enough to awaken the most tired of tastebuds. While there are all sorts of wild and wonderful meals to be found there, today I'm sharing my recipe for one of the most well known, an Easy Thai Beef Salad.
What is Thai Beef Salad?
So tasty that it's hard to stop eating! All jokes aside, Thai Beef Salad or Yum Nuea is a combination of crispy, fresh vegetables, fragrant herbs, tender beef steak, all smothered with a punchy, spicy dressing. Delicious and good for you so it's a big win-win.
What's the secret to a great Thai Beef Salad?
I've travelled to Thailand many times over the years and taken some amazing cooking classes in the capital city, Bangkok. What I learnt there, is that Thai food needs super fresh ingredients for best results. The wonderful Thai people take food very seriously and incredible meals are available on every street corner. Cheap, fresh, and so, so good.
You are in control of the Flavours!
If you've not tried making your own Thai food before, now is the time to start! Thai food is all about that balance I talked about above, and only you know what you really like, so taste, taste, taste and adjust as you go. I like mine extra spicy with loads of lime!
How many people does this salad feed?
This recipe makes enough for two people to greedily devour (and we do!) but could easily be stretched to feed four with a few sides or starters. Quick Thai Fish Cakes or some Vietnamese Spring Rolls would be great and it's worth having plenty of rice (instructions here for perfect rice) to tone down the chilli if it's a bit much! This salad base is even fantastic for other meats, so if beef isn't in the budget, try it with chicken, pork or even tofu!
A recipe like this relies on the beautiful fragrant herbs, so make sure to use plenty. If at all possible, skip the sad plastic packets from your local supermarket and hit up an Asian grocer. Not only are the herbs guaranteed fresher, they're likely cheaper and much more flavoursome. As with many recipes from the Asian kitchen, Easy Thai Beef Salad comes together very quickly, so make sure you have everything set up to go before you start cooking.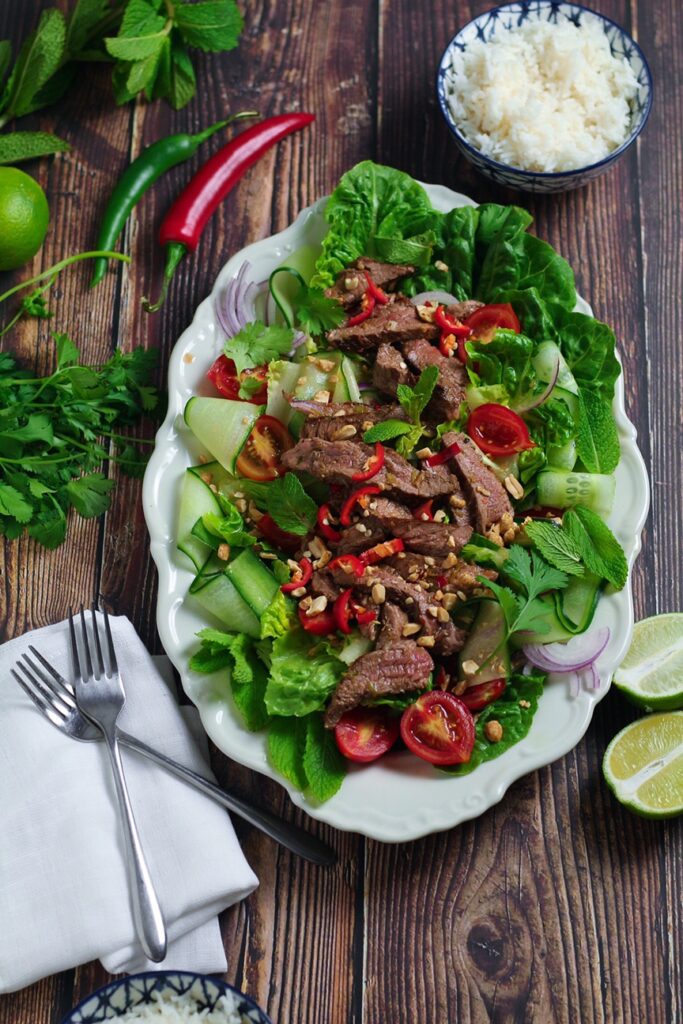 I hope you enjoy this recipe as much as I do. If you try it out be sure to let me know in the comments below! Take care out there and happy cooking. x J
FREQUENTLY ASKED QUESTIONS
I don't eat beef, can I make this salad with anything else?
Even though it is called Easy Thai BEEF Salad, this salad is great with chicken, pork, fish or even tofu!
I don't like food to be too spicy, should I change the recipe?
Taste the chilli before you add it to the dressing to see how hot it is and adjust accordingly. If you discard the seeds of the chilli it won't be as hot. Make sure you have plenty of cucumber and rice as well as water to drink to cool you down if you find it too spicy!
I can't eat peanuts, is there an alternative?
There is! You can toast 2 tablespoons of uncooked rice in a dry pan until nutty and light brown. Grind finely in a mortar and pestle and use to replace the peanuts in this recipe.
Can I double, or even triple this recipe?
Go for it! I love this salad so much I could eat it every day. Just be sure to cook the beef in batches so that it browns properly.
Can I Meal Prep Thai Beef Salad?
Yes! Just keep the meat and salad separate and don't add the extra dressing until you are ready to eat.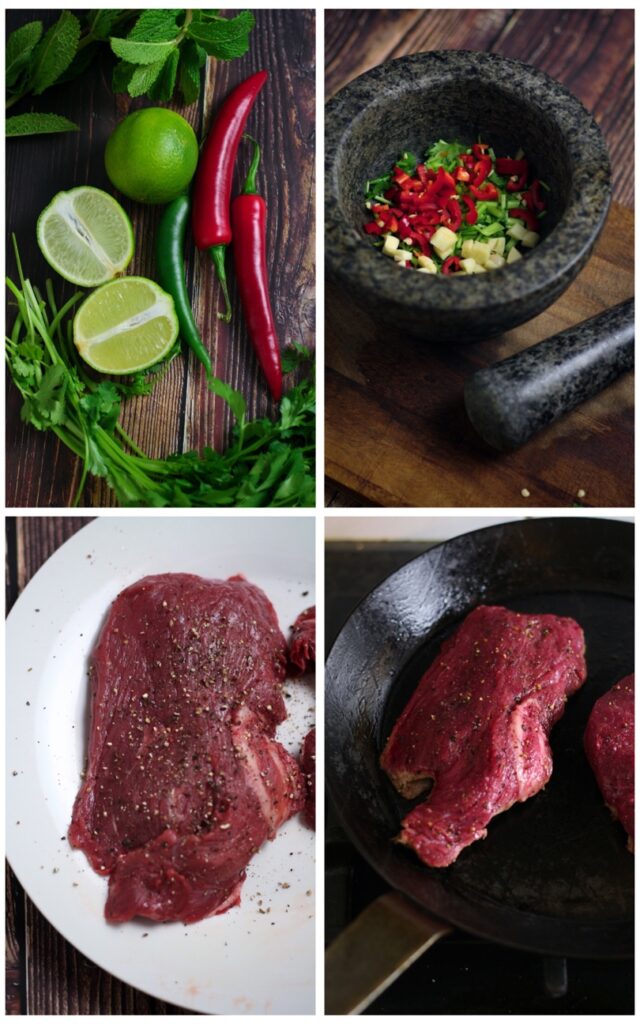 Make sure the steak has been out of the fridge for at least half an hour before cooking. That way it will cook evenly.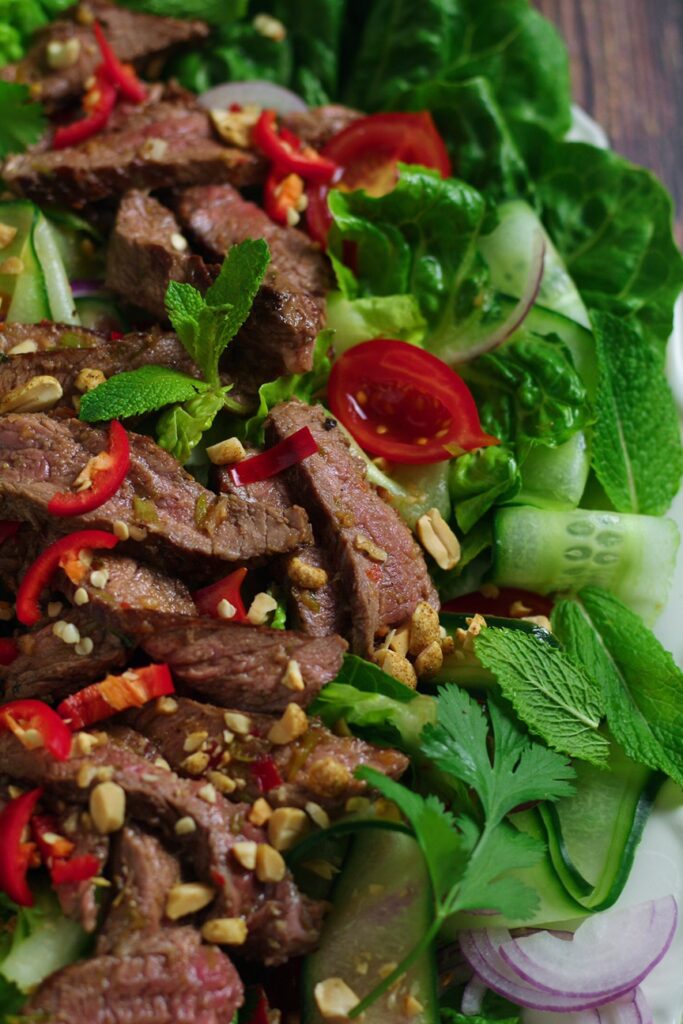 ADJUST THE AMOUNT OF CHILLI TO SUIT YOUR TASTES – I LIKE IT EXTRA HOT!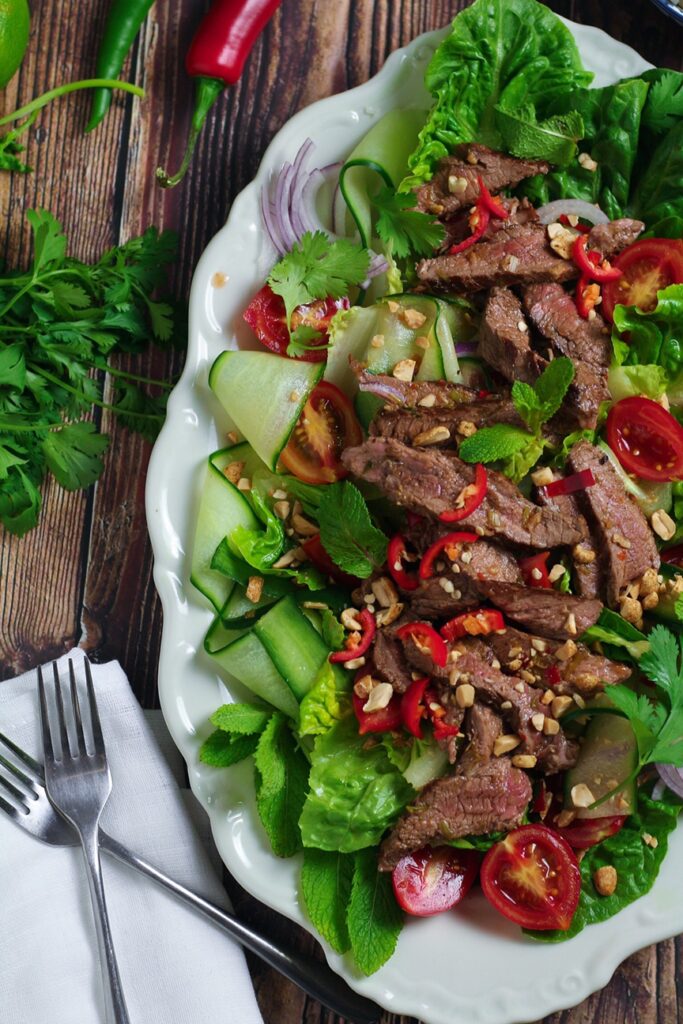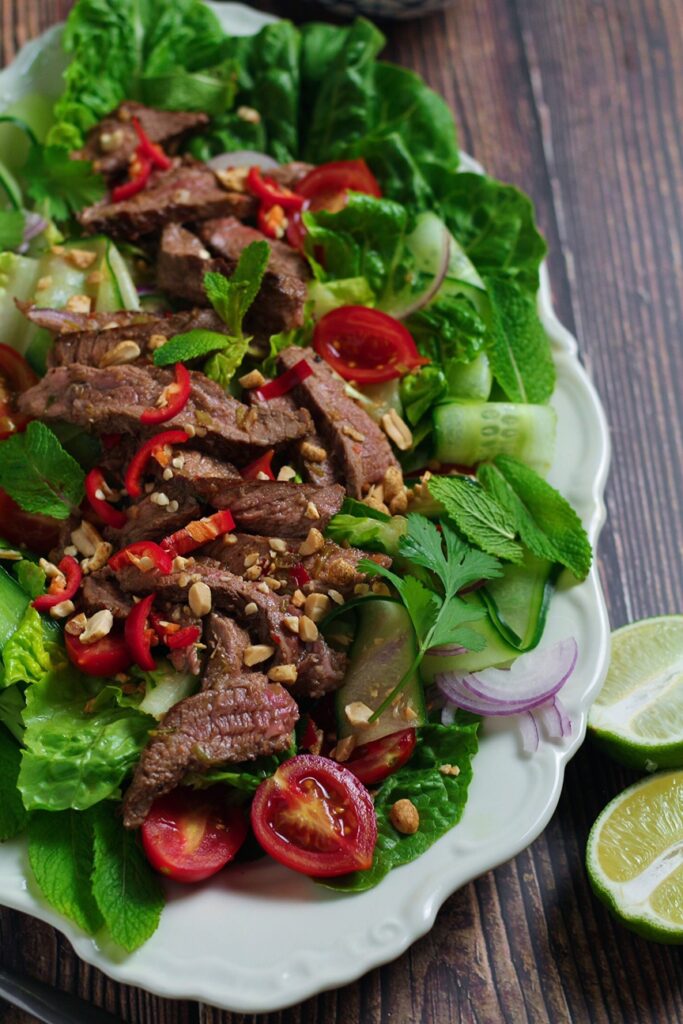 Easy Thai Beef Salad
The ULTIMATE salad! This Easy Thai Beef Salad is packed with flavour. With juicy beef steak, fresh vegetables & fragrant herbs, the sweet & spicy Thai dressing is the secret ingredient in this mouthwatering dish.
Ingredients
for the dressing:
1 medium red chilli, sliced
small bunch coriander/cilantro, leaves and stems separated
2 fat cloves garlic
3 Tbsp / 45ml lime juice
2 Tbsp / 30ml fish sauce
1 Tbsp / 15g sugar
1 Tbsp / 15ml neutral oil, sunflower etc.
zest of 1 lime, finely grated
for the salad:
400g beef steak, rump, sirloin etc. at room temperature
2 tsp neutral oil for frying
1 thin cucumber, finely sliced or peeled into ribbons
200g cherry tomatoes, halved
1 small red onion, peeled and finely sliced
1 small cos or romaine lettuce, leaves torn
25g roasted peanuts, finely diced
small bunch of mint, leaves only
sea salt & freshly ground black pepper
optional:
to serve:
steamed jasmine or basmati rice
Instructions
HEAT THE OVEN: Heat the oven to 120°C / 250°F / Gas 1.
MAKE THE DRESSING: Prepare the dressing by grinding the chilli, coriander stems and garlic together in a mortar and pestle to a chunky paste. If you don't have a good, solid mortar and pestle, you can use a small food processor, or cut the ingredients very finely.

ADJUST SEASONING: Scrape the paste into a small mixing bowl, add the lime juice, fish sauce, sugar, oil and lime zest then whisk well to combine. Taste and adjust seasoning if necessary. Set the dressing aside.

COOK THE STEAKS: Pat the steaks dry with a paper towel, rub with the oil and season with salt and pepper. Heat a large, heavy-based frying pan until a drop of water sizzles when dropped onto the surface. Add the steaks to the pan and cook for 2-3 minutes on each side (see note). Remove from the heat, lay the steaks on an ovenproof dish, cover loosely with tinfoil and place in the preheated oven for 5-10 minutes (see notes for guide).

PREPARE THE SALAD: While the meat is resting, combine the cucumber, cherry tomatoes, red onion and lettuce in a large mixing bowl. Toss through two tablespoons of the dressing. When the beef has rested at least 5 minutes, slice thinly against the grain, add to the bowl that has the remaining dressing in it, along with any resting juices and stir well to coat.

ARRANGE AND SERVE: Pile the salad onto a serving platter or two plates and top with the beef. Sprinkle over the peanuts and scatter over plenty of fresh coriander, mint and extra chilli (if using). Drizzle over all the remaining dressing and serve immediately with steamed rice.
Notes
How cooked you like your steak is a personal preference. This recipe assumes you are using approx. 2 cm thick steaks resulting in medium-rare. If you are using thinner steaks they will need less time, thicker steaks will need more. If you like your steaks cooked through, cook at least 3-4 minutes on each side and let rest in the oven for the full 10 minutes.
Nutrition Information:
Yield:

4
Serving Size:

1
Amount Per Serving:
Calories:

764
Total Fat:

44g
Saturated Fat:

13g
Trans Fat:

0g
Unsaturated Fat:

23g
Cholesterol:

143mg
Sodium:

1873mg
Carbohydrates:

45g
Fiber:

7g
Sugar:

12g
Protein:

50g
Nutrition information is automatically calculated and isn't always accurate.
Let me know if you try this recipe in the comments below, or using the hashtag #daysofjay on Instagram. Happy cooking!
If you enjoyed this recipe, please leave a star rating in the recipe card!