When I am away from Sydney, among the many things I miss; my lovely friends, the sparkling jewel of a harbour, the jacarandas in full bloom, and the buzz of the big city, I really miss the easy access to fresh, vibrant Asian cuisine.
Australians take food incredibly seriously, and everybody knows exactly where their favourite Bahn Mi Pork Roll is to be had, (clue: Marrickville!) or where the latest and greatest dumpling restaurant is. Here in Munich, though we undoubtedly have many, many lovely restaurants, I've struggled to find really great Chinese restaurants (hit me up with any recommendations!) so I much prefer to cook this style of food at home.
Something I often crave is my favourite quick and easy stir fry, and Chinese restaurant menu staple dish, Spicy Cashew Nut Chicken. This much-loved dish is available in virtually any restaurant, but I find when you make it at home it is lighter and fresher than any you will get while dining out. Best of all, this is a dish that really comes together in minutes, so if you cut your meat and vegetables while the rice is cooking, you'll have the meal on the table in under 30 minutes.
I have to admit, I am making absolutely no claim to authenticity with this recipe, this is how I like to eat it – loaded with fresh veg and coved with plenty of herbs. I love anything a little sweet and sour too, so I always add a splash of vinegar and a pinch of sugar to suit my tastes – this is one of those great dishes that you can really tweak for your tastebuds.
Chinese cooking wine or Shao Xing is worthwhile tracking down as it costs pennies and gives this dish a great flavour boost. Some supermarkets stock it and in any medium-sized town there is likely to be an Asian supermarket tucked away somewhere. If you really can't find it, a dry sherry, very dry white wine, or just some chicken stock will also work.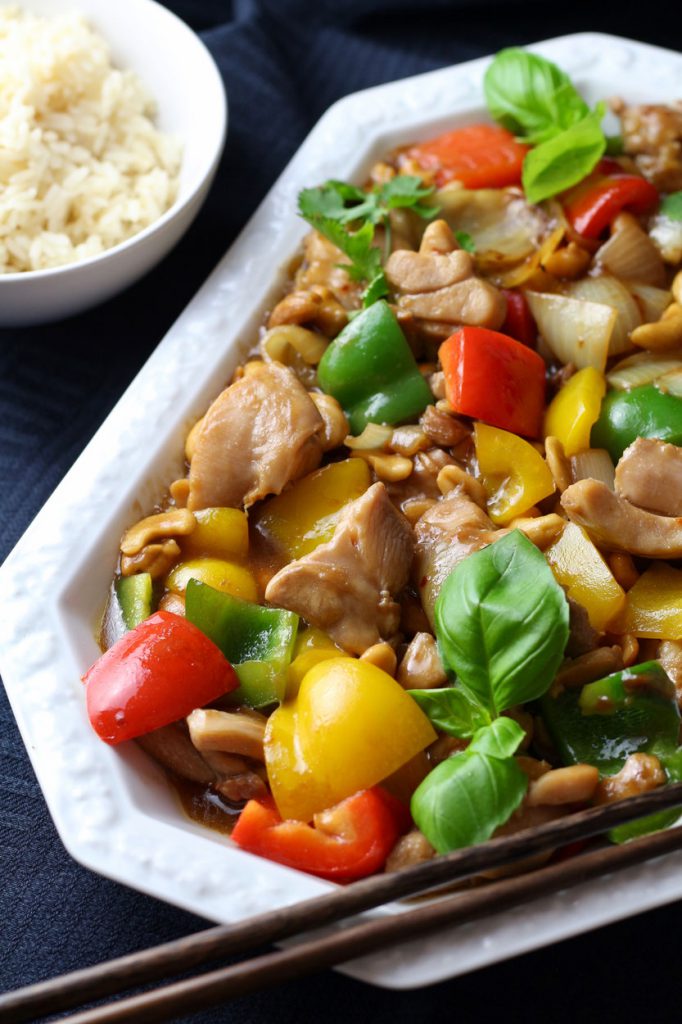 ---
Let me know if you try this recipe in the comments below, or using the hashtag #daysofjay on Instagram. Take care out there and happy cooking! xJ
---
Spicy Cashew Nut Chicken
Spicy Cashew Nut Chicken is so easy to put together and miles better than any takeaway. Try this recipe and see!
Ingredients
for the rice:
1 cup / ca. 225g uncooked rice
1 +¾ cup / ca. 425ml water
1 tsp butter
for the marinade:
1 Tbsp cornflour
60 ml Chinese cooking wine, Shao Xing
or: 60ml dry sherry
60 ml oyster sauce
40 ml light soy sauce
3 tsp sesame oil
1 tsp vinegar
½ tsp hot chilli flakes
½ tsp sugar
500 g boneless, skinless chicken thighs
for the stir-fry:
½ a red capsicum / bell pepper
½ a green capsicum / bell pepper
½ a yellow capsicum / bell pepper
1 small brown onion
3 fat cloves garlic
1 Tbsp neutral oil, for frying
100 g unsalted cashews
to serve:
small bunch of basil
small bunch of coriander
lime wedges, optional
Instructions
Give the rice a quick rinse in a sieve, then put in a medium saucepan with the cold water and the butter. Bring to the boil uncovered, stirring occasionally, then turn the heat right down as low as it can go, cover with a tightly fitting lid (or a double layer of tin foil if you don't have a lid) and cook for 15 minutes. After 15 minutes, remove from the heat and leave to stand for 5 minutes. Uncover and fluff the grains with a fork then cover tightly and keep warm until needed.
Meanwhile, in a medium-sized bowl, whisk together all ingredients for the marinade. Cut the chicken into bite-sized chunks, place it into the mixture and allow it to marinade for at least 10 minutes. While the chicken is marinading, de-seed and remove any bitter white pith from the capsicums, and cut into bite-sized squares. Peel and quarter the onion, then separate the layers. Peel and slice the garlic.
Heat a large frying pan or wok over high heat, then add the oil, tilting the wok or pan until it is coated. Lift the chicken out of the marinade, giving it a gentle shake and fry, stirring, over high heat for 3 minutes. Use a slotted spoon to lift the chicken out of the pan or wok onto a plate. Turn the heat down slightly and add the capsicum, onion, and garlic. Cook, stirring for 3 minutes, then add the cashews and the chicken back to the pan.
Pour in the marinade and a little splash of water, then cook stirring for another 2-3 minutes until the mixture has thickened and coated the meat and vegetables, thinning with a little extra water if necessary.
Transfer to a serving dish and serve immediately, scattered with torn basil and coriander, lime wedges and the cooked rice.



.

Nutrition Information:
Yield:

4
Amount Per Serving:
Calories:

704
Total Fat:

30g
Saturated Fat:

7g
Trans Fat:

0g
Unsaturated Fat:

22g
Cholesterol:

155mg
Sodium:

1572mg
Carbohydrates:

69g
Fiber:

3g
Sugar:

6g
Protein:

41g
Nutrition information is calculated automatically and isn't always accurate.
FREQUENTLY ASKED QUESTIONS
I don't have a wok! Can I still make Spicy Cashew Nut Chicken?
I don't have a wok in my Munich kitchen either, but I find a large frying pan works perfectly well for this dish. If you are using a wok over a gas flame, you may be able to reduce the cooking times slightly as they get very hot!

There is so much happening at the same time in this dish, how should I prepare?
Because this meal comes together so quickly, it's best to have your rice well on the go, chicken marinading and vegetables chopped before you even begin to heat the pan. As with all stir fry dishes the most time consuming part of the dish is chopping the vegetables.

Do I really need to use three colours of peppers in this dish?
I like to use a mixture of red, green and yellow capsicum because it looks bright and colourful, but also that's conveniently how they are sold in the supermarkets here in Germany. Feel free to use whichever colours you like best.

I don't like spice! Does Spicy Cashew Nut Chicken really have to be spicy?
Not at all. If you don't like spice, leave it out. If you like this extra spicy, either up the amount chilli flakes or add some sliced chilli while stir frying.

Why do you give cup measurements for the rice?
Rice is perhaps the only thing in the kitchen that I measure by cups, rather than weight. I find it works well and it was how I learnt to cook rice as a kid. I have, however, included both sets of measurements here.
---
---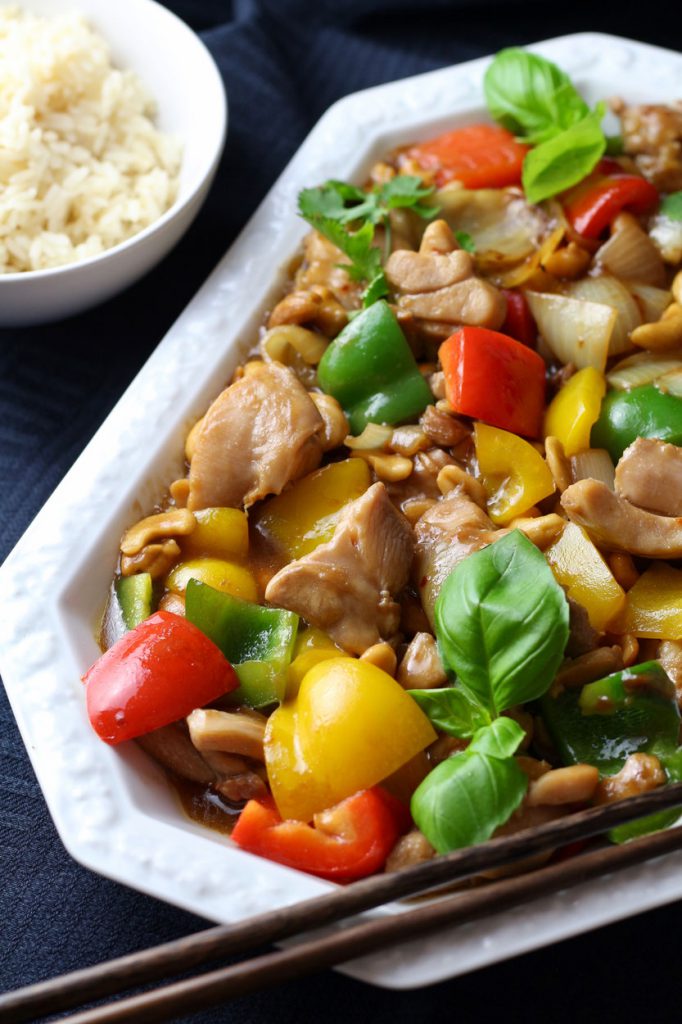 SPICY CASHEW NUT CHICKEN
---