It's Friday! The arrival of the weekend in these unusual times is somehow not quite as exciting as it used to be. When we're all working from home the eagerly awaited 5 pm escape from the office has lost its urgency. We're not plotting how we can stuff those 48 hours of freedom with outdoor activities or planning some serious couch time, instead, we're working from the couch, still in our pyjamas at the end of the day and thinking about all the things we are going to do and places we are going to see when we are finally released.
Smell and taste are so evocative and just mixing up the sauce for today's recipe: Homemade Chicken Pad Thai is enough to transport me to the crowded streets of Bangkok, where the sizzle, sounds and smell of the many food stalls is an integral part of the music of the city.
I don't think I'm alone at the moment in feeling a little bit of wanderlust. I love to travel, to see new things and especially to taste exotic food wherever I go. I've already drawn up a list of all the places I want to visit as soon as the planes are flying again! Meanwhile, I think one of the best ways to travel from the comfort of your own home is to get into the kitchen and cook food from different cultures.
I've spent quite a lot of time in the Thai capital, from my first trip there way back in the '80s as a little boy, to more recently where I learnt to prepare traditional Thai dishes at a small cooking school off the Silom Road. While this dynamic city is ever-changing, the incredible variety of pungent, fragrant, fresh food is always a constant. I've eaten some truly amazing food in Bangkok. From fiery jungle curries, bobbing with catfish and green peppercorns to the flavour sensation that is Miang Kham: spicy prawn wrapped in fresh betel leaves, and I love it all. But I think the most popular Thai street food is actually one of the most accessible.
Pad Thai requires very little in the way of specialised ingredients, is cooked in minutes and is hugely satisfying. Salty, sweet, sour and spicy, it's an irresistible combination of flavours. It's so easy to make at home, try the recipe below and let me know what you think!
Take care out there and happy cooking! x Jay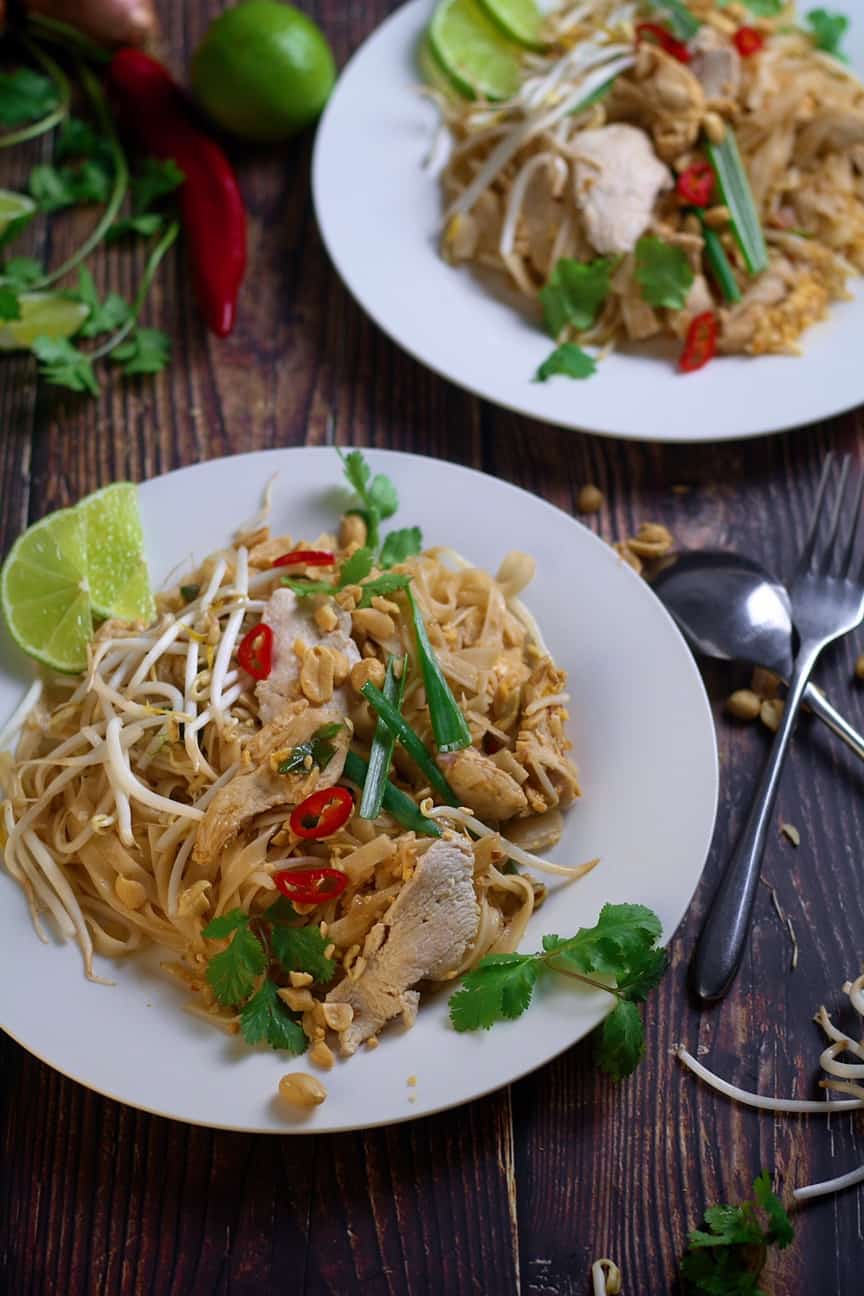 Let me know if you try this recipe in the comments below, or using the hashtag #daysofjay on Instagram. Happy cooking!
---
---
Homemade Chicken Pad Thai
The well known and much beloved Thai street food classic is quick and easy to make at home and super satisfying. A perfect blend of salty, sweet, sour and spicy, Chicken Pad Thai comes together in minutes so make sure to have all the ingredients ready to go before you start heating the pan.
Ingredients
for the sauce:
3 Tbsp brown sugar
3 Tbsp fish sauce
3 Tbsp tamarind paste, see note
2 Tbsp fresh lime juice
1 tsp mild chilli flakes
1 tsp soy sauce
to cook:
3 Tbsp neutral oil
2 shallots or 1 small onion, diced
2 large cloves garlic
1 medium red chilli, sliced
200 g chicken breast, thinly sliced
2 eggs, lightly whisked
125 g bean sprouts
100 g firm tofu, optional
3 spring onions, see note, cut into thin 3 cm strips
50 g peanuts, finely chopped
to serve:
125 g bean sprouts
fresh lime, sliced
small bunch coriander, leaves only
Instructions
As with all stir fry recipes, once you start cooking, this goes fast! Make sure you have your ingredients prepared and sliced as necessary, and the table set!
Place rice noodles in a shallow dish, pour over boiling water. Allow to rest for 5 minutes, stirring once or twice, then drain and refresh under cold water.
Meanwhile, whisk together the sauce ingredients and set aside.
Heat two tablespoons of the oil in a large frying pan or wok then cook the onion for 2 minutes, until softened but not browned. Add the garlic and fry another 30 seconds. Add the chicken to the pan, and cook for 2 minutes, stirring occasionally.
Push all of the ingredients to one side of the pan, pour in the remaining oil, then add the eggs to the pan. Scramble gently using a spatula or wooden spoon, then toss through the chicken. Add the bean sprouts, tofu (if using) and noodles to the pan along with the sauce and cook for 2 minutes, stirring occasionally so that everything is coated in the sauce.
Add the spring onions and half of the peanuts to the pan, stir to combine, then divide between 2 plates and serve immediately, scattered with the extra peanuts and with plenty of extra bean sprouts, fresh lime and coriander.
Notes
If you can't find tamarind paste, use 2 Tbsp rice vinegar and 1 Tbsp water mixed. More traditional is garlic chives, but as they are not so easy to come by, spring onion is a suitable substitute.
Nutrition Information:
Yield:

2
Serving Size:

1 grams
Amount Per Serving:
Calories:

1174
Total Fat:

62g
Saturated Fat:

12g
Trans Fat:

0g
Unsaturated Fat:

42g
Cholesterol:

322mg
Sodium:

3558mg
Carbohydrates:

86g
Fiber:

10g
Sugar:

36g
Protein:

75g
Nutrition information is calculated automatically and isn't always accurate.
FREQUENTLY ASKED QUESTIONS
Can I make Pad Thai vegetarian?
Yes, you can! Just substitute the chicken for more tofu. You can throw in some extra vegetables if you like too. I would use quick-cooking ones like zucchini or capsicum.

I can't find Tamarind Paste – is there a substitute?
Tamarind paste is becoming easier to find but it is definitely not available everywhere. If you have scoured your local Asian or Middle Eastern grocers and are still empty-handed, substitute with two tablespoons of rice vinegar and 1 tablespoon of water mixed.

I have a nut allergy, can I leave them out of Homemade Chicken Pad Thai?
Definitely! You might like to try toasting a little uncooked rice, then grinding finely in a mortar and pestle to add a little crunch.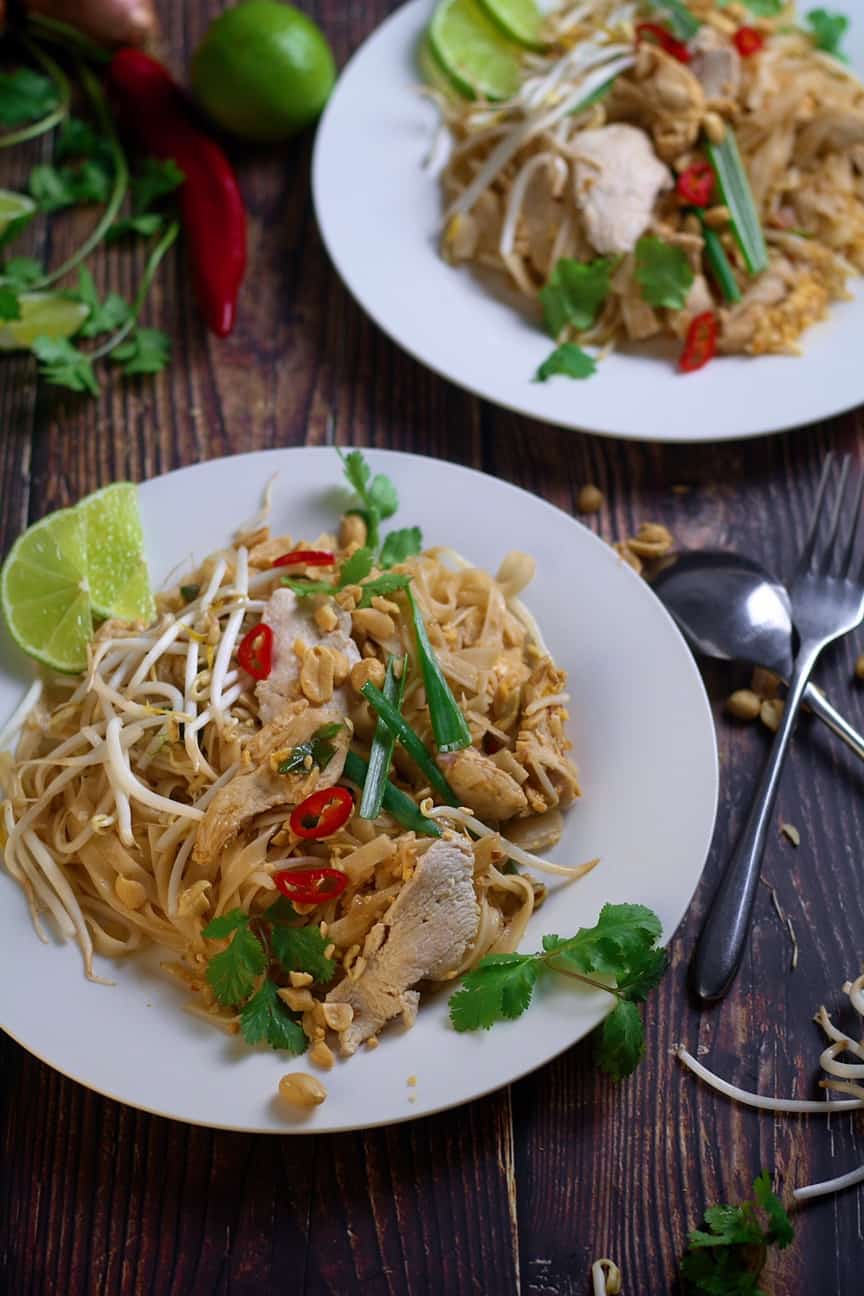 HOMEMADE CHICKEN PAD THAI
---
Looking for more Asian recipes? Why not try: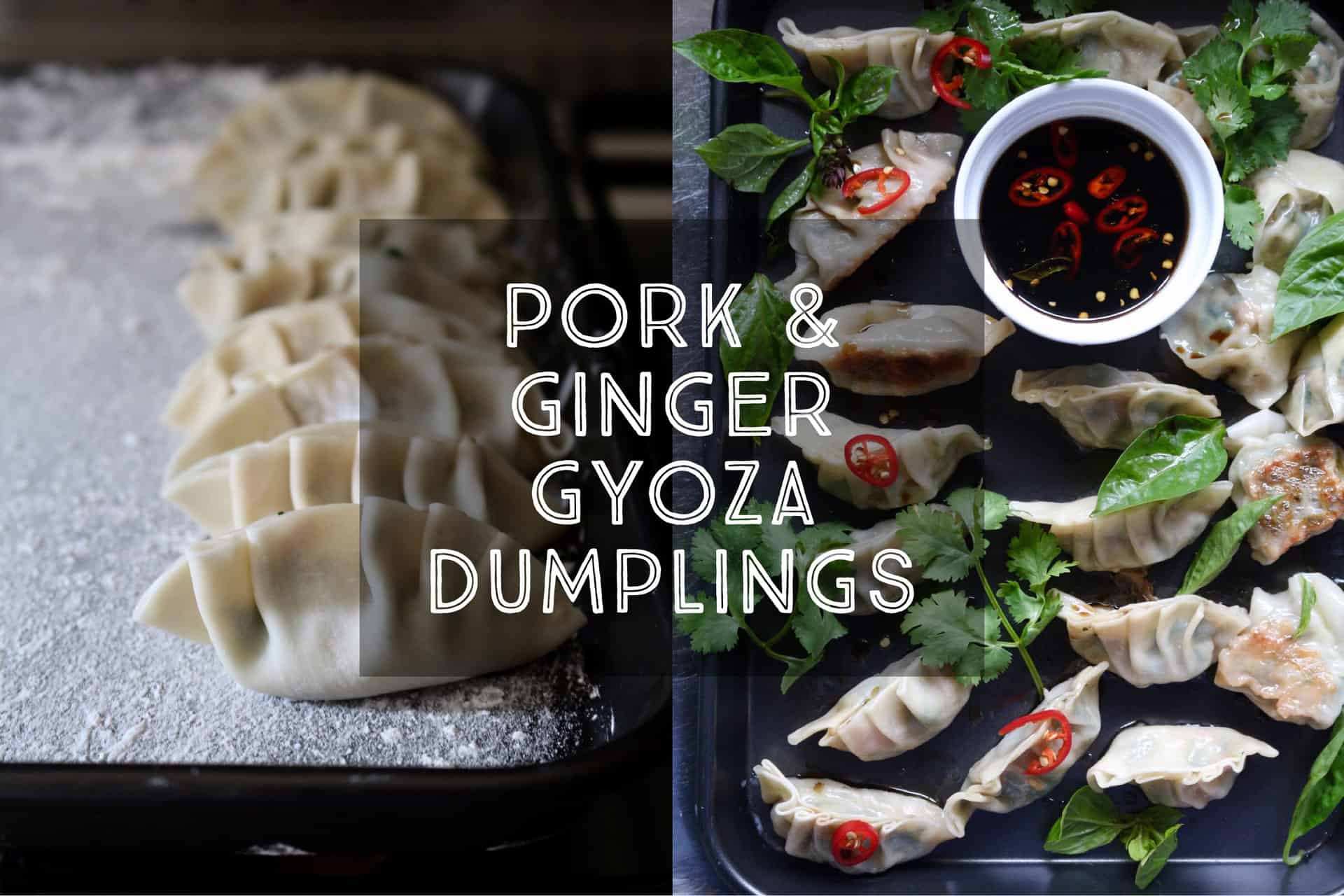 ---