Christmas is getting closer and closer and I'm finalising the menu for our Christmas day lunch. As a good New Zealander, I feel honour bound to include pavlova in some form in the festivities, and my Easy Mini Berry Pavlovas always go down a treat!
A Christmas Tradition from Down Under
For me pavlova will always conjure memories of childhood, groaningly full of food after a huge Christmas lunch, but with just enough space left for a towering slice of pavlova.
Loaded with berries, cream and that most patriotic of fruit, tart, green kiwifruit, no Christmas table is complete with out it.
Who invented Pavlova?
Us Kiwis and Aussies have a long running rivalry over who exactly invented this delicious  dessert, with both sides claiming the crown.
Teams of dedicated researchers (Yes! Really!) at major universities in both countries dive ever deeper into historical cookbooks to find the answer, and while we'll probably never agree, we all know that this tasty sweet treat is an absolute must on every festive table.
I've been making pavs for a long time, and I've included lots of little helpful techniques that I've learned along the way to make sure your pavlova is a success.
Ingredients
To make pavlova, you'll need the following simple ingredients:
Caster or superfine sugar: It's best to use fine sugar when making pavlova to ensure that it dissolves into the egg whites. Udissolved sugar will lead to cracking and weeping in the finished pavlovas.
Egg whites: It's easiest to separate your eggs when they are cold, then allow the whites to come to room temperature as they will fluff up much more. Be sure to save the yolks! You could make some delicious Vanillekipferl cookies!
Vinegar and Cornstarch: These ingredients give pavlovas their. mashmallowy texture. You can't taste the vinegar in the final product, I promise!
Cream: Heavy or whipping cream is suitable for this recipe.
Fresh fruit: Traditional fruits include strawberries, blueberries, kiwis and mango. Switch it up and top with your favourite fruits!
Frequently Asked Questions
Do I have to warm the sugar before I start?
While it's not necessary to warm the sugar before you start, warm sugar will dissolve much easier in the egg white mixture, which means the meringue is more stable and less likely to crack and weep.
Why do you add water to the egg whites?
Adding a tablespoon of cold water to the egg whites helps to break the structure down a little – they'll whip up much better this way.
What can I substitute for Cream or Tartar?
Cream of tartar or tartaric acid will create more stable egg whites, but isn't necessary. Simply leave it out if you can't find it.
I've heard that it needs to be cool to make meringue, is this true?
Meringue and pavlova famously hate humidity, so try to make them when it is a little cooler. In saying that, in my part of the world we always make them in high summer when it is very humid and they seem to come out just fine. Plenty of cream and fresh fruit will hide a multitude of sins.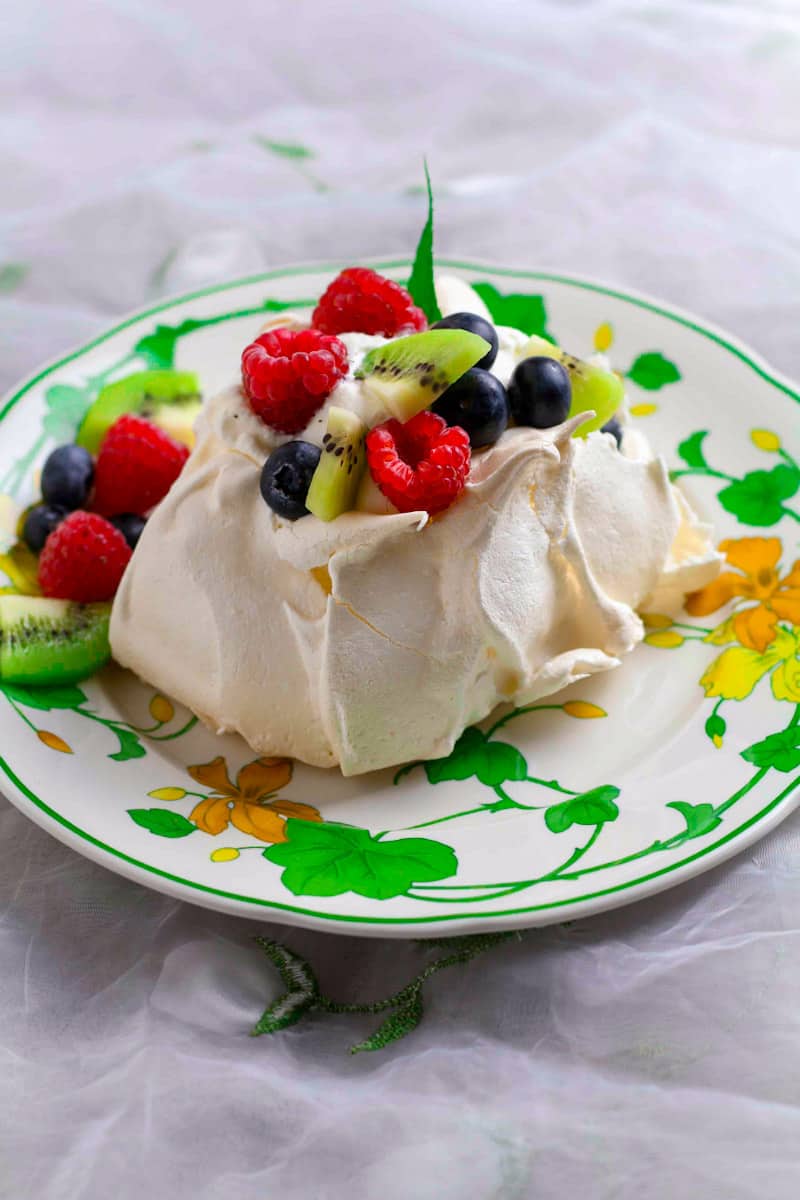 Looking for more festive baking ideas? Try my beautiful and delicious Sweet Cinnamon Star Bread
Easy Mini Pavlova Recipe
Easy Mini Berry Pavlovas
Total Time:
3 hours
15 minutes
The ultimate Christmas dessert, the pavlova has a long tradition in New Zealand and Australian households. These Easy Mini Berry Pavlovas are a fun and festive way to serve this delicious sweet treat.
Ingredients
200 g (1 cup) caster / superfine sugar
1 Tbsp cornflour / cornstarch
4 egg whites, room temperature
¼ tsp cream of tartar, optional
1 pinch of salt
2 tsp vanilla extract
1 tsp white vinegar
to serve:
500 ml (2 cups) whipping cream
125g raspberries
125g blueberries
2 kiwifruit, peeled and sliced
passionfruit pulp, optional
Instructions
PREPARE: Heat the oven to 150°C / 300°F / Gas 2. Line an oven tray with baking paper and set aside. Whisk together the sugar and cornflour in a heat-proof bowl and place in the oven to warm while you whisk the eggs.
BEAT EGG WHITES: In the bowl of a stand mixer (note 1) whisk the egg whites, cream of tartar and salt together with 1 tablespoon of cold water until soft peaks form. Take the sugar out of the oven, and with the mixer running whisk in the sugar, one tablespoon at a time, until it is all used up and the mixture is thick and glossy. Add the vanilla extract and vinegar and continue whisking for 3-4 minutes.
SHAPE PAVLOVAS: Using two tablespoons, scoop out big dollops of the meringue mixture, forming 6 mini pavlovas on the oven tray, allowing some room for them to expand. Use a knife or palette knife to flatten the tops, and shape the sides, there's no need to be overly fussy, just make sure you are happy with the shape. Use a spoon to make a depression in the middle of each pavlova to hold the cream and fruit later.
BAKE: Transfer to the middle of the preheated oven and immediately turn the heat down to 110°C / 225°F / Gas ¼. Bake the pavlovas for 1 hour until crisp and dry. They should be a pale ivory colour, if you find they are starting to brown early in the baking process, turn the heat down a little. When the pavlovas are cooked, turn off the heat, prop the oven door slightly ajar using a wooden spoon, and allow to cool completely in the oven, 2-3 hours but overnight is even better.
DECORATE: Before serving, whip the cream to soft peaks, spoon onto the top of each pavlova and top with berries, kiwifruit and passionfruit if using. Undecorated pavlova will keep in a sealed, dry container for several days so can be made in advance.
Notes
Note 1: Make sure your bowl and whisk are scrupulously clean. I like to fill the bowl with boiling water and allow it to sit for a few minutes before I start. Not only will this get rid of any grease or fat in the bowl, the warm bowl will help the eggs whip up faster.
Recommended Products
As an Amazon Associate and member of other affiliate programs, I earn from qualifying purchases.
Nutrition Information:
Yield:

6
Serving Size:

1 Mini Pavlova
Amount Per Serving:
Calories:

393
Total Fat:

24g
Saturated Fat:

16g
Trans Fat:

1g
Unsaturated Fat:

7g
Cholesterol:

76mg
Sodium:

78mg
Carbohydrates:

40g
Fiber:

1g
Sugar:

38g
Protein:

5g
Nutrition information is calculated automatically and isn't always accurate.
If you enjoyed this recipe, please leave a star rating in the recipe card and share it using the buttons below so that others can find it too!