I have such a delicious recipe for you today! This wonderfully festive Sweet Cinnamon Star Bread is so tasty, and so beautiful than you won't want to save it just for the silly season.
It's definitely beginning to look a lot like Christmas in my neck of the woods. The Christmas markets have opened, filling the city streets with cute little wooden huts and the air with the beguiling aromas of Glühwein and roasted almonds. Everywhere you turn it seems like there are tinsel and fairy lights and the sound of Christmas carols floating on the air.
As a New Zealander, I think the novelty of a Christmas in Europe will never wear off. Coming from the land of Christmas on the beach, barbecue Christmas lunch and Santa in swim gear, a real deal 'Winter Wonderland' is incredibly charming.
Even better, I get to indulge my love of baking, because when it's cold outside I can think of nothing better to do than hole up in the kitchen, keeping warm by the oven and baking Christmas biscuits and other festive treats.
One of my favourite Christmas bakes though is Sweet Cinnamon Star Bread. Not only does it make a huge, show-offy, beautiful loaf to feed a crowd, it is actually much simpler than it looks, relying on some clever cutting and twisting to achieve the beautiful design. I've included lots of photos below so you can see how easy it is.
---
FREQUENTLY ASKED QUESTIONS
It is summer where I am and I am finding the dough really hard to manage. Any tips?
Working with dough and pastry is always a bit easier in a cool kitchen. If you are in the southern hemisphere and enjoying summer, it's worth cooling the dough for 15 minutes in the refrigerator before you start to work with it.
This loaf is huge! Can I halve the recipe?
This recipe makes a great big loaf with 8 generous portions. If you like, split the dough in half and make 2 smaller stars, or just one and save the rest of the dough for another batch – it will keep for several days well covered in the fridge – just bring it back to room temperature before baking.
Can I make other flavours of stars?
This dough makes a delicious savoury star as well. Try it with pesto instead of cinnamon sugar, or pizza sauce and lots of grated cheese – delicious!
Looking for more Christmas recipes?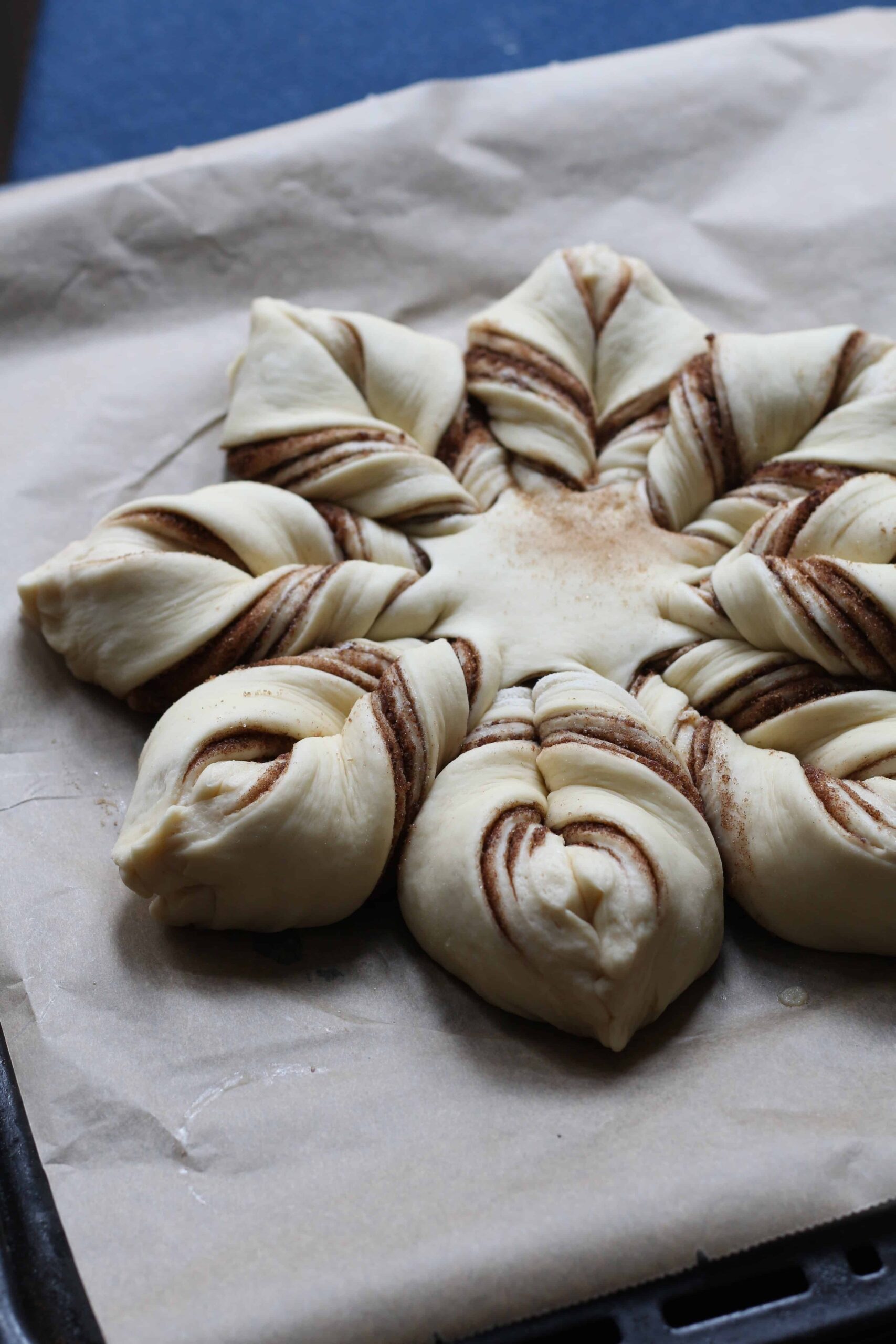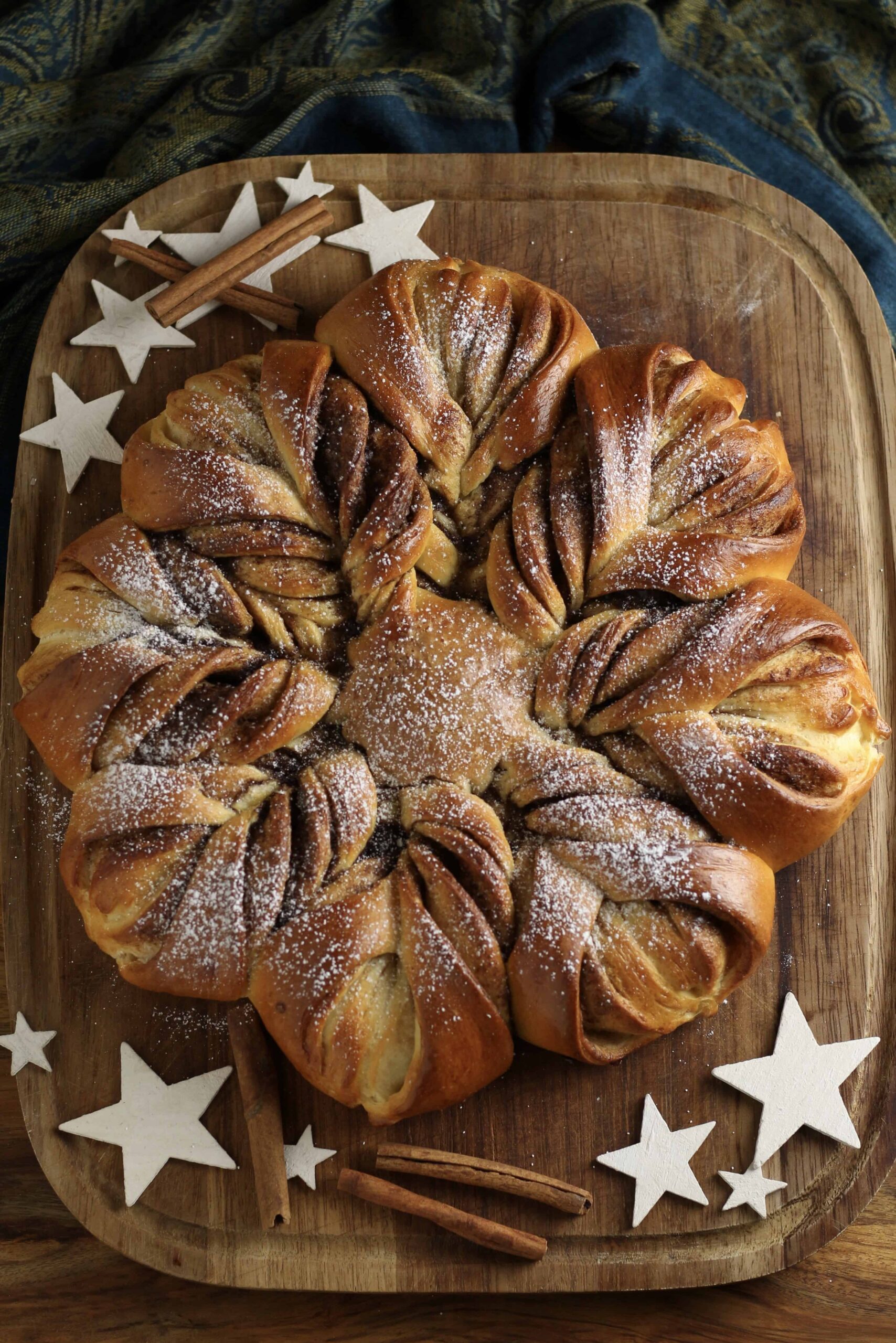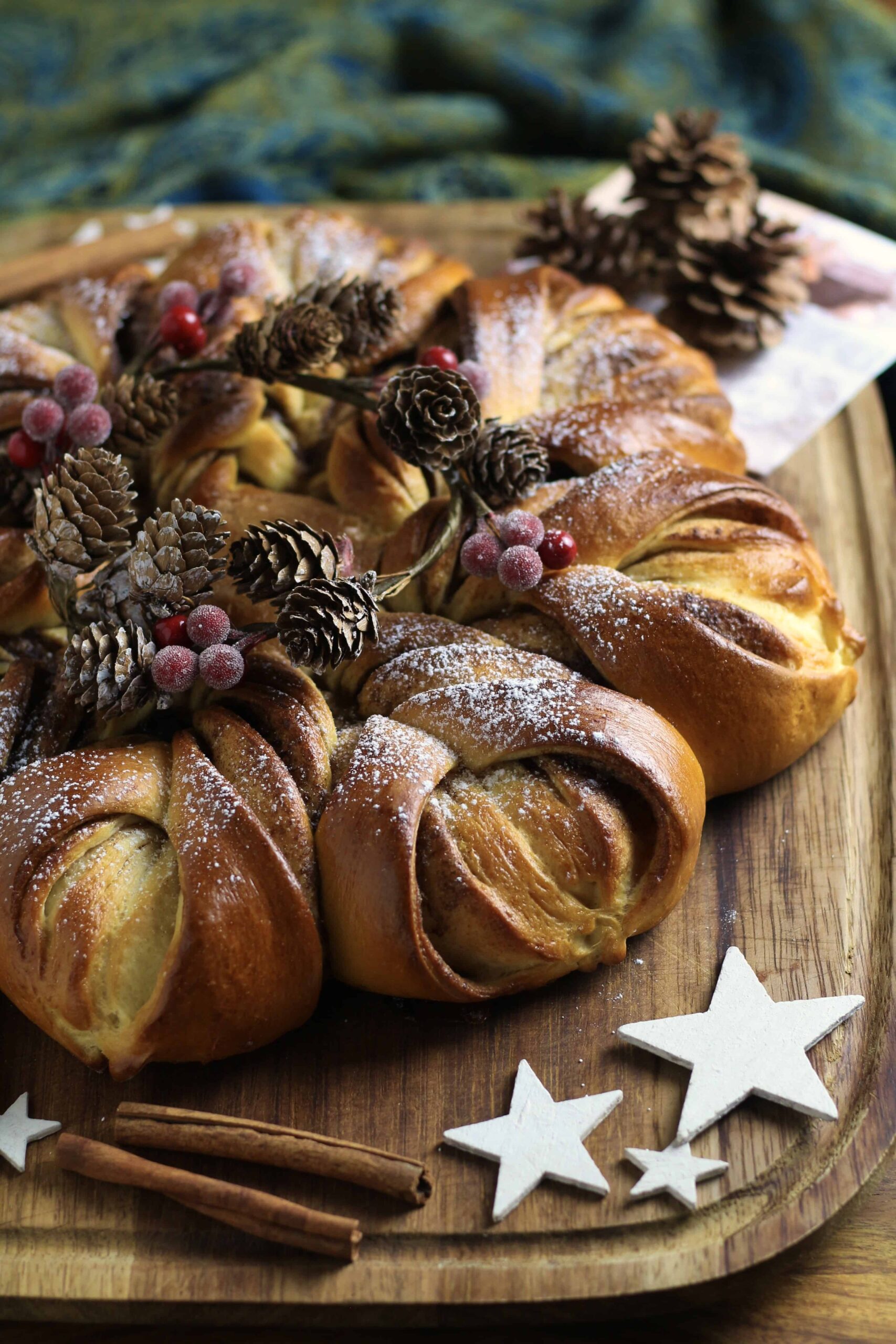 SWEET CINNAMON STAR BREAD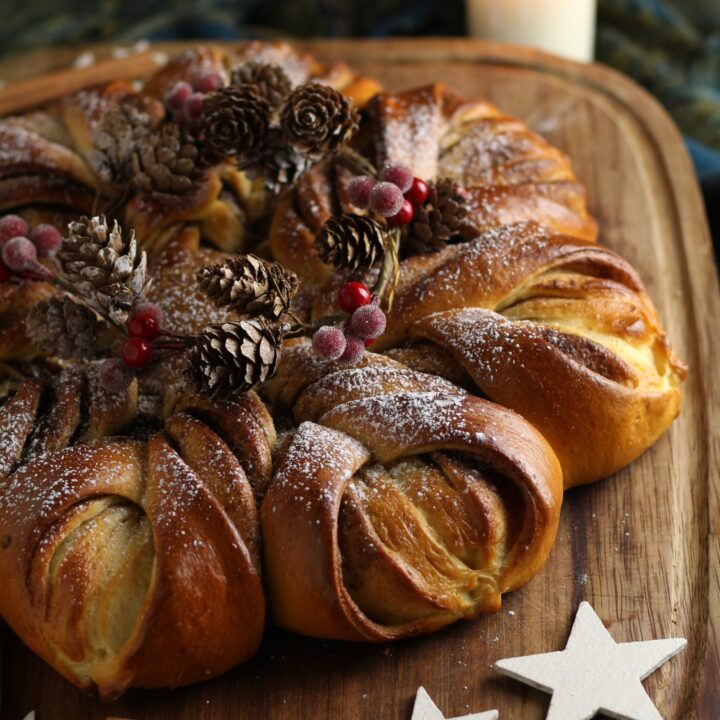 Sweet Cinnamon Star Bread
Rising Time:
1 hour
30 minutes
Total Time:
2 hours
25 minutes
One of my favourite Christmas bakes is Cinnamon Star Bread. Not only does it make a huge, show-offy, beautiful loaf to feed a crowd, but it is also actually much simpler than it looks, relying on some clever cutting and twisting to achieve the beautiful design.
Ingredients
for the dough:
250 ml milk
21 g fresh yeast, or 7g dried yeast
500 g flour, separated 300g / 200g
50 g sugar
½ tsp salt
50 g unsalted butter, very soft
1 large egg, beaten
for the filling:
50 g unsalted butter, melted
100 g sugar
3 tsp cinnamon
to glaze:
1 egg, beaten
2 Tbsp milk
to serve:
icing / powdered sugar, for dusting
Instructions
Begin by heating the milk slightly in a small saucepan until it is just warm. Remove from the heat, sprinkle or crumble over the yeast and set aside.
In the bowl of a stand mixer with the dough hook fitted (see note 1) combine 300g flour, sugar and salt. While mixing, add the butter and egg, then give the milk and yeast mixture a stir and pour it into the bowl. Run the mixer on high until the ingredients are combined, then with the mixer on low add the remaining flour. Knead for 5 minutes.
After 5 minutes the dough should be moving freely around the bowl of the mixer, and only lightly sticky. If it is still a little liquid or sticking to the sides of the bowl add one tablespoon of flour and knead for another minute.
When the dough has finished kneading, shape it into a ball - it should feel soft, springy and elastic - don't worry if it's a little sticky, this is normal, just dust it with a little flour if it makes it easier to handle. Place it back in the bowl, cover with a clean cloth or some cling film and allow to rise in a warm place for 45 minutes to 1 hour until doubled in size.
When the dough has risen, turn it out onto a lightly floured surface, flatten out the air and divide into 4 equal pieces. I find it useful to weigh the dough so that my pieces are as even as possible. Roll each into a ball, then cover again and allow to rest for 5 minutes. This will make rolling the dough out much easier as the gluten has time to relax. Meanwhile, line an oven tray with baking paper and whisk together the cinnamon and sugar for the filling.
After the dough has rested, roll a piece out into a thin circle about 25cm in diameter. Place it on the baking tray, brush generously with melted butter, leaving a 1cm border around the edges, then sprinkle with ⅓ of the cinnamon sugar. Repeat with the remaining dough layers, leaving the top layer plain.
Place a small water glass or similar in the middle of the dough circle to use as a guide. Using a sharp knife, cut the dough into quarters, each quarter in half again, and each eighth in half again (see pictures) to give you a total of 16 strips, a bit like a flower. Remove the glass, then pick up two adjacent dough strips, twist them away from each other twice, then seal the ends by squeezing together firmly. Repeat with the remaining dough strips.
Cover loosely with a cloth and allow to rise for 20-30 minutes. Meanwhile, heat the oven to 180°C / 350°F / Gas 4. When the dough has risen for the final time, pinch the ends of the points together one more time, then beat the egg and milk for the glaze together and brush the dough all over making sure you get good coverage. Bake in the preheated oven for 25 minutes, until golden brown and risen.
Remove from the oven and allow to cool for 20-30 minutes before dusting generously with powdered sugar and serving.
Notes
note 1: While an enriched yeast dough like this is easier to make with a stand mixer, you can make it by hand too! Because the dough starts off very wet, you will need to use a wooden spoon to 'knead' it until it starts to come together. After that you can knead as normal, using a small amount of extra flour if it is very sticky.
Nutrition Information:
Yield:

8
Amount Per Serving:
Calories:

382
Total Fat:

13g
Saturated Fat:

8g
Trans Fat:

0g
Unsaturated Fat:

5g
Cholesterol:

76mg
Sodium:

196mg
Carbohydrates:

60g
Fiber:

2g
Sugar:

36g
Protein:

7g
Nutrition information is calculated automatically and isn't always accurate.
If you enjoyed this recipe, check out another of my favourite yeast dough recipes, the German classic Nußzopf!