Mulled Wine Cheesecake – just let that name settle in for a moment. Imagine a deep-red, almost black mulled wine jelly on top of a creamy citrussy filling, with a deliciously spicy base. Doesn't that sound tempting? In fact, it is incredibly good and, with the recipe below very straightforward to make – perfect for the Christmas table.
Christmas is definitely the time of year when spices and the aroma of food are most prominent in our collective mind. Whether cinnamon and vanilla wafting, temptingly along the street from the toasted almond vendor, the smell of heavenly baking drifting out from the kitchen of your mother, or grandmother, bringing back memories of Christmases past, the sharp spray of oil from a Christmas clementine, or in my homeland, the sugar and light vanilla perfume of a gently cooling pavlova, this is the time of year when every scent seems to evoke a memory.
This recipe gathers up some of the most delicious of those aromas and layers them one on top of the other, spice, vanilla, citrus, wine – and it is a true beauty. This is a no-bake cheesecake using gelatine to set the mixture, but don't worry, it's easier to use than you might, and this cool and creamy delight is perfect whether you are sweltering in the Aussie heat, or cosily tucked up inside against the European winter. Take care out there and happy baking. xJ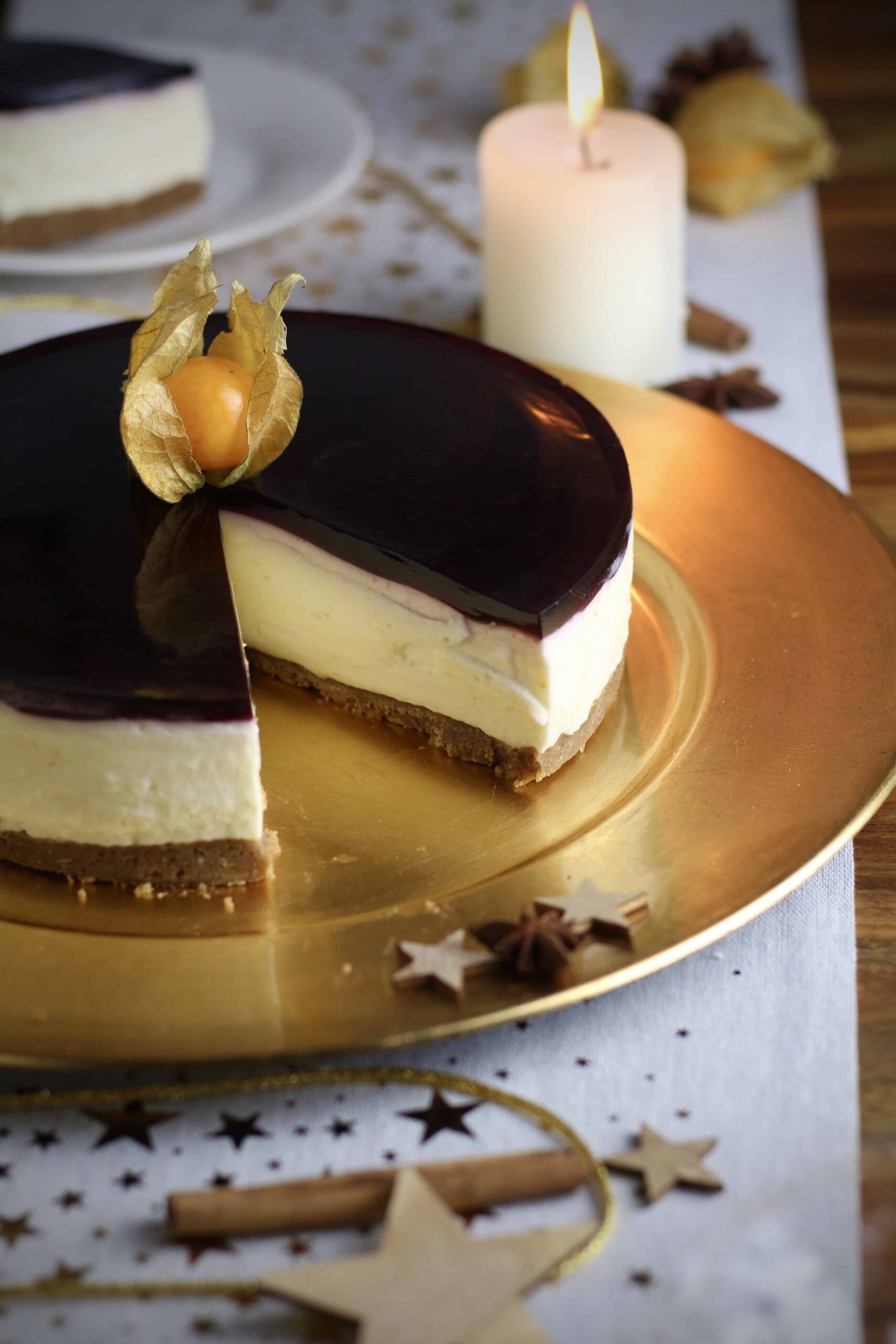 ---
Let me know if you try this recipe in the comments below, or using the hashtag #daysofjay on Instagram. Happy cooking!
---
---
Mulled Wine Cheesecake
Total Time:
8 hours
30 minutes
This is such a beautiful dessert, full of the rich spices and flavours of Christmas. A deep-red, almost black mulled wine jelly on top of a creamy citrussy filling, with a deliciously spicy base. This fabulous no-bake cheesecake is Christmas heaven!
Ingredients
for the base:
150 g spice or ginger biscuits, I use Speculaas/Spekulatius biscuits
75 g unsalted butter, melted
for the filling:
4 sheets gelatine, (see note 1)
500 g full fat cream cheese, room temperature
150 g caster sugar
25 ml lemon juice
1 tsp vanilla extract
zest of one unwaxed orange
250 ml cream
for the mulled wine jelly:
3 sheets gelatine, or 1.5 tsp powdered gelatine
250 ml light red wine, (see note 2)
50 g sugar
3-4 slices orange
1 stick cinnamon
2 cloves
Instructions
Line a 20cm round spring-form tin with baking paper and grease the sides with a neutral oil like sunflower or canola. Set aside while you prepare the base.
In the bowl of a food processor, process the biscuits until they are fine and crumbly. With the motor running, pour in the hot, melted butter and process to combine. Pour the crumbs into the prepared spring-form, spreading them evenly across the base. Use a glass with a flat bottom to get the crumbs nice and even. Place in the fridge to chill while you prepare the filling.
Place the gelatine sheets in a bowl, cover with cold water and allow to soften for 5 minutes. Heat 50ml water in a small saucepan, pick up the gelatine sheets one by one, giving them a good squeeze to get rid of excess water, then stir them into the hot water until dissolved. Remove from the heat and set aside.
In a large mixing bowl, beat together the cream cheese, sugar, lemon juice, vanilla extract and orange zest until smooth. Quickly whisk in the gelatine mixture, ensuring it is evenly distributed. In a separate bowl, whisk the cream to soft peaks, then use a spatula to fold the cream under the cheese mixture, gently but thoroughly, keeping as much air in the mixture as possible. Pour the mixture into the prepared tin, smooth over the surface, then chill for at least 2-3 hours until set and firm.
To make the jelly, soak the gelatine sheets in a bowl of cold water, then place the wine, sugar, orange slices, cinnamon and cloves into a small saucepan. Cook over medium heat, stirring until the sugar is dissolved, then turn off the heat, cover and allow to infuse for 10 minutes. Use a slotted spoon to remove the solids from the wine, then squeeze out the gelatine sheets and stir into the hot wine. Return to the heat for 1 minute, then cool to room temperature. (see note 3).
When the jelly mixture is cool, pour very carefully over the cheesecake - you may find it useful to pour onto a back of a spoon so as not to disturb the surface of the cake. I like to pour the jelly on top while the cake is in the fridge so that I don't have to work about spilling it! Allow the cheesecake to set overnight in the fridge - to get to a good slicing consistency it will need at least 8 hours in the fridge, longer in hot weather so plan accordingly. Gelatine continues setting for 24 hours.
To serve, fill a tall container with very hot water, dip a sharp knife in the water, dry with a clean cloth and then slice the cake, dipping and cleaning the knife between each cut.
Notes
Note 1: If you can only get powdered gelatine sprinkle 3 level teaspoons over 50ml of cold water in a small saucepan. Allow to bloom 5 minutes, then heat gently, stirring until dissolved, before continuing with the recipe. If it is particularly hot where you are, or the cheesecake will sit around in the warm for a while before eating, consider adding an additional sheet or spoon of gelatine to the cheese mixture, the top jelly should be fine.
Note 2: Try to use a lighter wine for this recipe, such as a Pinot Noir, Grenache or Primitivo - not only is the flavour more suited to a dessert, they are lower in tannins which will help the jelly to set clear. Don't use a fancy expensive wine though! If you only have a heavier variety, replace some of the wine with water in the recipe.
Note 3: If you'd like to hurry this step up (and I often do), pour the jelly mixture into a heat proof bowl, then place in a sink full of cold or iced water, stirring occasionally until it has begun to thicken and chill. It will set much faster when poured onto the chilled cake.
Nutrition Information:
Yield:

6
Amount Per Serving:
Calories:

850
Total Fat:

58g
Saturated Fat:

34g
Trans Fat:

1g
Unsaturated Fat:

19g
Cholesterol:

159mg
Sodium:

463mg
Carbohydrates:

69g
Fiber:

2g
Sugar:

46g
Protein:

9g
Nutrition information is calculated automatically and isn't always accurate.
FREQUENTLY ASKED QUESTIONS
Do I really have to let the cheesecake set such a long time?
It's important to let gelatine set properly, as otherwise your cheesecake, though still delicious, will be a pain to slice. I recommend letting the cake set for 8-24 hours in the fridge before serving. Gelatine will completely melt around 35°C so if you are in the hot Aussie sun, make sure you keep the cake cool!
If you are in a real hurry, you can try chilling it in the freezer.

Can I make this recipe alcohol free?
Sure! Either use an alcohol-free red wine, or a red grape juice or berry juice. You will need to slightly reduce the sugar as juice is sweeter than wine.
---
---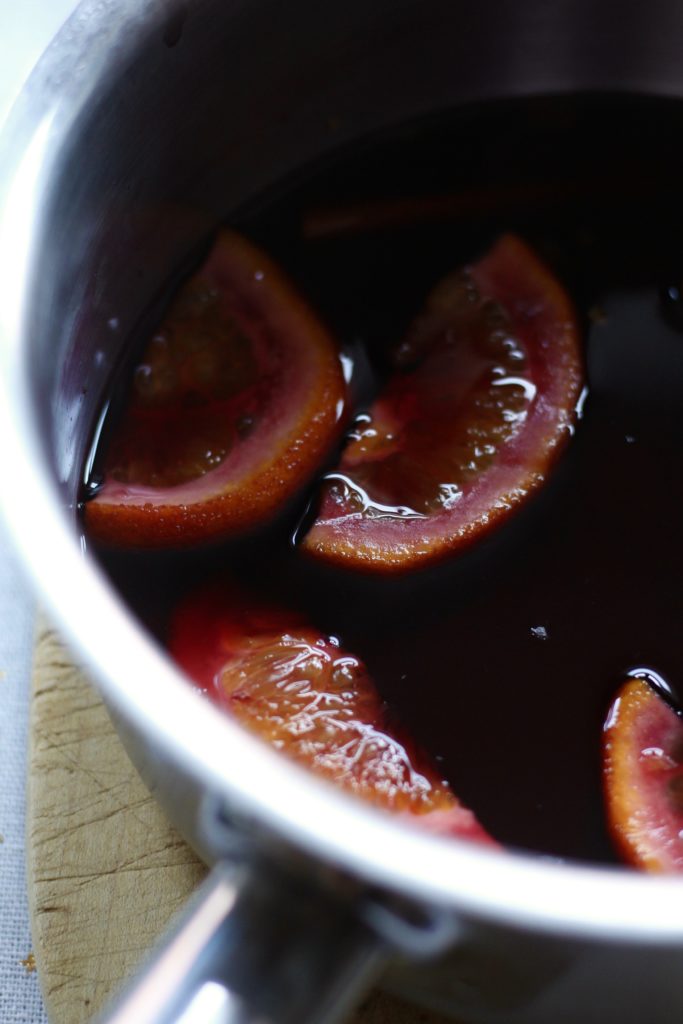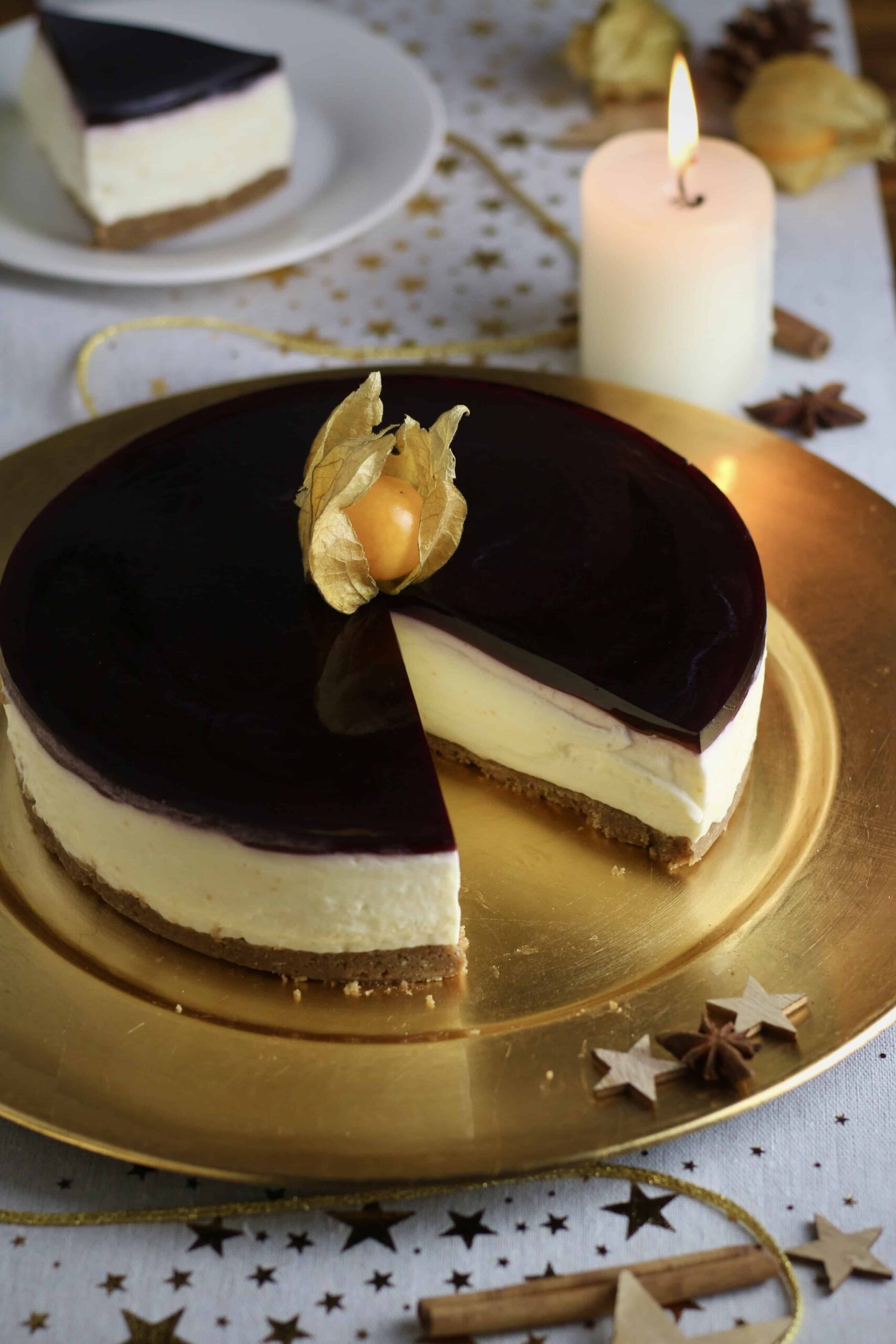 MULLED WINE CHEESECAKE
---
LOOKING FOR MORE JELLY DESSERTS? WHY NOT TRY: