More delicious Cypriot food for you today! I'm obviously longing to go travelling again, as I'm busy cooking recipes that evoke memories of faraway places, good times and mouthwatering food. The food and produce on Cyprus will always be very special to me, as each dish brings back a particular encounter or experience.
The local sea bream 'çipura', grilled to perfection and devoured greedily at a beachside restaurant, set right over the turquoise waters. Spicy chicken shish kebabs 'Tavuk Şiş' cooked over the leaping flames at the family-run Bella Moon restaurant in Bellapais. Goat Kleftiko, a long braised dish, made in a traditional island oven, high up in a tiny restaurant in the Kyrenia Mountain ranges. Börek, lovingly made by hand, in one of the many local cafes dotted alongside the hustle and bustle of the main coast road. This recipe is for my favourite börek: 'Kol Böreği', or Spiral Börek, named for its spiralling 'arms' of stuffed dough.
Börek comes in many forms – it will always be some layering of filo or yufka dough, with a filling of cheese, spinach, minced meat or some combination of the three. It can be fried or baked and is always delicious. My absolute favourite is the huge trays of Kol Böreği or 'Arm Börek' named for the long 'arms' of pastry spiralling around the centre.
The recipe I have for you today makes a 24-26cm diameter börek, but it's not unusual to see these made in vast trays, enough to feed everyone at a huge family gathering. I like to stuff mine with mince, as well as spinach and cheese, maybe I'm just greedy, but I think that's how they taste the best. I've also written this recipe with homemade Yufka/Filo dough – if you are lucky enough to live close to a good Turkish or Greek shop you can find it in the refrigerated section instead but I'd encourage you to try making it yourself! Take care out there and happy cooking! xJ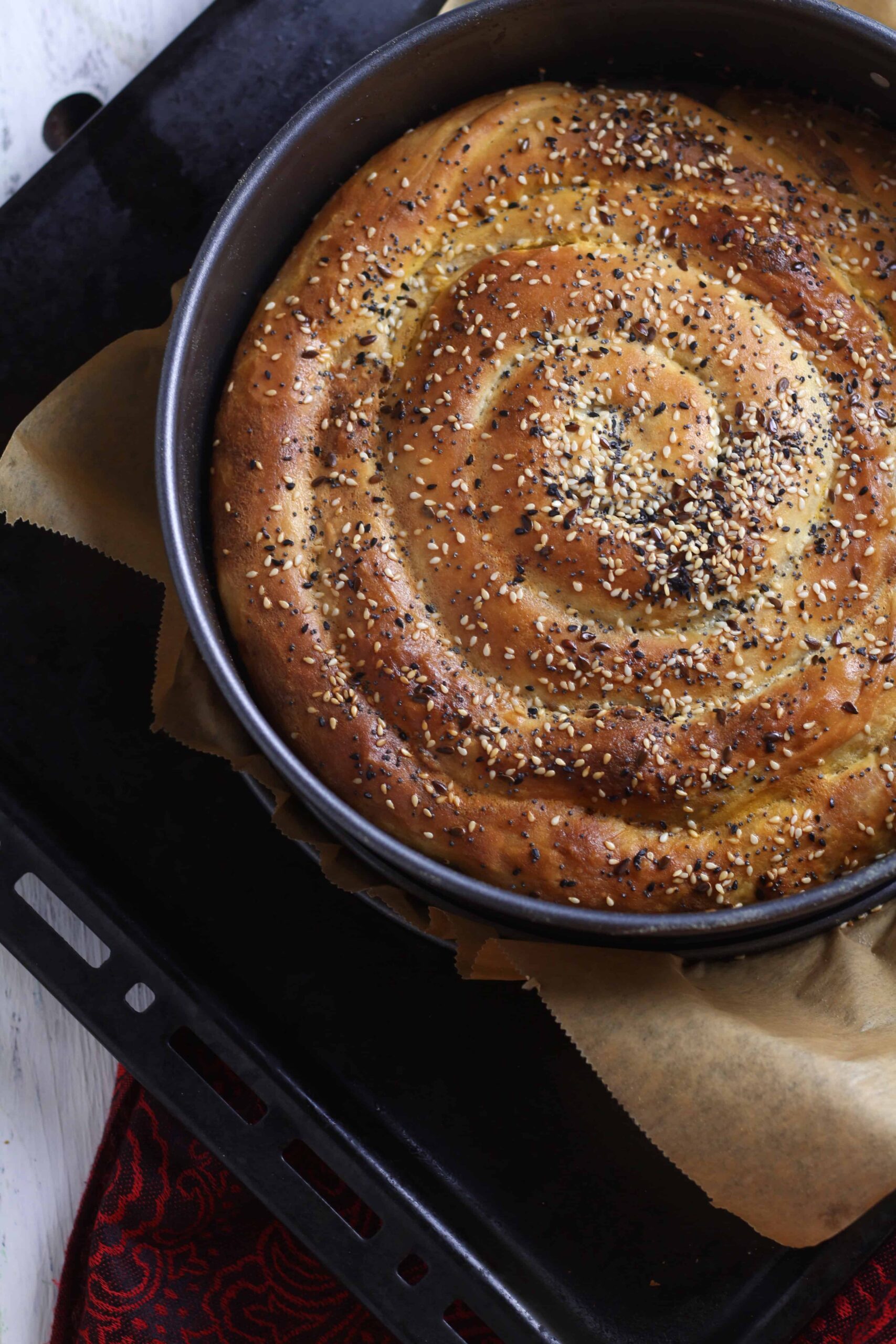 ---
Let me know if you try this recipe in the comments below, or using the hashtag #daysofjay on Instagram. Happy cooking!
---
---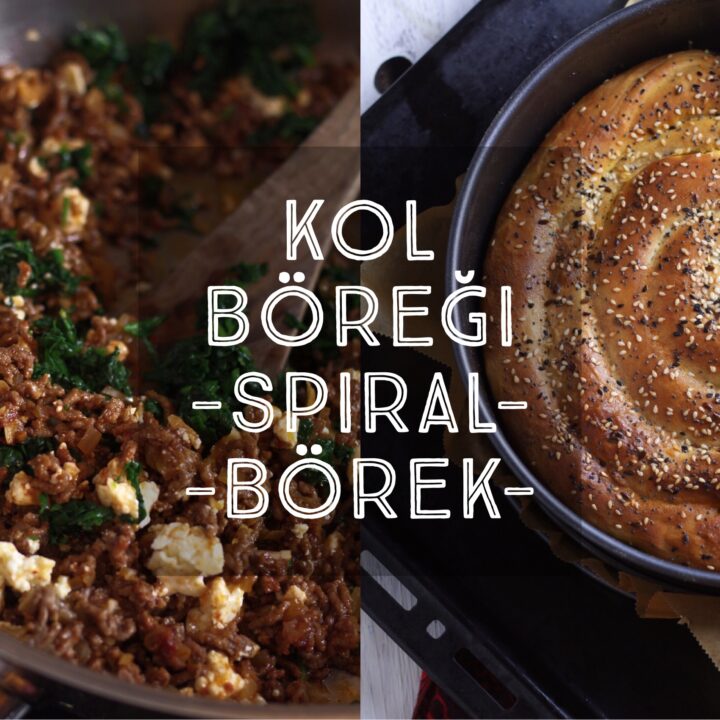 Kol Böreği - Spiral Börek
Total Time:
1 hour
40 minutes
Börek comes in many forms - it will always be some layering of filo or yufka dough, with a filling of cheese, spinach, minced meat or some combination of the three. It can be fried or baked and is always delicious. My absolute favourite is the trays Kol Böreği or 'Arm Börek' named for the long 'arms' of pastry spiralling around the centre.
Ingredients
for the Yufka/Filo dough:
100 ml warm water
1 egg
2 Tbsp neutral oil, sunflower etc.
250 g plain flour
1 tsp salt
for the filling:
1 Tbsp olive oil
1 onion, finely diced
250 g beef mince
2 cloves garlic, finely diced
2 Tbsp tomato paste
1 Tbsp pomegranate molasses
½ - 1 tsp Pul Biber or mild chilli flakes
1 tsp dried oregano
125 g baby spinach leaves
100 g Feta cheese
salt & pepper
to assemble:
75 g butter, melted
extra flour for rolling out
1 egg
1 Tbsp yoghurt
1 Tbsp sesame seeds
Instructions
Heat 2cm of water in a small, lidded saucepan until boiling, turn off the heat and set aside.
In a mixing bowl, whisk together the water, egg and oil, then add the flour and salt and mix well with a wooden spoon until the mixture forms a dough. Turn the dough out onto a lightly floured surface, dust with flour, then knead for 3-4 minutes until smooth and supple, dusting with a little extra flour if very sticky. Empty the water from the pot and dry with a dish cloth, then wrap the dough in a piece of baking paper, place in the pot, brush with a little extra oil then cover with a lid and set aside for 30 minutes.
Meanwhile make filling by heating the oil in a frying pan. Cook the onion for 3-4 minutes until softened but not browned, then add the beef mince, breaking it up with a wooden spoon. When the the mince is beginning to brown, add the garlic, tomato paste, pomegranate molasses, pul biber/chilli and oregano. Season with salt and pepper and cook another 3-4 minutes until the mince has browned, then set aside to cool.
Place the baby spinach leaves in a heat proof bowl then pour over enough boiling water to cover. Allow to stand for 5 minutes, then drain and refresh under cold water. When cool, use your hands to squeeze out any excess water. Chop finely, then stir through the mince mixture with the crumbled feta.
Heat the oven to 200°F / 400°F / Gas 6, and prepare to roll out the dough.
To roll out the dough you need a decent amount of bench space and a clean tea towel (approx 50cm x 70cm). Lay the tea towel on the bench top with the long side toward you, dust liberally with flour (use a sieve or a sifter so it's nice and even. Remove the dough from the saucepan and place it in the middle of the tea towel.
Use a floured rolling pin to roll the dough out all the way to the edges of the tea towel. Take your time, and if the dough is very springy, work on rolling out another area for a moment or two. When the dough is rolled out, brush all over with melted butter, then use the back of your hands to gently stretch the corners of the dough to the edges of the tea towel. The moisture from the butter will stop the dough from tearing.
Use a pizza roller or table knife to cut the dough in half (see pictures) through the middle from long side to long side. Pile the mince mixture near to the cut edge in a long sausage shape on both pieces, then roll them up forming two long tubes.
Line a 24-26cm diameter springform cake tin with baking paper and brush with a little of the melted butter. Place the cake tin on a baking tray to catch any drips, then coil one of the börek tubes into a spiral and place in the middle of the tin. Coil the second börek around the first to form one large spiral in the cake tin.
Beat the egg and yoghurt into the remaining melted butter, then brush evenly all over the börek. Sprinkle with the sesame seeds, or a mixture of sesame, nigella and poor seeds as in the pictures, then bake in the preheated oven until golden brown all over - 40-45 minutes.
Allow to cool for 5-10 minutes before serving. I like to serve this with a big green salad, some pickled chillies and either a tomato relish or some tzatziki/cacık along side.
Nutrition Information:
Yield:

4
Amount Per Serving:
Calories:

896
Total Fat:

46g
Saturated Fat:

20g
Trans Fat:

1g
Unsaturated Fat:

23g
Cholesterol:

212mg
Sodium:

1137mg
Carbohydrates:

83g
Fiber:

4g
Sugar:

7g
Protein:

36g
Nutrition information is calculated automatically and isn't always accurate.
---
FREQUENTLY ASKED QUESTIONS
Do I have to make the Yufka/Filo dough myself?
No! Though it is simple enough to make at home, if you live near a good Turkish or Greek shop you will be able to pick up Yufka or Filo in the refrigerated section. The traditional shape of Yufka used for this folds out into a large circle which you can cut into two half moon shapes and use as per the recipe – because commercial Yufka/Filo is much thinner you will need to use a stack of at least 3-4 sheets and brush them with butter before layering them This means you have to increase the butter used in the recipe to around 125g.

Can I make these börek vegetarian?
Definitely. Börek are often made simply with feta or beyaz peynir and spinach – I like to add toasted pine nuts to a vegetarian option. They are also delicious made with cooked pumpkin or squash, or even cooked aubergine.

Do I have to use beef mince?
You can use whatever minced meat you like – I'd recommend beef, lamb, chicken or turkey.

How on earth do I pronounce 'Kol Böreği?!
While I don't pretend to be an expert, it's not as bad as it looks. Kol is simple, like 'Coal' in English. an 'ö' is pronounced as 'oe' and a 'ğ' is actually silent so more like a 'y' in this case: "Coal Boo-ray-ee".
---
---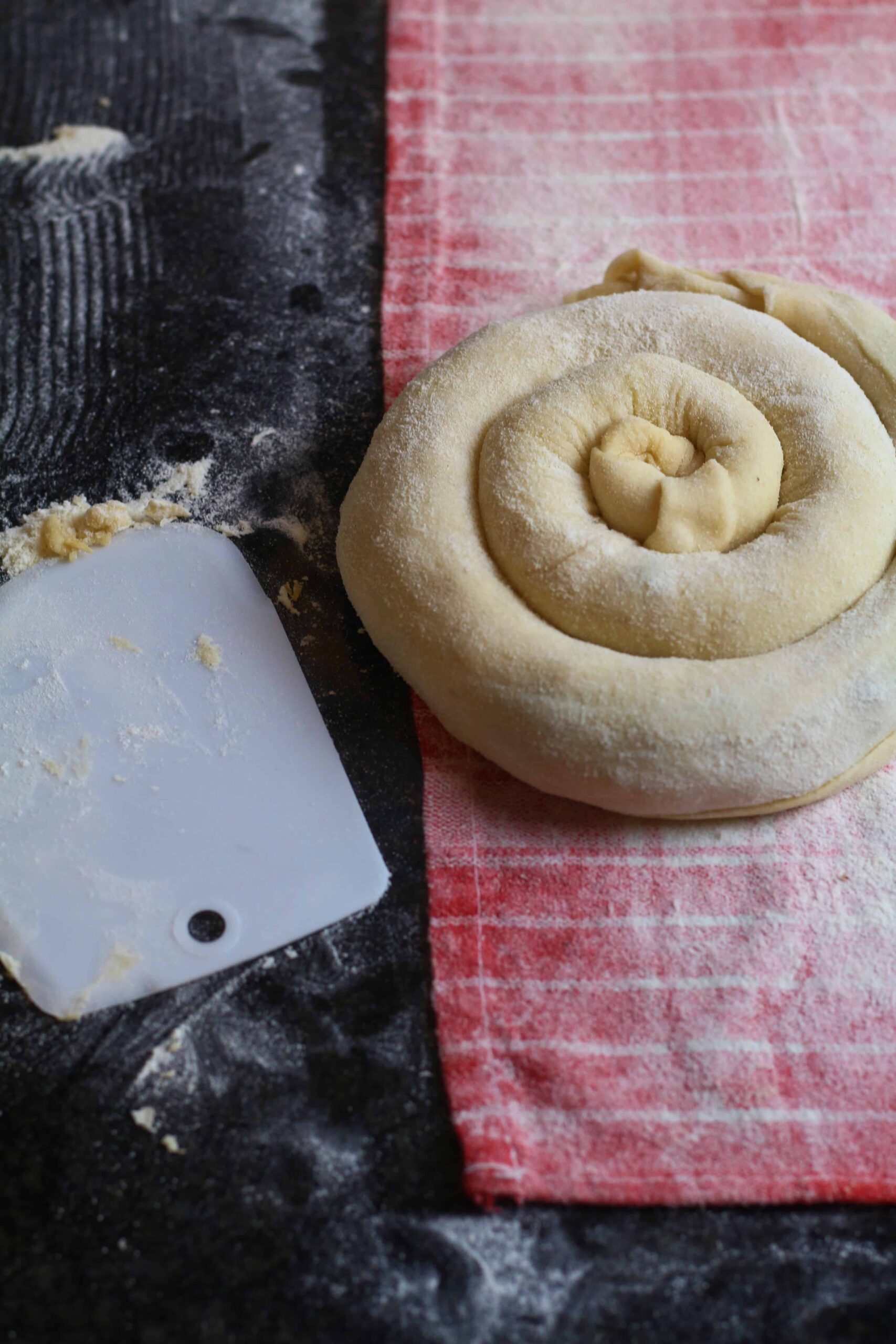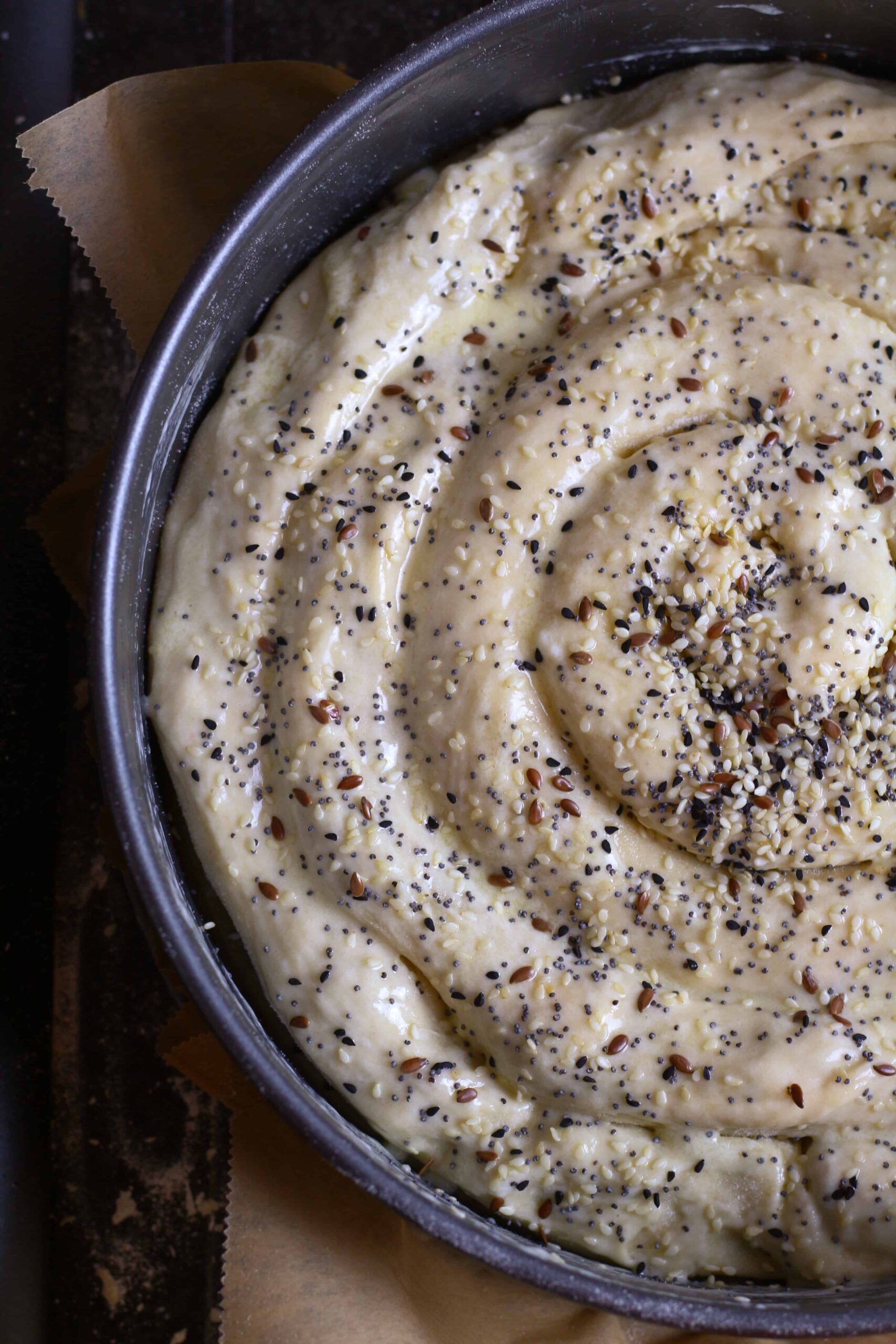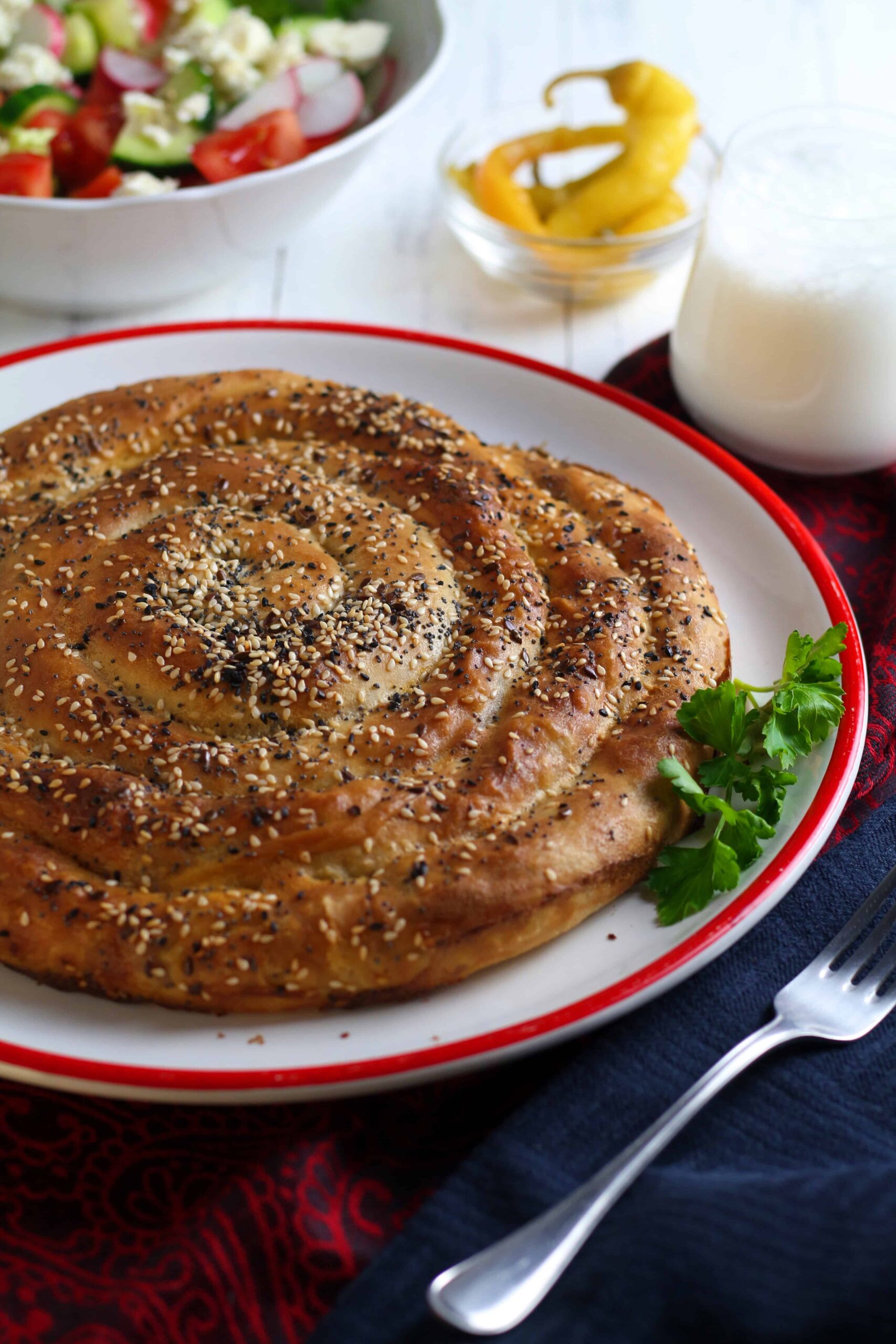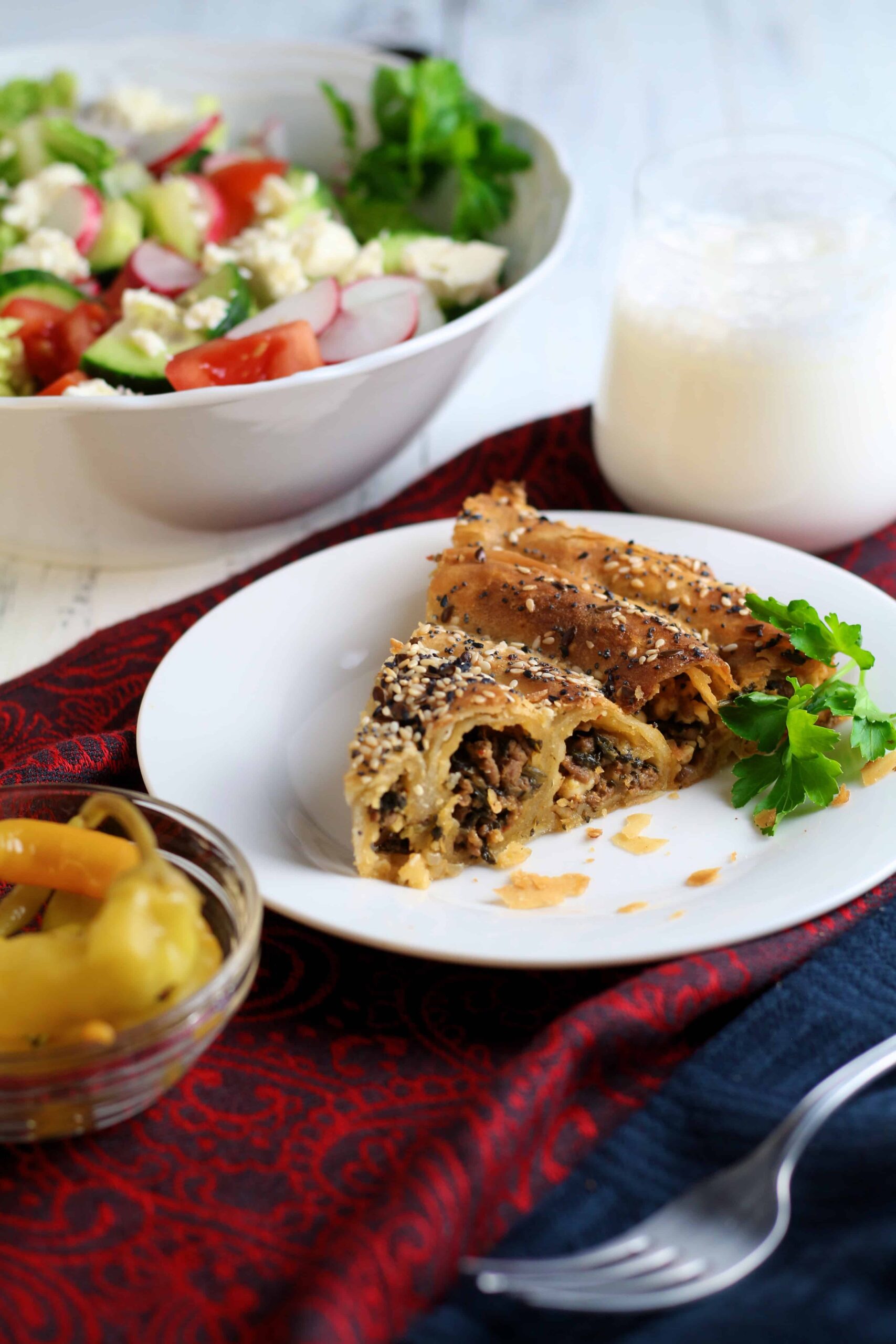 KOL BÖREĞI – SPIRAL BÖREK
---
Looking for more Cypriot recipes? Why not try: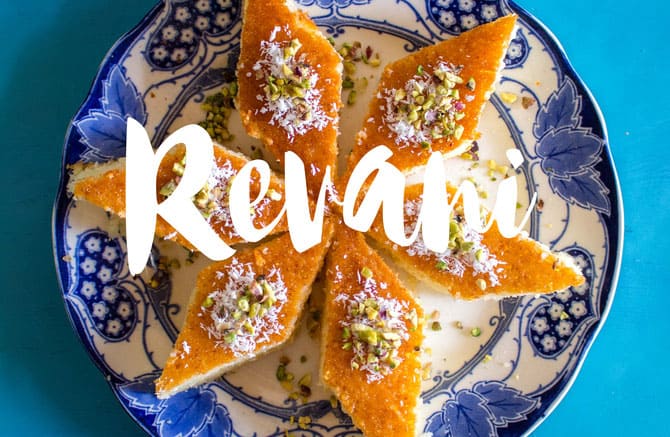 ---