The winter solstice is officially behind us and from here on out I'm counting the days until summer. It's still cold though – as the old saying goes: 'as the days grow longer, the winter grows stronger!' To ward off any winter chills I'm making up a big batch of Glühwein, or German Mulled Wine, ideal for the colder months.
What does Glühwein mean?
It literally translates as 'Glow Wine' and if you've ever imbibed a few mulled wines at a cold Christmas market, you'll definitely understand the name! There's nothing quite like a hot, spiced wine to warm you up from the inside out. There is a reason that every Christmas market in Europe is selling a some variation!
Is it tricky to make?
Making German Mulled Wine couldn't be simpler, you just need to infuse wine with spices and a little sweetener, then reheat and serve. I like to give mine a little extra kick by adding some rum or brandy, though it is optional.
What sort of wine should I use to make Glühwein or Mulled Wine?
Cheap stuff! Well, not the real gut-rot variety, but definitely not the top shelf. You'll be masking the flavour of the wine with spices and sugar so don't use anything too fancy. As for variety, it's best to go with something lighter, sweeter and fruiter in style, a merlot or similar is best.
I don't drink red wine! Can I still make Glühwein?
Yes! I love white mulled wine and in Munich, it is known as 'Heisser Bischof' or 'Hot Bishop'! Simply use a non-oaked wine variety and use clear honey or white sugar instead to sweeten. If you're not a drinker try making 'Kinderpunsch' with fruit juice instead. Apple, cherry or currant juice are all delicious, you'll need to omit the added honey or sweetener as the juice is sweet enough.
What should I serve with German mulled wine?
Mulled wine is usually served standing up at the Christmas markets, so finger food is suitable. Sausages in rolls, or Flammkuchen are traditional.
Perfect for a Christmas party at home!
This year there are no Christmas markets being held in Bavaria, and while we hope they'll be back next year, in the meantime we are creating a little bit of Christmas market feeling at home. I love Christmas cooking and over the years I've shared loads of recipes here on Days of Jay – click here to see more tasty Christmas recipes!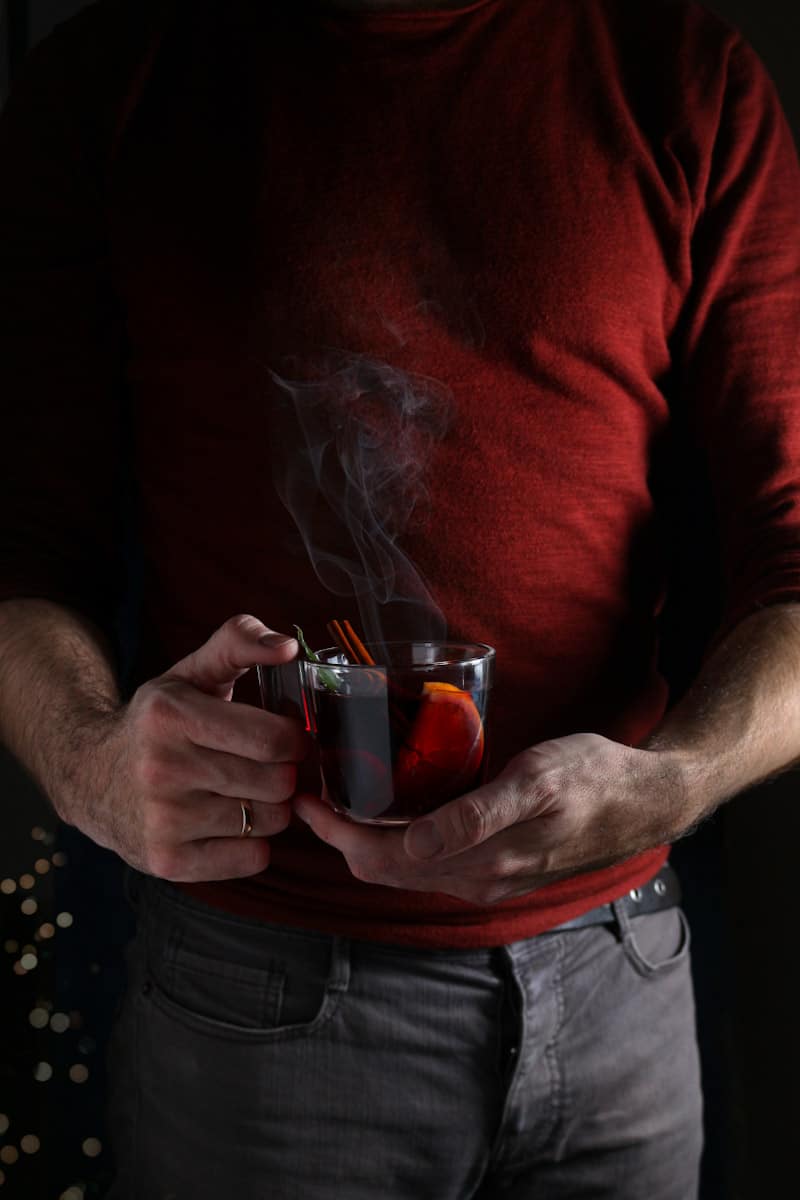 ---
FREQUENTLY ASKED QUESTIONS
I don't drink alcohol! Can I make a non-alcoholic mulled wine?
Yes! You can either use an alcohol-free wine or use fruit juice and leave out the honey or sweetener.
Do I have to use these spices to make mulled wine?
These are the traditional spices, but you can change things up and add other aromatics like cardamom or allspice if you like.
Can I prepare Glühwein in advance?
Absolutely! Infuse it with the spices and allow it to cool completely before refrigerating. Bring the mixture to just under a simmer before serving.
---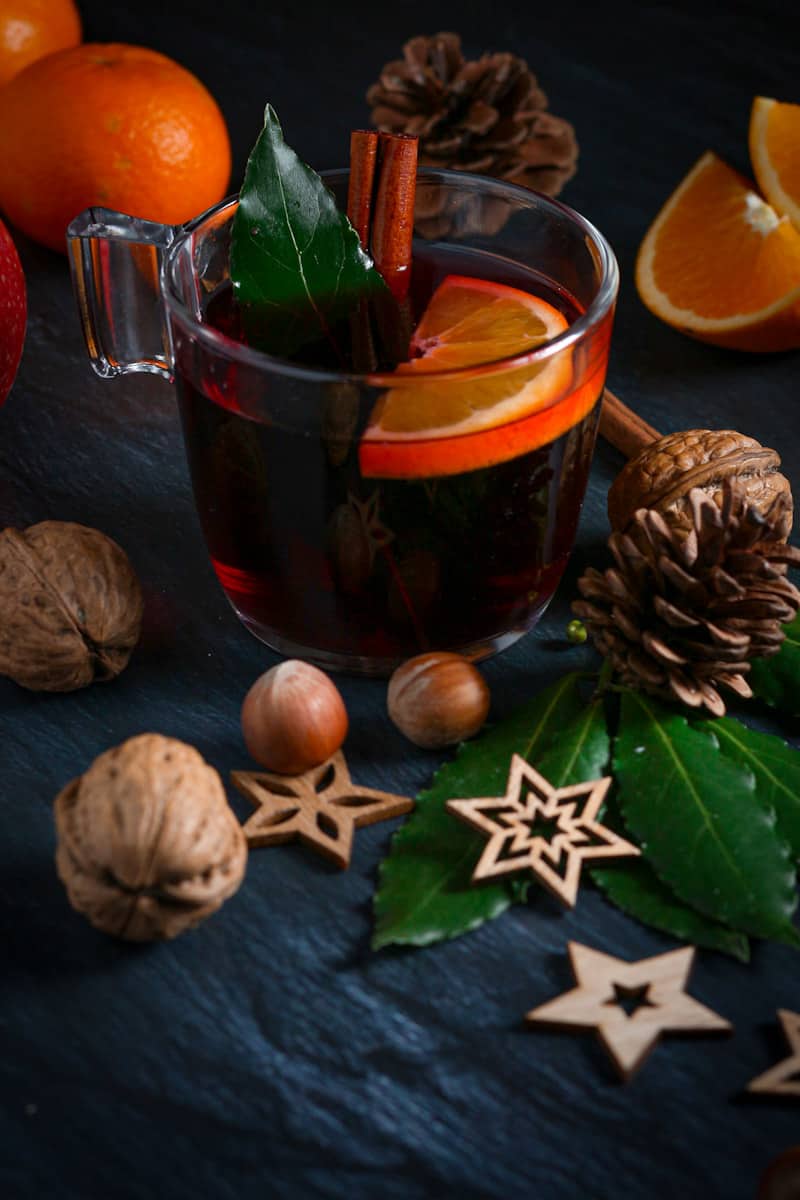 Glühwein - German Mulled Wine
A warming, gently spiced mug of Glühwein, or German Mulled Wine is one of the great pleasures of the winter months. It is simple to make at home and fills the whole house with the most incredible aroma!
Ingredients
750ml bottle red wine
1 unwaxed orange
4 cloves
2 Tbsp honey or soft brown sugar
1 cinnamon stick
1 star anise
2cm slice of fresh ginger
2 fresh bay leaves (optional)
75ml brandy or rum
Instructions
COMBINE THE INGREDIENTS: Pour the wine into a large saucepan. Give the orange a good scrub then cut it into quarters. Push a clove into the skin of each quarter (saves fishing them out later) and add to the pan with the honey, cinnamon, star anise and ginger and bay leaves if using.

HEAT AND INFUSE: Gently heat the wine bringing it nearly to a simmer. When the wine is very hot, but not yet simmering, remove from the heat, cover with a lid and leave to infuse for 20 minutes.

REHEAT AND SERVE: To serve, reheat the wine until it is nearly simmering, stir through the rum or brandy and ladle into mugs.
Notes
If you'd like to stretch the wine a little you can add a small amount of water or orange juice to make more servings.
Nutrition Information:
Yield:

4
Serving Size:

1 mug
Amount Per Serving:
Calories:

274
Total Fat:

0g
Saturated Fat:

0g
Trans Fat:

0g
Unsaturated Fat:

0g
Cholesterol:

0mg
Sodium:

15mg
Carbohydrates:

20g
Fiber:

2g
Sugar:

14g
Protein:

1g
Nutrition information is calculated automatically and isn't always accurate.
Let me know if you try this recipe in the comments below, or using the hashtag #daysofjay on Instagram.
If you enjoy this recipe please leave a star rating or a comment below!