If you're anything like me, you arrive home from work exhausted, looking for a quick and easy recipe for dinner that will please everybody. Sound familiar?
Feta and Pesto Chicken to the rescue! This deeply flavoursome, Italian-inspired meal is on permanent rotation in our house. It's quick and simple to put together and tastes absolutely amazing.
What is Feta and pesto chicken?
Put simply, Feta and Pesto Chicken is a wonder-dish. It's made from chicken breasts, stuffed with a flavoursome mixture of salty feta cheese and fragrant basil pesto, wrapped in prosciutto and roasted to perfection in a tomato and white wine sauce. Heaven!
Bursting with Mediterranean flavours, can be prepared quickly and easily (and in advance! So good!) and the robust flavours carry through perfectly from summer into autumn.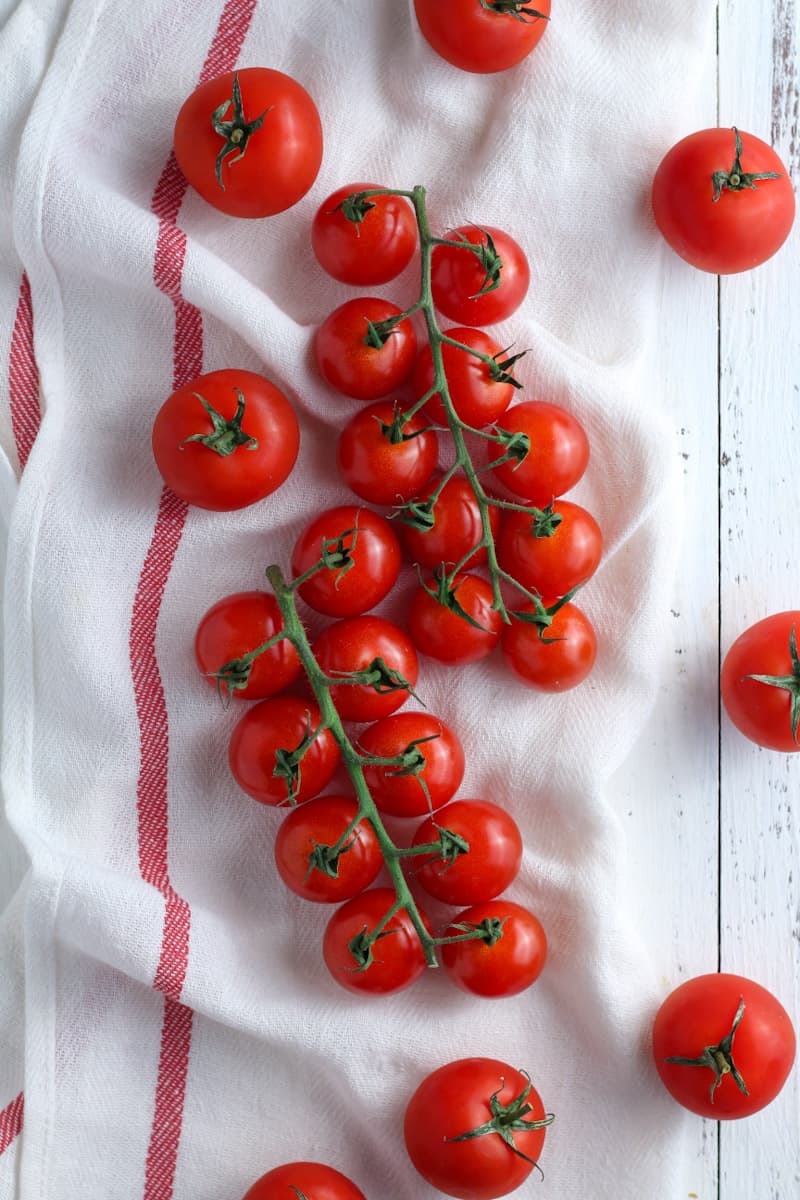 Quick Cooking!
Ready in just half an hour, it's also a fantastic dish to feed a crowd if you have people coming for dinner. Simply multiply the ingredients by the number of guests, make sure you have plenty of crusty, fresh bread to mop up the sauce and let everyone dig in.
How do I make sure my chicken breasts aren't dry?
The secret to keeping chicken breasts moist is the quick cooking time. While this dish cooks quickly, it's important to take the chicken out of the fridge a good 15 to 20 minutes BEFORE cooking to allow it to warm up a little.
A note on Chicken Breast size
This recipe assumes medium sized chicken breasts, that means approximately 200g (7 oz.) each. If you have larger, or smaller pieces of meat, adjust the cooking time accordingly. If you are unsure at all, cut into one of the pieces to ensure the chicken is cooked all the way through.
Prepare in advance
Yes! This is one of those meals that is perfect for preparing in advance, again, a lifesaver for dinner parties but also great for midweek meals.
To prepare in advance, simply make the recipe up to the point where everything is in the baking dish and then refrigerate for up to 2 days. Allow to come to room temperature for at least 15 minutes before cooking, and add an extra 5 minutes to the cooking time.
---
WATCH THE VIDEO!
---
FREQUENTLY ASKED QUESTIONS
Can I double or triple the recipe for Feta and Pesto Chicken?
Absolutely! It just has to be all on one layer when you bake it in the oven.
I can't get 200g chicken breasts! They are all much bigger!
No problem! Just trim the chicken breasts down to size and save the cut-offs for a stir fry. Don't be tempted to use bigger chicken breasts, they don't cook well and are too much for one portion.
I can't get prosciutto, what can i use instead?
Parma or Serrano ham or thinly sliced breakfast bacon work perfectly too.
I don't drink wine! Can I make this without alcohol?
Yes, of course! Replace the wine with a mixture of orange juice and water with a tiny splash of vinegar.
---
Why not make your own pesto? Check out my recipe for Radish Leaf Pesto or Wild Garlic Pesto here!
Like this recipe? You'll love my Sun-dried Tomato and Basil Chicken!
Feta and Pesto Stuffed Chicken (+ video)
One of my most popular recipes! Feta and Pesto Chicken is bursting with Mediterranean flavours, can be prepared quickly and easily (and in advance! My favourite!) and the robust flavours carry through perfectly from summer into autumn.
Ingredients
4 chicken breasts, 200g ea.
4 tsp basil pesto
100 g feta cheese
4 slices prosciutto
250 g cherry tomatoes, halved
125 ml white wine
1 tsp chicken stock powder
1 tsp oregano
salt & pepper
Instructions
HEAT THE OVEN: Heat the oven to 220°C / 425°F / Gas 7.
SLICE AND FILL THE BREASTS: Using a sharp knife, cut each chicken breast from the side almost in half, to form a pocket, so you are able to open the breast up like a book. Place in each pocket 1 teaspoon of basil pesto and then a quarter of the block of feta. Fold the chicken breast back over to enclose the filling.
WRAP IN PROSCIUTTO: Place each breast on a piece of prosciutto. Bring the ends of the prosciutto up to wrap the breast and keep it closed and then place all four breasts with the join side down in a high sided oven proof dish.
ADD THE TOMATOES AND SAUCE: Surround the breasts with the cherry tomatoes, mix the wine and stock powder and pour over. Sprinkle with oregano and season with salt and pepper to taste.
COOK THE CHICKEN: Bake in the preheated oven for 20-25 minutes, a little longer if the pieces are very large. (If you are unsure if the breasts are cooked through, remove one from the dish (yours!), turn it over and cut into the chicken meat to check for 'doneness'. There should be no sign of any blood and the chicken juices should run clear.)
REST AND SERVE: Remove from the oven, and put the breasts, covered on a warmed plate for 5 minutes to rest. Divide the tomatoes between four plates, add a chicken breast to each and pour over some sauce. Serve any extra sauce in a jug at the table.
SIDES: Serve with plenty of fresh white bread to soak up all the delicious juices, and a crisp green salad.
Nutrition Information:
Yield:

4
Serving Size:

1 chicken breast
Amount Per Serving:
Calories:

517
Total Fat:

18g
Saturated Fat:

7g
Trans Fat:

0g
Unsaturated Fat:

9g
Cholesterol:

213mg
Sodium:

1248mg
Carbohydrates:

5g
Fiber:

1g
Sugar:

3g
Protein:

75g
Nutrition information is calculated automatically and isn't always accurate.
If you enjoyed this recipe, please leave a star rating in the recipe card and share it using the buttons below so that others can find it too!