Though there are many (unfair) jokes about British cooking, when it comes to fabulous rib-sticking pub food, they are the undisputed winners. I'm talking comfort-food classics like Sunday Roast with all the trimmings, Bread and Butter Pudding or today's recipe: Creamy Smoked Fish Pie.
Pub Food = Comfort food
I lived in London for a few years back in the '00s and travel there frequently. In fact, I'll be living there and studying there at Le Cordon Bleu this year! (more on this to come!)
It was while living in the UK that I developed a love of real British pub food. Made with a bit of care and attention, these recipes can absolutely shine.
Yes, smoked fish pie can be truly gruesome if it comes in a microwave packet, but if you make it yourself, with a mixture of smoked fish, white fish and other seafood, it is absolutely dreamy.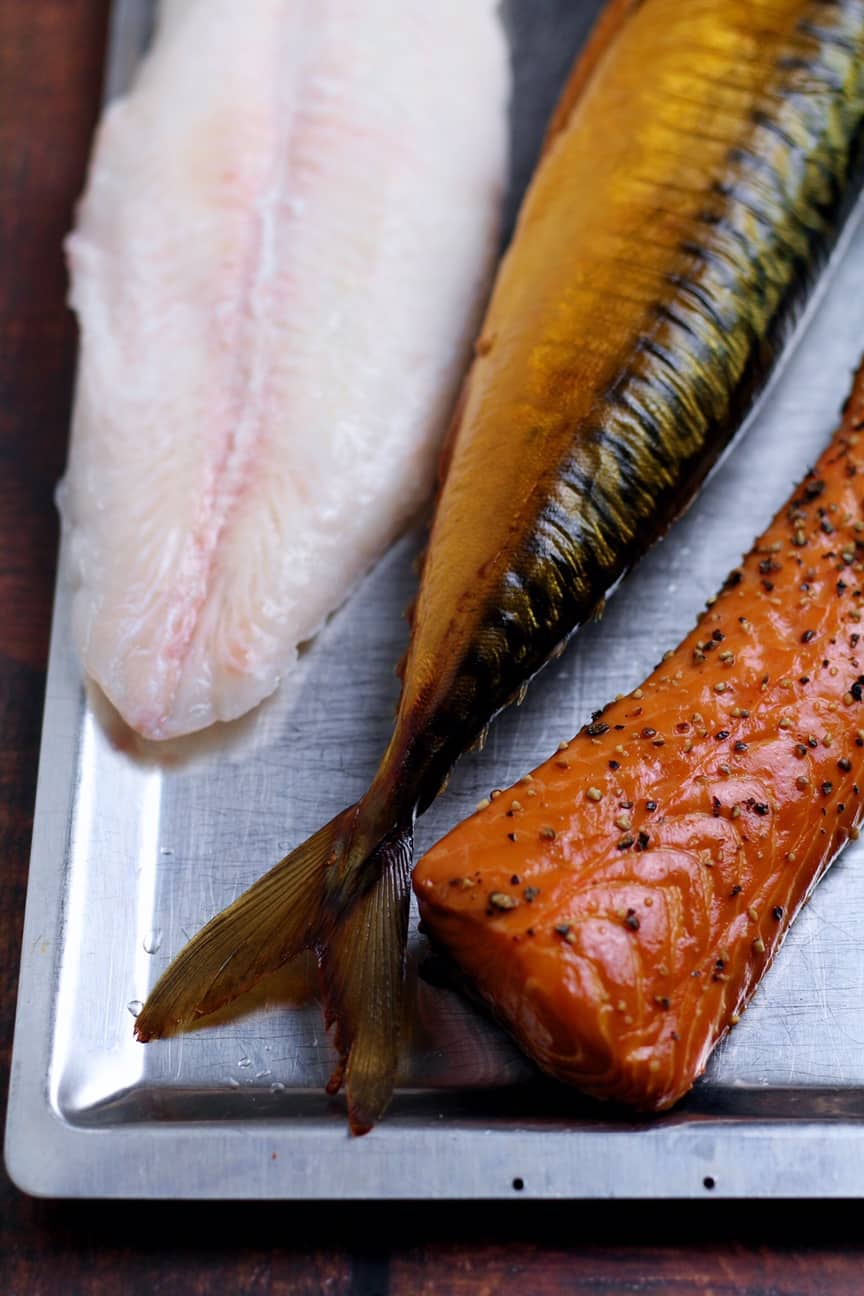 Ingredients
To make Smoked Fish Pie, you'll need the following main ingredients:
FISH: The star of the show. I use a firm white fish such as cod, an oily smoked fish such as mackerel, salmon or both and some seafood. Prawns or shrimp are delicious and affordable, but if you want to really push the boat out (Dad joke alert!) adding scallops to this dish makes it incredibly luxurious.
POTATOES: You'll need floury mashing potatoes to make fish pie.
Butter, milk and cream: This is comfort food! That means plenty of the good stuff. If you are watching your weight you can use fat reduced versions of these ingredients.
WHITE WINE: Adding a little white wine or vermouth to fish pie makes it even more delicious. If you are making it alcohol-free, replace it with milk instead.
Feed a family
My Smoked Fish Pie recipe will comfortably feed four people. I like to make it in a big dish and scoop out big, loose spoonfuls, this is the kind of food that you don't need a knife for after all!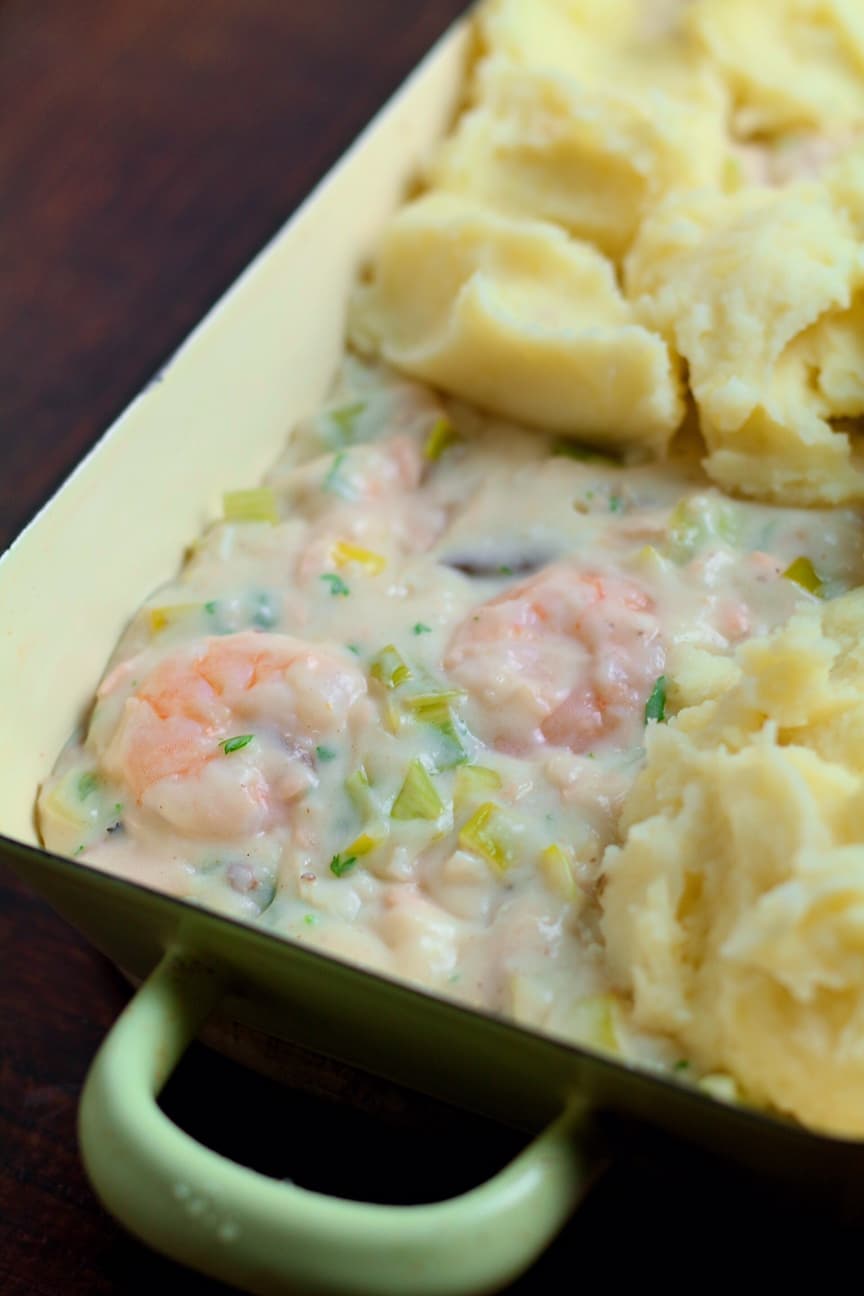 Variations
Fish Pie for a Dinner Party: If you are serving fish pie for a dinner party and want it to look a bit tidier, use the same filling but make it in individual pie dishes or ramekins.
It's brilliant for preparing in advance, so you can just whack it in the oven when your guests arrive and enjoy a drink with your friends, while the house fills with gloriously inviting aromas.
How to make Fish Pie with Pastry: While it is traditional to make this as a 'pot pie' with a potato topping and no bottom pastry, you can absolutely use this filling in a traditional double-crust pie. Follow the instructions in my recipe for Creamy Chicken Pie here, just swap out the fillings.
FREQUENTLY ASKED QUESTIONS
What sort of fish should I use in Creamy Smoked Fish Pie?
I like to use a mixture, some plain white fish fillets such as cod, some hot smoked fish such as salmon, mackerel or both and some other seafood. Prawns are traditional, but scallops are lovely if the budget will stretch that far!
Can I use frozen fish to make fish pie?
Absolutely! In fact, I recommend it! You can use the fish directly from frozen, just poach it as per the recipe in the milk. Check to make sure it flakes easily – if not, you'll need to simmer it a minute or two longer.
Can fish pie be frozen?
Yes, though if you are freezing it I would recommend making it in individual dishes or ramekins as it will store better. Mashed potato can change texture once frozen unless it has plenty of butter and milk or cream in it, so put plenty in!
Looking for more delicious pie recipes? Try my Creamy Chicken Pie or Beef and Lentil Cottage Pie recipes! Fancy something different? Try Tiropita (Greek Cheese Pies)!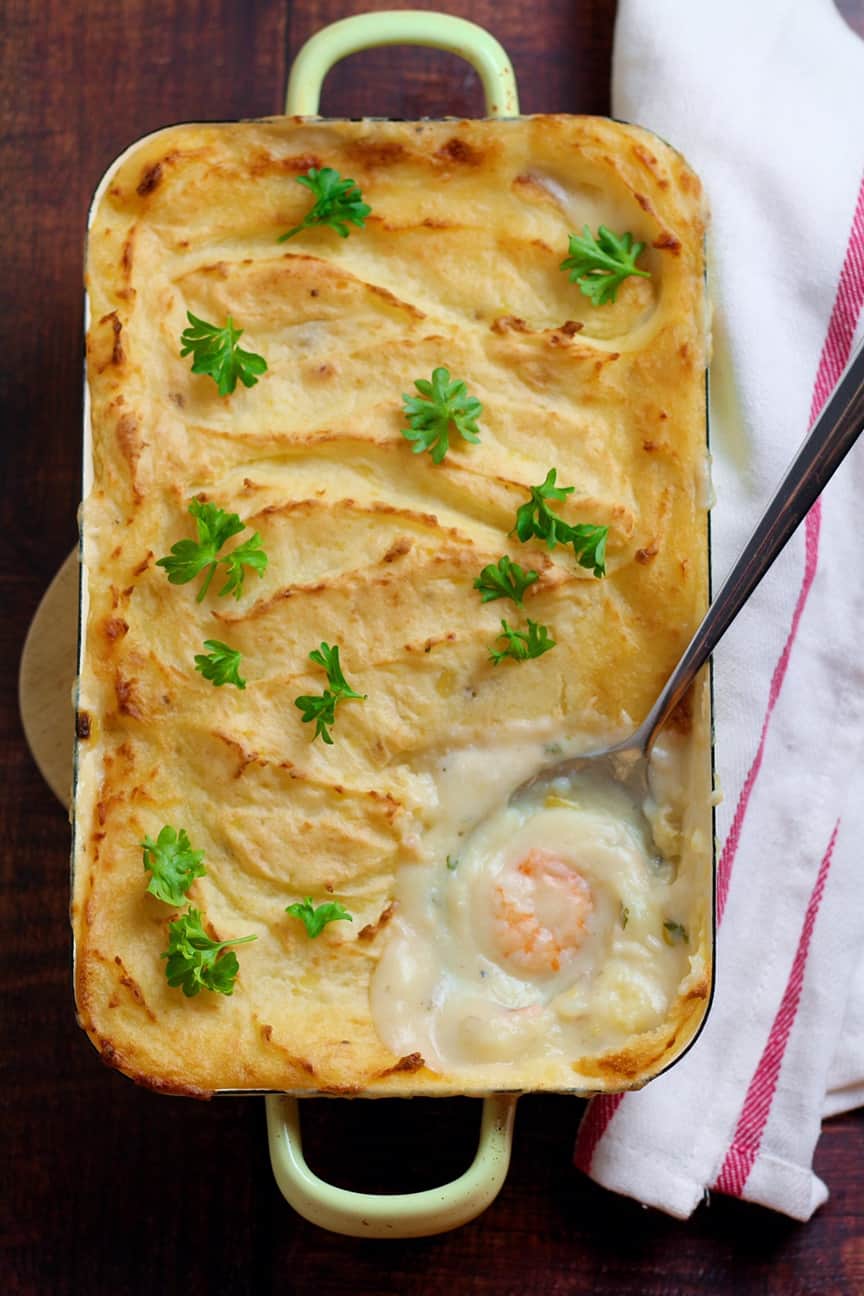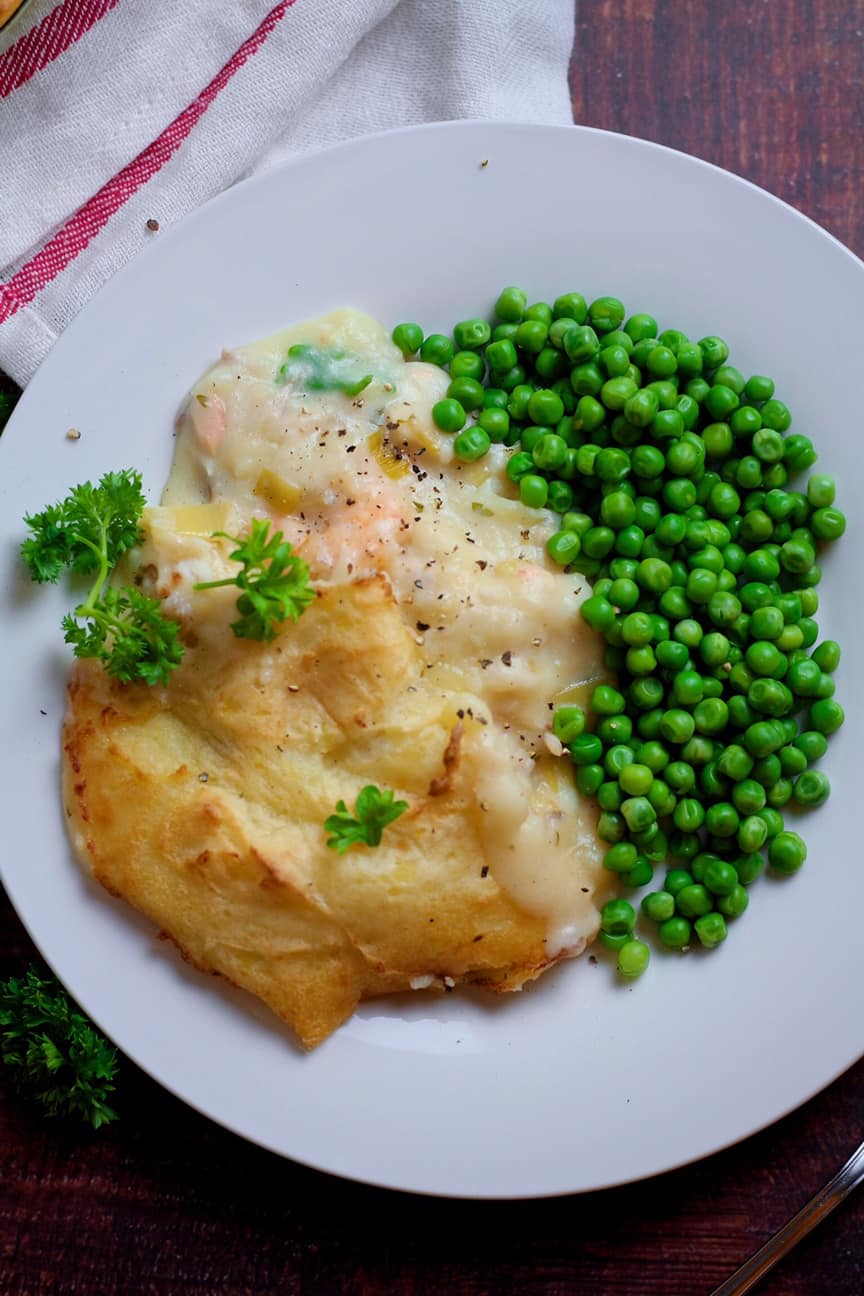 Creamy Smoked Fish Pie Recipe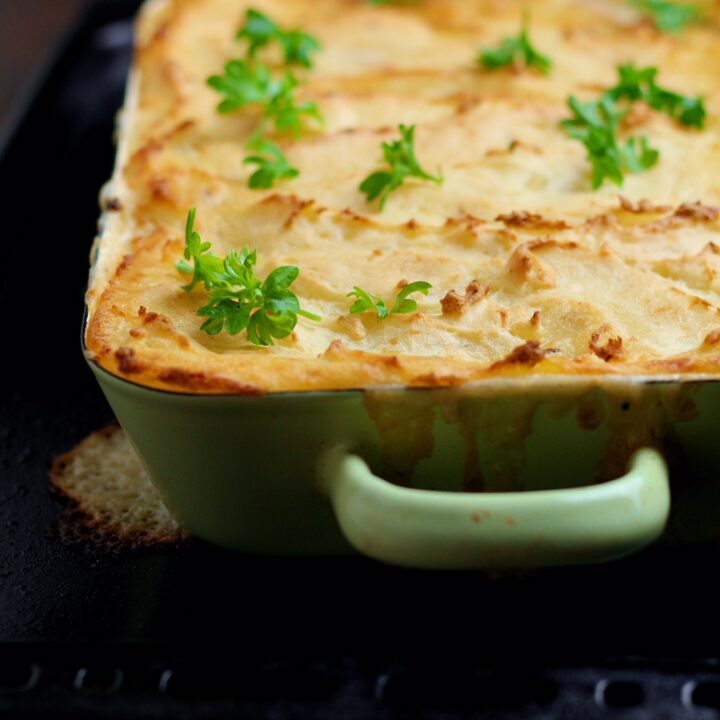 Creamy Smoked Fish Pie
Cook Time:
1 hour
15 minutes
Total Time:
1 hour
35 minutes
Comforting, warming and utterly delicious Creamy Smoked Fish Pie is a classic of the British kitchen for good reason. Deeply satisfying and full of healthy omega-3 oils, this is real good mood food.
Ingredients
for the topping:
1kg (2 lb.) floury potatoes
125ml (½ cup) milk
50g (½ stick) butter
for the filling:
500g (1 lb.) firm white fish
250g (½ lb.) hot-smoked fish, eg: salmon, mackerel or both
300ml (1 + ¼ cups) milk
1 bay leaf
75g (¾ stick) butter
1 small leek, halved and sliced
50g (ca. ¼ cup) plain flour
125ml (½ cup) dry white wine
175ml (¾ cup) whipping cream
2 tsp Dijon mustard
250g (½ lb.) cooked, peeled prawns (shrimp)
small bunch fresh parsley, finely chopped
sea salt and black pepper
Instructions
COOK POTATOES: Cook the potatoes in plenty of salted water until tender. Drain, mash, then beat in the milk and butter until smooth. Season to taste with salt and pepper then set aside. Heat oven to 200°C / 400°F / Gas 6.

POACH FISH: Place fish in a saucepan in one layer. Pour over the milk, add the bay leaf, then season with salt and pepper. Cover and bring to a simmer, then turn the heat right down to low and simmer for 4-5 minutes.

SAUTÉ LEEK: Strain the fish, reserving the milk. Flake the fish into large chunks. Rinse the saucepan and wipe it dry, then heat 25g of the butter until bubbling. Cook the leek for 2-3 minutes, just until softened, then remove with a slotted spoon.

MAKE WHITE SAUCE: Melt the remaining butter and flour together in the same saucepan. Allow to cook, stirring all the time, for 3 minutes. Pour in the milk and white wine, beating until smooth. Add the cream and mustard and cook until thick. This will take around 10 minutes, make sure to stir from time to time to prevent the sauce from catching. Season with salt and pepper.

COMBINE INGREDIENTS: Add fish, prawns (shrimp) and parsley, stir to combine and remove from heat. Pour into the baking dish and spoon over the mashed potato, spreading it out to cover the filling.
BAKE: Place on a baking tray (this is important! Fish pie bubbles over 100% of the time!) and bake in the preheated oven 40-45 minutes until golden and beginning to crisp on the top. Allow to cool for five minutes before serving.
Notes
Don't forget to place a tray under the fish pie in the oven! They always bubble over a little and it will catch the sauce so it doesn't burn onto the floor of your oven!
Imperial and cup measurements are approximate. For best and most accurate results I use and recommend a digital kitchen scale like the one below.
Recommended Products
As an Amazon Associate and member of other affiliate programs, I earn from qualifying purchases.
Nutrition Information:
Yield:

4
Serving Size:

1
Amount Per Serving:
Calories:

500
Total Fat:

17g
Saturated Fat:

5g
Trans Fat:

0g
Unsaturated Fat:

11g
Cholesterol:

104mg
Sodium:

590mg
Carbohydrates:

37g
Fiber:

2g
Sugar:

2g
Protein:

40g
Nutrition information is calculated automatically and isn't always accurate.
If you enjoyed this recipe, please leave a star rating in the recipe card and share it using the buttons below so that others can find it too!