There are many things to love about the fabulous city of Sydney: the sparkling harbour, the beautiful beaches, the vibrant nightlife and the creative and colourful people who live there.
Of course, me being me, whenever I am away from the harbour city I also miss the amazing selection of food Sydney has to offer!
As any true-blue Sydneysider will tell you, the best Vietnamese Chicken Rolls or chicken bánh mì to be had in Sydney can be found in Marrickville, in Sydney's inner west – luckily enough, only a quick walk from my apartment.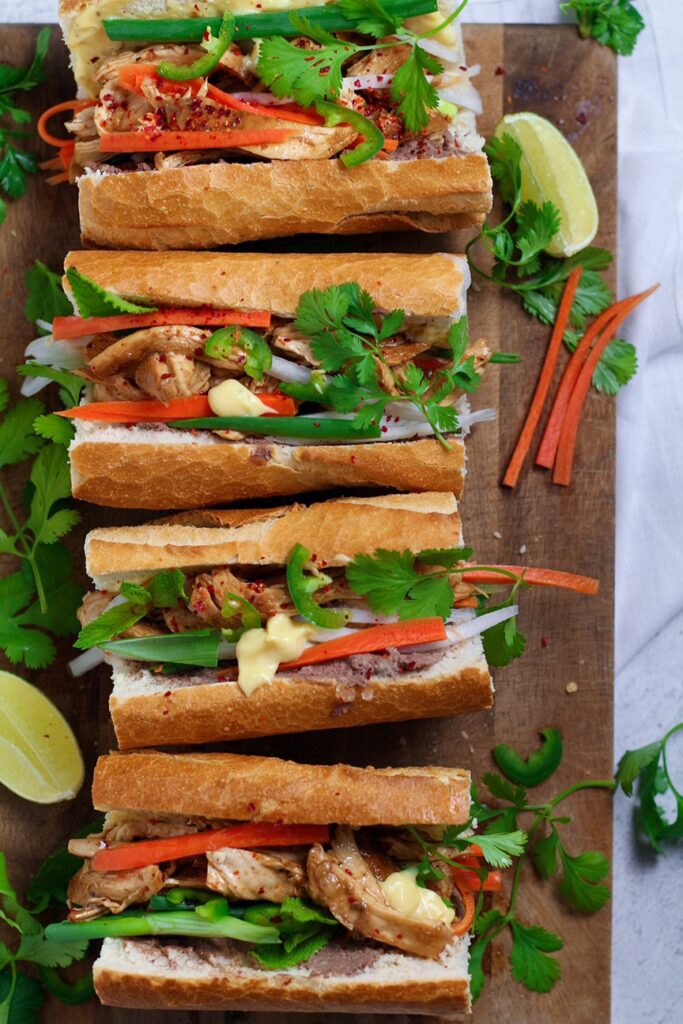 These tiny, hole-in-the-wall establishments have such a cult following that the locals queue around the block every lunchtime to get their bánh mì fix. This famous Vietnamese street food has is a range of fillings to choose from, with pork and chicken warring for the most popular.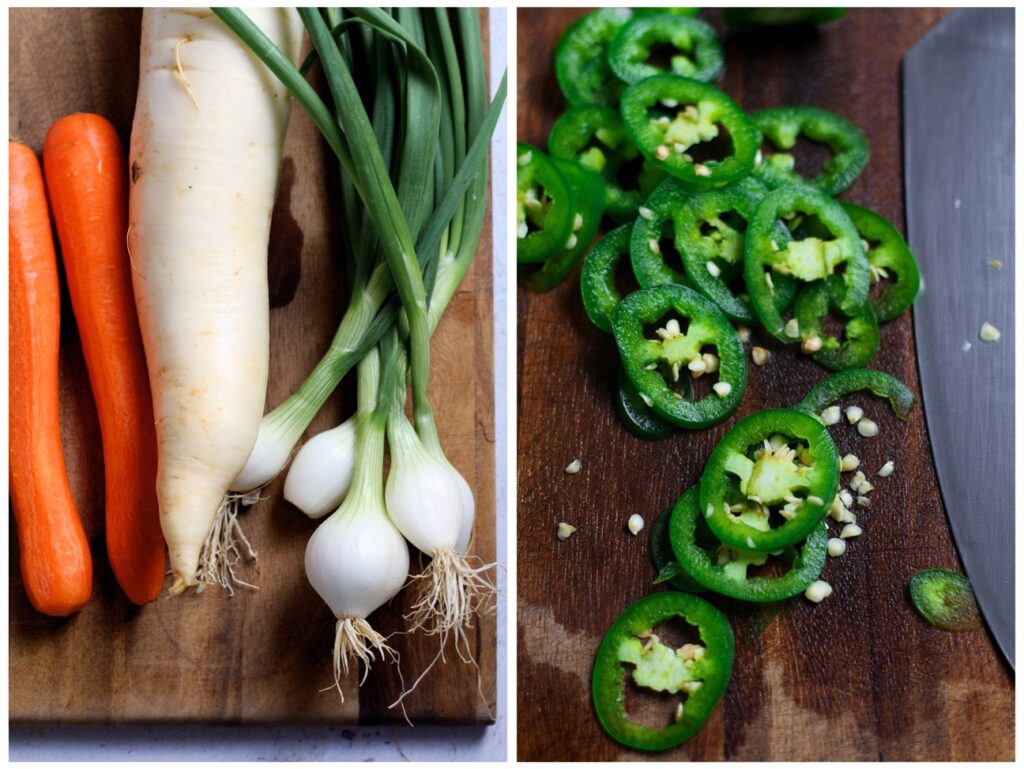 Where do Banh Mi come from?
Bánh mì is one of my favourite examples of fusion-cuisine. The baguette was brought to Vietnam by the French in the 19th century, but it wasn't until the 1950's that the bánh mì as we know it was born in Saigon.
This mixture of French ingredients like baguette, pate and mayonnaise with local delicacies like Chả lụa (a type of pork sausage) and fresh coriander became an instant hit with locals and foreigners alike.
What is a Banh Mi?
It's easiest to think of bahn mi as a type of submarine sandwich with fairly flexible ingredients. You'll always need some delicious fresh baguettes for stuffing, along with a choice of cold roast pork or chicken.
Whichever meat you choose, the other ingredients are always the same. Plenty of pickled carrot and radish, a generous slathering of mayonnaise, pâté or both and loads of chilli and fresh herbs.
This is street food at it's finest, and is probably the cheapest, most filling meal you can find anywhere in Sydney.
You don't have to travel all the way to Sydney (or Vietnam!) to get great Banh Mi – I'm pleased to tell you that you can make incredibly good bánh mì at home!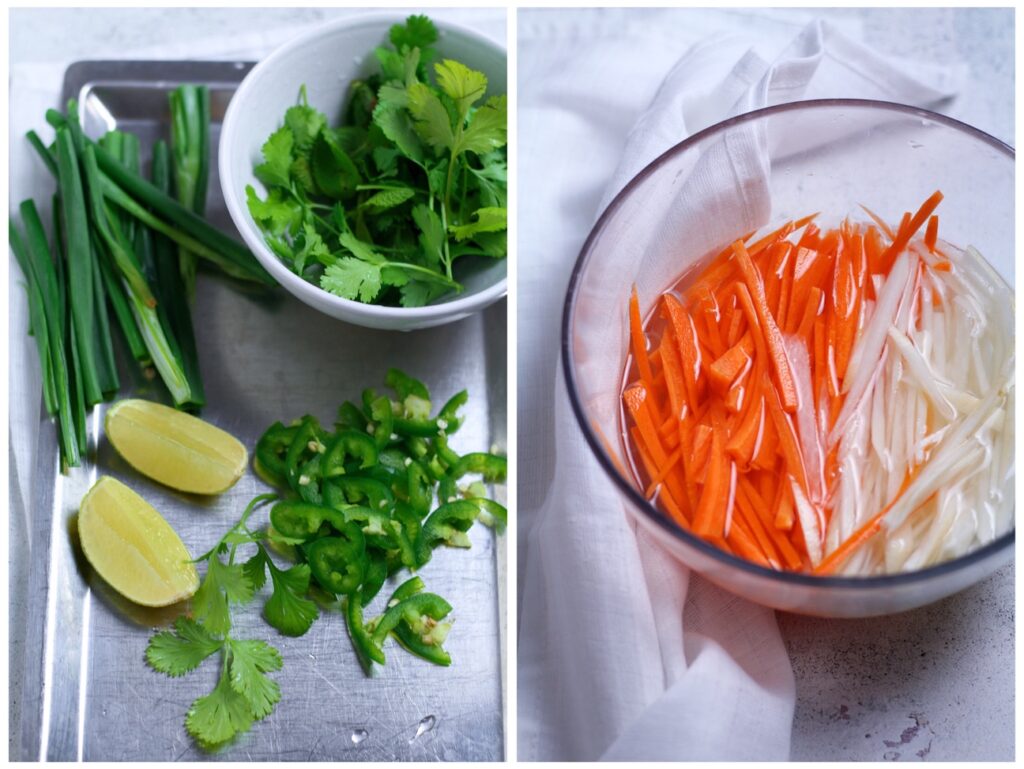 Ingredients
To make Banh Mi at home you'll need the following main ingredients:
Carrots and radish: These vegetables are pickled in a simple brine of vinegar, sugar and water and add a sweet and sour tang to the bahn mi.
Fish sauce and soy sauce: Combined with lime, ginger, garlic and chilli, they make the delicious marinade and sauce for the chicken.
Chicken breasts: Chicken is quick and easily available, but if you like you can use cold roast pork too.
Baguettes: Either buy small individual baguettes, or cut a large one into pieces.
Chicken Liver Pâté: Use a good quality, rustic pate, or make your own.
Cilantro / Coriander, Mint and Spring Onions: The fresh herbs in Banh Mi are what make it so incredibly tasty. If you don't like coriander simply leave it out or consider replacing it with something like rocket or Thai Basil.
While the ingredient list may look long, the ingredients are easy to come by in any well-stocked supermarket. The actual hands-on work is minimal, and slicing up the carrots and radish will give you a chance to show off your knife skills.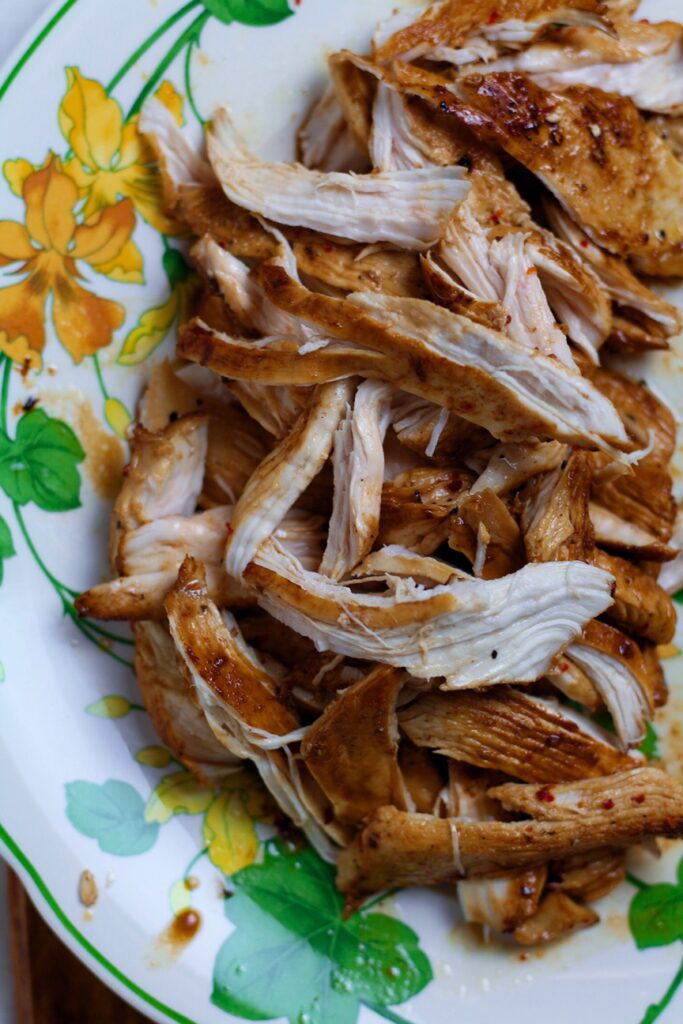 The marinade for this recipe does most of the heavy lifting. It tenderises and flavours the meat, and then does double duty as a flavour-packed sauce. Even half an hour in this marinade is better than nothing at all, so you can even satisfy your bánh mì cravings last minute.
This recipe makes 4 bánh mì, which depending on how hungry you are will feed 2-4 people.
---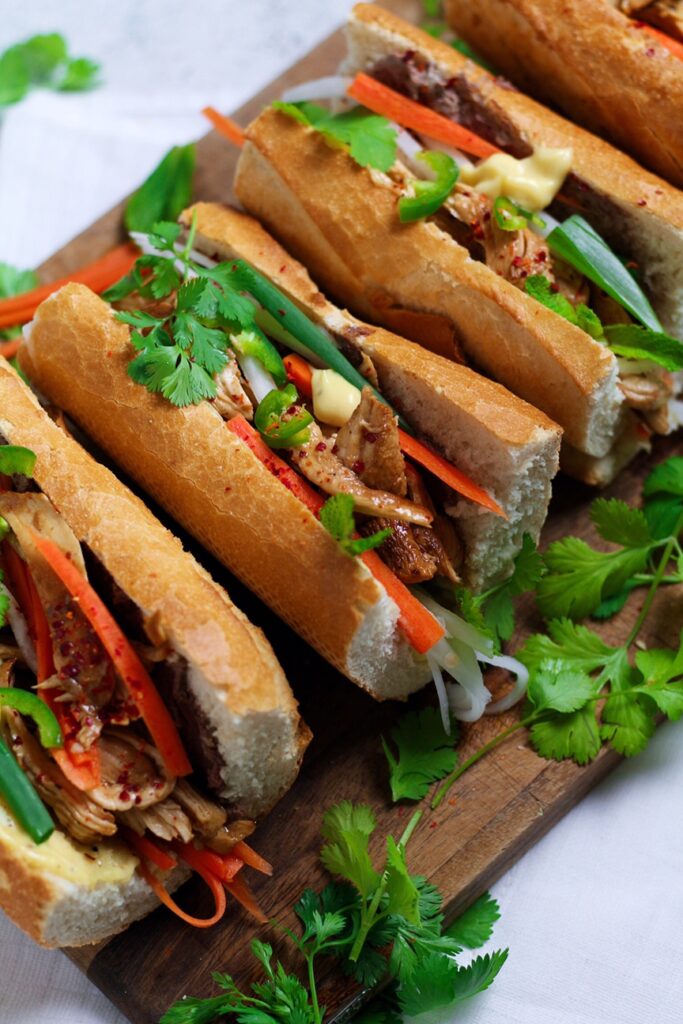 FREQUENTLY ASKED QUESTIONS
Can I use another type of meat in bánh mì?
Yes! Actually, bánh mì rolls are traditionally made with several types of pork meat, so they are delicious with roast pork (try this recipe!), though thinly sliced steak or roast beef would be lovely too.
I can't stand coriander / cilantro or pâté! Can I leave it out?
Yes, of course. All the more for me!
Can I make bánh mì in advance?
You can make the pickled vegetables up to a week in advance, while the chicken can marinate for a maximum of 24 hours.
After 24 hours the acids in the marinade will begin to cook the chicken which changes the texture. To make life easier you could cook the chicken in advance and either reheat it wrapped in foil in a low oven or just serve it cold. It's very tasty both ways!
---
VIETNAMESE CHICKEN ROLLS – 'BÁNH MÌ'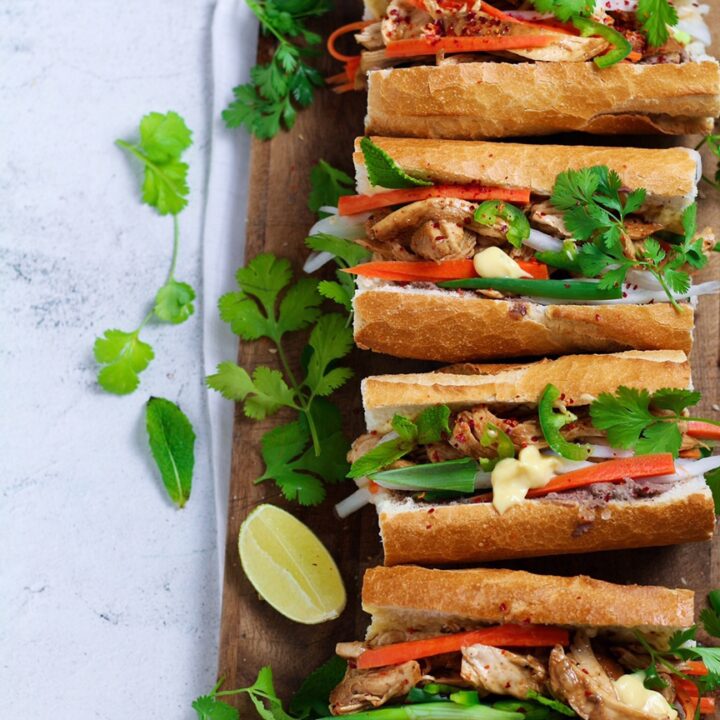 Vietnamese Chicken Roll 'Bánh Mì'
Marinating Time:
30 minutes
From the laneways of Vietnam to Sydney's inner west, there are few foods more satisfying than a Vietnamese Chicken Bánh Mì. They're a true flavour explosion, packed with juicy, tender chicken, pickled vegetables, pâté, fresh herbs and lots of spice.
Ingredients
for the pickled vegetables:
2 Tbsp sugar
2 tsp sea salt
250ml (1 cup) warm water
200ml (¾ cup) white vinegar
200g carrots, approx 2 medium, cut into fine strips (julienned)
200g (approx ⅓ of a) daikon radish, cut into fine strips (julienned)
for the marinade:
2 Tbsp fish sauce
2 Tbsp soy sauce
2 Tbsp sunflower oil
2 tsp sugar
2 cloves garlic, crushed
1 tsp fresh ginger, grated
½ tsp chilli flakes
juice of 1 lime
freshly ground black pepper
for the chicken:
400g (1 lb.) chicken breast fillets
2 Tbsp oil
to serve:
1 large baguette or 4 small baguettes
4 Tbsp mayonnaise
2 spring onions / scallions, sliced
1 green chilli or jalapeño, finely sliced
small bunch coriander / cilantro
small bunch mint
lime slices
Instructions
BRINE THE VEGETABLES: Make the brine for the pickled vegetables by stirring the sugar and salt into the warm water until dissolved. Pour into a mixing bowl, stir in the vinegar then add the carrots and radish. Refrigerate until needed.

MARINADE CHICKEN: To make the chicken marinade, whisk together all marinade ingredients in a shallow dish. Cut the chicken breasts in half horizontally so you have thin pieces and place in the marinade. Refrigerate until needed, between 1-24 hours.

COOK CHICKEN: When you are ready to serve, heat the oil in a frying pan over high heat. Add the chicken pieces to the pan, reserving the marinade, and cook, turning once or twice until well coloured and golden brown, 3-4 minutes on each side. Remove from the pan to a plate and cover loosely with tinfoil.

MAKE SAUCE: In a small saucepan, heat the marinade until boiling. Turn the heat down to a simmer and simmer for 3 minutes. Remove from the heat.

SHRED CHICKEN: When the chicken is cool enough to handle, use your hands to shred roughly, then toss the chicken with the warm marinade.

ASSEMBLE: To assemble the bánh mì, cut the baguette into 4 even pieces. Cut each nearly in half horizontally and open out like a book. Spread one side of each with pâté and the other with mayonnaise. Divide the pickled vegetables, chicken and spring onions evenly between the baguettes, then add chilli, coriander, mint and a squeeze of lime to taste. Serve immediately.
Nutrition Information:
Yield:

4
Serving Size:

1
Amount Per Serving:
Calories:

1747
Total Fat:

48g
Saturated Fat:

9g
Trans Fat:

0g
Unsaturated Fat:

33g
Cholesterol:

167mg
Sodium:

5497mg
Carbohydrates:

239g
Fiber:

13g
Sugar:

33g
Protein:

88g
Nutrition information is calculated automatically and isn't always accurate.