While they might not be as well known outside of the country as schnitzel or pretzels, Flammkuchen, literally 'Flame Cakes' are Germany's answer to pizza. Originating on the border with France at Alsace, where they are known as Tarte Flambée, Flammkuchen are deliciously thin and crunchy flatbreads. Topped with rich crème fraîche, bacon and onions they are super flavoursome and a delicious meal or snack.
Wait… I thought pizza was Italian?
It is, but the idea of topping simple flatbreads with delicious ingredients and cooking in a wood-fired oven is almost one of the oldest recipes in the world, with versions in nearly every culture. For lack of a better description, Alsatian Flammkuchen is often known in the USA as 'German Pizza'
Simple toppings are the best.
While there are plenty of regional variations of Flammkuchen, the traditional toppings are simple and delicious. This is a white pizza with a sauce made of crème fraîche or sour cream which cooks down to a wonderfully tangy, cheesy topping. Covered with finely diced onion and speck or bacon and a scattering of chives, Flammkuchen are perfect for wolfing down with a chilled glass of Riesling or a mug of Glühwein.
Where do people eat Flammkuchen?
Wherever there is a fair, festival or market, you are sure to find a stall selling these German pizzas. They're particularly popular around harvest time and are always available at Germany's famous Christmas markets.
Are there other Flammkuchen toppings?
Even though meat still rules supreme in Germany, it is not at all unusual to see some creative vegetarian toppings for Flammkuchen. They are delicious with very thinly sliced pear instead of bacon, or pumpkin and feta is popular too.
Flammkuchen are quick and easy to make.
Absolutely! You can make the dough in advance if you like, but the fact of the matter is these are thin and crisp pizzas, so there's no need for an extended rising time. Half an hour is more than enough. Of course, if you are super organised you can very quickly knock the dough together in the morning, then leave it to rise in the fridge during the day.
Before you have even put your bag down when you come home, go into the kitchen, heat the oven, take the dough out of the fridge. By the time you've poured a glass of wine and are ready to start cooking, everything is ready for you. Easy, delicious, filling and it looks equally impressive when serving to guests as for a weeknight dinner. You'll find my recipe with all the details of how to make flammkuchen at the bottom of the page.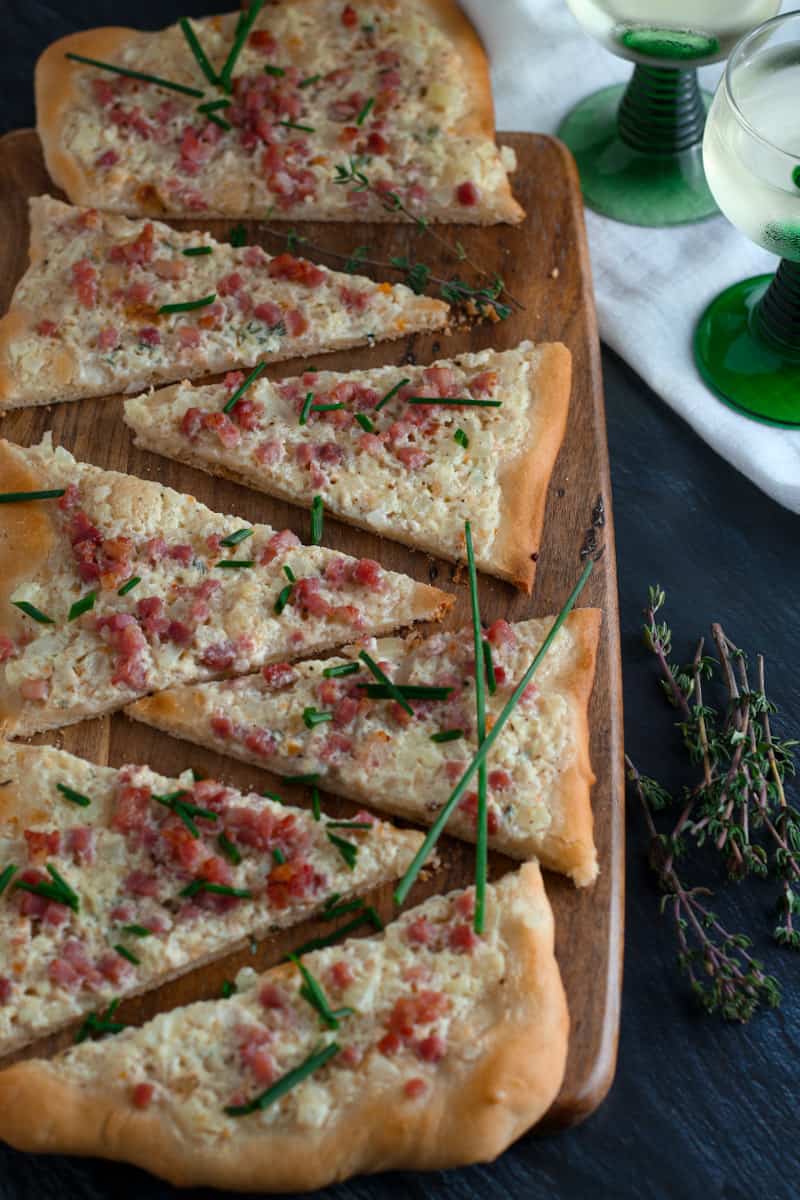 ---
FREQUENTLY ASKED QUESTIONS
Can I halve this recipe?
Yes! Halve all ingredients, except the yeast.
Can I make Flammkuchen in advance?
Flammkuchen are best enjoyed immediately after cooking. You can, however, make the dough up to 48 hours in advance and let it rise, covered with cling film, in the fridge.
Can I add different toppings to Flammkuchen? Can I make them vegetarian?
Yes, of course. Flammkuchen is fundamentally similar to a white pizza. Mushrooms and blue cheese with leek would be nice! Don't overload the dough though or else you'll end up with the dreaded soggy bottom.
What should I serve with Flammkuchen?
Serve with a crisp green salad and a cool glass of riesling, or in winter with a big mug of glühwein.
What is the difference between pizza and flammkuchen?
Both pizza and Flammkuchen are topped flatbreads, Flammkuchen is always rolled out very thinly and almost always topped with creme fraiche (no tomato sauce here!)
Why is it called tarte flambÉE?
The region that is home to Flammkuchen, the Alsace, has belonged to both Germany and France over the centuries and both German and French are spoken there. Tarte Flambée is simply the French name for this tasty snack.
---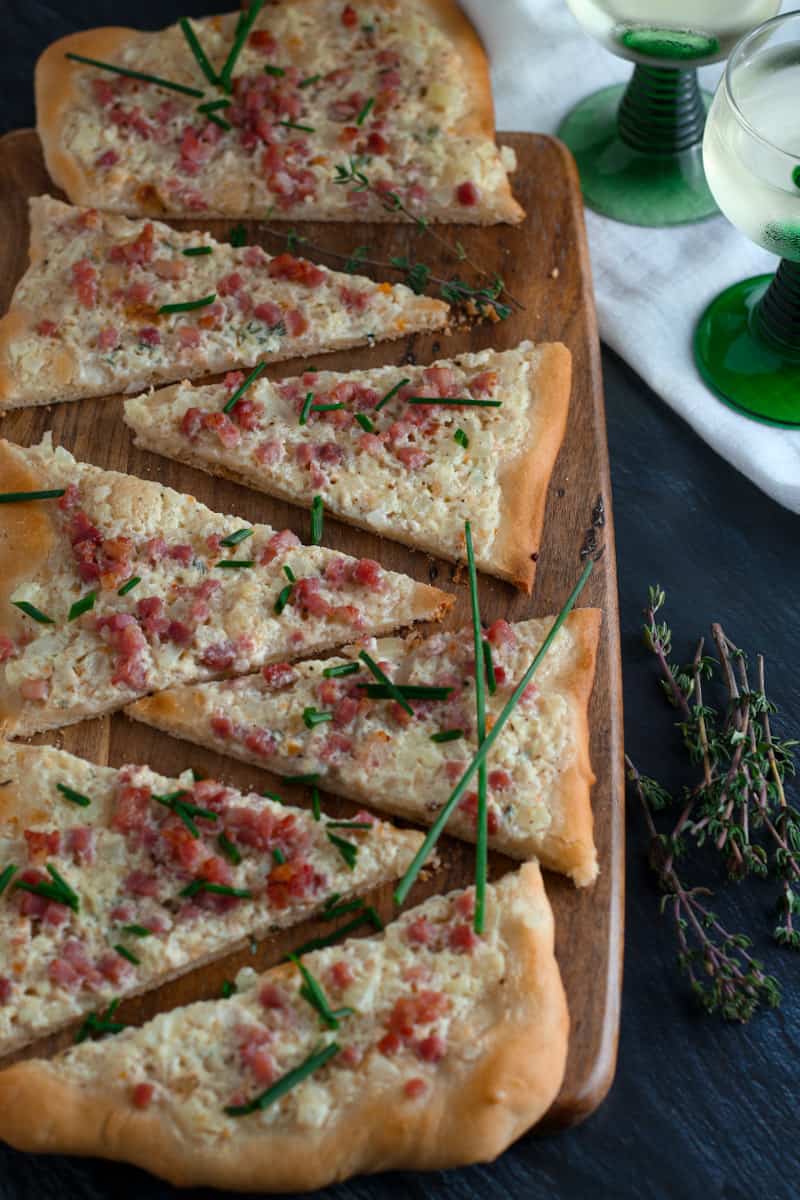 Flammkuchen (German Pizza)
Yield:
2 Flammkuchen (Serves 2-4)
Flammkuchen, literally 'Flame Cake' is Germany's answer to pizza. Originating on the border with France at Alsace, Flammkuchen are deliciously thin and crunchy, topped with rich creme fraiche, bacon and onions and are incredibly flavoursome.
Ingredients
for the dough:
250g plain flour
1 tsp sugar
½ tsp sea salt
7g dry yeast / 21g fresh yeast
3 Tbsp neutral oil (e.g: sunflower)
for the topping:
200g sour cream or crème fraîche
1 medium onion, finely diced
1 Tbsp fresh thyme leaves or 1 tsp dried thyme
½ tsp vegetable stock powder
pinch of ground nutmeg
250g bacon, very finely diced
small bunch chives, sliced
Instructions
MAKE THE DOUGH: In a large mixing bowl, or the bowl of a stand mixer, whisk together the flour, sugar and sea salt. Stir the yeast into 150ml lukewarm water until dissolved, then add to the bowl along with the oil. Knead for 5 minutes until the dough is smooth and elastic. Shape into a round, cover with clingfilm and allow to rise for 30 minutes.
MAKE THE FILLING: Meanwhile, prepare the filling by stirring together the sour cream or crème fraîche, onion, thyme, stock powder and nutmeg. Heat the oven to 250°C /475°F / Gas 9 and line an oven tray with baking paper.
ASSEMBLE THE FLAMMKUCHEN: Divide the dough into two, and roll each out very thinly on a lightly floured surface. You can either make two rounds, or two long Flammkuchen, each half the size of the baking tray. Lift the dough onto the prepared tray, spread each with half of the sour cream topping, then sprinkle over the bacon.
COOK: Cook the Flammkuchen for 12-15 minutes until the dough is golden brown and crisp.
SERVE: Slice the Flammkuchen, sprinkle with chives and serve hot.
WINE RECOMMENDATION: A crisp Riesling or Gewürztraminer is the perfect accompaniment to this Flammkuchen.
Nutrition Information:
Yield:

4
Serving Size:

½ a flammkuchen
Amount Per Serving:
Calories:

779
Total Fat:

46g
Saturated Fat:

15g
Trans Fat:

1g
Unsaturated Fat:

27g
Cholesterol:

100mg
Sodium:

1377mg
Carbohydrates:

58g
Fiber:

4g
Sugar:

4g
Protein:

32g
Nutrition information is calculated automatically and isn't always accurate.
Originally published 17.06.2016. Updated 15.11.2021.
Let me know if you try this recipe in the comments below, or using the hashtag #daysofjay on Instagram. Happy cooking!