At the centre of any good Bavarian table, you will find a basket of that most beloved of baked goods, Homemade Soft Pretzels. Known locally as Brezn, this is comfort food of the highest order for all Bavarians and an indelible part of the local culture. Whether normal sized, or Oktoberfest gigantic, they are delicious and easier to make at home than you might think.
Bavarians have been making pretzels for hundreds of years!
This simple bread has a long history dating back to at least the early Middle Ages and possibly long before. The first known depiction of a pretzel is in the Hortus Deliciarum, an illustrated manuscript from the 12th century (see picture) and they have been a fixture of the middle European diet ever since. Legend also has it that the interlocking loops of the pretzel may also be the origin of the phrase 'tying the knot' as this symbol of love was used in wedding ceremonies as early as the 17th century.
Most importantly of all, a well-baked Brezn is a joy. Crisp and salty on the outside, soft and doughy within, they complement every Bavarian meal. Whether liberally spread with butter, Obazda or served alongside traditional breakfast of Weißwurst (white sausages) sweet mustard and beer, I like them all.
As we are often on the road and away from Munich, I have learned to bake Homemade Soft Pretzels for my Bavarian husband as nothing cures homesickness faster than some real comfort food.
Why don't people make pretzels at home?
Commercially made pretzels in Bavaria (Brezn) are dipped in a solution of food-grade lye before baking – not exactly something that you can pick up at your local 7/11! Not to worry though as I have a fantastic, safe and easy workaround in the recipe below.
Alright, so what's the secret to baking pretzels?
The dark golden crust of a pretzels comes from bathing the pretzels in an alkaline bath. In simple terms, the pretzels are briefly cooked in a mixture of baking soda or sodium bicarbonate before baking – this ensures a rich golden colour, as well as the distinctive chew and flavour.
How many pretzels does this recipe make?
The dough for this recipe will make enough for 8 small pretzels – I usually divide the dough in half and make 4 at a time, the dough will keep for 2-3 days in a freezer bag in the fridge, or frozen for a month or more. Be sure to bring the dough up to room temperature before using. If you fancy making larger Oktoberfest sized pretzels (Riesenbrezen) you simply need a bigger pot and tray.
Have you tried baking your own pretzels before? Let me know in the comments below! As always, take care out there and happy baking!
---
This is the second in my series of Oktoberfest recipes – if you missed it, check out my recipe for Obazda, it goes perfectly with homemade SOFT PRETZELS – or even better, a JUICY OKTOBERFEST ROAST CHICKEN!
---
---
Let me know if you try this recipe in the comments below, or using the hashtag #daysofjay on Instagram. Happy cooking!
---
---
Homemade Soft Pretzels
My real Bavarian recipe for Homemade Soft Pretzels with step by step instructions for making Oktoberfest style pretzels at home. No special equipment necessary!
Ingredients
21 g fresh yeast, (or 7g dried yeast)
175-200 ml warm water
1 tsp sugar
1 ½ tsp sea salt
500 g all purpose flour, (see note)
2 Tbsp neutral oil
3 Tbsp baking soda / sodium bicarbonate
rock salt, roughly crushed
Instructions
In a small jug or bowl, mix together the yeast, water and sugar. Set aside for 5-10 minutes.
In a larger bowl, or the bowl of a stand mixer, combine the yeast mixture, flour, salt and oil, then knead by hand or machine for 5 - 10 minutes until the dough is soft and pliable. The dough should be quite firm, but not crumbly. Add water as necessary. Cover and leave to rise in a warm place for 45 minutes.
Turn the dough out onto the bench top, knock the air out and divide the dough into 8 equal sized pieces. Roll out each piece to about 50cm long, thicker in the middle and much thinner at the ends. Form into the classic Brezn shape (see photos) wetting the ends with a tiny bit of water and pressing them firmly onto the side of the Brezn to join. Place each finished Brezn on a tray lined with baking paper, then put the whole tray, uncovered, in the fridge for 30 minutes.
After 20 minutes bring 1 litre of water mixed with the baking soda to the boil in a large pot, and preheat the oven to  220°C / 425°F / 
Gas 7.
Carefully dip each Brezn in the boiling mixture one by one, and allow to cook for 30 seconds. Remove with a slotted spoon, allow excess water to drip off and lay each Brezn on a lined baking tray. Scatter over the rock salt and bake in the preheated oven for 15 - 18 minutes until golden brown. Cool on the tray or on a rack before eating.
Nutrition Information:
Yield:

8
Serving Size:

1 pretzel
Amount Per Serving:
Calories:

269
Total Fat:

4g
Saturated Fat:

0g
Trans Fat:

0g
Unsaturated Fat:

4g
Cholesterol:

0mg
Sodium:

1666mg
Carbohydrates:

49g
Fiber:

2g
Sugar:

1g
Protein:

8g
Nutrition information is calculated automatically and isn't always accurate.
---
FREQUENTLY ASKED QUESTIONS
The pretzel dough seems drier than normal, is this right?
It's important to keep the dough quite dry and firm – this means that they have a nice chew, rather than being too soft and cakey. Avoid the temptation to add too much water! Start with 175ml and add a tablespoon at a time.

What sort of flour should I use to make pretzels?
I've used lots of different types of flour for these, high grade or bread flour will give a heartier result, lighter flours like German 405 or Italian '00' give a lighter but still delicious Brezn – keep in mind that different flours absorb more or less water and adjust as necessary.

How much do I need to roll out the dough? It looks very long in the photos!
Roll the dough out longer and thinner than you think you will need it, by the time it is shaped, cooked in water, then baked it will expand quite a bit! It will still taste wonderful but those all-important holes might close up.

Why do I need to chill the pretzel dough?
Chilling the dough before cooking in the soda solution helps them keep their shape.

How do I store pretzels once they are cooked?
Don't keep Brezn in an airtight container or a plastic bag – the salt will dissolve and make them soggy. A paper bag or wrapped in a clean cloth is perfect. Best eaten on the day they are baked, stale pretzels make fantastically flavoursome breadcrumbs.
---
---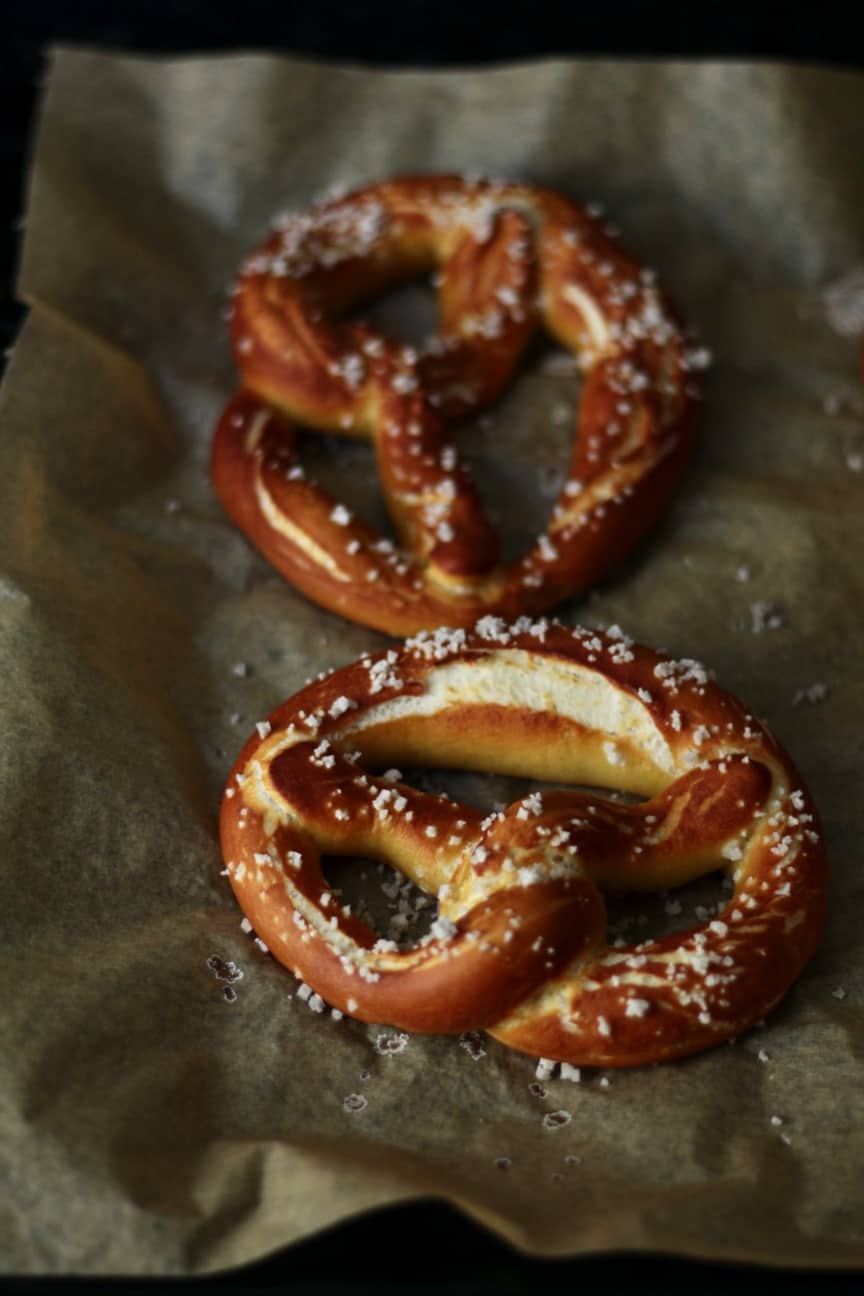 Guess what goes perfectly with Homemade Soft Pretzels? Bavaria's favourite dip!
---