It's that time of year again, Munich is buzzing, the tourists are flooding into town, the Wiesn is covered in beer tents and roller coasters, that must mean that the mother of all celebrations, Oktoberfest is nearly upon us. Love it or hate it, the Oktoberfest is an absolute phenomenon.
A fixture of the Munich calendar since the marriage of the future King Ludwig I and Princess Therese of Saxony-Hildburghausen in 1810. Every year the Oktoberfest seems to get bigger, brighter and more famous with over 6 million visitors drinking nearly 8 million litres of beer, and eating over 450,000 chickens and 79,000 pork knuckles in 2017 alone. Fun fact: all that beer has to go somewhere and there are over 1 kilometre of urinals within the Oktoberfest grounds!
I am lucky enough to live strolling distance from the Oktoberfest, so I make sure to visit several times during the festival. While many people think that it is only about consuming vast quantities of beer, for the locals of Munich the Oktoberfest is largely a family affair, with the rides of the fun-fair, acres of food stalls and wearing your finest Tracht (traditional clothing) to promenade through the long avenues of the festival grounds taking precedence over the enormous beer tents – although all that walking is thirsty work so a Maßkrug (litre glass) of beer definitely doesn't go astray!
To celebrate over the next few weeks I'll be posting some of my favourite Bavarian recipes to help you get in the mood and celebrate Oktoberfest wherever you may be. As we say here in Munich 'O'zapft is! Auf eine friedliche Wiesn!'
(The beer keg has been tapped! To a peaceful Oktoberfest!'
I'll be back later in the week with my favourite recipe for home-made soft pretzels (Brezn) they are easy to make at home and are SO tasty!
If you've ever visited Bavaria you will have come across this delicious and simple recipe in every traditional restaurant and beer garden. Obazda (sometimes spelt Obatzter or Obatzder) is a tasty mixture of cheeses, butter, paprika, onions and a splash of beer. Topped with red onion and chives, it's served as a lighter meal with some fresh Brezn (soft pretzels) or as part of a larger platter – a Brotzeit. Washed down with some delicious Bavarian beer, this easy dish should be a fixture at any Oktoberfest inspired event.
You'll find recipes like this and many more in my cookbook 'Tasty' available here from my website, or from Amazon and other online retailers.
Let me know if you try this recipe in the comments below, or using the hashtag #daysofjay on Instagram. Happy cooking!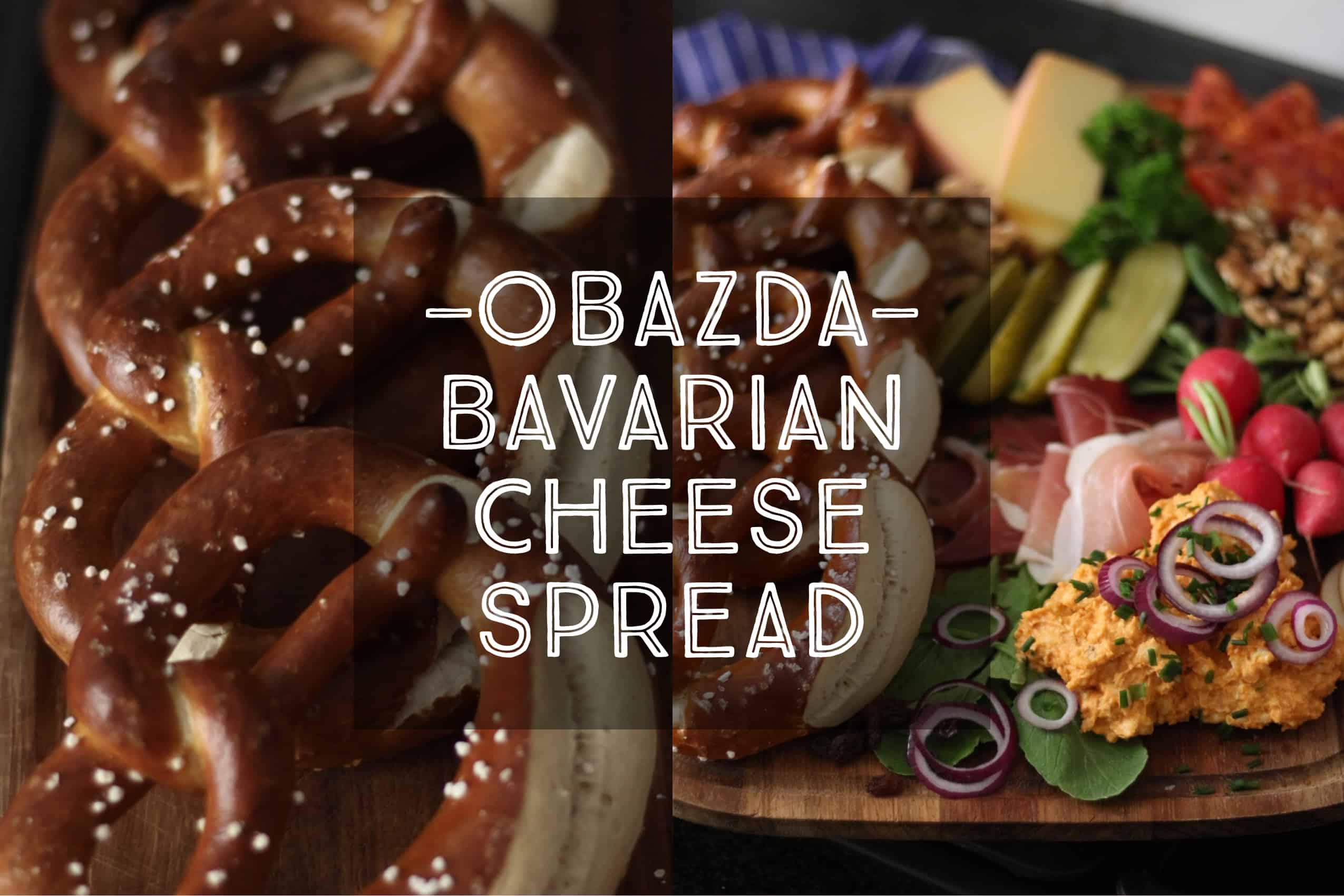 -Obazda- Bavarian Cheese Spread
Obazda is a delicious Bavarian Cheese Spread, perfect for picnics, the beer garden, or for lining your stomach before you start on that litre of beer - and it is super easy to make at home!
Ingredients
125

g

ripe Camembert or Brie

25

g

butter

,

softened

100

g

cream cheese

½

a small onion

,

finely diced

2

tsp

sweet paprika powder

2-3

Tbsp

beer

salt & pepper
to serve:
fresh chives

,

chopped

red onions

,

sliced in rings
Instructions
Cut the Camembert or Brie into small pieces. Scrape them into a mixing bowl, then use a fork to roughly crush and mash them together.

Add the butter, cream cheese, diced onion, paprika and a few grinds of salt and pepper to the bowl, and continue to mash using a fork. The mixture shouldn't be perfectly smooth, leave the texture rustic and a bit chunky.

Add the beer to the mixture, and stir until combined. This will lighten the mixture and make it a bit smoother. Check the flavour and add salt and pepper to taste. Refrigerate until needed, serve garnished with chopped fresh chives and red onion rings.
TIPS & TRICKS:
I like to serve my Obazda as part of a Brotzeitteller. Some nice ingredients to add are:

Soft Pretzels
A hard cheese – here I've used a local mountain cheese but Cheddar or Gouda would be good too
Radishes
Gherkins
Nuts
Ham, prosciutto or salami
Sliced apple or pear
Dried fruit or raisins
Experiment and see what you like, but when it comes to grazing platters I always think more is more!