Maybe it is lucky that we aren't having an Oktoberfest here in Munich this year as unlike our usual sunny, warm autumn, the weather has turned very wintery with squalls of rain and temperatures around 5°C. To be fair, cold weather never puts a damper on the celebrations, as people crowd into the tents and keep warm with plenty of dancing and beer! I'm sharing another Oktoberfest recipe today, the ultimate classic, Bavarian Pork Schnitzel.
Unlike our cousins the Viennese, who prefer to make their schnitzels from veal, here in Bavaria the preferred meat is pork. And what could be better to line your stomach in the beer garden or beer tent than deliciously tender pork, coated in seasoned breadcrumbs and fried in creamy butter? In Bavaria, we say that schnitzels ought to be cooked in so much butter that they float in the pan, but as delicious as that is, it's not necessary to use so much.
The trick to a great schnitzel is pounding the meat very thin, as this is what tenderises it and makes it so tasty and easy to eat. There are loads of variations on the theme and plenty of restaurants here in Munich pride themselves on having a whole separate 'Schnitzelkarte' or schnitzel menu so you can choose your favourite type. I love a 'Munich-style' schnitzel where the meat is spread with horseradish and Bavarian sweet mustard before crumbing and frying. My mouth is watering just thinking about it!
Of course. You can use this method of cooking with any of the main meats, beef, chicken, pork or veal. Whatever meat you use, It's important not to treat the schnitzel like a steak. If you put the schnitzels into a screaming hot pan, the meat will overcook and be tough. If you gently cook them, however, in oil and butter to golden brown perfection, the reward is in every bite.
What's your favourite type of schnitzel? Do you have a local German restaurant serving amazing (and huge!) schnitzels? Let me know in the comments below!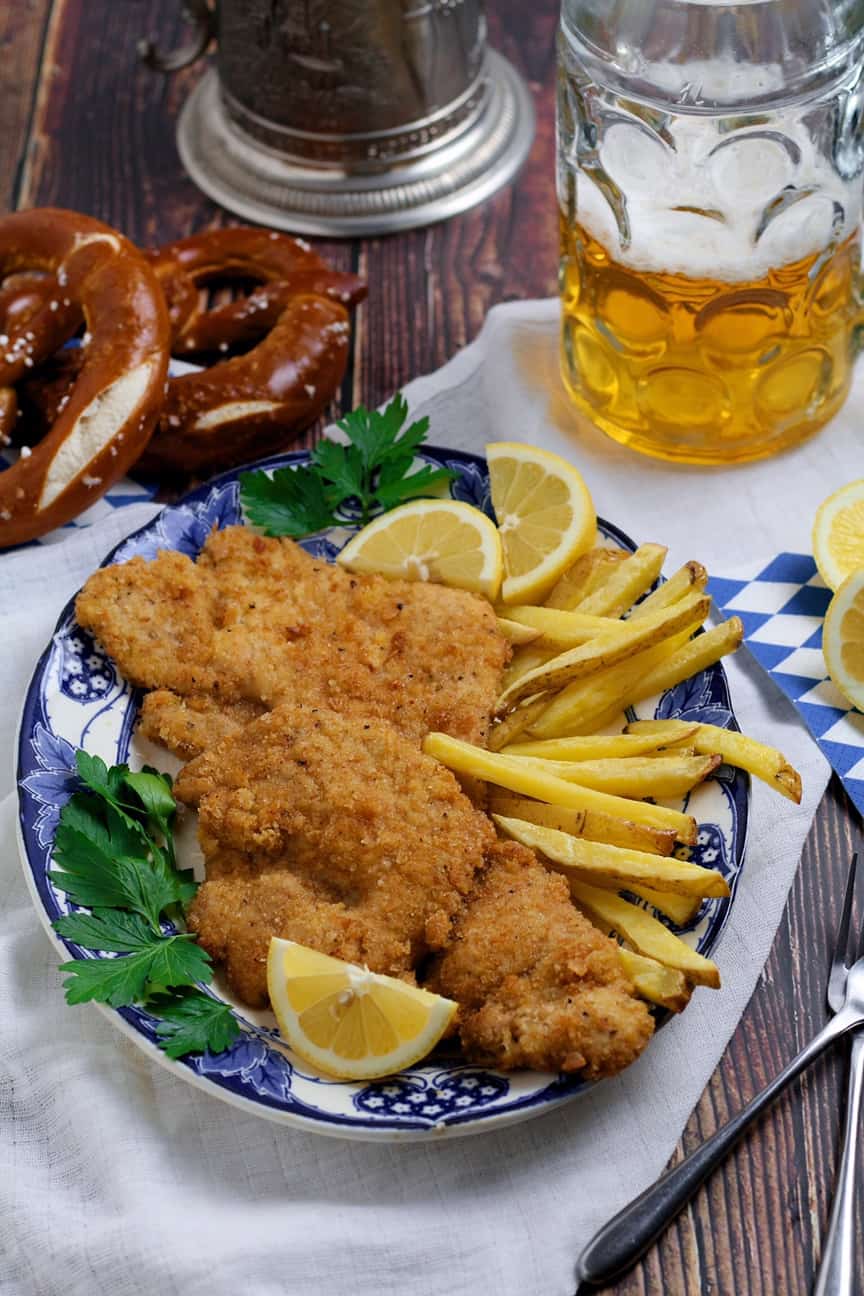 ---
Let me know if you try this recipe in the comments below, or using the hashtag #daysofjay on Instagram. Happy cooking!
---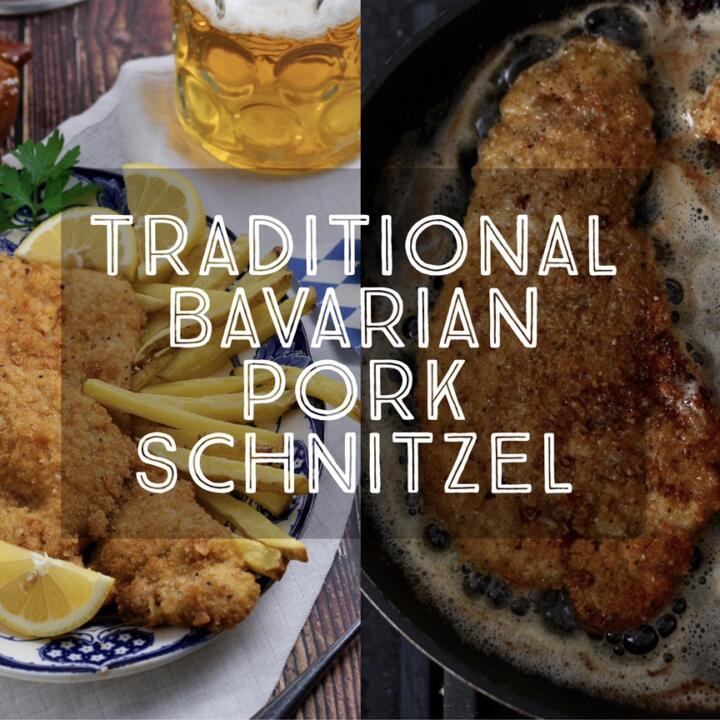 Bavarian Pork Schnitzel
Possibly the most famous of all Germanic foods, a schnitzel always hits the spot. While the Austrians like to use veal, around these parts we prefer to make Bavarian Pork Schnitzel, thinly beaten meat, generously coated in fresh breadcrumbs and fried to golden-brown perfection.
Ingredients
4 boneless pork steaks, chops or cutlets, ca. 500g
3 Tbsp plain flour
3 tsp paprika powder
1 large egg
2 Tbsp milk
200g fresh breadcrumbs
75g butter
30ml neutral oil
salt and pepper
to serve:
Instructions
Prepare the schnitzels by removing any fat, then beating them very thin. I place them between two pieces of clingfilm and then bash them with a rolling pin. The secret to a great schnitzel is in how thin the meat is, as this is what makes them so tender. Season the schnitzel well on both sides, then set aside.

In a shallow dish, whisk together the flour, paprika, egg and milk. Place the breadcrumbs onto a large plate and season well with salt and pepper. one by one, dredge the schnitzels through the flour and egg mixture, then place into the breadcrumbs, turning the schnitzels and pressing the breadcrumbs gently to make sure the schnitzels are well covered.

Turn the oven on to low, with a heatproof tray or dish inside. In a frying pan large enough to hold two schnitzels at once, heat the butter and oil together over medium heat until the butter has started to foam. Carefully lay two of the schnitzels into the pan and cook very gently until golden brown on both sides, turning only once using a fork. Transfer to the oven to keep warm on the tray while you cook the remaining schnitzels.

Serve hot with fries, Bavarian Potato Salad and lemon wedges.
Nutrition Information:
Yield:

4
Serving Size:

1
Amount Per Serving:
Calories:

954
Total Fat:

57g
Saturated Fat:

22g
Trans Fat:

1g
Unsaturated Fat:

30g
Cholesterol:

285mg
Sodium:

748mg
Carbohydrates:

48g
Fiber:

4g
Sugar:

4g
Protein:

61g
Nutrition information is calculated automatically isn't always accurate. In this recipe it includes all of the butter and oil which isn't actually consumed.
---
FREQUENTLY ASKED QUESTIONS
Can I use other types of meat to make schnitzel?
Absolutely! The Austrians swear by veal, as in their famous Wiener schnitzel, but beef, chicken or turkey make great alternatives. Poultry is much more fragile than pork, so be gentle when pounding the meat thinly.

Can I make schnitzel in advance?
You can make the schnitzel up to the point of crumbing it, then refrigerate it for up to two days.

Can I scale this recipe up or down?
You certainly can. Simply keep the schnitzels in the oven as you go to keep them warm. You may need to change the butter and oil if you are making a lot as the butter will start to scorch. Alternatively, use clarified butter or ghee instead.
---
It's important to use plenty of butter for the best flavour. If you are cooking a lot of schnitzels, use clarified butter or ghee.
BAVARIAN PORK SCHNITZEL
---