Luscious, soft, tangy homemade cream cheese, made in minutes with ingredients you probably already have in the kitchen? Absolutely. Trust me on this, once you learn how to make cream cheese, you may never go back to store-bought cream cheese again, especially as it is very cheap to make, and the flavour is rich and delicious. Cream cheese is one of the easiest types of cheese to make.
It works like this. Milk + Heat + a souring agent = Little Miss Muffet's favourite dish, curds and whey. Drain off the whey, whizz the cheese curds in a food processor until they are smooth and creamy, add salt and you're done. 30 minutes tops and you can pat yourself on the back while you enjoy your homemade cheese.
After that, you can add flavourings to your heart's delight, use it for baking (it is ideal to use in a cream cheese frosting for Red Velvet Cake or Carrot Cake – or like I usually do, just spread on toast with a big dollop of berry jam. Yum.
This sort of soft cheese is known by loads of different names. It is similar to Indian paneer, or German Hüttenkäse – the difference being that instead of being pressed (like paneer) or left as curds (Hüttenkäse/cottage cheese), it is creamed in the food processor, breaking up and smoothing out all the curds into a rich spreadable paste. Draining for a shorter amount of time, or adding back some of the whey while blending will result in a softer cheese.
On the subject of whey, don't throw it out! I use it as a replacement for water in bread making – it makes the bread last much longer, keeping the crumb soft and tender. It makes a fabulous tenderiser in marinades for meat, is full of protein so fantastic for smoothies and shakes (great for gym bunnies, just freeze it into ice cubes and throw it in the blender) or even as a toner for your skin and hair (yes, truly!) It will keep several days in a covered container in the fridge so you don't have to use it right away.
Now that you've leant how to make cream cheese, why not try out my recipe for Sesame Bagels! Or whip up some frosting for my Spiced Carrot Cake Loaf? There are so many great cream cheese recipes out there!
Take care out there and happy cooking! x J
---
Let me know if you try this recipe in the comments below, or using the hashtag #daysofjay on Instagram. Happy cooking!
---
Homemade Cream Cheese
Draining TIme :
10 minutes
Luscious, soft, tangy cream cheese, made in minutes with ingredients you probably already have in the kitchen? Absolutely. Follow this easy recipe to learn how to make cream cheese at home.
Ingredients
1L full cream milk (1 quart)
½ tsp citric acid, dissolved in 50ml of hot water
½ tsp salt
Instructions
In a large saucepan, heat the milk on a medium setting until it is nearly simmering, stirring to stop the milk from catching. The milk is ready when tiny bubbles start to form around the outside of the pot.

Stir in the citric acid, lemon juice or vinegar, and continue to heat, stirring gently, until the curds separate from the whey, clumping on the surface with the greenish whey liquid underneath. Turn off the heat and allow to sit for five minutes, while you line a sieve with the cheesecloth or muslin and place it over a large mixing bowl to catch the whey.

After five minutes, carefully pour the curds and whey into the sieve, then allow to drain and cool for 10-15 minutes. 10 minutes will give a softer set, while 15 minutes will be firmer after chilling.

When the curds have cooled, scrape into the bowl of a food processor. Add ½ a teaspoon of salt and process until the cheese is soft and creamy, and not at all grainy. This will take around 2-3 minutes, and you should stop halfway to scrape down the sides of the food processor bowl.

Taste the cream cheese and add a pinch more salt if you think it needs it, processing again to combine. If the cheese is crumbly and refusing to come together, add a tablespoon of the reserved whey to loosen.

The cream cheese will be very soft, but it will firm up in the fridge. Transfer to a small container with a lid and refrigerate until ready to use - this sort of cheese will last 5 days in the fridge.
Notes
If you can't get citric acid, use either: 2 Tbsp lemon juice or 2 Tbsp white vinegar and omit the additional water.
You will need cheesecloth, muslin or a clean cotton tea towel rinsed out in hot water to drain the cheese.
---
FREQUENTLY ASKED QUESTIONS

Can I use skim milk to make cream cheese?
You can, but it will drastically reduce the amount of cheese you get at the end. Use full cream milk for best results.

What can I substitute for citric acid?
You can substitute the citric acid with 2 Tbsp of lemon juice or 2 Tbsp white vinegar. Citric acid will give the most neutral result in the end cheese. Look for it in the baking aisle if you are having trouble finding it at the supermarket.

How long does this cheese last?
This is a fresh cheese in style, rather than an aged cheese. That means as long as all your dishes and containers are clean, the cheese will last around 5-7 days in a covered container in the fridge.

Can I double this recipe for homemade cream cheese?
Absolutely! Just double all ingredients.

Can I use Heavy Cream to make cream cheese?
---
As soon as you add the citric acid, the milk will begin to separate into cheese curds and whey.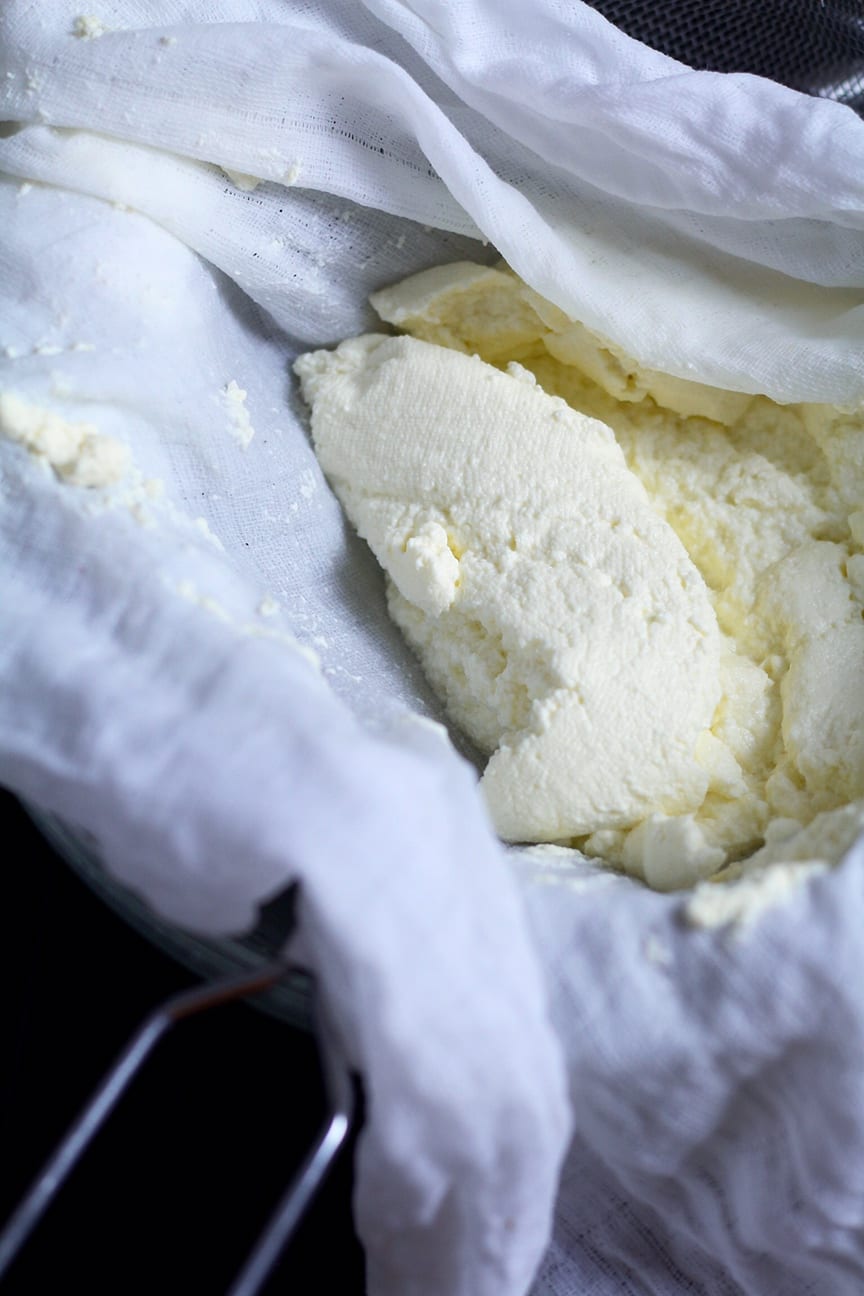 Make sure all your pots and utensils are extra clean, that way the cheese will last longer.
HOW To MAke CREAM CHEESE