March has arrived. The weather doesn't know whether it is up or down, there seems to be one international crisis after the other in the news, Mercury is retrograde – is it just me or does everything seem a little topsy-turvy at the moment?
When everything seems a little upside-down or stressful I like to bake bread. This soothing ritual begins with the comforting repetition of the kneading of the dough and ends with the warming waft of a freshly baked loaf drifting through the house.
Breadmaking seemingly speaks to something very ancient and primal in me. Whether you are baking a shatteringly crisp baguette, a simple dinner roll, or like me today a batch of 'Homemade Sesame Bagels' the fact remains the same: bread baking is good for the soul.
If you have been following along with my blog for a while you'll know that I am positively evangelical about the benefits of baking your very own bread – though I am as guilty as anyone of grabbing a loaf from the supermarket when time is short.
Not only do you know exactly what goes into your bread and can avoid all those stabilisers, preservatives and fungicides that seem to fill supermarket loaves, but you can also adjust absolutely everything to suit your tastes!
A lot of people are terrified about working with yeast and unsure if they can bake bread, but I promise you, it is easier than you think and there is something quite magical about taking your first homemade loaf out of the oven.
Today I saw some completely irresistible smoked salmon in the supermarket, which fell as if by magic into my basket along with some cream cheese and capers. What is the perfect vehicle for this dream team of ingredients you ask? Oh yes, a homemade sesame bagel.
Now, I've never been to New York, but I have eaten plenty of bagels and I know what I like: a well-browned crust, a soft but chewy crumb and a topping of lightly toasted sesame.
My mouth is watering just thinking of it. And guess what? They are very straightforward to make at home, so strap your apron on and let's get cooking. xJ.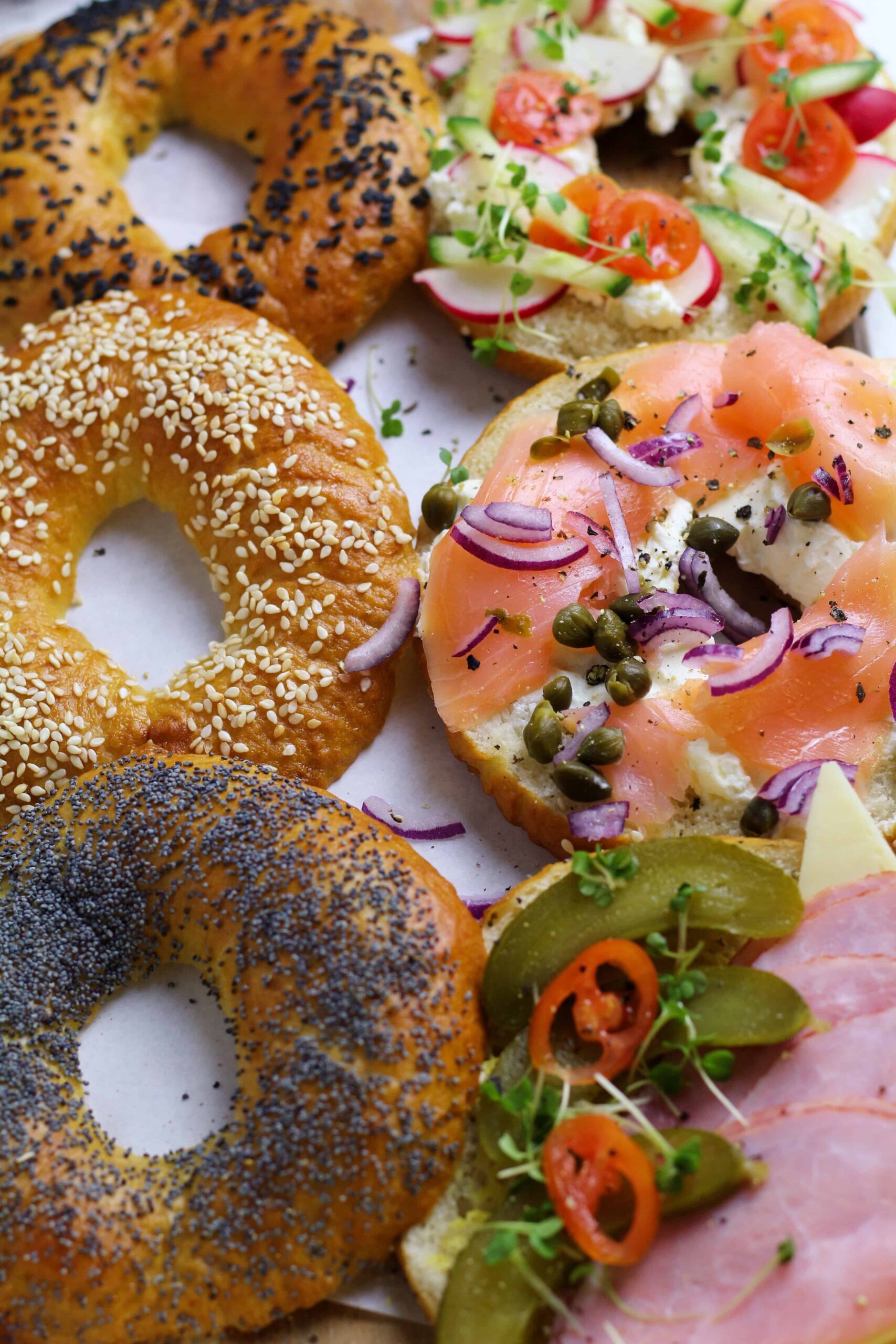 ---
Let me know if you try this recipe in the comments below, or using the hashtag #daysofjay on Instagram. Happy cooking!
---
---
Homemade Sesame Bagels
Rising Time:
1 hour
30 minutes
Total Time:
2 hours
15 minutes
Perfectly chewy, golden-brown and topped with toasted seeds, these Homemade Sesame Bagels are crying out to be lavishly smeared with cream cheese, layered with smoked salmon and sprinkled with capers.
Ingredients
for the dough:
21 g fresh yeast or 7g sachet dried yeast
500 g flour
1 Tbsp sugar
1 tsp sea salt
2 Tbsp neutral oil, sunflower etc.
to boil:
2 Tbsp honey
1 Tbsp baking soda
1 tsp sea salt
for the topping:
1 egg white, beaten with 1 Tbsp cold water
sesame seeds
nigella seeds
poppy seeds etc.
Instructions
Stir the yeast into 275ml luke warm water. In the bowl of a stand mixer with the dough hook fitted, stir together the flour, sugar and salt until well mixed. Pour in the water, yeast and oil then knead for 10 minutes. The dough should be fairly stiff so if it is not moving freely around the bowl after 5 minutes, add a little more flour, 1 Tbsp at a time until it does.
Turn the dough out onto the bench top, dust with flour, then shape into a ball, place back into the bowl and cover with a clean cloth. Allow to rise in a warm place like a sunny windowsill for at least an hour until doubled in size.
When the dough has doubled in size, turn it out onto a lightly floured benchtop. Knock the air out, then divide into 8 pieces of equal weight. I find it easiest to weigh the entire piece of dough, then divide that by 8 to get the correct weight - it will be roughly 100-110g each. Shape each piece into a ball.
Line an oven tray with baking paper and dust with flour. Use the handle of a wooden spoon to make a hole through the first ball of dough. Either use your fingers to gently stretch the hole out until you can fit 4 fingertips from each hand through the hole, or pick the dough up with the handle of the spoon and stretch the dough by spinning it around the handle. Either way, the hole in the middle needs to be at least 5cm / 2 inches in diameter - it will shrink as the dough rises and as it cooks. Place each shaped bagel onto the prepared tray, allowing room to rise. Cover with a clean cloth and allow to rise for 30 minutes.
Meanwhile, heat the oven to 230°C / 450°F / Gas 8 and line a second tray with baking paper. Lightly grease the baking paper with neutral oil. Prepare the boiling liquid by filling a wide saucepan with 1.5 litres of water, then stirring in the honey, baking soda and salt. TIP: Lightly oil the spoon before measuring the honey and honey will slide right off. Bring to a gently simmer, stirring until the honey, baking soda and salt are dissolved.
When the bagels have risen a second time, carefully place two into the simmering water, upside down. Allow to simmer for 45 seconds, then use a slotted spoon or spatula to gently turn them over. Allow to cook for a further 30 seconds, then remove from the water and place on the prepared tray. Brush with the beaten egg white and scatter generously with sesame, nigella or poppy seeds. Repeat with two more of the bagels.
Bake the boiled bagels in the preheated oven for 10-12 minutes until dark golden brown. Remove from the oven, allow to cool on the tray for 5 minutes, then transfer to a rack to cool completely. While the bagels are baking you can repeat with the second batch.
When cool, slice through the middle and serve with cream cheese, salmon, capers, or any other topping that you like.
Nutrition Information:
Yield:

8
Amount Per Serving:
Calories:

316
Total Fat:

6g
Saturated Fat:

1g
Trans Fat:

0g
Unsaturated Fat:

5g
Cholesterol:

0mg
Sodium:

1064mg
Carbohydrates:

56g
Fiber:

3g
Sugar:

6g
Protein:

9g
Nutrition information is calculated automatically and isn't alwasy accurate.
---
FREQUENTLY ASKED QUESTIONS
I don't have a stand mixer – can I still make Homemade Sesame Bagels?
Yes, it just takes some more muscle! You can knead the dough first with a wooden spoon until it comes together, and then on a lightly floured bench top for at least 5, but better 10 minutes. You may find you need to add a little extra flour to stop the dough sticking to your hands.

Does it matter what flour I use to make bagels?
Not really, the texture may vary. I have made bagels with cake flour, bread flour and all-purpose flour – and it works with all three. Different flours in different countries will always give different results, but as a general rule flours with a higher gluten content – bread flour, all-purpose, type 550 in Germany will give a chewier, springier result, while cake flour will be softer. The bagels pictured are made with German 405 flour – similar to Italian '00' flour and they are deliciously chewy.

I don't have any honey! What else can I use?
You can use sugar as an alternative to honey.

Do I have to put seeds on the bagels?
Absolutely not, you can leave them completely unadorned if you like – though I love the crunch and flavour of toasted sesame.

Can I make Homemade Sesame Bagels in advance? Can they be frozen?
The dough actually benefits from resting overnight in the fridge before it is shaped for the final rise – this gives the bagels some extra flavour and helps them stay chewy. Simply knead the dough for the required 10 minutes, place in the fridge overnight covered with cling film, then proceed as per the recipe – depending on the temperature of your fridge and your kitchen I'd probably allow the bagels to rise for 45 minutes once shaped. Bagels are best enjoyed fresh or toasted for up to 3 days, but can be frozen after baking.
---
---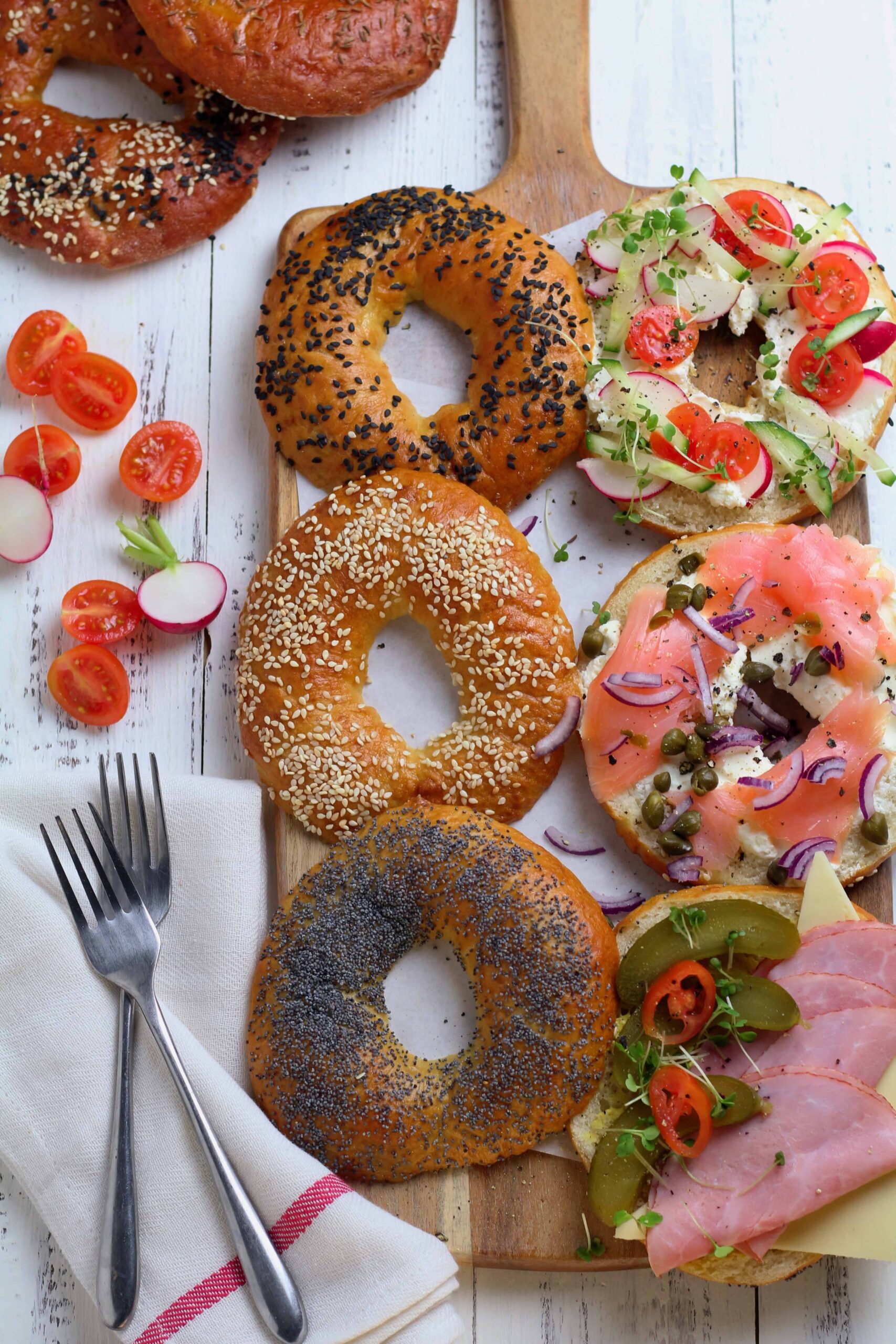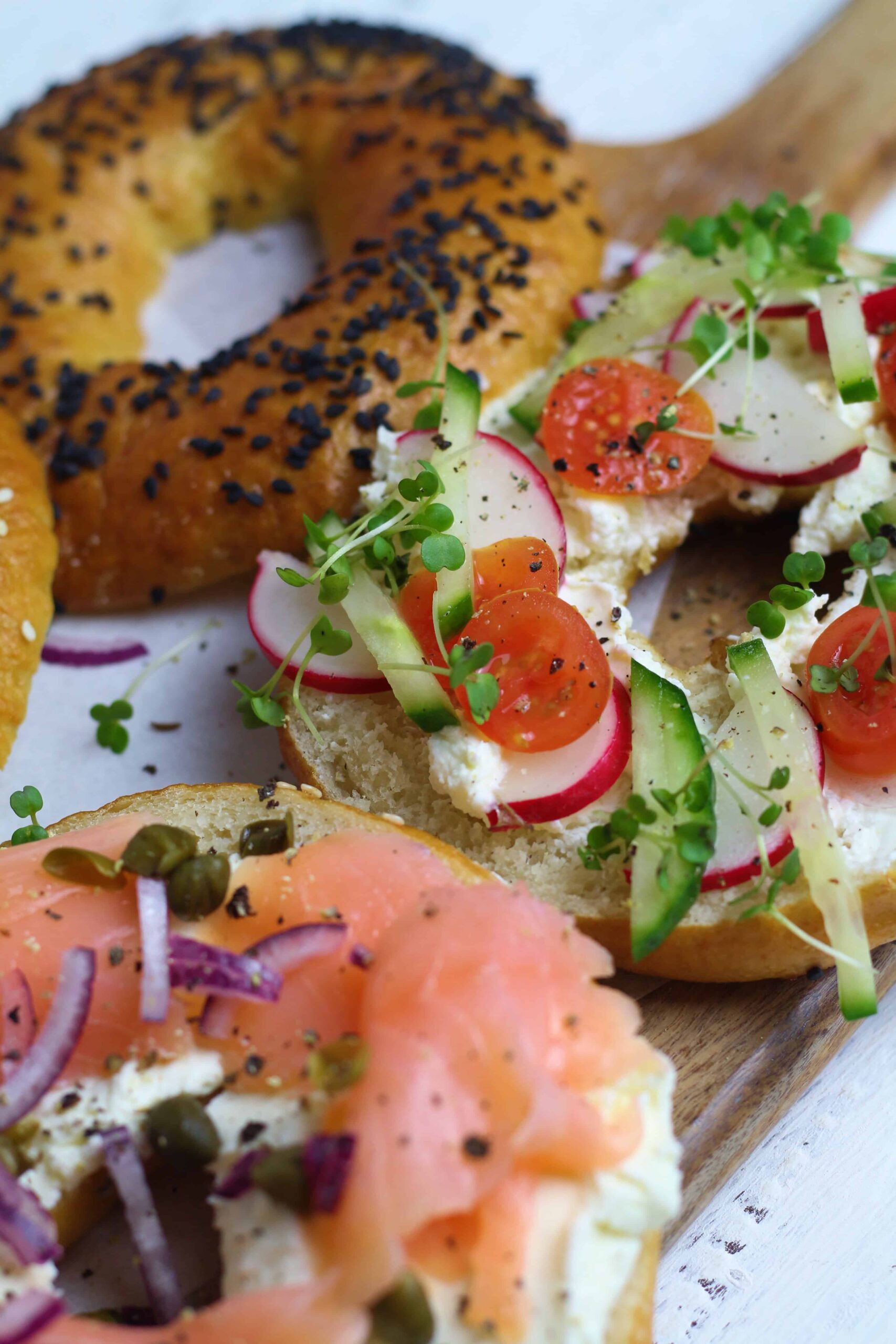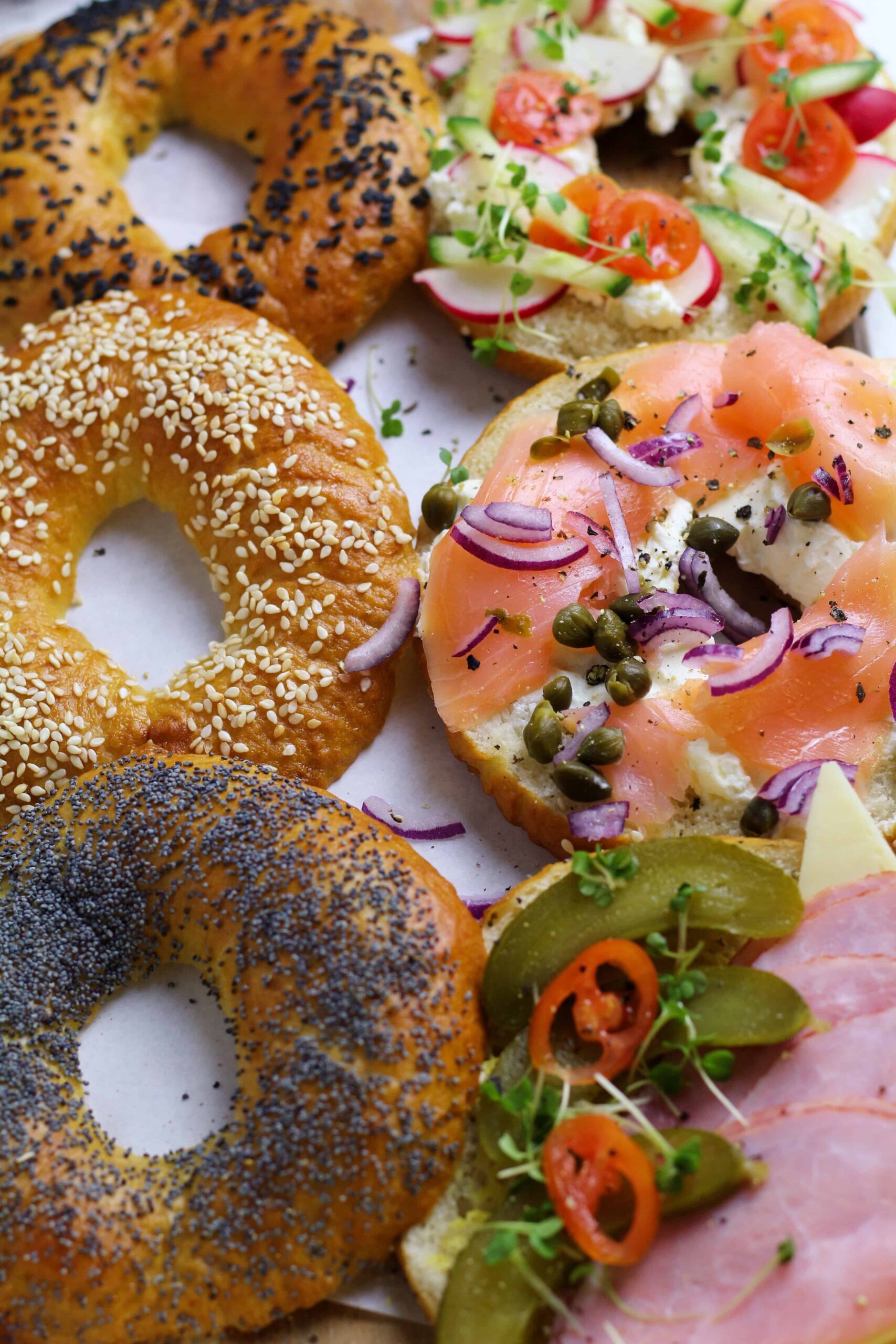 HOMEMADE SESAME BAGELS
---
Looking for more bread recipes? Why not try: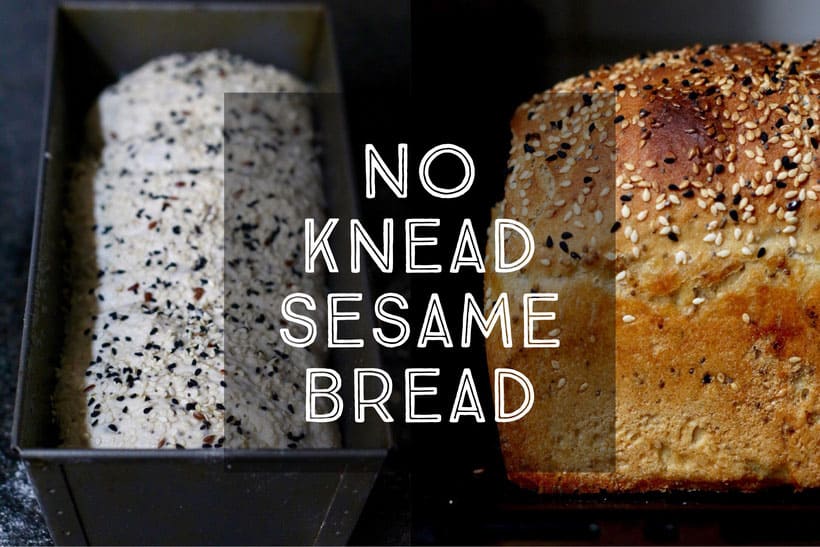 ---