It's been a beautiful Easter weekend, full of indulgent food and drink, lots of chocolate and plenty of sunshine. The trees are covered in blossom across the whole hillside and the feel of spring is in the air. There's lots of cautious optimism and hopeful stories in the news, and while it seems the whole world is stuck inside at home, it's nice to see everyone using the time to cook up a storm in the kitchen.
If you've been following along for a while, you'll know that lemon and asparagus are two of my favourite ingredients. As far as I'm concerned, lemon makes everything better with its bright, clean flavour lifting nearly every dish it's added to. Asparagus is one of my desert island foods. I love the fact that is is still so seasonal, arriving with a bang with the first warm days of spring and gone again before the heat of summer. I think that the short season makes us appreciate it all the more. The clean, mineral flavour of asparagus is delicious with lots of food, however, it has a natural partner in lemon.
When you take these two fabulous flavours and combine them with something creamy, say, a rich hollandaise sauce or in this case, a warmly comforting Asparagus and Lemon Risotto you have a match made in heaven. Lots of people are put off making risotto because they've heard you have to slave over the pot, stirring frantically for hours or the whole thing will be ruined. This couldn't be further from the truth.
Risotto is an incredibly relaxing dish to make, slowly simmered and stirred, and while it does require your attention, it's not demanding. If you prepare your ingredients before you start, it's simply a matter of adding them to the pan at the right time and giving the pan a gentle stir now and then. I also think that as the risotto gets a glass of wine, it's only fair that the cook should get one too! Give it a try and see just how easy it is.
Take care of yourself and each other out there and keep sending me those photos of all your wonderful kitchen creations! x Jay
Let me know if you try this recipe in the comments below, or using the hashtag #daysofjay on Instagram. Happy cooking!
---
---
Asparagus and Lemon Risotto
Creamy, rich risotto with fresh in-season asparagus and bright zingy lemon. The perfect meal for two.
Ingredients
1 litre vegetable or chicken stock, from stock cubes or powder is fine
1 small bunch asparagus, approx. 12 spears, trimmed and cut into 3
1 Tbsp olive oil
2 Tbsp butter
1 onion, diced
2 cloves garlic, finely diced
250 g arborio rice
125 ml dry white wine
zest of 1 lemon
50 g Parmesan cheese, grated
juice of ½ a lemon
freshly ground black pepper
to serve:
extra Parmesan
finely sliced lemon zest, optional
Instructions
Bring the stock to the boil, cook the asparagus in the stock with the lid on for 3 minutes, then remove with a slotted spoon and refresh under cold, running water and set aside. Keep the stock warm.
In a wide, heavy-based saucepan heat the olive oil and one tablespoon of the butter until the butter has melted. Cook the onion gently for 4-5 minutes until softened but not browned. Add the garlic to the pan and cook for another minute, stirring all the time.
Add the rice to the pan and stir well to coat with the oil and butter, then pour the wine into the pan, stirring to de-glaze the pan. Allow to bubble until mostly evaporated.
Add the stock to the pan, one ladleful at a time, stirring occasionally and allowing the stock to be nearly completely absorbed before you add the next ladleful. I set a timer for 20 minutes but it may take a little longer or less depending on your specific rice. Do stay with the pan and don't allow the rice to catch on the bottom.
When the last ladleful of stock has nearly evaporated, test the rice to make sure it is done to your liking. Remove from the heat, sprinkle over the Parmesan, the remaining tablespoon of butter and the asparagus, squeeze over the lemon juice then cover tightly and allow to rest for 5 minutes.
Stir well before serving in warmed bowls. Season with freshly ground black pepper and serve with extra parmesan on the side. Top with a few strands of very finely sliced lemon zest if you like.
Nutrition Information:
Yield:

2
Serving Size:

1 grams
Amount Per Serving:
Calories:

786
Total Fat:

30g
Saturated Fat:

14g
Trans Fat:

1g
Unsaturated Fat:

14g
Cholesterol:

61mg
Sodium:

1103mg
Carbohydrates:

99g
Fiber:

12g
Sugar:

31g
Protein:

24g
Nutrition information is calculated automatically and isn't always accurate.
---
FREQUENTLY ASKED QUESTIONS

I can't get arborio rice. Can I still make risotto?
While the purists would be horrified, nearly any rice will make a risotto of some style, the texture and timings will be different. Ideally, you want a short to medium grain rice as this will produce the most creamy risotto.

Is this recipe suitable for vegetarians?
You'll need to find a vegetarian Parmesan-style cheese as Parmesan contains meat product.

I'm scared of making risotto! Is it true I have to stir it constantly?
While risotto requires your attention and that you stay nearby, cooking it over a fairly gentle heat means you only really need to stir it every 30 seconds or so. Just keep an eye on it, don't cook it over a raging heat and you'll be fine.
---
---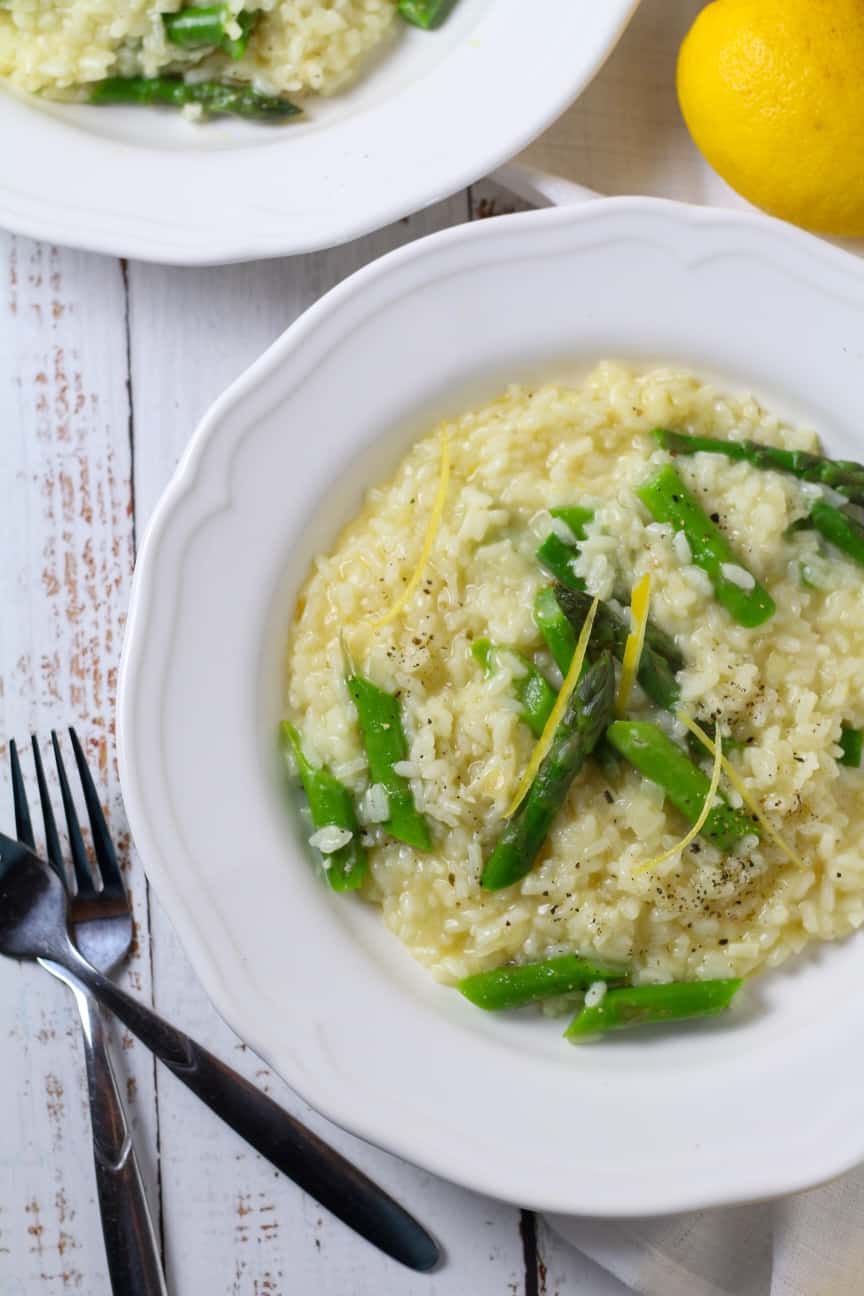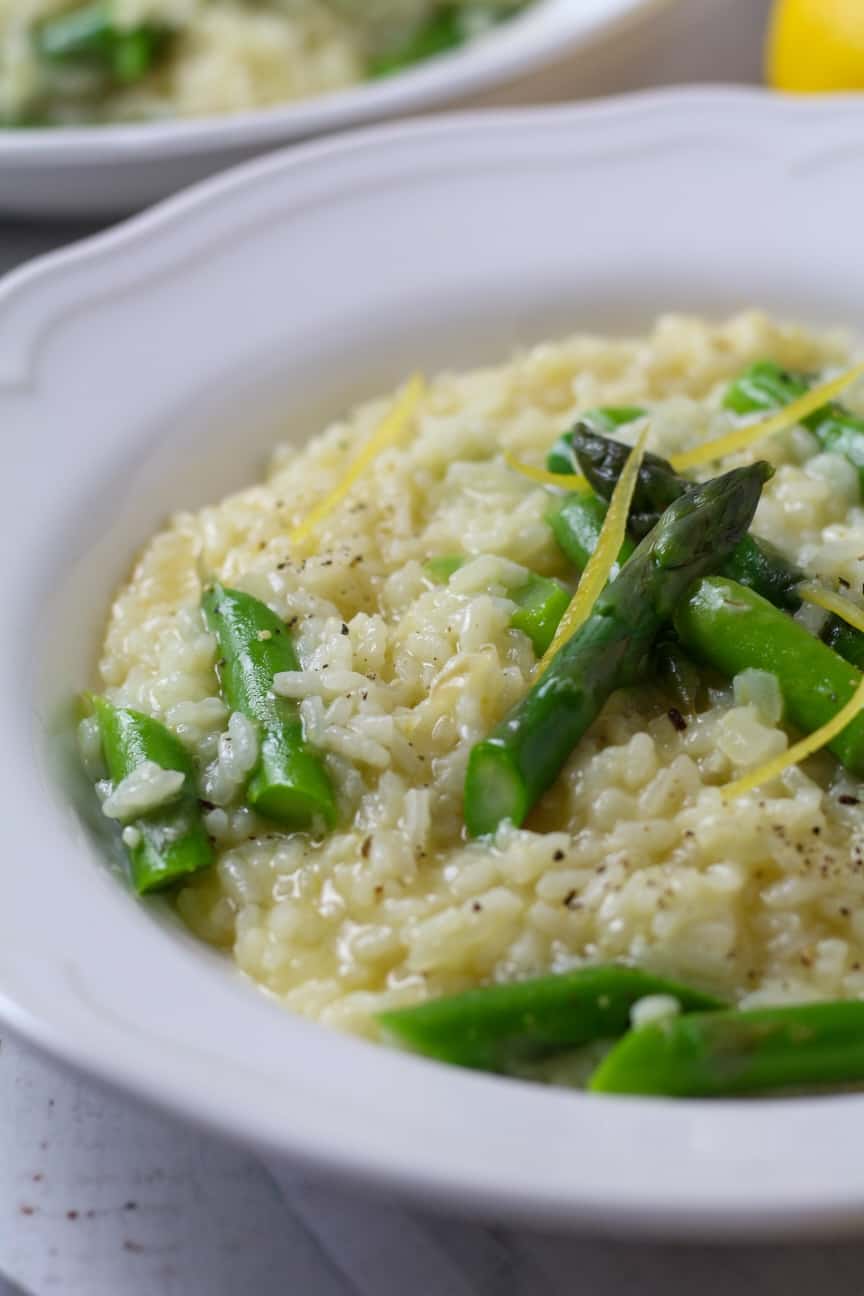 ASPARAGUS AND LEMON RISOTTO
---
Looking for more asparagus recipes? Why not try: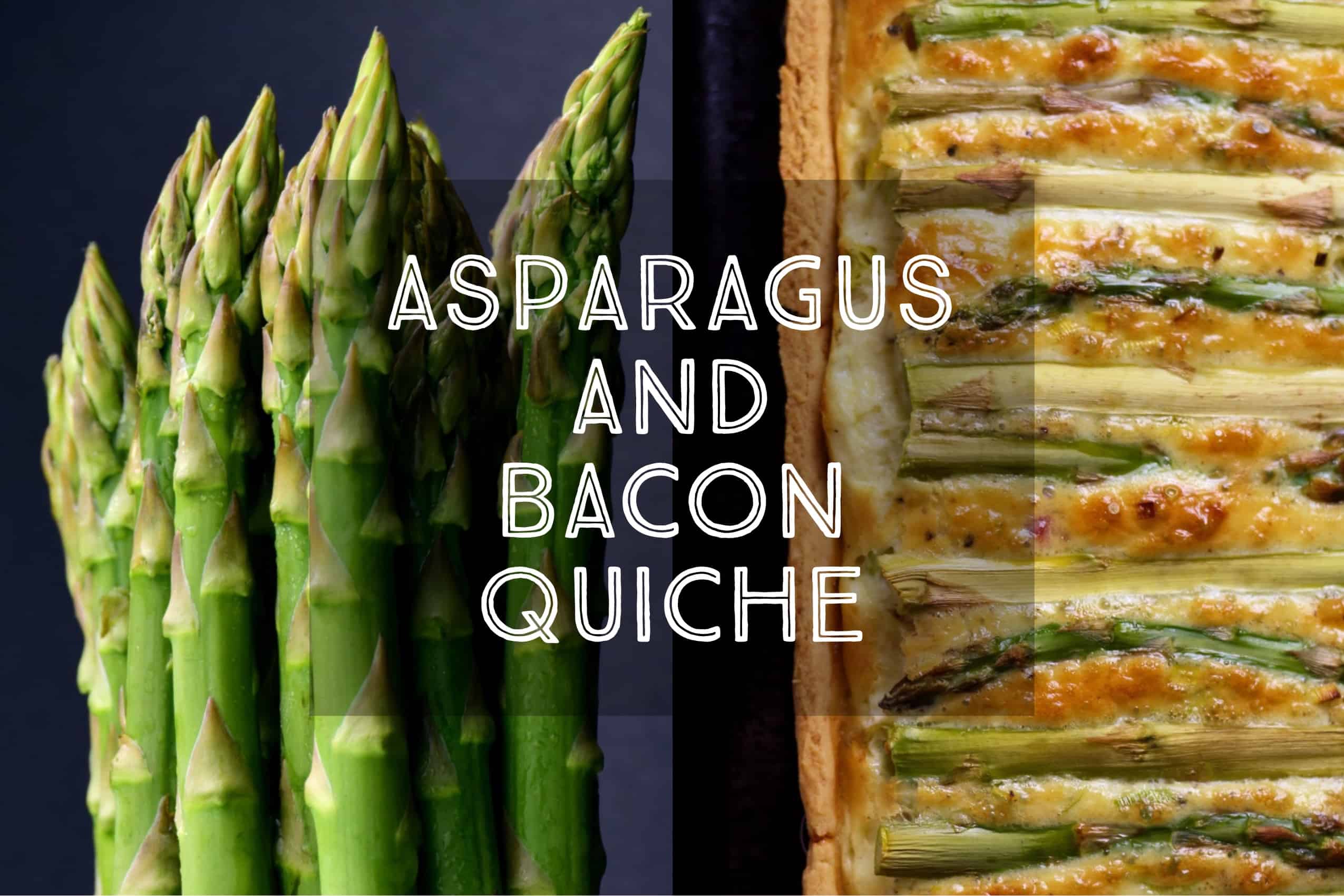 ---