The sun is shining, the beer gardens have tentatively opened for business and the cool air over Munich is beginning to carry the sweet smell of the countryside to the south. The chestnut trees are still absolutely bare, but it won't be long before they burst into fresh green leaf and the springtime will properly begin. I've already unpacked the barbecue in anticipation of the summer of grilled food ahead of us, and last night we braved the balcony for the first evening since we have been back.
I'm not quite game to fire up the barbecue just yet though, so I have been preparing steaks inside, and while I would love to eat delicious, juicy beef steaks every week, beef in Germany is actually quite a luxury item. Not to worry though as pork is readily available, and pork steaks made with a lip-smackingly good cream mushroom pan sauce more than satisfy any carnivorous cravings I might have.
I like to buy a big piece of pork collar and slice my own steaks as this way I can be sure that they are all evenly sized, but pork scotch steaks from the butcher or the supermarket are perfectly good. You're looking for steaks that are just under 2cm thick, which when tied into shape not only look impressive, they stay extra juicy on the inside while they sear into caramelised deliciousness on the outside.
I like to serve these with oven baked wedges and some lemony broccoli so I've included instructions for these in the recipe, but go ahead and serve with whatever your favourite sides are. If you prefer your pork a little more well done,  after you have seared it throw it on the oven with the potatoes for a minute or two to cook through.
---
---
Let me know if you try this recipe in the comments below, or using the hashtag #daysofjay on Instagram. Happy cooking!
---
Creamy Mushroom Pork Steaks
Creamy Mushroom Pork steaks are a real family favourite and so simple. Serve with potato wedges and broccoli for a delicious dinner.
Ingredients
4 x 200 g pork scotch or collar steaks
2 tsp olive oil
50 g butter
250 g mushrooms, sliced
2 cloves garlic, crushed
1 tsp flour
125 ml white wine
125 ml chicken stock
small bunch sage or thyme, leaves finely diced
salt & pepper
to serve:
800 g potatoes
2 Tbsp olive oil
1 tsp dried oregano
1 head broccoli, cut into florets
Juice of ¼ a lemon
salt & pepper
Instructions
Begin by getting the steaks out of the fridge so that they can start to come up to room temperature, then heat the oven to 200°C / 400°F, then wash the potatoes and cut into thick wedges.
Line an ovenproof dish with baking paper, then toss the potatoes well with the olive oil and oregano and add to the dish, spreading them out to one layer. Season well with salt and pepper, then roast in the preheated oven for 30-40 minutes, giving them a bit of a shake about half way through the cooking time.
To prepare the steaks, tie them firmly around the circumference with kitchen twine (see photo). Not only does this make the steaks an attractive shape, it allows them to cook more evenly. When you are ready to begin cooking the steaks, (after the potatoes have been in the oven for 15 minutes or so) dry them with some kitchen paper, season well on both sides with salt and black pepper, then rub with the olive oil.
Heat a frying pan over a medium heat. When hot, add the steaks to the pan and cook without moving for 6 minutes. Turn the steaks over and cook for a further 2-3 minutes, then remove from the pan, cover loosely with tin foil and set aside in a warm place.

Add the butter to the hot pan, and when it is melted and foamy, add the mushrooms and cook, stirring, until they have browned and released their juices. Add the garlic and cook for another minute, before stirring through the flour. Pour in the wine and stock, scraping up any browned on bits in the pan, bring to the boil, then simmer until slightly thickened and reduced.

Meanwhile, put the broccoli in a steamer and cook until tender, around 5 - 6 minutes.

Season the creamy sauce to taste with salt and pepper, stir in any resting juices from the pork steaks, then serve the pork (on hot plates!) with the potato wedges, broccoli with a bit of lemon squeezed over and plenty of creamy mushroom sauce spooned over the top.
Nutrition Information:
Yield:

4
Serving Size:

1
Amount Per Serving:
Calories:

1138
Total Fat:

58g
Saturated Fat:

22g
Trans Fat:

1g
Unsaturated Fat:

31g
Cholesterol:

257mg
Sodium:

514mg
Carbohydrates:

64g
Fiber:

9g
Sugar:

13g
Protein:

77g
Nutrition information is calculated automatically and isn't always accurate.
---
FREQUENTLY ASKED QUESTIONS
How do I make sure the steaks are cooked through?
When cooking steaks of any kind, it's crucial to make sure they come up to close to room temperature before cooking them. A fridge-cold steak will burn on the outside and stay raw in the middle.

These pork steaks are a little pink in the middle – is that OK?
You can cook these steaks a little longer if you prefer, the timings above will cook the steak somewhere around medium. Pork has now been given the official OK to be cooked to 68°C/ 155°F which will rise to 71°C / 160°F after a short rest – this will look pink but is perfectly safe and makes for the juiciest, most delicious pork. If you haven't already tried it, it will absolutely change the way you cook pork forever.

What can I do with the broccoli stem? It seems a shame to throw it away!
Don't throw away the broccoli stem! Slice it finely and steam it with the florets – it's perfectly delicious
---
---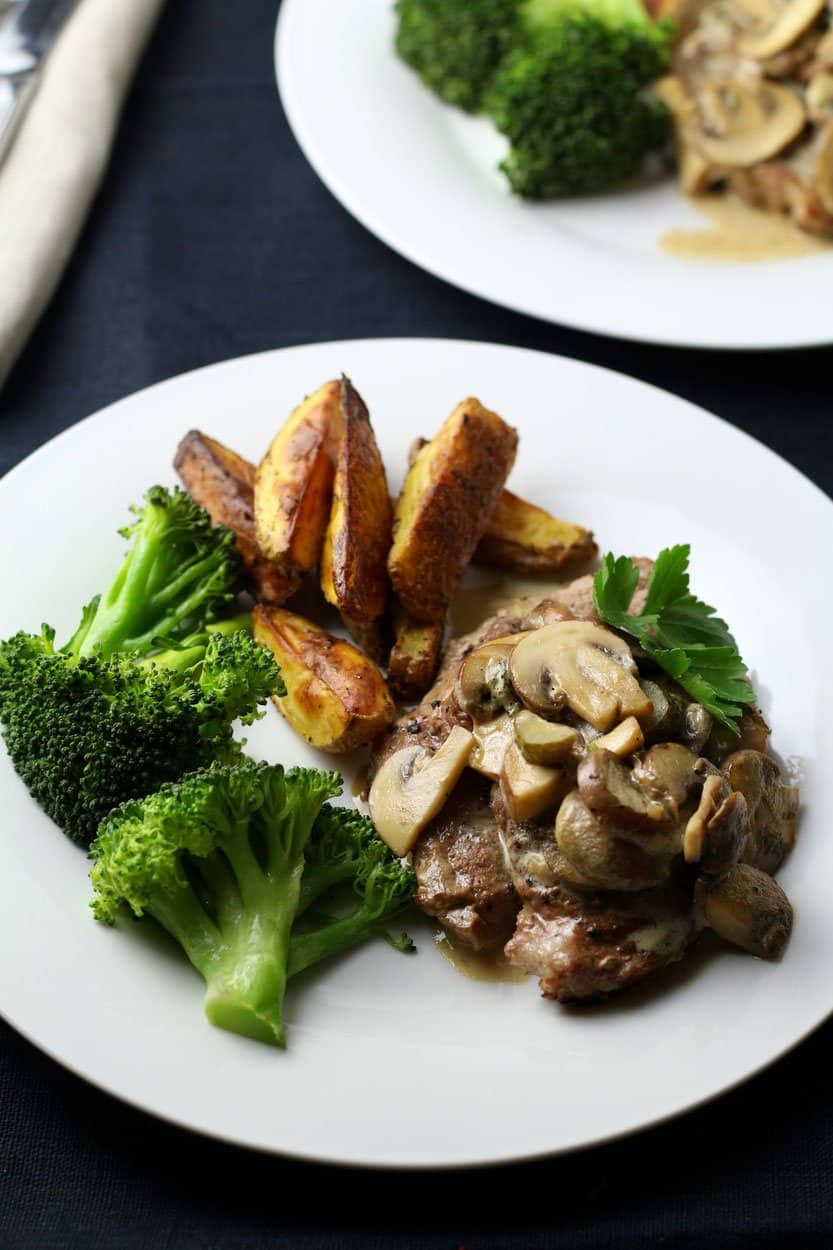 CREAMY MUSHROOM PORK STEAKS
---