Something that will always catch my eye as I walk past a bakery or a patisserie is the beautifully displayed fruit tarts and cakes. They are always so bright and colourful, the glazed fruit glistening like gemstones on top of the luscious creme patisserie. Before moving to Germany I had always assumed that a classic German strawberry cake was a specialist matter, and best left to the experts in the shops, so it was to my great surprise to discover that not only does every German Hausfrau or Hausmann have a recipe at home for these delicious treats, they are considered to be one of the very most basic recipes around. Who knew?
There is a lot to love about the combination of soft sponge, creamy vanilla custard, fresh spring strawberries, topped with a sweet clear jelly, and once you know a few tricks in the baking of them, a Classic German Strawberry cake, or 'Erdbeerkuchen' will become a regular treat in your baking repertoire.
I've made this one as a lovely big tray bake for feeding a crowd, and believe me, they disappear fast, but if you like you can halve the recipe and make it in a 26cm round tin. If strawberries aren't in season, this is good with all soft or lightly poached fruits, so berries of all kinds, poached stone fruit, kiwi fruit, mango or similar are all perfectly delicious. Let your imagination go wild, but do take the time to arrange the fruit nicely, and make sure that you cut out any bumps and bruises as the fruit really is on display.
Let me know if you try this recipe in the comments below, or using the hashtag #daysofjay on Instagram.
Classic German Strawberry Cake
Total Time:
1 hour
5 minutes
Soft sponge, creamy vanilla custard, fresh spring strawberries, topped with a sweet, clear jelly, and once you know a few tricks in the baking of them, a Classic German Strawberry cake, or 'Erdbeerkuchen' will become a regular treat in your baking repertoire.
Ingredients
for the sponge:
6 eggs
250 g sugar
1 tsp vanilla extract
150 ml neutral oil
200 g plain flour
3 tsp baking powder
for the custard:
40 g cornflour / corn starch
40 g sugar
1 egg yolk
500 ml milk
2 tsp vanilla extract
for the topping:
for the glaze:
4 Tbsp sugar
2.5 Tbsp potato flour/potato starch
500 ml water
Instructions
Line the base and grease the sides of an approx 40 cm x 25cm x 4 cm deep-sided baking tray, and heat the oven to 180°C / 350°F / Gas 4.
In a large mixing bowl, use an electric beater to beat the eggs, sugar and vanilla extract together for 5 minutes until pale and almost tripled in volume. After 5 minutes, drizzle in the oil while still beating, then sift over the flour and baking powder and fold through, keeping as much air in the mixture as possible. Pour the mixture into the prepared tray, smooth over the top, then bake in the preheated oven for 25 minutes until golden brown and springy to the touch. Set aside to cool in the tin.
When the cake is cool, make the custard by whisking together the cornflour and sugar until well combined. Add the egg yolk and 100ml of the milk and whisk until smooth. Heat the remaining milk in a medium saucepan until nearly boiling. Pour in the cornflour mixture and cook, whisking until the mixture thickens. Pour immediately over the sponge base, using a spatula to spread it all the way to the sides.
Wash and dry the strawberries, then cut off the green tops, and halve lengthways. Arrange on top of the custard in a pattern that you like, pressing the strawberries lightly into the custard to fix them in place.
To make the glaze, whisk together the sugar and potato flour until well combined. Whisk in 100ml of the water to make a loose paste and heat the remaining water on the stove until nearly boiling. Pour in the potato flour mixture and cook, stirring vigorously until the mixture not only thickens but becomes clear. You can check this by lifting the whisk out of the glaze to see - 1-2 minutes only. Remove from the heat and set aside for 2 minutes to cool.
Spoon or pour the glaze evenly over the entire cake taking care that each of the strawberries is completely covered. Allow to cool for 10 minutes, then chill in the fridge for at least 1 hour or until jellied.
Slice and serve with plenty of whipped cream.
Nutrition Information:
Yield:

8
Serving Size:

1 grams
Amount Per Serving:
Calories:

587
Total Fat:

24g
Saturated Fat:

3g
Trans Fat:

0g
Unsaturated Fat:

19g
Cholesterol:

168mg
Sodium:

279mg
Carbohydrates:

84g
Fiber:

4g
Sugar:

49g
Protein:

11g
Nutrition information is calculated automatically and isn't always accurate.
In Germany the glaze for this cake is sold in little packets and called 'Tortenguß'. If you'd like to try it you can order it online by clicking here.
Disclosure: Some of the links on this website are affiliate links, meaning, at no additional cost to you, I will earn a commission if you click through and make a purchase.
FREQUENTLY ASKED QUESTIONS:
What is the best starch to use for this cake if I am not using Tortenguß?
Potato starch is the best to use for this cake as it sets clear. In a real pinch you could use corn starch, but it will set cloudy and not show off the berries at their best.
How do I get my strawberries such a beautiful red?
If you fancy, you can colour the jelly by using 100ml of red juice, like grape, cranberry or red currant in place of some of the water.
I don't want to use starch on this cake. Any alternatives?
If you aren't keen on making the jelly glaze, simply melt a few tablespoons of apricot jam and brush it over the fruit. It won't look quite so beautiful, but it will taste good.
STILL LOOKING FOR STRAWBERRY RECIPES?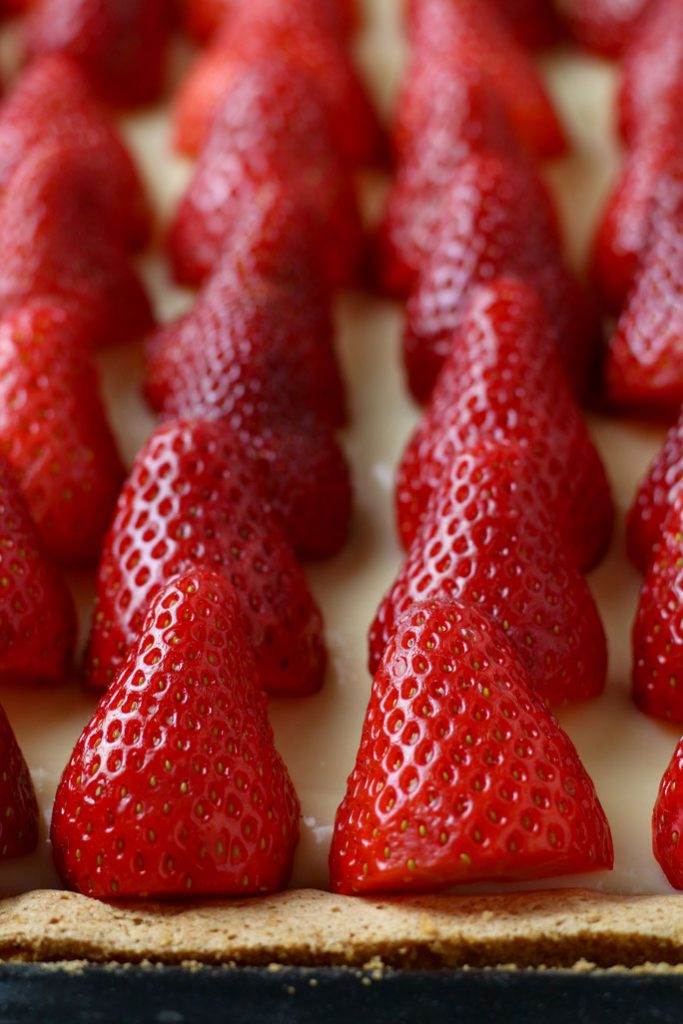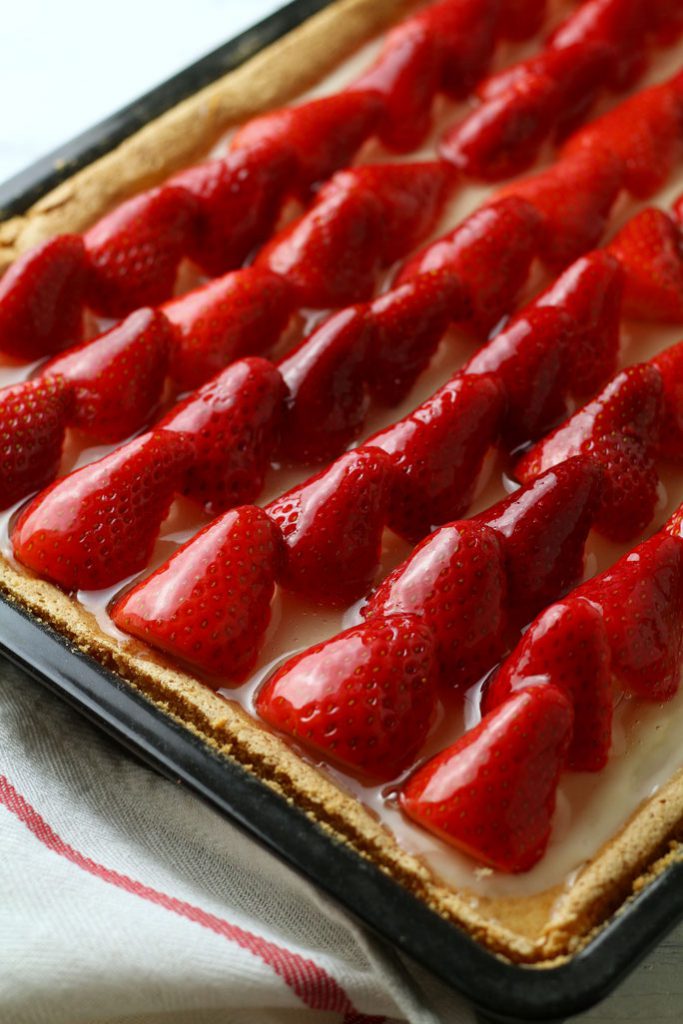 CLASSIC GERMAN STRAWBERRY CAKE