While we often think of cherry blossoms as one of the most beautiful signs of spring, I actually think delicate apple blossoms with their delicious scent are much more stunning. And what could be tastier to celebrate the arrival of these beautiful spring flowers than a classic Easy German Apple Cake?
What is a German Apple Cake?
Around these parts, this sort of cake is known as a Versunkener Apfelkuchen, or Sunken Apple Cake. This is a simple, quickly made cake with a fairly robust base, topped with slices of tart apple. The batter rises around the apples as the cake cooks, giving it the classic sunken effect.
Is this cake really German?
It's actually more of a European apple cake than anything else, but I will always associate it with Germany, where I first tried it. After all, when it comes to seriously good cakes to be served with coffee in the afternoon (practically a national sport), the Germans really know what they are talking about.
A tried and tested recipe
This easy recipe, with very slight adjustments, has been baked by mothers and grandmothers all over Germany for decades. The success of this cake lies in its simplicity. In fact, the most time-consuming part of making this cake is peeling the apples!
What sort of apples are best to use in apple cake?
For a cake like this German Apple Cake where you want the apples to retain most of their structure, you are best to use a slightly tart variety. Granny Smith, Braeburn and Boskoop are all great candidates. Try to find smaller apples, as while enormous apples will still taste great, they are very difficult to arrange in the cake pan.
I don't have a cake pan in the right size! Can I still bake this apple cake?
Yes, for sure. I actually like to bake this cake in a deep-sided pie dish, but as it is fairly robust you can be flexible with your choice of baking dish. Just keep an eye on it and test with a wooden skewer to ensure it is cooked through.
Looking for more apple cake recipes?
I love cooking with apples! Why not try my deliciously nutty and crunchy Farmhouse Apple Cake, or New Zealand classic Apple Shortcake?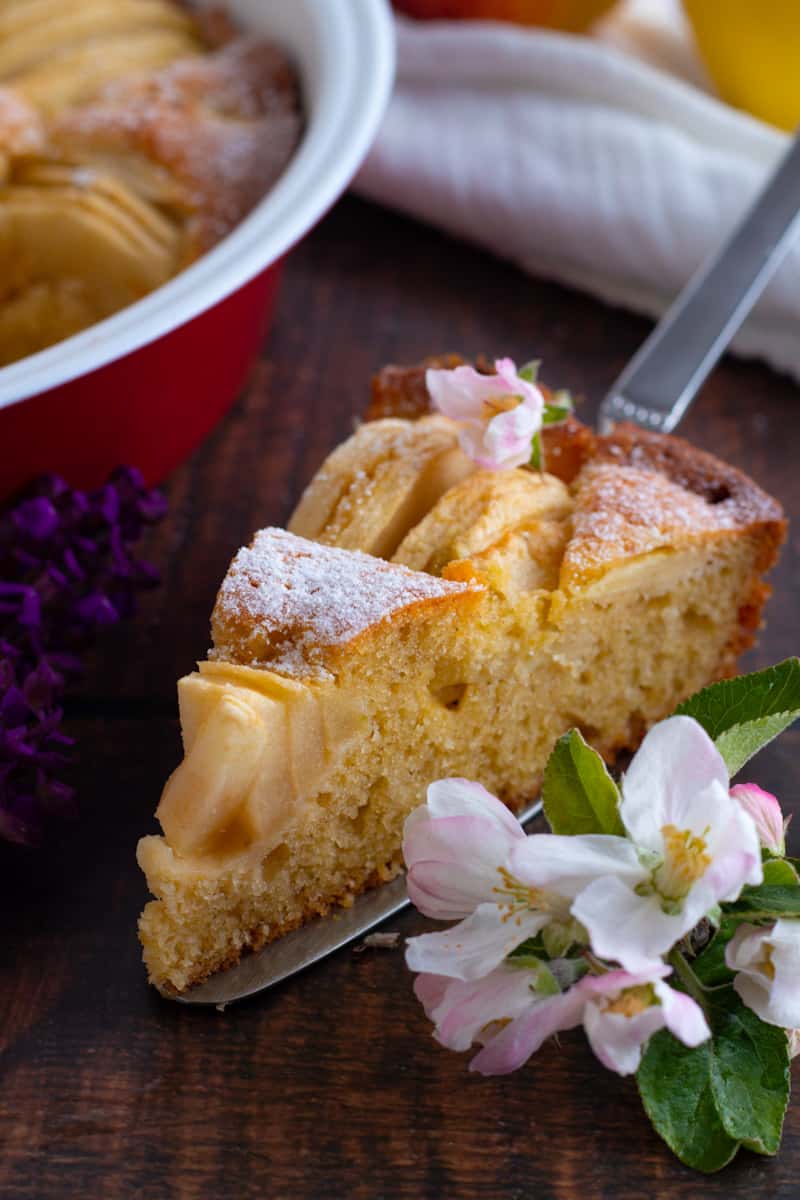 ---
FREQUENTLY ASKED QUESTIONS
Which apples are best for this apple cake?
Smaller, tarter (or more sour) varieties. I like Granny Smith, Braeburn or Boskoop.
Can I freeze German Apple Cake?
Yes, this is a sturdy cake so perfectly suitable for freezing. Allow to cool completely, wrap in clingfilm and again in foil. Cakes freeze well for around 3 months. This apple cake is actually quite delicious served hot with custard (though this is absolutely not how it would be served in Germany!)
How do I store EasyGerman Apple Cake?
Well covered in a cool place for 3-4 days.
How can I tell my cake is cooked?
It should be well risen and golden brown. A skewer inserted into the thickest part of the cake batter should come out clean, or perhaps with a few small crumbs attached.
---
Baking Easy German Apple cake in the bottom third of the oven means the apples will be deliciously soft and cooked through.
While this cake is lovely and moist, it would usually be served in Germany with a big bowl of whipped cream. Yum!
WHO WAS GRANNY SMITH?
Not many people realise that the Granny Smith apple originated in Sydney Australia! The real-life Granny Smith was a farmer called Maria Ann Smith who had emigrated from Britain to Australia.
While there are a couple of stories doing the rounds, it's generally accepted that Maria cultivated the famous Granny Smith apple by accident, the seedling growing from discarded crab-apple cores thrown out the kitchen window.
As apple trees are propagated by grafting, rather than grown from seed, that means all the Granny Smith apple trees in the world are related to the original all the way back in Sydney! Go Granny!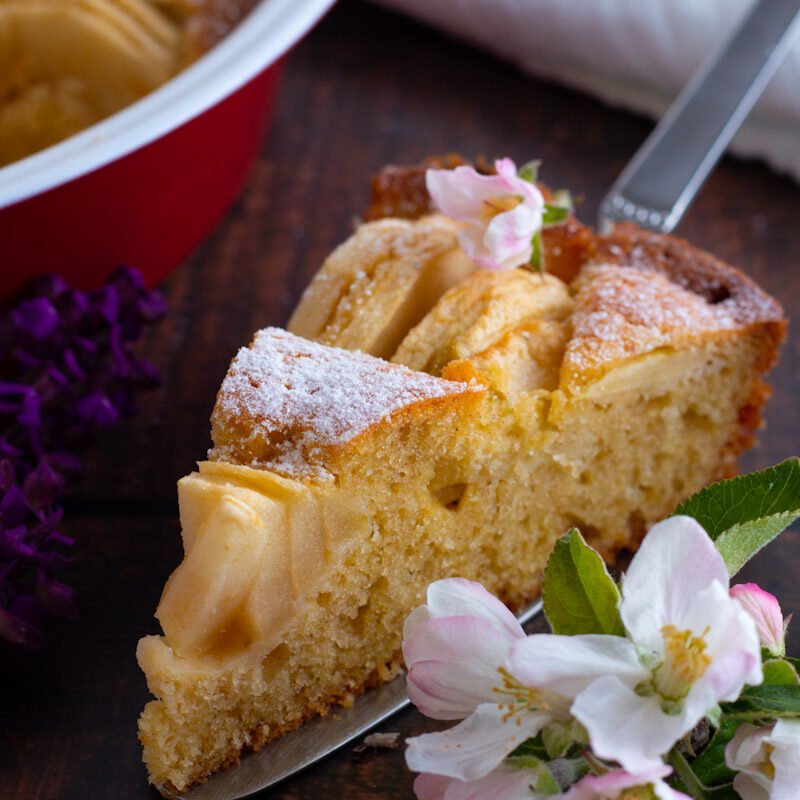 Easy German Apple Cake
My easy German Apple Cake recipe is a tried and tested favourite. Known as Versunkener Apfelkuchen (sunken apple cake) around these parts, this simple cake is ever popular and totally delicious.
Ingredients
750g (1.75 lb.) tart apples (granny smith, braeburn, boskoop etc.)
125g (1 stick) unsalted butter, softened
125g (½ cup) sugar
2 tsp vanilla extract
1 tsp cinnamon
zest of 1 lemon
pinch of salt
3 large eggs
200g (1 ¼ cups) plain or all-purpose flour
2 tsp baking powder
2 Tbsp milk
to serve:
powdered sugar
whipped cream
Instructions
PREPARE: Grease the sides and line the base of a 26cm / 10 in. round, spring-form cake pan. Heat the oven to 180°C / 350°F / Gas 4 with a rack in the bottom third of the oven.

PEEL AND SLICE THE APPLES: Peel the apples, cut them into quarters and remove the cores. Slice each quarter 5-6 times lengthways, keeping the slices together. Set aside.

CREAM BUTTER AND SUGAR: Using an electric mixer, cream the butter and sugar until light and fluffy. Beat in the vanilla, cinnamon, lemon zest and salt. Add the eggs one by one, beating well between each addition.

ADD THE DRY INGREDIENTS: Sift over the flour and baking powder, add the milk, and mix until just combined. This is a fairly stiff batter (which stops the apples from sinking too far) but if it is extremely dry add a splash more milk.

ASSEMBLE THE CAKE: Use a silicone spatula to spread the cake batter evenly over the base of the prepared cake pan. Place the sliced apples on the top, starting on the outside and working your way into the middle, keeping the apple halves as much in their original shape as possible.

BAKE: Bake in the preheated oven for 45-50 minutes until the cake has risen and is golden brown. A skewer inserted into the thickest part of the cake should come out clean or with perhaps a few crumbs attached.

COOL AND SERVE: Allow the cake to cool completely on a rack before dusting with icing sugar and serving with whipped cream.
Notes
Smaller apples work best for a cake like this as they will look more beautiful in the finished cake.

Nutrition Information:
Yield:

8
Serving Size:

1 slice
Amount Per Serving:
Calories:

178
Total Fat:

4g
Saturated Fat:

2g
Trans Fat:

0g
Unsaturated Fat:

2g
Cholesterol:

74mg
Sodium:

179mg
Carbohydrates:

32g
Fiber:

1g
Sugar:

18g
Protein:

4g
Nutrition information is calculated automatically and isn't always accurate.
If you enjoyed this recipe, please leave a star rating in the recipe card and share it using the buttons below to help others find it too!
---