It's that time of year. The kitchen is full of the glorious aroma of roasting turkey and I'm staring to get into the festive mood.
Today I'm not roasting a whole bird, but rather my favourite turkey recipe: a rolled boneless turkey breast or turkey roulade, covered in prosciutto and filled with herby sausage stuffing. YUM!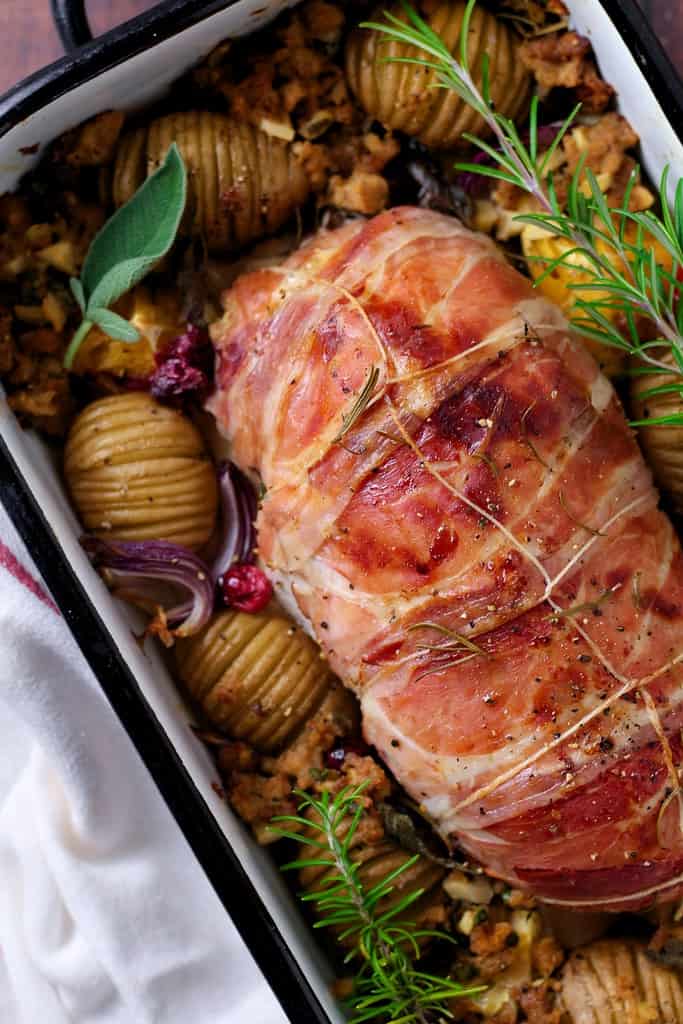 About this recipe
Stuffed Turkey Breast is the perfect meal for smaller gatherings. Not only is roast turkey breast fabulously easy and quick to cook (no finding a pot or container big enough to brine a whole turkey!) it slices like a dream and can be eaten cold.
That means even if you are only cooking for two, you'll have plenty of leftovers for the next days so it is economical too.
Ingredients
To make my Stuffed Turkey Breast Recipe you'll need the following main ingredients:
Turkey Breast: I usually pick up one large 1 kg / 2 lb. Turkey breast for this recipe as it cooks well without frying out. If serving more people you can double the recipe.
Italian Sausages: These coarse and flavoursome sausages make up the base of the stuffing.
Red onion, celery and garlic: to flavour the stuffing.
Apple: Diced apple adds a touch of sweetness to the stuffing and helps it stay moist.
Prosciutto: Turkey breasts are sold in Germany with the skin off, so I wrap mine in prosciutto or bacon to keep them lovely and moist. If you have skin on the turkey breast you can skip this step.
Skin on vs. skin off
Turkey breasts are generally sold in Germany with the skin off, so to prevent the breast from drying out I wrap it in prosciutto or bacon.
This traditional technique, known as 'barding' is a wonderful way to keep the breast moist, while infusing plenty of delicious flavours. If you don't eat pork, you can simply use widely available turkey bacon instead.
If you have turkey breasts with the skin on, you can simply skip the prosciutto and season the skin well instead.
The delicious stuffing
In this recipe, I have given the instructions for a classic sausage meat stuffing, flavoured out with orange zest and apple.
The wonderful thing about a roast like this is that you can flavour it however you like – cranberry is the obvious choice for stuffing, perhaps with cream cheese, or dried fruit and nuts. The key is to use plenty of fresh herbs for the best flavour.
How to know when Turkey Breast is cooked
With any roast, a thermometer is your best friend, and this is especially true with rolled or stuffed joints of meat as oven temperatures vary.
I like to use an instant-read thermometer to test the meat at the thickest part of the turkey roll, where it should read around 70°C / 165°F when fully cooked. The temperature increases slightly during the resting time.
How long to cook a stuffed turkey breast per pound?
While it's best to use a thermometer, a good rule of thumb is to cook a stuffed turkey breast for 30 minutes per pound / 500g, PLUS an additional 20 minutes.
FREQUENTLY ASKED QUESTIONS
Can I increase the amounts in this recipe to serve more people?
Absolutely! I would recommend making two 1kg turkey roasts rather than one gigantic roll, as that way they will cook in the same amount of time and stay lovely and moist. Whichever way you go, it's a good idea to weigh the rolled and stuffed turkey and calculate around 40 minutes per kilogram, plus 20 minutes.
My turkey breast has skin on it! What should I do?
Lucky you! I would leave the skin on and skip the prosciutto. Before filling the breast, place it skin side down, so that when you roll it the skin is on the outside. Rub the skin with a little softened butter and season well before roasting.
Can I make Stuffed Turkey Breast in advance?
Yes, you can prepare the turkey breast up to 48 hours in advance. Ensure that the stuffing is completely cold before rolling the turkey, keep well-chilled and allow to rest at room temperature for at least 1 hour before cooking. Take extra care to check the internal temperature of the turkey with a thermometer to make sure the middle is cooked through.
I don't drink alcohol – can I omit it from the recipe?
Sure! Use orange or apple juice instead.
---
Stuffed Turkey Breast Recipe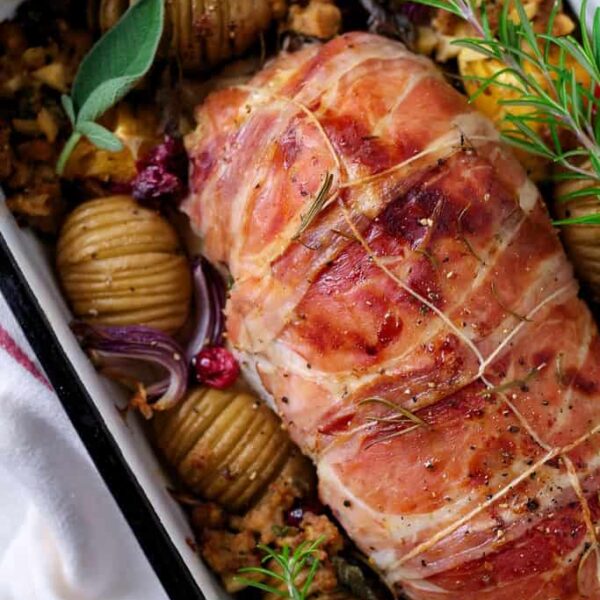 Roast Stuffed Turkey Breast
Cook Time:
1 hour
30 minutes
Total Time:
1 hour
50 minutes
Tender, moist turkey breast filled with traditional stuffing and roasted to perfection. Stuffed Turkey Breast is ready in under 2 hours, making it perfect for smaller celebrations.
Ingredients
for the stuffing:
25g (2 Tbsp) unsalted butter
1 large red onion, finely diced
1 stalk celery, finely diced
2 cloves garlic, finely diced
2 coarse Italian-style sausages, skins removed
2 sprigs rosemary, leaves chopped
small bunch of sage, leaves chopped
3 slices stale bread, finely cubed
1 large egg
125ml (½ cup) white wine
small bunch of parsley, chopped
1 apple, peeled, cored and diced
zest of 1 orange
sea salt or kosher salt and black pepper
for the turkey roast:
1kg (2 lb.) turkey breast
6 slices prosciutto, pancetta, or bacon
2 Tbsp extra virgin olive oil
2 red onions, sliced
50g (½ cup) dried or fresh cranberries (optional)
Instructions
Heat the oven to 180°C / 350°F / Gas 4. Prepare the stuffing by melting the butter in a large skillet or frying pan. Cook the onion and celery over medium heat for 5 minutes until beginning to soften but not brown.
Add the garlic and crumble in the sausage using your fingers. Add the rosemary and sage, season with salt and pepper, and then cook until the sausage is well browned, stirring occasionally and scraping up all the browned bits on the bottom of the pan. Remove from the heat and set aside.
In a large bowl, combine the bread, egg, wine, parsley, apple and orange zest. Mix well, then add the sausage mixture to the bowl, stirring to combine. Taste and season again with salt and pepper as necessary.
To prepare the turkey, place turkey breast on a cutting board, press firmly on top with your hand, then use a large, sharp knife to cut into the breast from the side, opening it out like a book. Spread the stuffing generously over the turkey - you will have some leftover, just set it aside for now.
Starting at a short end, roll the turkey up, tucking the ends in as you go. Arrange the slices of prosciutto to cover the turkey, tucking the ends underneath. Use kitchen string to tie the stuffed breast at even intervals (TIP: Don't tie the turkey too tight! It will expand as it cooks, which means it will burst out of shape if you tie the kitchen twine too tightly).
Transfer turkey to a roasting pan, cut the orange into eights and place around the sides of the turkey with the sliced onion and cranberries (if using). Drizzle with olive oil, season again with salt and pepper, then roast in the oven for approximately 1 hour and 20 minutes until cooked through or a thermometer inserted into the thickest part of the roll registers 70° / 165°F. Scatter the remaining stuffing around the turkey for the last 45 minutes of the cooking time.
While the turkey is in the oven you can prepare your sides or your favourite gravy.
Remove the turkey from the oven, tent it with aluminium foil and allow it to rest for 10-15 minutes. Slice turkey thickly and serve warm.
Notes
You can use fresh bread crumbs in place of bread.
When roasting any meat I always use a meat thermometer or instant-read thermometer like the one below for best results.
Don't drink wine? Replace the wine with chicken broth with a splash of apple cider vinegar or orange juice instead.
I've tucked some Hasselback potatoes around the turkey for an easy side dish. They'll need around 1 hour in the oven depending on size.
Recommended Products
As an Amazon Associate and member of other affiliate programs, I earn from qualifying purchases.
Nutrition Information:
Yield:

4-6
Serving Size:

1
Amount Per Serving:
Calories:

832
Total Fat:

32g
Saturated Fat:

10g
Trans Fat:

0g
Unsaturated Fat:

18g
Cholesterol:

305mg
Sodium:

1796mg
Carbohydrates:

34g
Fiber:

5g
Sugar:

14g
Protein:

95g
Nutrition information is calculated automatically and isn't always accurate.
If you enjoyed this recipe, please leave a star rating in the recipe card and share it using the buttons below so that others can find it too!