Shock, horror, and sacrebleu – I am almost ashamed to admit that I have never fallen under the magical spell of Paris. Despite visiting plenty of times, I have always found the 'city of lights' to be a bit hectic for me, but then I love peace and quiet!
That's not to say that Paris is without charm, for what food-lover could fail to be tempted by the dazzling window displays of the famous Parisian patisseries, piled high with sweets, treats and that all-time classic French Vanilla Custard Tart.
What is a French Vanilla Custard Tart?
French Vanilla Custard Tart, often known as Flan Parisiene or Flan Pâtissier is a must-eat on any trip to France. Beguilingly simple, the cool, refreshing creaminess is perfection in its simplicity. French Vanilla Custard Tart is the perfect combination of buttery shortcrust pastry filled with a creamy vanilla custard, then baked until lightly caramelised on top.
A great Flan Parisiene should still have a slight wobble when sliced, as well as a tender pastry base. The custard should be bright golden yellow, flecked with vanilla seeds and very lightly scorched.
Is it difficult to make French Custard Tarts?
Not at all! They are easy enough to make at home with everyday ingredients. Everybody should learn how to make a simple custard filling, and I've given the recipe here for my super easy sweet shortcrust pastry.
This is a very forgiving pastry, so much so that you don't even need to roll it out! You can just press it into the tart form instead. I like to use it in summer as it doesn't matter too much if the kitchen is warm (mine is) and I don't have to worry about the pastry melting, ripping or tearing as I roll it out.
Ingredients
The joy of this tart is that it is made from common, household ingredients, which combine to make an incredibly delicious treat. To make a French Custard Tart you'll need:
Plain or all-purpose flour: I use our standard 405 flour in Germany, though plain or all-purpose flour will work perfectly too.
Unsalted butter: It's vest to use unsalted butter in pastry making so you can control how much salt is in the final dough.
Full cream milk and whipping cream: Don't be tempted to use skim milk or cream substitutes! This tart is a sweet treat. Use the good stuff (milk with at least 3.5% fat content and cream with 30-40%) for best results!
Fresh Eggs: If you can, use super fresh eggs with bright yellow yolks – they'll make the custard look and taste beautiful.
Vanilla: You can use vanilla pods if they're not too expensive, or a good quality vanilla extract for flavouring.
White Sugar: to sweeten the deal
Cornstarch: Cornstarch is not entirely traditional, but it will guarantee that the tart sets properly.
Instructions
First, you need to make my super easy shortcrust pastry in the food processor, then press it into the tart pan and chill.
While the pastry is chilling, infuse the cream with fragrant vanilla.
Next, blind bake the pastry. This is an optional step, but it will save you from the dreaded 'soggy bottom'.
When the tart shell is in the oven, you can use the infused milk and cream to make a simple custard.
Then it's as easy as filling the tart with creamy custard and baking to caramelised perfection!
Do I need a food processor to make this tart?
Food processors definitely make life easier, but if you don't have a food processor you can make this pastry by hand. I'd recommend keeping the bowl, flour and butter in the fridge until just before you make it. Simply rub the butter, flour and sugar together until it resembles fine crumbs, then add the egg and 1 tablespoon of water and knead to a smooth dough.
How long does this tart keep fresh?
French Vanilla Custard Tart keeps well in the fridge for several days, though I find it best on the day of baking. If you like, dust it with powdered sugar or nutmeg just before serving. Fancy a more decadent chocolate tart instead? Click here for the recipe.
Have you been to Paris? Was it as romantic as you hoped? Let me know in the comments below! Take care out there and happy cooking. x J
---
FREQUENTLY ASKED QUESTIONS
I am scared of making pastry! Can I use store-bought instead?
Yes, though I urge you to give this pastry a try, it's very forgiving. If using store-bought try to find a good quality all-butter pastry. Make sure it's a sweet shortcrust!
I have too much filling, should I pour it into the tart anyway?
No! Eggs can be different sizes and depending on how far you have pushed the pastry up the side of the tin you may find you have a little filling leftover. Don't be tempted to add it as it will just spill and burn. Either discard it or heat it gently until thick and use as a custard.
How long can I store French Vanilla Custard Tart?
French Vanilla Custard Tart will keep at least 3 days in the refrigerator. Allow it to sit at room temperature for 15 minutes before serving.
Looking for more custard recipes?
---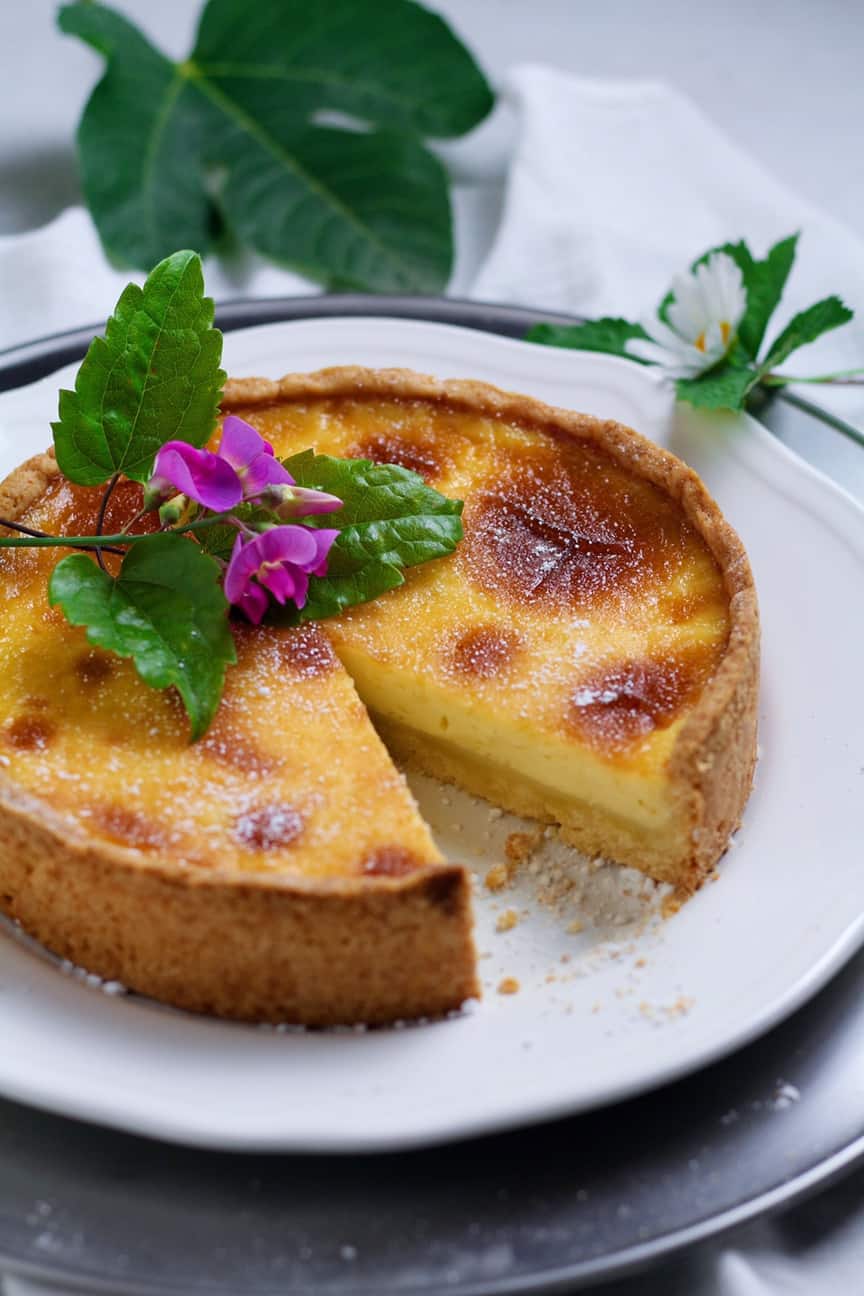 Vanilla Pods vs Vanilla Extract
Vanilla pods are expensive but worth the price for a special occasion. If you're practising this tart, or just making it for home, I think it is perfectly alright to use vanilla extract or essence instead.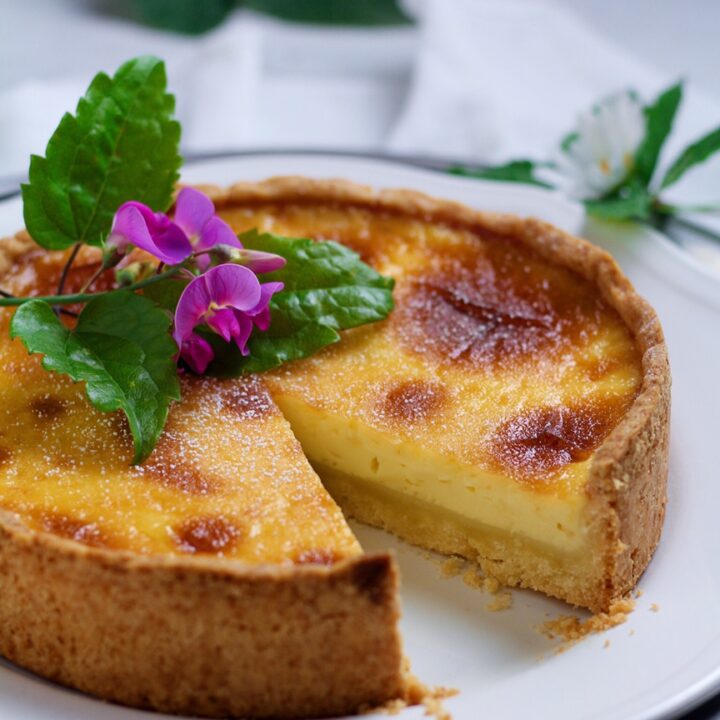 French Vanilla Custard Tart
Total Time:
1 hour
30 minutes
French Vanilla Custard Tart is often known as Flan Parisiene or Flan Patissier and if you've ever been to France you will have seen these glorious tarts temptingly displayed in the window of every patisserie and bakery in town.
My easy recipe shows you how to recreate them at home.
Ingredients
for the sweet pastry:
200g (1 + ¼ cups) plain flour
100g (1 stick.) unsalted butter, cold
2 Tbsp sugar
¼ tsp salt
1 large egg, lightly beaten
for the custard
200ml (6.75 oz.) full cream milk
200ml (6.75 oz.) cream
1 vanilla pod (see notes)
2 large eggs
100g (½ cup) sugar
40g (⅓ cup) cornflour / cornstarch
25g (2 Tbsp) butter, melted
Instructions
PREPARE: Line the base of a 20cm springform cake tin with baking paper, then grease the base and sides with butter.

MAKE THE PASTRY: Place the flour, butter, sugar and salt in the bowl of a food processor with the blade attachment fitted, then pulse until the mixture resembles fine crumbs. Pour the egg into the mixture, then run the processor until the dough clumps together. If the blade is spinning and the dough doesn't form a ball, add cold water, one teaspoon at a time until it comes together.

LINE TART PAN: Turn the dough out into the prepared cake tin, then use the tips of your fingers to press it out evenly across the base and halfway up the sides of the tin, creating an evenly big edge all the way around. (If you are feeling confident, feel free to roll the dough out and drape it into the tin, my kitchen is much too warm in summer to roll out much pastry!)

CHILL TART AND HEAT OVEN: Prick the pastry all over with a fork, then chill in the freezer for 15 minutes. Meanwhile, heat the oven to 180°C / 350°F / Gas 4 with an oven tray in the lower third of the oven.

INFUSE CREAM: Combine the milk and cream in a small saucepan, halve the vanilla pod (see notes), scrape out the seeds and stir them through the cream mixture along with the pod. Heat gently until almost boiling, then remove from the heat and set aside to infuse.

BLIND BAKE (1): To blind bake, the pastry, remove the tart shell from the freezer, scrunch up a piece of baking paper and press it evenly over the surface of the pastry. Cover the baking paper with a layer of tinfoil, then fill with baking weights - I use rock salt as it fills the tin and weighs it down perfectly and can be used over and over again.

BLIND BAKE (2): Cook the tart shell in the preheated oven for 10 minutes, then carefully remove the tinfoil and weights, gently peel off the baking paper and return to the oven for a further 10 minutes. Remove from the oven and set aside. If there are any rips or tears in the pastry case, make a mixture of equal parts flour and water and use this to plug the gaps.

MAKE CUSTARD: While the tart shell is blind baking, whisk together the eggs, sugar and cornflour in a mixing bowl until light and fluffy. Whisk in the butter. Remove the vanilla pod from the cream mixture (make sure to save it!) then reheat the mixture until nearly boiling. Pour the hot cream into the beaten eggs, whisking all the time until smooth.

ASSEMBLE TART: Pour the custard carefully into the tart shell, leaving a small gap below the rim. Bake in the oven for 45 minutes until the top has begun to caramelise. The tart should still have a little wobble to it when you take it out of the oven. Allow to cool to room temperature, then refrigerate for at least 4 hours until set.
Notes
I know vanilla pods are expensive! If you will be doing a lot of baking it is more cost-effective to buy them in bulk online, rather than singly from the supermarket. If it's not in the budget to use fresh vanilla, it is perfectly OK to use vanilla extract or essence, just stir it through the milk and cream and skip the first heating and infusing step.

If you are using vanilla pods, make sure to save it! Give it a rinse and let it dry on a paper towel, then cut in into pieces and pack into a jar of sugar to make vanilla sugar. Alternatively, give it a rinse and add to a bottle with vodka or rum to make vanilla extract.
Recommended Products
As an Amazon Associate and member of other affiliate programs, I earn from qualifying purchases.
Nutrition Information:
Yield:

8
Serving Size:

1
Amount Per Serving:
Calories:

410
Total Fat:

25g
Saturated Fat:

15g
Trans Fat:

0g
Unsaturated Fat:

8g
Cholesterol:

129mg
Sodium:

138mg
Carbohydrates:

41g
Fiber:

1g
Sugar:

18g
Protein:

6g
Nutrition information is calculated automatically and isn't always accurate.