These cookies have to be one of New Zealand's best kept secrets! New Zealand Peanut Brownies are a seriously delicious cookie from my homeland and are completely irresistible.
Wait a minute, are these brownies? Or cookies?
Don't let the name fool you! Though these are called brownies, New Zealand Peanut Brownies are actually a chocolate cookie, crisp on the outside and soft on the inside and filled with crunchy peanuts. The combination of chocolate and salty peanuts is seriously addictive.
This recipe is tried and tested
Out of the many recipes that I cook, the one that gets requested the most often is also one of the very oldest. I've been cooking peanut brownies quite literally as far back as I can remember. For me they always bring back wonderful memories of spending time with my grandmother and mother in the kitchen.
What's the story behind Peanut Brownies?
Humble Peanut Brownies are probably baked in every household in New Zealand, possibly even more often than our famous national dish pavlova! With origins in the Edmonds cookbook, first published in 1908, they are quite different to the famed American brownie, despite sharing a name, though they are both salty, sweet and deeply chocolatey. While they were traditionally quite a crunchy affair I have perfected my recipe over the years to make them soft, chewy, and utterly moreish.
So what's so great about this peanut brownie recipe?
I love a cookie that is rich with chocolate, the ideal balance of salty and sweet, and perfectly soft and chewy so I make my peanut brownies in a generous size. These are no dainty tea party nibbles, rather, great big treats for feasting on greedily.
I'm sold! Anything else I need to know about this delicious treat?
This sort of food is pure nostalgia for me, and the smell of warm Peanut Brownies, fresh out of the oven transports me straight back to childhood. Like all warm cookies, they're best enjoyed with an icy cold glass of milk. As a bonus, peanut brownies are quick and easy to make and are ready to eat in around half an hour after the cookie-craving strikes. Win win!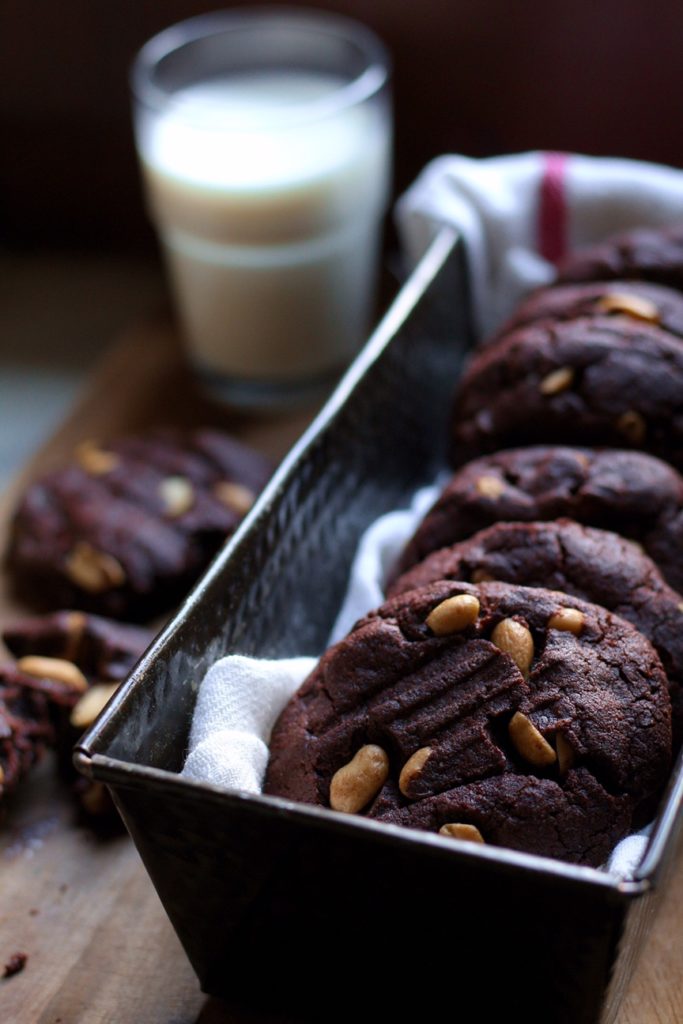 ---
FREQUENTLY ASKED QUESTIONS
I don't eat peanuts. Can I make peanut brownies without?
These brownies will work with all nuts, though I try to use roasted and salted nuts for the flavour. Macadamias, cashews or almonds would work well, walnuts would probably get a bit lost. If you are using unsalted nuts you'll need to add ¼ – ½ tsp salt to the mixture, to taste.
The peanut brownies are soft when I take them out of the oven! Is this right?
Yes! They will set further on cooling, but you want them to have a lovely, soft, chewy texture. If you like a very crunchy cookie you can bake them an extra 5 minutes.
Can I make peanut brownies gluten-free?
I don't see why not! They may be a little crumbly but still good. Use your favourite gluten-free flour mix.
Can I freeze peanut brownie dough?
Yes! This is a brilliant idea so you'll always be prepared for a cookie emergency! Roll the dough into logs, wrap in a double thickness of cling film and put directly in the freezer. Slice and bake directly from frozen – they won't spread out as much but they are equally delicious! Add a couple of minutes to the baking time for perfect results.
---
Squash the tops of the peanut brownies gently before you put them in the oven. That way they will have a nice shape when the are baked.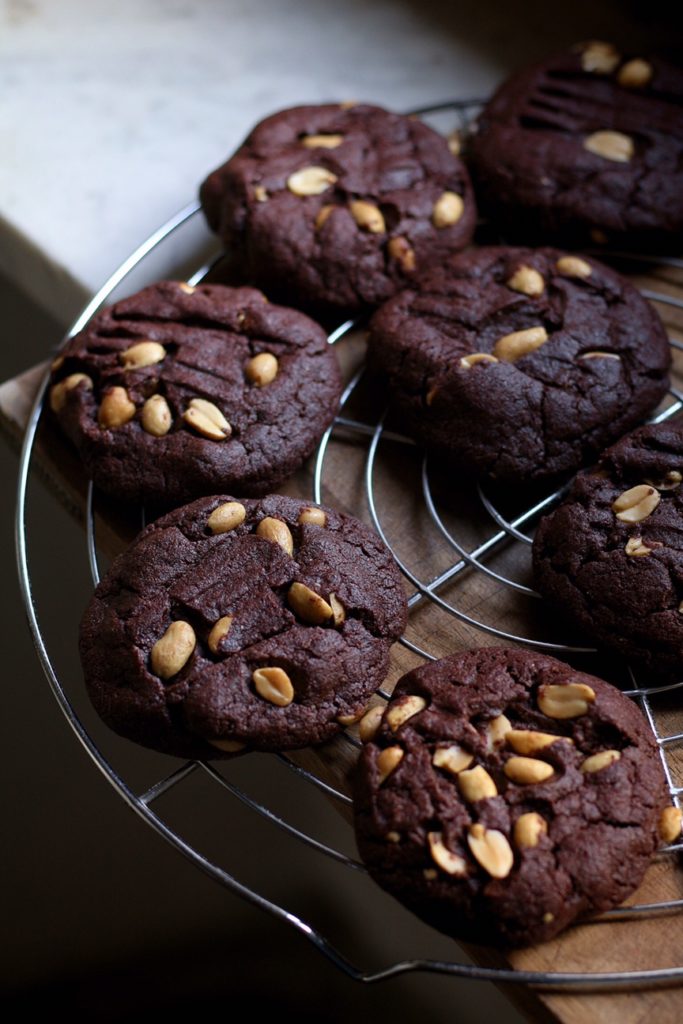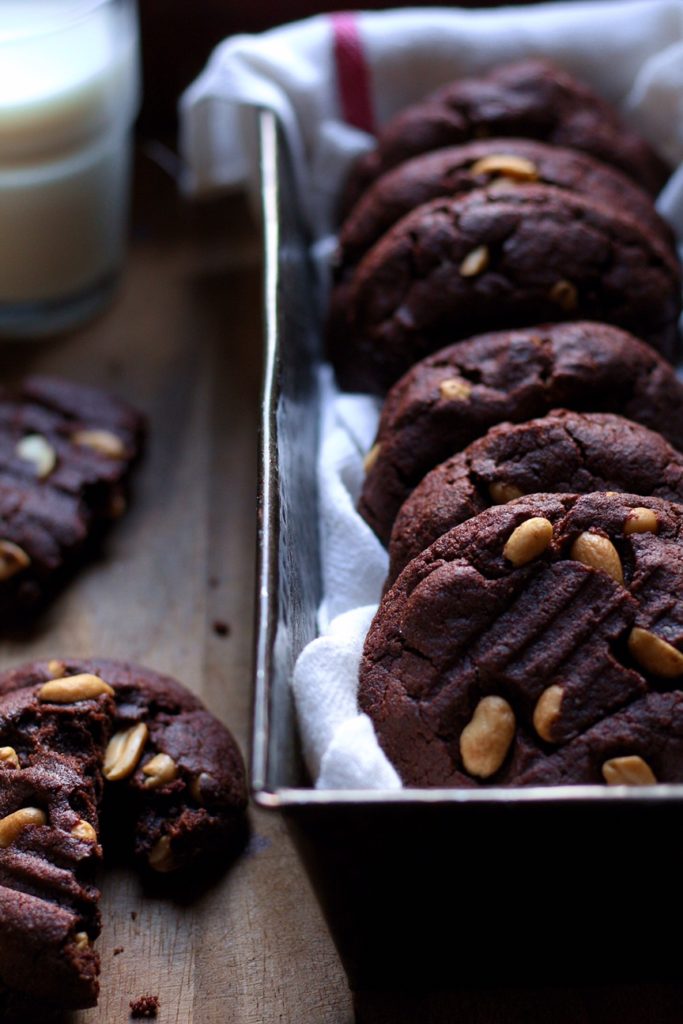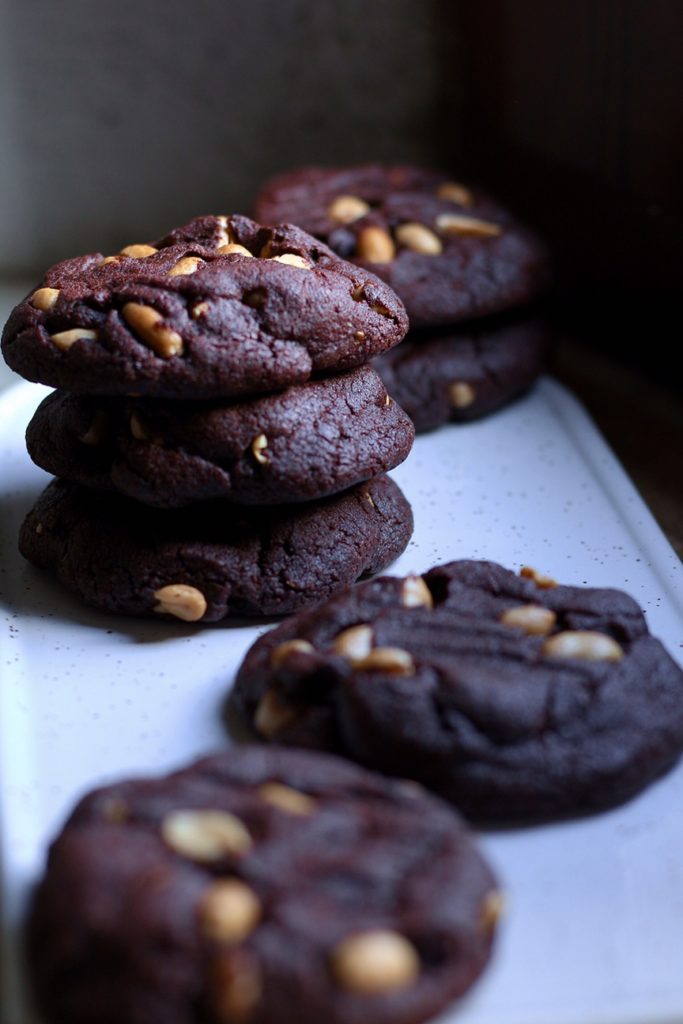 New Zealand Peanut Brownies
Soft, chewy, salty and chocolatey, New Zealand Peanut Brownies are quick to make and utterly moreish. One cookie is never enough! A Kiwi classic recipe now with cup measurements.
Ingredients
125 g unsalted butter, at room temperature
200 g sugar (1 cup)
1 large egg
1 tsp vanilla extract
1 tsp baking powder
200 g plain flour (1 and a half cups)
50 g unsweetened cocoa powder (3 generously heaped tablespoons)
150 g peanuts, roasted and salted (1 cup)
Instructions
HEAT THE OVEN: Heat the oven to 180°C / 350°F / Gas 4 and line an oven tray with baking paper.
CREAM THE BUTTER AND SUGAR: Using an electric mixer beat the butter and sugar together until fluffy and pale, 3-5 minutes. It is possible to do this by hand, but you will need to use a bit of muscle and have very soft butter. Make sure you scrape down the sides of the bowl once or twice so that everything gets mixed in.
ADD THE EGG: Add the egg, vanilla and the baking powder and beat until well combined.
ADD THE DRY INGREDIENTS: Add the flour and cocoa and mix on low speed until well combined. At first, the mixture will look dry and pale, but it will get darker and moister as the ingredients are incorporated. When the mixture looks dark and crumbly add the peanuts and mix thoroughly to make sure they are well distributed through the dough.
SHAPE THE DOUGH: Divide the dough into 12 even-sized pieces, roll each into a ball and flatten slightly, then place, well-spaced, on the prepared baking tray.
BAKE: Use a fork to flatten the top of each peanut brownie, then bake in the preheated oven for 15 minutes until risen.
COOL AND EAT!: Remove from the oven, allow to cool on the tray for 5 minutes before using a spatula to transfer to a wire cooling rack. Cool completely before storing, but enjoy at least one, warm from the oven with a glass of icy cold milk.
Nutrition Information:
Yield:

12
Serving Size:

1 biscuit
Amount Per Serving:
Calories:

297
Total Fat:

16g
Saturated Fat:

6g
Trans Fat:

0g
Unsaturated Fat:

8g
Cholesterol:

38mg
Sodium:

99mg
Carbohydrates:

35g
Fiber:

2g
Sugar:

17g
Protein:

6g
Nutrition information is calculated automatically and isn't always accurate.
If you enjoyed this recipe, please leave a star rating in the recipe card above and share it using the buttons below so others can find it too!
---
Looking for more KIWI BAKING recipes? Why not try:
---