Two of my favourite ingredients have to be lemons and white chocolate, which is why today's recipe Torta Caprese al Limone or Capri Lemon Cake is one of my favourite sweet treats. The incredible smell of this cake baking in the oven is merely a preview of the meltingly delicious flavours awaiting you. You know those cakes that are so good you close your eyes and groan when you take your first bite? This is one of those. Can you tell I love this cake? I think you will too.
Torta Caprese is a classic Italian cake from the sunny island of Capri, and usually, it is made with dark chocolate. This is a seriously decadent cake and truly delicious as is, but I think switching the dark chocolate out for white and adding zesty lemon (an idea attributed to Sal de Riso) lifts it to the realms of perfection. As a bonus, this cake is gluten-free as it is made with ground almonds rather than flour.
I like to serve Torta Caprese al Limone as an after-dinner treat, usually with a very cold glass of limoncello or prosecco. I have yet to have a dinner guest who didn't fall in love at first bite. It can be made a few days in advance and actually gets better as it goes along. This cake needs no frosting or icing, just a dusting of powdered sugar to decorate. I like to serve it with a bowl of mascarpone or creme fraiche, though it is so moist, it is wonderful just as it is.
It's worth getting your hands on the best organic lemons you can find for this cake, as the oils in the zest are what gives it so much flavour. The white chocolate you use is up to you, try to use a decent quality one though, you will be rewarded in every bite.
It looks like it will still be a while until we can travel to the beautiful island of Capri, but in the meantime, we can feast on their cake, sip limoncello and imagine the Italian sunshine. Have you ever been to Capri? Let me know in the comments below! xJ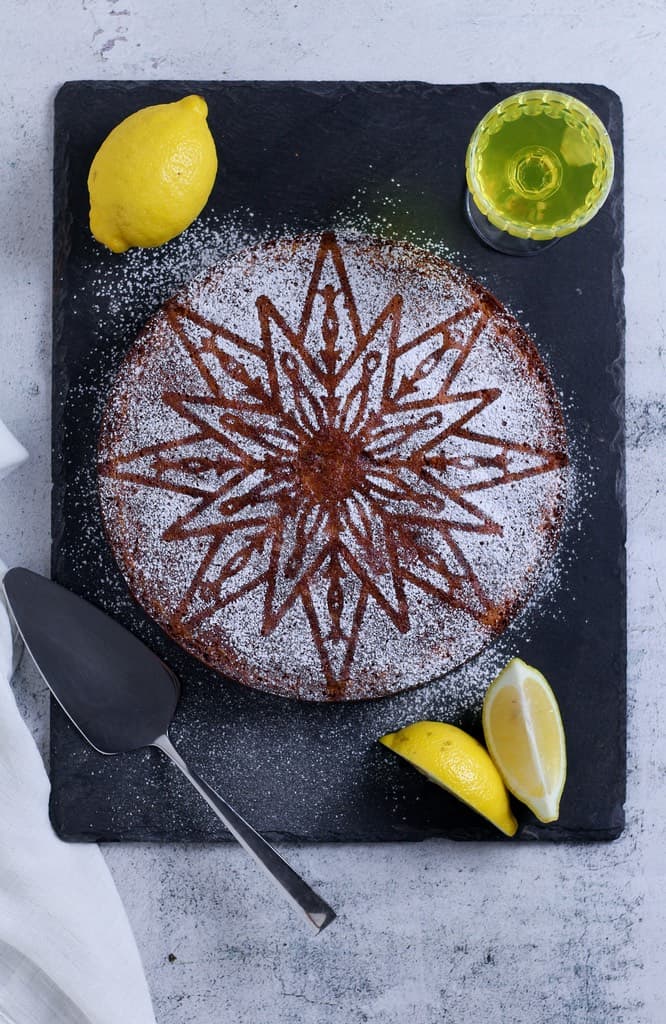 ---
Let me know if you try this recipe in the comments below, or using the hashtag #daysofjay on Instagram. Happy cooking!
---
Torta Caprese al Limone
Torta Caprese is a classic chocolate cake from the Italian island of Capri. This version is a mouthwatering combination of almonds, lemon and white chocolate with a soft and fudgy interior. This gluten-free treat is ideal for enjoying after dinner with a glass of limoncello.
Ingredients
for the cake:
75g sugar
3 unwaxed lemons, zested and juiced
5 eggs
100g melted butter
1 tsp vanilla extract
200g ground almonds
200g white chocolate, finely chopped
125g powdered sugar
50g cornflour/cornstarch
1 tsp baking powder
pinch of salt
to serve:
Instructions
Heat the oven to 180°C / 350°F / Gas 4 and line the base and grease the sides of a 26cm springform cake tin.

In the bowl of a stand mixer or a large mixing bowl combine the sugar and the lemon zest, then use your fingers to rub the sugar and zest together releasing all the aromatic oils. Using an electric mixer, beat the eggs and lemon sugar together for 5 minutes until pale and fluffy. Add the butter, vanilla extract and 50ml of the lemon juice and beat until well combined.

Whisk together all remaining dry ingredients (you can also pulse them together in a food processor), then fold the dry ingredients gently but thoroughly through the beaten egg mixture.

Pour the cake batter into the prepared tin, give it a little shake to even the surface, then bake in the preheated oven for 35-40 minutes until golden brown and a skewer inserted into the centre of the cake comes out clean. Keep an eye on the cake in the last 10 minutes of cooking time and if it is starting to over brown cover loosely with a square of tinfoil.

When the cake is cooked, remove from the oven and allow to cool completely in the tin. When the cake is cool, run a small sharp knife around the edge of the cake, remove from the tin and transfer to a serving plate. Dust generously with powdered sugar and serve.
Nutrition Information:
Yield:

10
Amount Per Serving:
Calories:

450
Total Fat:

28g
Saturated Fat:

11g
Trans Fat:

0g
Unsaturated Fat:

15g
Cholesterol:

119mg
Sodium:

281mg
Carbohydrates:

46g
Fiber:

3g
Sugar:

36g
Protein:

9g
---
FREQUENTLY ASKED QUESTIONS
Can I make Torta Caprese al Limone in a smaller cake tin?
While I have made this cake many times, I always use the same tin! Flourless cakes can be a little temperamental, so if you want to use a smaller tin you will have to scale the recipe down too.

Can I make this cake in advance?
Yes! In fact, it gets better over a few days. It also freezes well.

My cake didn't rise very much! Is that right?
Yes, this cake is not a big fluffy confection, rather a more fudge-like dessert. Once you taste it you will see what I mean!
---
Perfect for an after-dinner treat – I like to serve Torta Caprese al Limone with a glass of icy cold limoncello.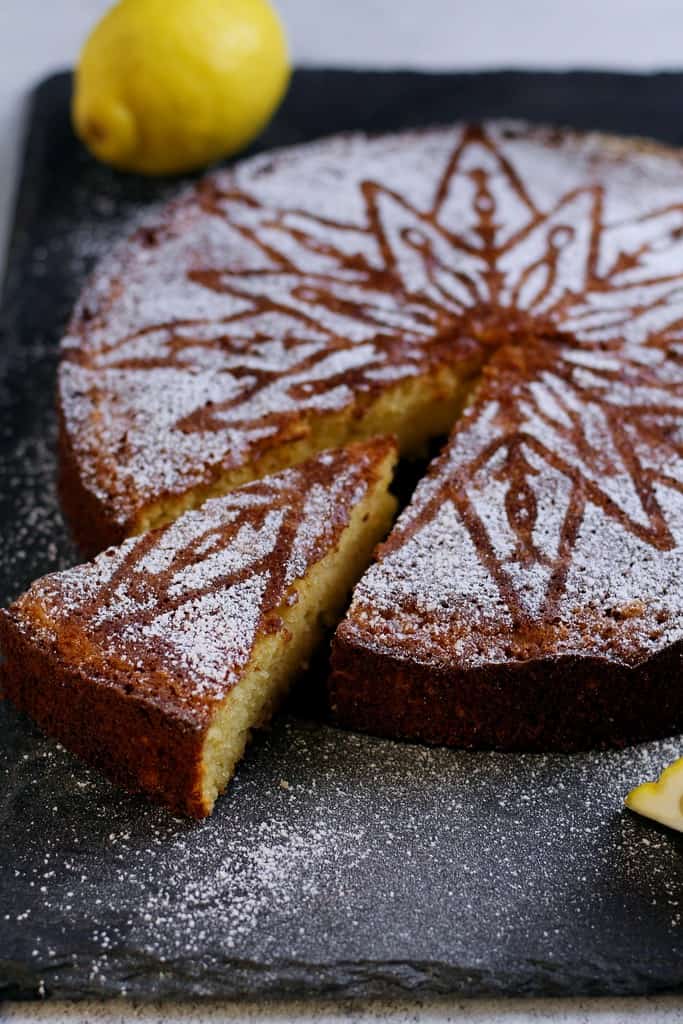 TORTA CAPRESE AL LIMONE
---