Ralph Waldo Emerson may have famously said that 'There are only 10 minutes in the life of a pear when it is perfect to eat', however, he can't possibly have been talking about White Wine Poached Pears, one of the world's most classic and beguilingly simple desserts.
Pears, I feel, are unfairly maligned, much less popular than apples despite their sweet and juicy flesh. I have to admit that there is some truth that stone-hard fruit turns overripe in the blink of the eye though, and that is where a little kitchen magic can work miracles.
Poaching pears in white wine with sugar and aromatic spices transforms even the most uninvitingly crunchy fruit into a soft and sweet dessert. Kick it up a notch by filling the pears with sweetened mascarpone cream and you have a dinner party worthy wonder dish. And best of all? It's so easy!
This is not a dish to get out your fancy wine or champagne. A cheap bottle of table wine will be fine, especially after it has been sweetened and spiced. You can even re-use the poaching liquid to make a cocktail syrup or a delicious granita for another day. White Wine Poached Pears are also popular for dinner parties because you do most of the work in advance, and they are a light and easy finale to a big meal.
Filling the pears it perhaps the fiddliest part, so if you'd prefer to give it a miss, simply serve the poached pears with the mascarpone cream or even vanilla ice cream or custard on the side, which is perfectly delicious too.
Are you a pear fan? Or do you avoid them at all costs? What's your favourite pear recipe? Let me know in the comments below! xJ.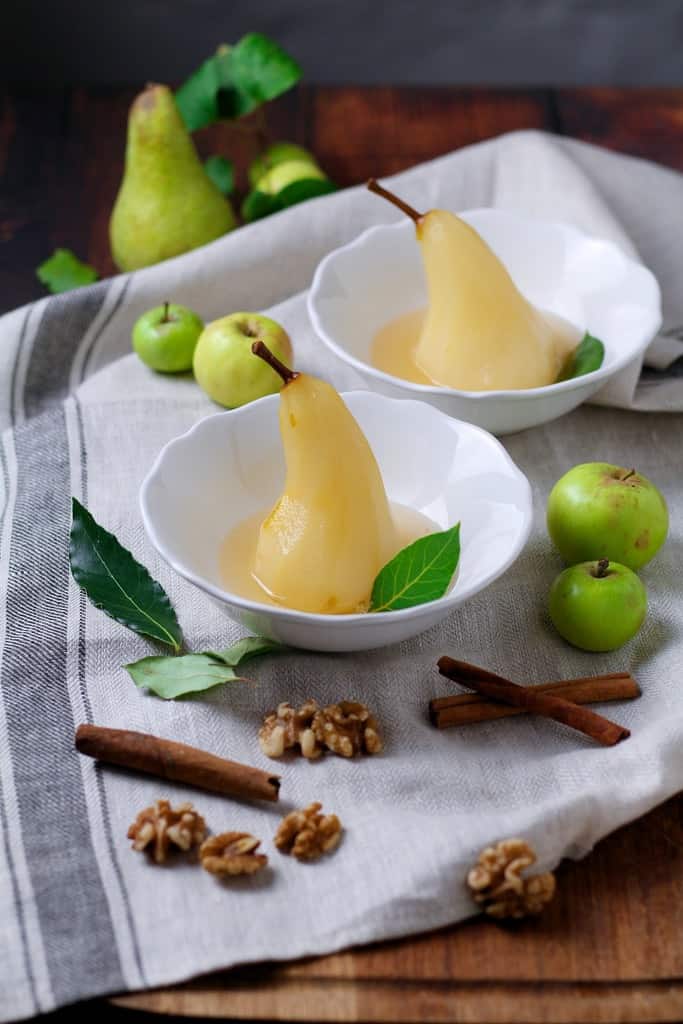 ---
Let me know if you try this recipe in the comments below, or using the hashtag #daysofjay on Instagram. Happy cooking!
---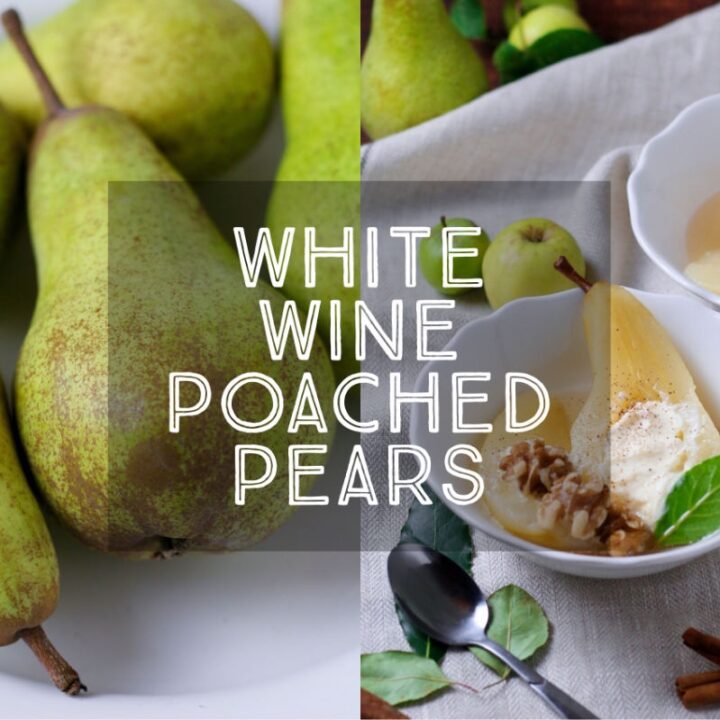 White Wine Poached Pears
Tender and sweet, White Wine Poached Pears filled with creamy mascarpone are a light and fragrant dinner party classic dessert.
Ingredients
750ml white wine
300g sugar
2 cinnamon sticks
1 vanilla bean, halved or 2 tsp vanilla extract
1 cm fresh ginger
2 bay leaves
juice of 1 lemon
6 firm pears
for the mascarpone filling:
250g mascarpone cheese
50ml cream
50g icing sugar
zest of 1 orange
to serve:
Instructions
In a large saucepan, stir together the white wine, sugar and 500ml water over medium heat until the sugar has dissolved. Add the cinnamon sticks, vanilla, ginger, bay leaves and lemon juice then bring to a simmer.

Meanwhile peel the pears, leaving the stem intact. When the syrup is simmering, place the pears into the liquid, cover with a piece of baking paper cut into a circle and a lid and simmer gently for 25-30 minutes until the pears are soft. You can test this by inserting a sharp knife into the base of one of the pears. Remove from the heat and set aside to cool for a minute or two, then carefully lift the pears into a bowl or dish.

Strain the poaching syrup through a fine-mesh sieve. Pour 250ml of the liquid over the pears, cover and refrigerate. Reserve the remaining poaching syrup (see FAQ'S below). The pears can be kept refrigerated for 48 hours.

To make the mascarpone filling, beat the mascarpone, cream and icing sugar until smooth. Stir through the orange zest, then cover and refrigerate until needed.

When you are ready to prepare the pears, cut off the base of each pear so that they sit flat on a serving dish. Use a melon baller or small knife to remove the cores, then spoon the mascarpone filling into the pears, using the back of the spoon to push the filling right in.
Chill until ready to serve. Before serving, taste the poaching liquid, and if you'd like it a little sweeter reduce it over medium heat. Allow to cool, then spoon over the pears directly before serving. Sprinkle with nutmeg and serve with walnuts.
---
FREQUENTLY ASKED QUESTIONS
Can I make poached pears in advance?
You can poach the pears up to 48 hours in advance (and I have successfully poached them several days in advance). Do make the filling on the day though as it is fresher.

What do I do with all the delicious smelling poaching syrup?
Don't throw it out! It makes wonderful syrup for mixing with sparkling wine, or it makes a truly delicious granita. You can follow my directions for making granita by clicking here.

What sort of wine should I use to make poached pears?
Nothing fancy! As you're adding loads of spices as well as sugar to the wine this is not the time to use an expensive bottle as it will go to waste. Any table wine will do, though I would avoid anything too heavy like an oaky chardonnay.
---
Poaching pears in white wine with sugar and aromatic spices transforms even the must uninvitingly crunchy fruit into a soft and sweet dessert.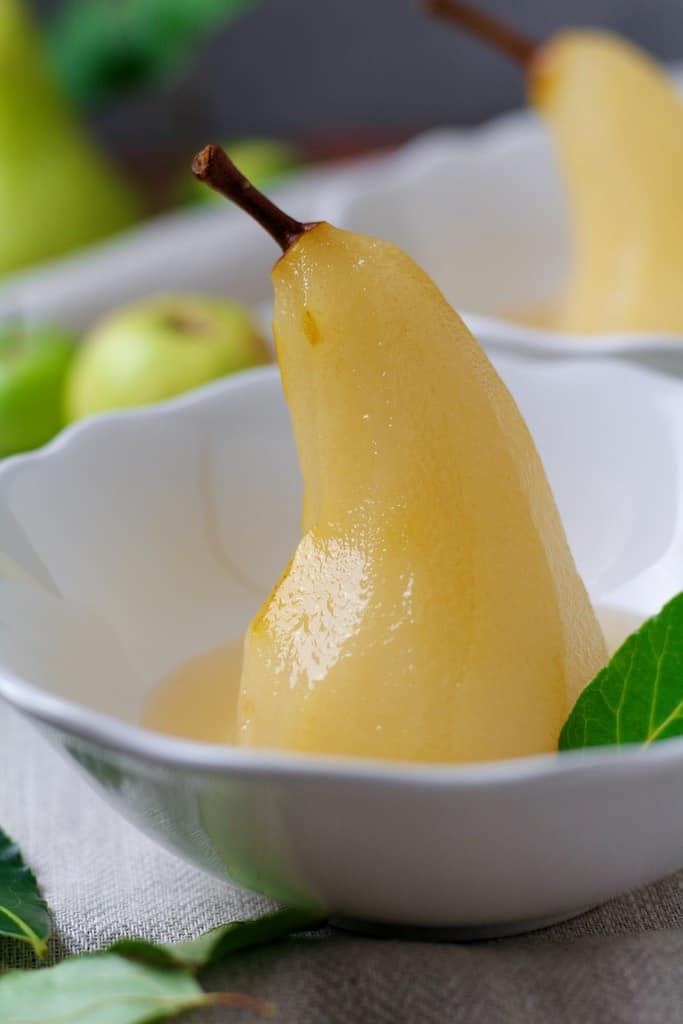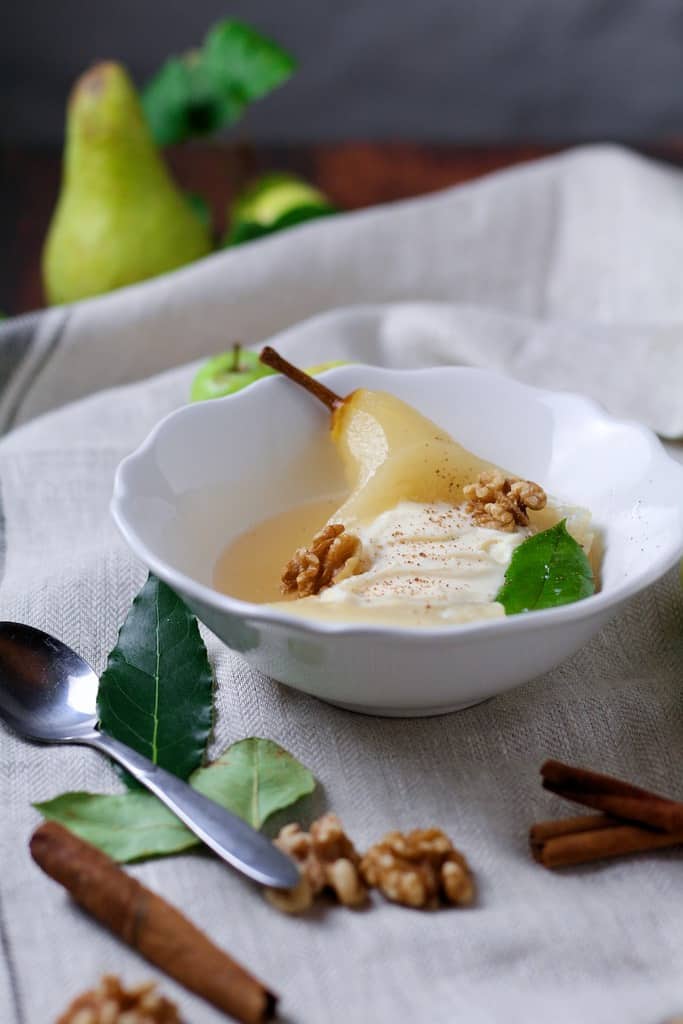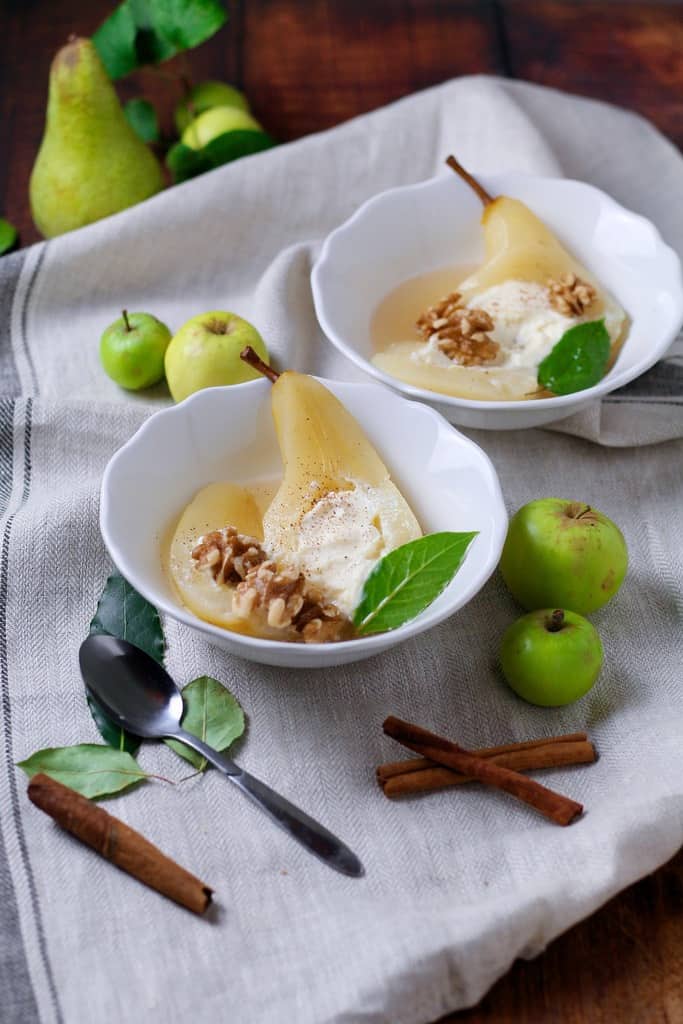 WHITE WINE POACHED PEARS
---