There is something magical about marinating meat. With the addition of a few spices, a touch of acid, oil and sweetness and suddenly the plainest and unexciting of cuts of pork or chicken can be juicy, tender and loaded with exotic flavours.
It's always useful to have some deliciously flavoured marinade recipes up your sleeve for when you are wondering what to make for dinner. This takes all the stress out of cooking, as you can prepare it all well in advance, and you can be assured that your meat will taste the best it possibly can.
While marinating is good for just about any cut of meat, today's recipes are all about pork. Pork chops are notoriously tricky to cook well. This is mostly due to two reasons. Commercial pork farming techniques have made a lot of pork extremely lean. Without the natural fat to keep the meat moist, it can dry out and become tough. That's where the extra oil in the marinade will help.
The second reason is that we have all been overcooking pork for years. Even the extra cautious U.S.D.A has confirmed that pork can be cooked to an internal temperature of 145°F / 62.5°C. That's the same temperature as beef, veal and lamb, meaning it is perfectly OK for your pork to be a little pink on the inside. Hooray! No more dry, tough pork chops. If you are feeling a bit unsure, I'd recommend getting yourself an instant-read meat thermometer, it makes the world of difference.
Right, with that out of the way, it's on to the marinades. These are all so simple to make and will infuse the pork with loads of flavour. Hot and Spicy Smoked Paprika, with a Spanish influence, Japanese Dark and Sticky Teriyaki, French-inspired Sweet and Tangy Honey Mustard and South American Bright and Fresh Salsa Verde. The first three can be mixed and frozen together with the meat, the salsa verde up to 24 hours in advance, so you can get everything prepared well in advance.
When cooking marinated meat, always remember to cook low and slow. Cooking over high heat or large flame will just burn the marinade and undo all of your hard work! Keep the temperature low and even and you'll be rewarded with juicy and delicious chops.
Which marinade is your favourite? Let me know in the comments below. Take care out there and happy cooking. xJ
---
Let me know if you try this recipe in the comments below, or using the hashtag #daysofjay on Instagram. Happy cooking!
---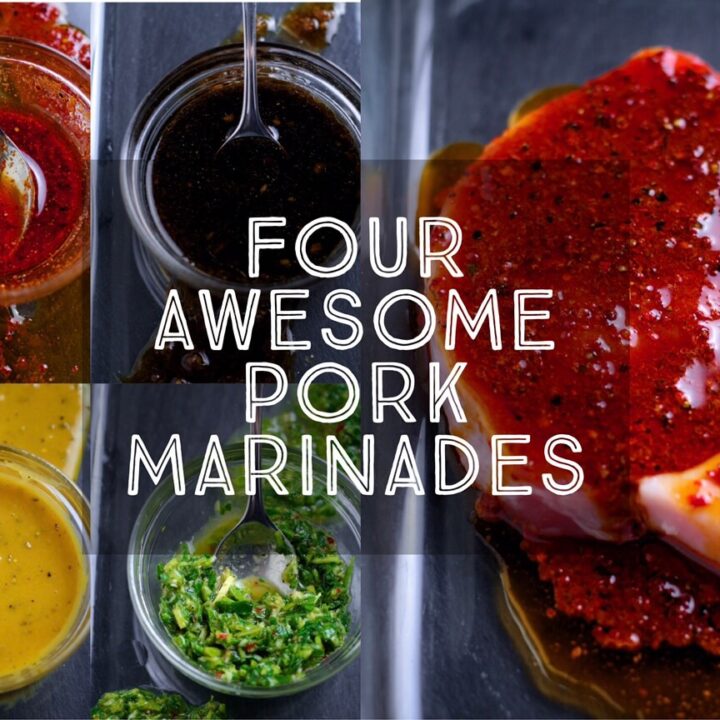 4 Awesome Pork Chop Marinades
Yield:
Covers 4-6 Pork Chops
Pork chops four ways! With a simple marinade, the humble pork chop can travel around the globe. Spanish style Hot and Spicy Smoked Paprika, Japanese Teriyaki, French Honey Mustard or South American Salsa Verde. Get grilling!
Ingredients
for the Hot and Spicy Smoked Paprika:
3 Tbsp red wine or sherry vinegar
2 Tbsp neutral oil
2 tsp sweet paprika
1 tsp smoked paprika
1 tsp chilli flakes
½ tsp salt
freshly ground black pepper
for the Dark and Sticky Teriyaki:
100ml soy sauce
2 Tbsp runny honey
2 Tbsp rice wine or white vinegar
2 Tbsp brown sugar
3 cloves garlic, crushed
1 Tbsp fresh ginger, finely grated
2 tsp sesame oil
for the Sweet and Tangy Honey Mustard:
2 Tbsp Dijon or mild mustard
2 Tbsp runny honey
2 Tbsp apple cider vinegar
2 Tbsp neutral oil
1 tsp dried thyme
2 cloves garlic, crushed
1 tsp sea salt
freshly ground black pepper
for the Bright and Zingy Salsa Verde:
small bunch flat-leaf parsley
small bunch coriander / cilantro
3 cloves garlic, peeled
1 ½ Tbsp red wine vinegar
1 tsp dried oregano, or 2 tsp fresh oregano leaves
½ tsp mild chilli flakes
¼ tsp sea salt
freshly ground black pepper
a squeeze of lime or lemon juice
100ml neutral oil
Instructions
To make the Hot and Spicy Smoked Paprika, Dark and Sticky Teriyaki and Sweet and Tangy Honey Mustard marinades, simply whisk together the ingredients, then pour into a shallow dish or freezer bag along with the meat. Marinade for up to 24 hours in the fridge or freeze immediately.

When cooking, reserve the teriyaki and honey mustard marinades, Teriyaki can be simmered in a small saucepan to make a sauce to go with the meat. The Honey Mustard can be simmered with a little white wine, apple juice or cream to make a serving sauce.

To make the Bright and Zingy Salsa Verde, combine the parsley, coriander, garlic, vinegar, oregano, chilli, salt, pepper and lime juice in the bowl of a food processor with the blade attachment fitted. Pulse until the mixture is roughly chopped, then with the motor running pour in the oil in a thin stream.

Use half of the salsa verde to marinate the meat, for up to 24 hours in the refrigerator. Reserve half to serve as a sauce alongside the cooked meat.
---
FREQUENTLY ASKED QUESTIONS
Can I freeze these marinades?
Yes! Put the pork in the marinade in a freezer bag, press out all the air bubbles and freeze directly. When it defrosts the pork will take on even more delicious flavour. I don't recommend freezing the salsa verde as it can discolour.

How do I cook the pork?
You can grill, fry or bake these pork chops, as you usually would. Just remember to keep the temperature low to medium, otherwise, the marinade can catch and burn. If you're stuck for pork ideas, try my Maple Glazed Pork Chops.
What should I serve with the pork?
That's totally up to you! Smoked Paprika would go well with baked potatoes and sour cream, Teriyaki needs rice to soak up the sticky sauce. Honey Mustard calls for mashed potatoes or a good white bread and Salsa Verde would be lovely with some grilled and buttered corn
---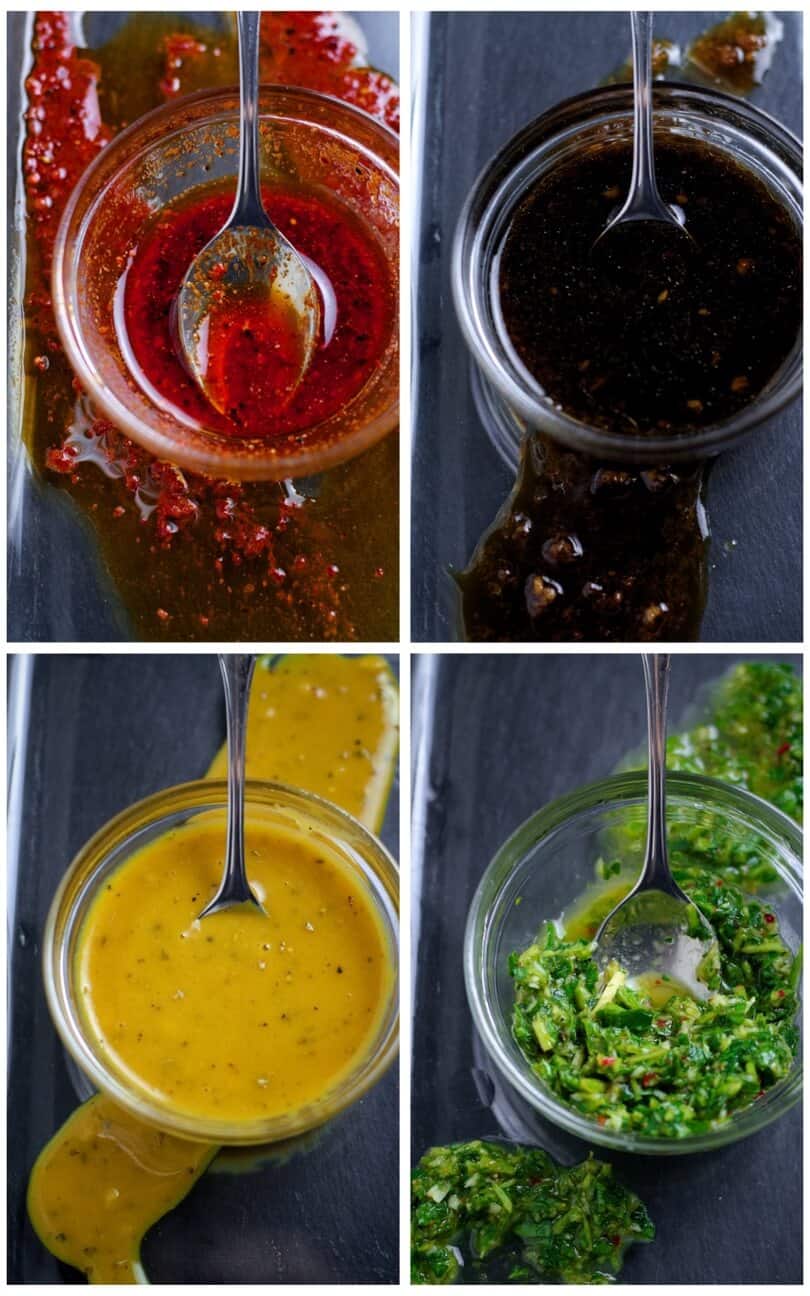 Each sauce gives a different fabulous flavour to the meat. Which one is your favourite?
4 AWESOME PORK CHOP MARINADES
---