I have been craving Chinese takeout all week. The trouble is that decent Chinese food is really hard to find in Munich (if you know of anywhere good, be sure to let me know in the comments below). The solution is, of course, to make it myself, and what better to hit the spot than some delicious Chicken Lo Mein Noodles?
Chicken Lo Mein is my kind of fakeaway. It's packed with loads of fresh vegetables, tender chicken and slippery, saucy noodles. It's also super quick and easy to make at home. As with any stir fry, the most time-consuming part is slicing up all your veg, as once it hits the pan your Lo Mein will be ready in under 10 minutes.
There is a lot of confusion around Lo Mein and the similar sounding Chow Mein, but simply put Lo Mein or 'tossed' noodles are pre-cooked, then stirred through the dish at the end, while Chow Mein or 'fried' noodles are fried before the other ingredients are added. They are both perfectly delicious, but for me, soft and saucy Lo Mein noodles will win every time.
I've made my Lo Mein with chicken, though you can use whatever protein you have to hand. Thinly sliced beef sirloin or pork, prawns, or even tofu are all brilliant. Lo Mein is also a fabulous fridge clearer as you can throw in whatever vegetables you have that need using up. I like to use brightly coloured veg like peppers, carrots and beans or snow peas as well as some deliciously earthy mushrooms, but zucchini, spinach, bok choy or broccoli are great too! Mix and match to suit your tastes.
What's your favourite Chinese takeaway? Let me know in the comments below. Take care out there and happy cooking! xJ
---
Let me know if you try this recipe in the comments below, or using the hashtag #daysofjay on Instagram. Happy cooking!
---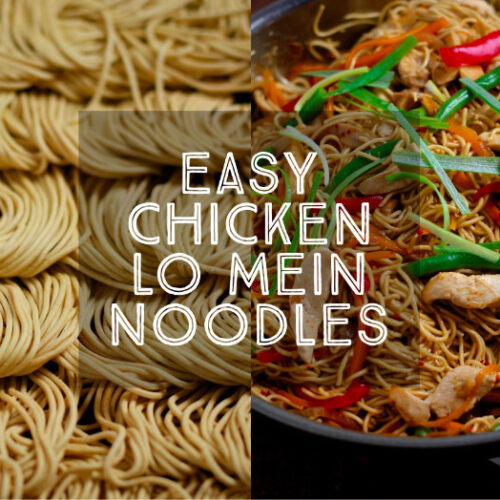 Easy Chicken Lo Mein Noodles
The ultimate Chinese take-away made at home! Chicken Lo Mein Noodles are quick and easy to make, packed with healthy vegetables and can feed a hungry crowd.
Ingredients
for the sauce:
2 Tbsp soy sauce
2 Tbsp hoi sin or oyster sauce
1 Tbsp Shao Xing cooking wine
1 Tbsp white vinegar
1 tsp sesame oil
1 tsp brown sugar
for the stir fry:
500g chicken breast, thinly sliced
200g dried egg noodles
1 tsp sesame oil
150g oyster or shiitake mushrooms
125g beans or snow peas
100g carrots
½ red bell pepper / capsicum
2 cloves garlic, peeled and diced, not crushed
1 Tbsp fresh ginger, grated
2 spring onions
to cook:
1 Tbsp neutral oil
125ml chicken stock
1 Tbsp cornflour / cornstarch
Instructions
Whisk all of the sauce ingredients together in a small bowl. Add the chicken and allow to marinate while you prepare the noodles and vegetables.

Bring a pot of water to the boil, add the noodles to the pan and cover. Remove from the heat and set aside for 4 minutes. Drain, rinse well under cold water, then toss with the sesame oil and set aside.

Slice all of the vegetables finely, leaving the mushrooms a little chunkier as they will shrink during cooking.

Heat the oil in a large frying pan or wok until hot and shimmering. Use tongs to lift the chicken out of the sauce and into the pan, reserving the sauce. Allow to cook for 2 minutes, then stir and cook a further 2 minutes.
Remove the chicken from the pan and set aside. Add the mushrooms, beans, carrots, peppers, garlic and ginger to the pan with a splash of cold water and cook for 3-4 minutes until the vegetables are tender.

Return the chicken to the pan along with the drained noodles and the reserved sauce. Whisk the chicken stock and cornstarch/ cornflour together and add to the pan. Bring to a simmer and cook for 3-4 minutes until the sauce has thickened, tossing everything to mix and coat in the sauce. Garnish with the spring onions and serve immediately.

Nutrition Information:
Yield:

4
Amount Per Serving:
Calories:

491
Total Fat:

14g
Saturated Fat:

3g
Trans Fat:

0g
Unsaturated Fat:

9g
Cholesterol:

159mg
Sodium:

1032mg
Carbohydrates:

36g
Fiber:

5g
Sugar:

8g
Protein:

53g
Nutrition information is calculated automatically and isn't always accurate.
---
FREQUENTLY ASKED QUESTIONS
What sort of noodles should I use to make Lo Mein?
I always use thin egg noodles, easily available in bigger supermarkets and Asian grocers, but you can use nearly any type of noodle you like! You'll need to adjust the cooking time if you use a different type of noodle.

Can I use different meat to make Lo Mein?
Absolutely! Try thinly sliced beef sirloin, pork, prawns or even tofu.

Can I prepare Lo Mein in advance?
Of course, Lo Mein is great fresh or reheated and makes a terrific batch cooked lunch to bring to the office.
---
Slicing and preparing all the ingredients before you start makes cooking Chicken Lo Mein much easier.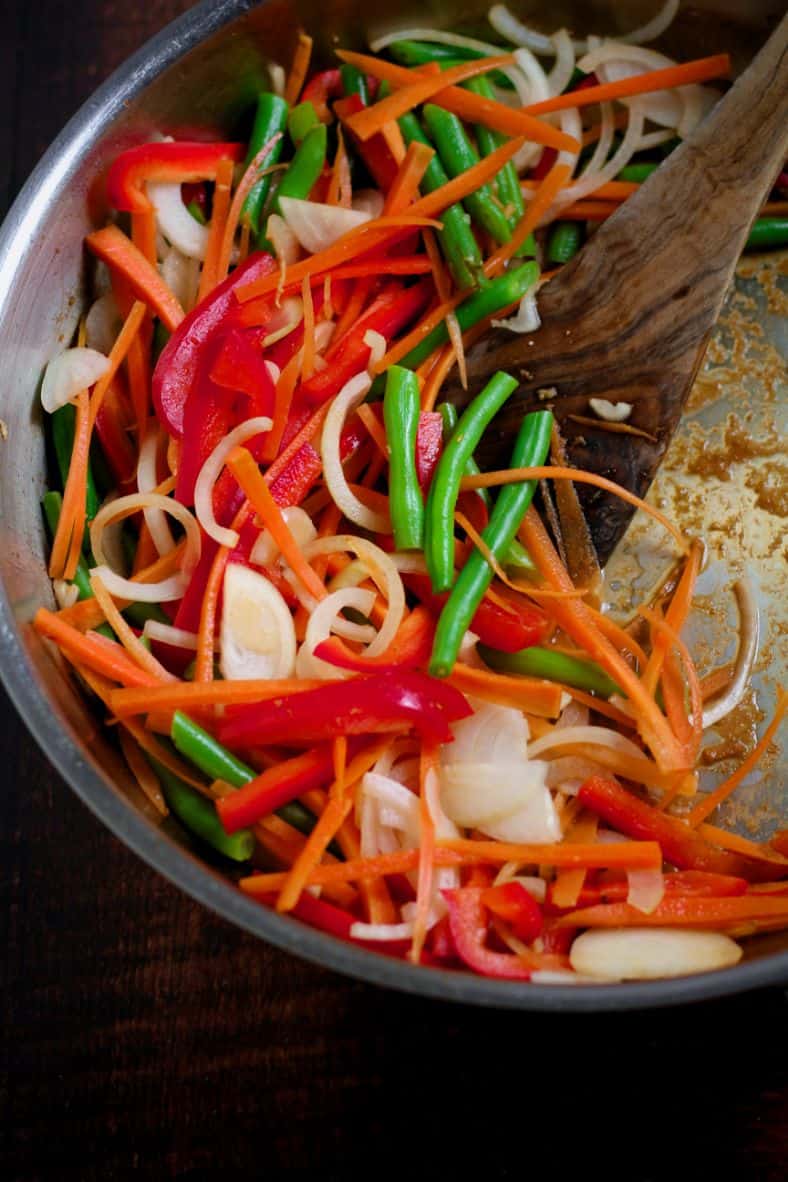 Make sure to get the pan or wok nice and hot so everything cooks evenly.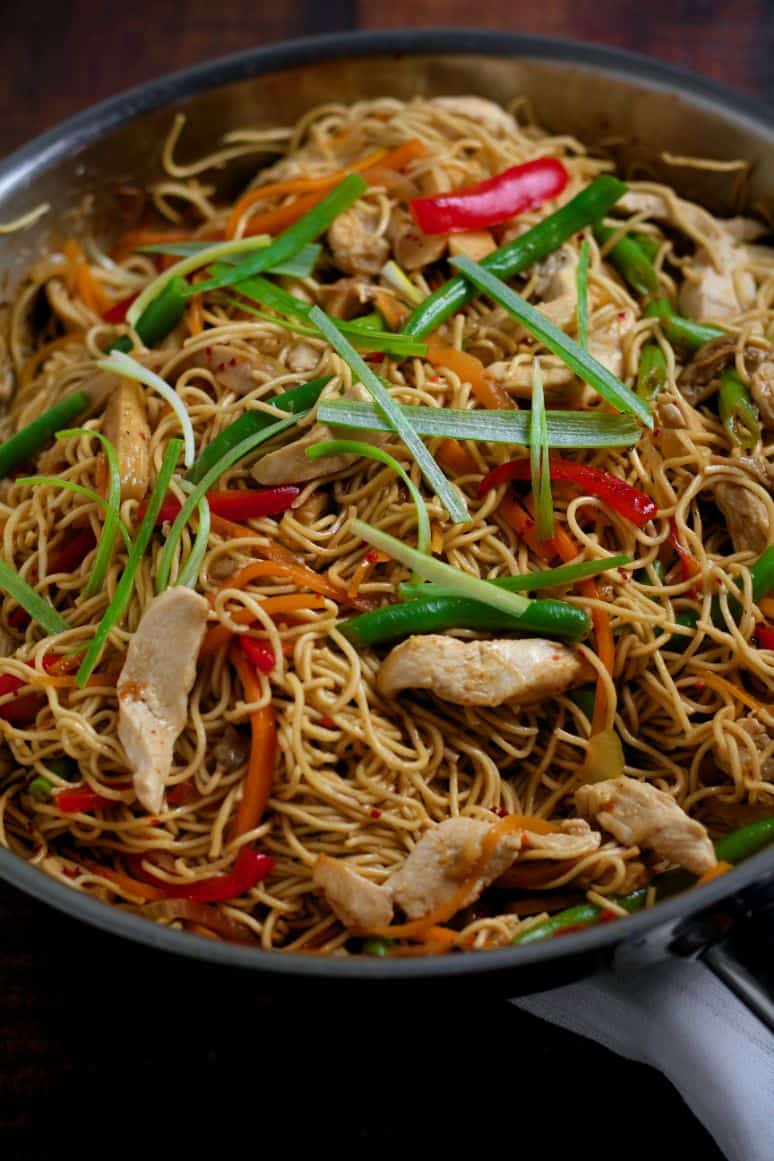 EASY CHICKEN LO MEIN NOODLES
---