You know it must be summer when the zucchini plants suddenly start producing more vegetables than you know what to do with. This year we haven't planted any ourselves but a few days ago our neighbour Davide kindly gave us some extra-large zucchini – perfect for today's recipe: Italian Sausage Stuffed Zucchini. I love zucchini, and though it has an undeserved reputation as being a bit boring, with a little help in the kitchen can be sensational.
Zucchini are sweetest and best when they are around 20cm long, any bigger and they can start to dry out a little on the inside. They are still perfectly good, the trick is to remove the flesh, sauté it with spicy, flavoursome Italian sausage, then use this as a stuffing for the zucchini. Topped with a quickly made tomato sauce and plenty of melted mozzarella, Italian Sausage Stuffed Zucchini makes a delicious and healthy summer meal.
---
---
I like to use the coarse Italian-style pork sausages for recipes like this as they are packed with flavour, but nothing is stopping you from using mince or even making this a vegetarian dish with lentils, chickpeas or even chopped mushrooms. This is a flexible recipe, so mix things up depending on what you have in the house.
Have you planted zucchini this year? What's your favourite recipe to use them all up? Let me know in the comments below! Take care out there and happy cooking! x J
---
Let me know if you try this recipe in the comments below, or using the hashtag #daysofjay on Instagram. Happy cooking!
---
Italian Sausage Stuffed Zucchini
You know it must be summer when the zucchini plants go wild, producing more zucchini than it seems possible to cook! Italian Sausage Stuffed Zucchini is a great tasting way to take advantage of this abundant summer veg.
Ingredients
4 medium zucchini or 2 large
1 Tbsp olive oil
500g Italian style pork sausages, skins removed
500g tomato passata
1 tsp sugar
1 tsp sea salt
1 tsp dried oregano
½ tsp chilli flakes
freshly ground black pepper
2 cloves garlic, crushed
1 Tbsp balsamic vinegar
50g Parmesan, grated
small bunch fresh oregano
200g cherry tomatoes, halved
1 ball fresh mozzarella, drained and torn into chunks
100g grated cheddar (optional)
Instructions
Heat the oven to 180°C / 350°F / Gas 4. Halve the zucchini lengthways and use a teaspoon to scrape the flesh from the centre of the zucchini to make room for the stuffing. Finely chop the zucchini flesh and set aside.

Heat the olive oil in a large frying pan, remove the skins from the sausages and fry the sausage meat, using a wooden spoon to break it up into small pieces. Cook until the sausage is well browned, around 5 minutes. While the sausage is cooking, stir together the tomato passata with the sugar, salt, oregano, chilli flakes and few grinds of black pepper.

Add the chopped zucchini to the pan along with the garlic and balsamic vinegar and cook for a further 10 minutes until the zucchini is softened and all of the liquid has evaporated. Stir through half of the tomato sauce and the Parmesan, then remove from the heat and set aside to cool slightly.

Lay the zucchini in an ovenproof dish with the cut sides facing up, then divide the sausage mixture evenly between the zucchini. Pour over the remaining sauce, scatter over the fresh oregano and cherry tomatoes, then bake in the preheated oven for 30 minutes.

After 30 minutes, remove from the oven, scatter over the mozzarella and cheddar (if using) and return to the oven until bubbling and melted, 7-10 minutes.

Serve with rice, couscous, pasta or crusty white bread.

Nutrition Information:
Yield:

4
Serving Size:

1
Amount Per Serving:
Calories:

684
Total Fat:

52g
Saturated Fat:

19g
Trans Fat:

0g
Unsaturated Fat:

28g
Cholesterol:

148mg
Sodium:

2043mg
Carbohydrates:

20g
Fiber:

5g
Sugar:

12g
Protein:

38g
---
---
FREQUENTLY ASKED QUESTIONS
I don't have any sausages, can I use mince instead?
Of course you can! You'll need to add some flavouring to the mince as sausages are already pre-seasoned. Salt and pepper to start, as well as some Italian herbs like oregano or fennel.
I can't get any tomato passata. Is there an alternative?
Sure! You can puree tinned tomatoes in the food processor, or if you want to cheat, use a good quality pasta sauce from the jar. If you are using commercial pasta sauce leave out the sugar and add salt to taste.
Can I make vegetarian stuffed zucchini?
Definitely! You can either use a vegetarian mince substitute or better yet, some cooked lentils, chickpeas or finely chopped mushrooms in place of the sausage meat. You'll need to adjust seasoning to taste.
---
Italian style sausages are so tasty and are a great shortcut ingredient to inject maximum flavour into your cooking.
I used large zucchini here so two were perfect. If you have smaller zucchini use four.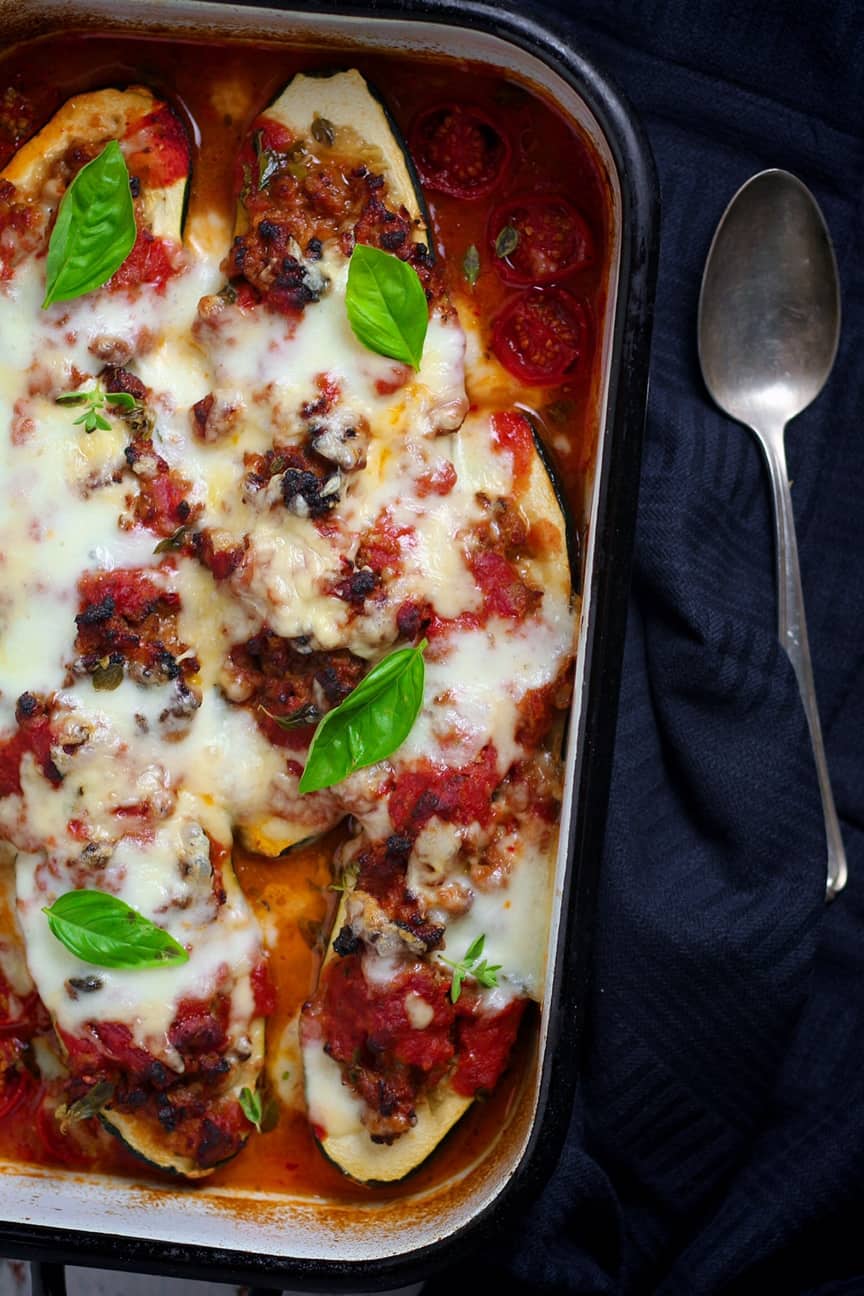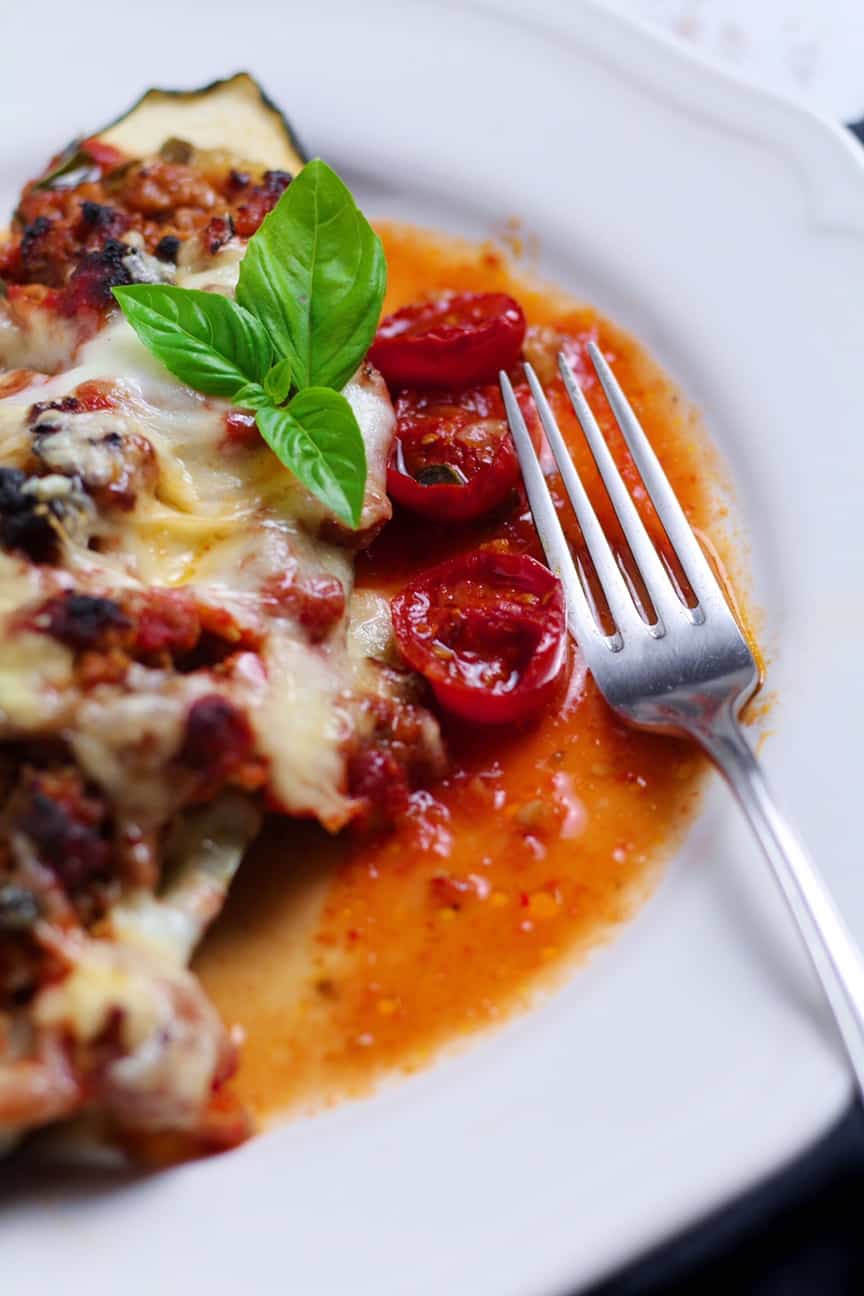 ITALIAN SAUSAGE STUFFED ZUCCHINI
---