As the weather warms up and more and more fresh produce hits the market stands, I can spend many happy hours searching for ingredients. There is no food that attracts my eye quite as much as a tumbling display of colourful fruit and veg, but the most beautiful of all has to be fresh zucchini flowers. I find these bright orange and green blossoms absolutely irresistible. They just cry out to be stuffed with ricotta, lemon zest and salty anchovies and coated in golden breadcrumbs. Today's recipe? You guessed it: Ricotta Stuffed Zucchini Flowers.
Now this stunner of an Italian speciality is often served as a light starter, and usually, the flowers are fried. I am all for frying food if it's just for one or two people, but when I am entertaining or cooking for a crowd I find it a real chore. The very last thing I want to be doing while everybody else is having a good time, sinking Aperol Spritz and chilled rosé by the bucketload on the balcony, is to be standing over a pot of boiling oil in the kitchen.
The solution? I coat the flowers in breadcrumbs and bake them in a hot oven. That way I can have the flowers all prepared in advance and just throw them in the oven when the guests arrive. They still bake up perfectly golden and crunchy and there is zero stress involved. After all, the worst way to start a party is by stressing yourself out in the kitchen – am I right?
I like to serve Ricotta Stuffed Zucchini Flowers with a simple yoghurt or tomato sauce and plenty for fresh lemon to squeeze over the top. Simple, delicious and beautiful food for summer entertaining. Now we just need summer!
Take care out there and happy cooking, xJ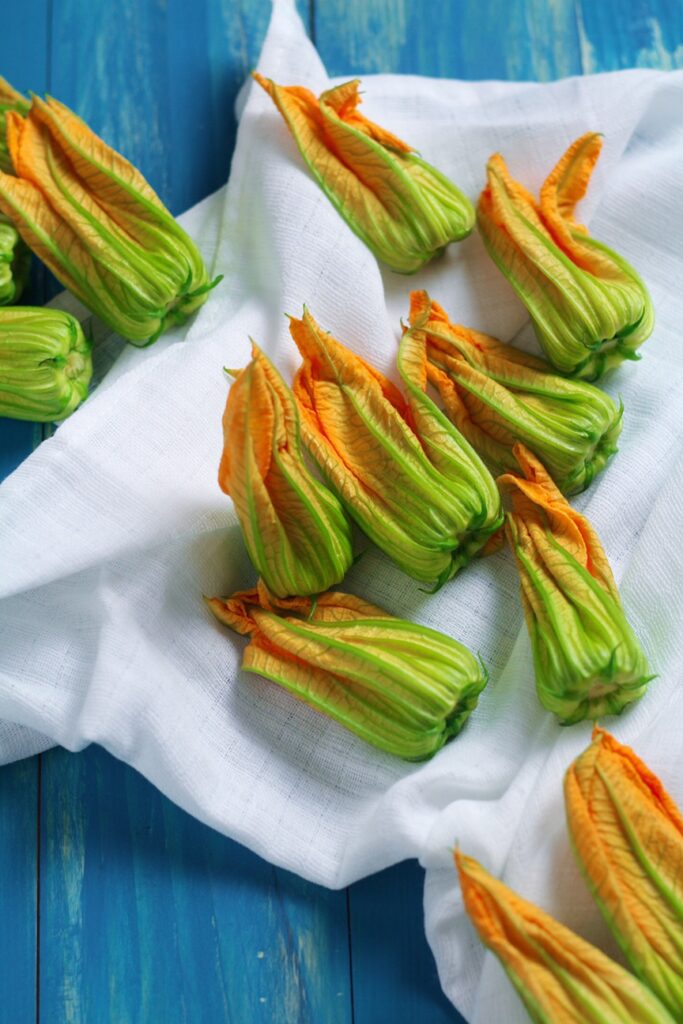 Let me know if you try this recipe in the comments below, or using the hashtag #daysofjay on Instagram. Happy cooking!
---
---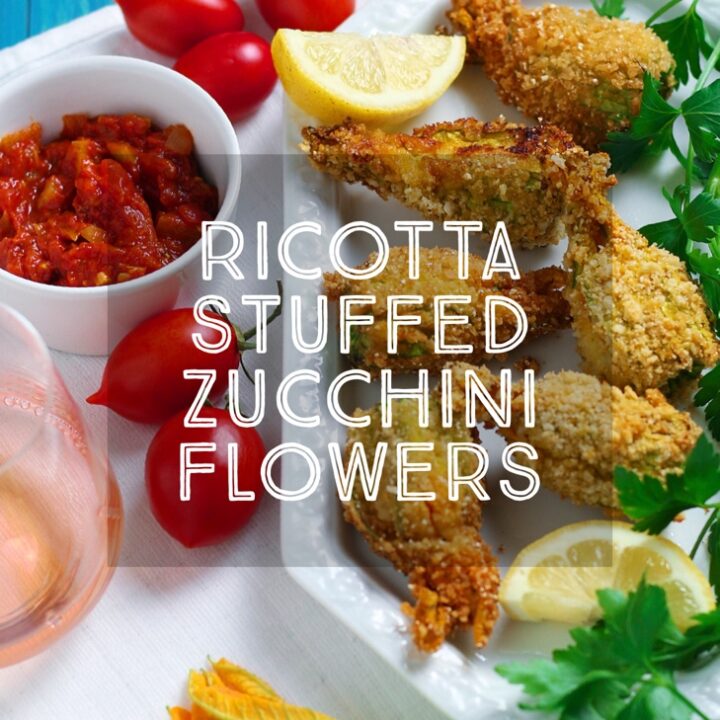 Ricotta Stuffed Zucchini Flowers
Baked, rather than fried, these Ricotta Stuffed Zucchini Flowers are filled with creamy cheese, zingy lemon, fresh herbs and salty anchovy. Perfect for a summer party or a light dinner.
Ingredients
12 fresh zucchini flowers
200 g ricotta cheese
50 g Parmesan cheese, finely grated
zest of 1 large lemon
small bunch of parsley, finely chopped
4 tinned anchovies, finely diced
OR:
2 Tbsp capers, finely diced
sea salt and black pepper
to crumb:
1 large egg
200 g fresh breadcrumbs, panko-style if not homemade
1 Tbsp olive oil
to serve:
lemon slices
yoghurt or tomato sauce for dipping
if frying:
neutral oil, sunflower, canola etc.
Instructions
If baking, heat the oven to 200°C / 400°F / Gas 6 and line an oven tray with baking paper.
Rinse the zucchini flowers well, then pat gently dry with paper towels. Use a long pair of scissors to cut a slit through the petals all the way to the base, then carefully cut out the stamen from each flower and discard.
In a small mixing bowl mix together the ricotta, Parmesan, lemon zest, parsley and anchovies or capers. Season well with salt and pepper. Make sure to taste the filling and adjust as necessary.
Holding a flower in the palm of your hand, gently open the petals and spoon a heaped teaspoon of filling inside. Twist the top of the petals to close and set aside while you prepare the remaining flowers.
To crumb, first, beat the egg in a shallow bowl, then pour the breadcrumbs onto a plate and season with a little salt and pepper. One at a time, dip the zucchini flowers into the beaten egg, shake off any excess liquid, then roll them in the seasoned breadcrumbs. Place on the prepared tray.
When all the flowers are crumbed, bake in the preheated oven for 20 minutes until lightly golden brown. Allow to cool for a minute or two, then serve hot with yoghurt or tomato dipping sauce and lemon slices.
To fry, heat 3-4cm of oil in a small saucepan. It is hot enough when the handle of a wooden spoon dipped in the oil produces a fizz of very fine bubbles. Working in batches of 2 or three, fry the zucchini flowers for around 2 minutes on each side until golden brown. Remove from the oil with a slotted spoon and place on a tray lined with a paper towel. Keep warm while you cook the remainder.
Nutrition Information:
Yield:

4
Serving Size:

1 grams
Amount Per Serving:
Calories:

573
Total Fat:

22g
Saturated Fat:

7g
Trans Fat:

0g
Unsaturated Fat:

12g
Cholesterol:

79mg
Sodium:

1225mg
Carbohydrates:

70g
Fiber:

10g
Sugar:

20g
Protein:

30g
---
---
FREQUENTLY ASKED QUESTIONS
I can't stand anchovies! Can I leave them out?
Yes! You need to replace them with something salty though – capers are a good option, or you could try finely chopped prosciutto or even sun-dried tomatoes.

What can I use instead of ricotta?
Any creamy cheese works well, plain cream cheese, goats cheese etc. Taste the mixture before adding any extra salt and add as necessary.

I tore the flower petals! Will this recipe still work?
That's the beauty of baking the flowers, the filling will still stay inside. Patch the flower up as best you can and continue as before.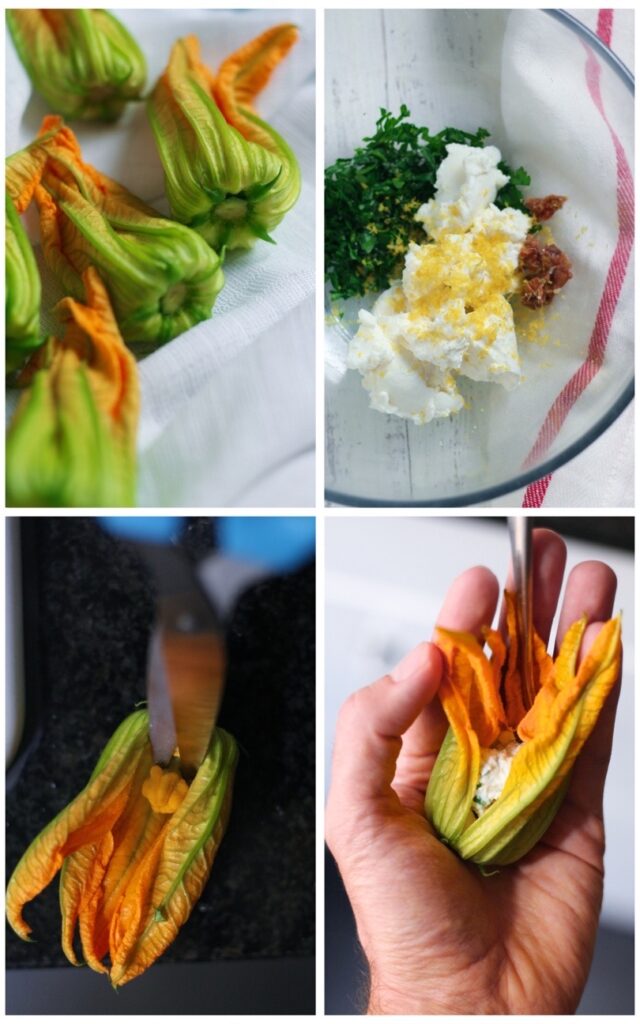 USE SCISSORS TO CAREFULLY CUT THE STAMEN OUT OF THE ZUCCHINI FLOWER.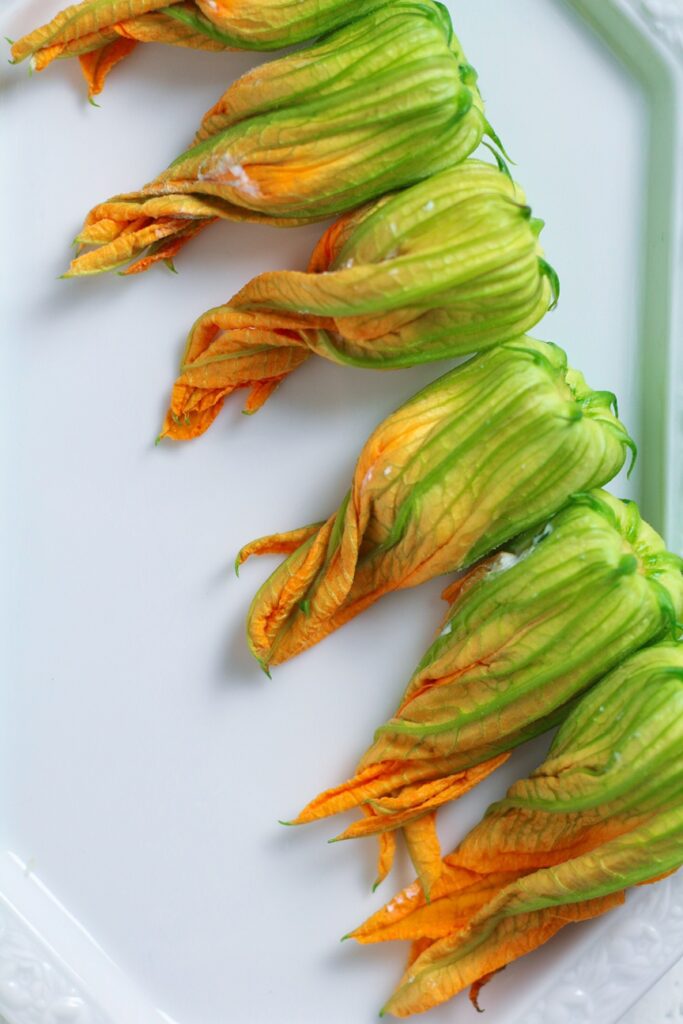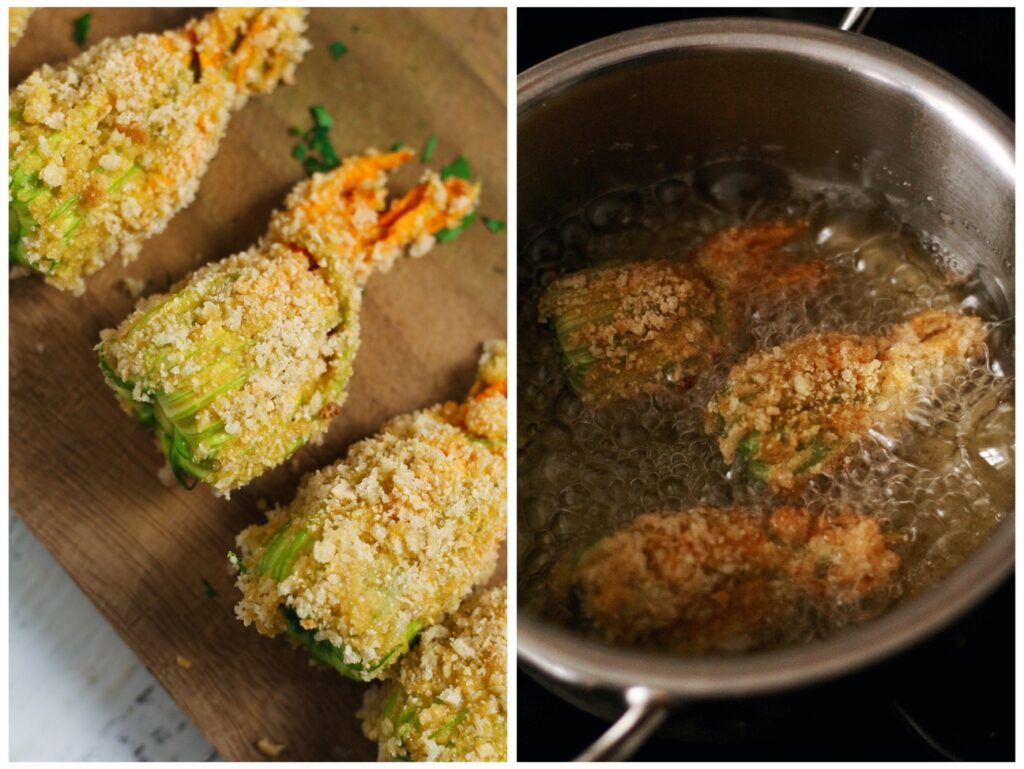 YOU CAN FRY THE FLOWERS IF YOU LIKE – BUT IT'S EASIER AND LESS STRESS TO BAKE THEM.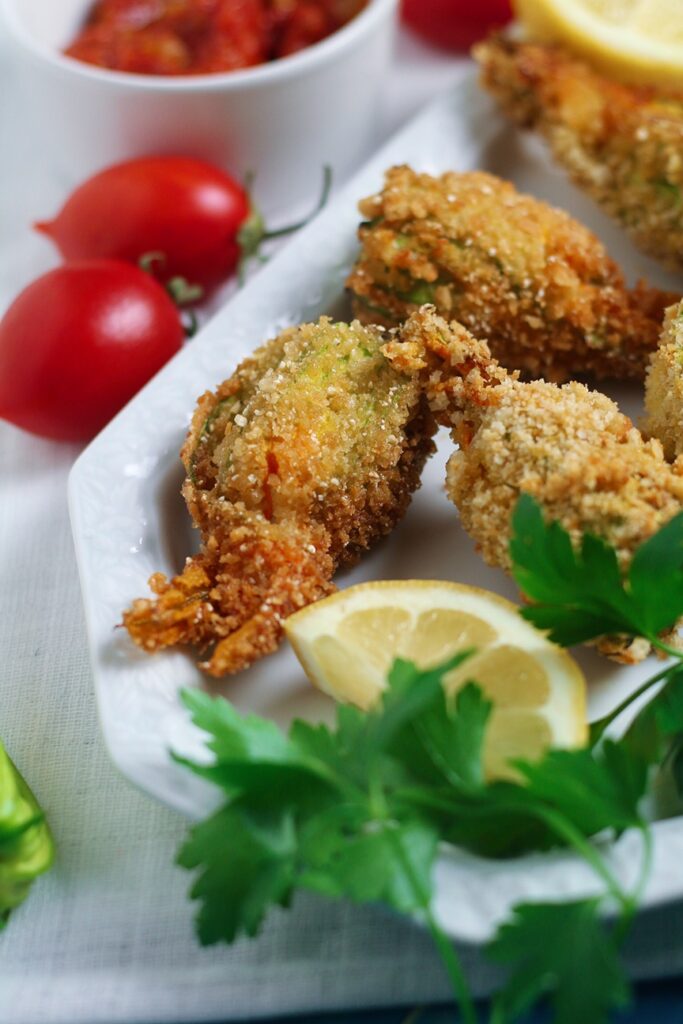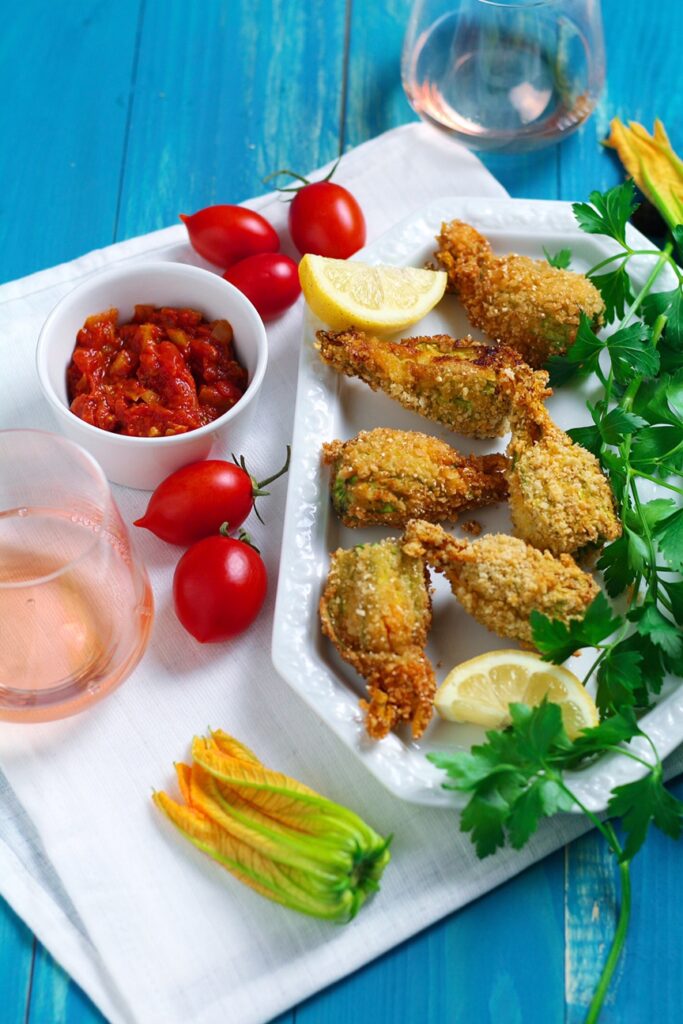 RICOTTA STUFFED ZUCCHINI FLOWERS
---
---
Looking for more Italian recipes? Why not try: