While I think there is always an excuse for a cocktail, it is on those sultry summer nights, sitting outdoors with friends when a long, refreshing mojito really hits the spot. Purists will argue that the classic mojito needs nothing extra added to it, but for me, the tropical combination of flavours in Passionfruit Lime Mojitos wins every time.
The mojito is a native to Havana, Cuba, and while the origins of the cocktail are lost to the mists of time, it's not hard to see how the combination of local ingredients would become popular. From Sir Francis Drake to Ernest Hemingway the refreshing mixture of lime, rum, sugar and mint has had many fans, including Pierce Brosnan's James Bond!
The great thing about mojitos is that they are so easy to make, with no special equipment necessary. You've probably seen the team behind your local bar enthusiastically muddling the limes with a great big stick, but at home, you can get away with the handle of a wooden spoon. Traditionally a mojito is served over crushed ice which is easy enough to make in the blender. If you don't have a blender, pack the ice cubes in a plastic bag and give them a good whack with a rolling pin.
What's your favourite summer cocktail? Let me know in the comments below. Take care out there and happy mixing! xJ
---
Let me know if you try this recipe in the comments below, or using the hashtag #daysofjay on Instagram. Happy cooking!
---
Passionfruit Lime Mojitos
Truly refreshing, a Passionfruit Lime Mojito is perfect for sultry summer evenings. This recipe makes two, but there is no reason you couldn't make up a big jug for a party. Top with soda just before serving.
Ingredients
1 lime, cut into 6 wedges
3-4 tsp brown sugar, heaped
small bunch of mint
120ml white rum
100ml passionfruit juice
2 ripe passionfruit, pulp and seeds
soda water
to serve:
Instructions
Divide the lime wedges, sugar and a few mint leaves between two sturdy, tall glasses. Use the handle of a wooden spoon (or a muddling stick) to press firmly down on the limes, releasing the oils and juices. Be firm but gentle, you want to release the oils but not destroy the mint leaves (or your glass!)

Add the rum, passionfruit juice, pulp and seeds to each glass and stir to combine. Top with crushed ice and a splash of soda water. Garnish with a mint sprig.
Nutrition Information:
Yield:

2
Serving Size:

1
Amount Per Serving:
Calories:

229
Total Fat:

0g
Saturated Fat:

0g
Trans Fat:

0g
Unsaturated Fat:

0g
Cholesterol:

0mg
Sodium:

26mg
Carbohydrates:

33g
Fiber:

1g
Sugar:

30g
Protein:

1g
Nutrition information is calculated automatically and isn't always accurate.
Disclosure: Some of the links on this website are affiliate links,
meaning, at no additional cost to you, I will earn a commission if you click through and make a purchase.
---
FREQUENTLY ASKED QUESTIONS
How do I make crushed ice?
I find the easiest way to make crushed ice is to give ice cubes a quick blitz in the blender. If you don't have a blender or you're not sure if your blender is up to the task, put the ice cubes in a clean plastic bag and give them a good whack with a rolling pin to break them up.
Can I make this recipe with other fruit?
You sure can! Replace the passionfruit with strawberries, raspberries or even pink grapefruit! Pineapple gives a tropical twist.
What's a muddling stick?
A muddling stick is just a long rolling-pin shaped piece of wood, used in bars for crushing fruit and citrus to release the flavour. Don't worry if you don't have one, the end of a wooden spoon or a thin rolling pin will work just as well. Be sure to use sturdy glasses or a container!
---
Fresh mint, zesty lime and sweet passionfruit… summer in a glass!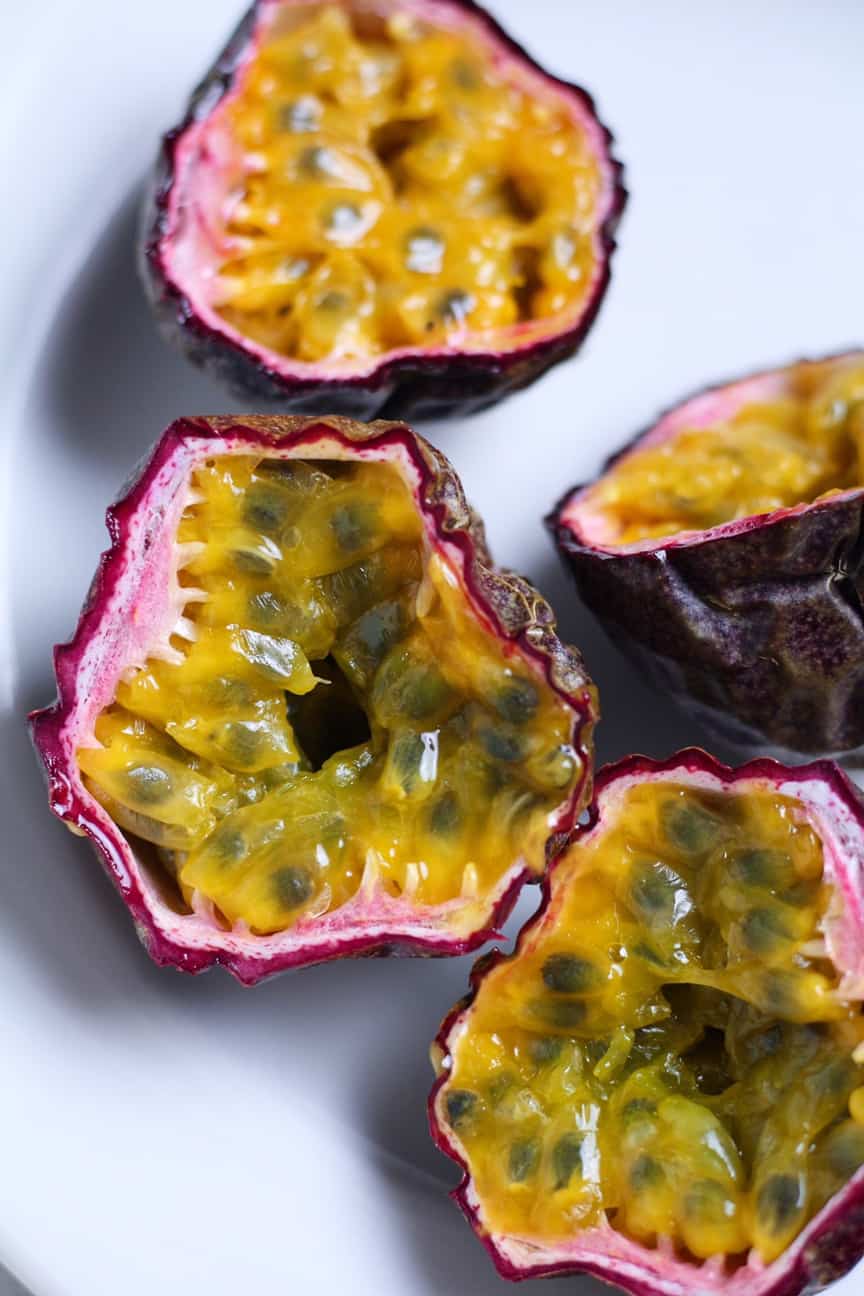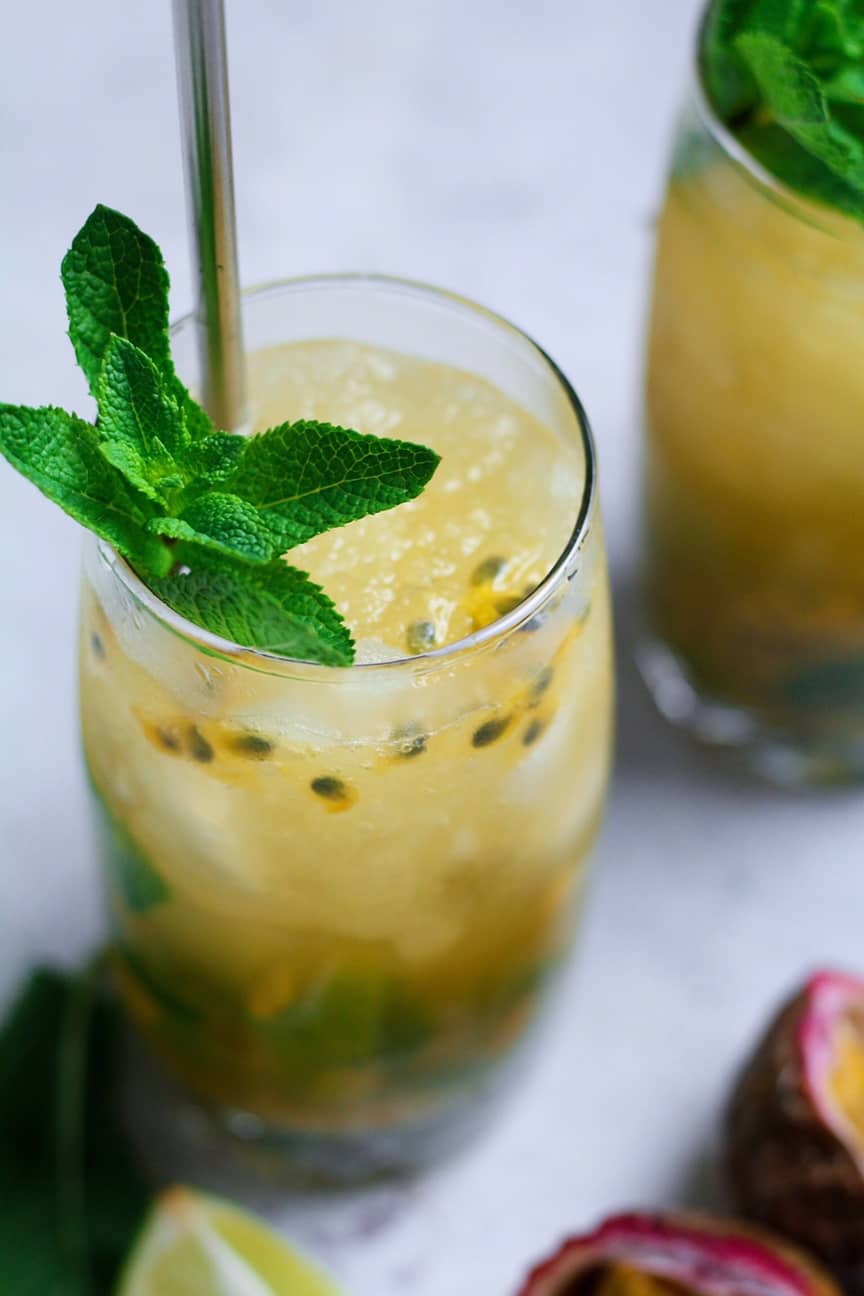 Make sure your straws are big enough to suck up all the passionfruit seeds!
PASSIONFRUIT LIME MOJITOS