Is there anything more comforting when you are feeling under the weather than a big bowl of Chicken and Noodle Soup? Even the aroma of chicken soup cooking in the kitchen is enough to lift the mood. Even though it is made from the simplest of ingredients, it seems to have magical restorative powers. Whether you are talking about the ajiaco of Colombia, the torijiru of Japan, 'Jewish Penicillin' or simple chicken and noodle soup, it seems one thing the whole world can agree on is our love of this comforting dish.
---
---
I like to make chicken soup using chicken wings This is for three reasons: a) the wings are full of gelatine and collagen so they give a wonderful richness to the stock. b) the meat on the wings can stand up to an hour of simmering in the pot without getting too tough, and c) because I buy whole chickens and chop them up myself, I end up with a whole stash of chicken wings in the freezer, waiting to be made into soup.
I have kept this recipe very simple, allowing the flavour of the chicken to really shine through, but you can add other vegetables, spices and herbs to suit your mood. Cloves, coriander and star anise will lend your soup an Asian flavour, while paprika, cardamom and cinnamon will take it to the North of Africa. I always add ginger for a little gentle heat, feel free to leave it out if it's not to your taste.
It is important to chill your soup properly if you are saving it for the next day and to reheat it until piping hot. Chicken soup freezes brilliantly, but do label it properly, as it looks a bit mysterious when you discover an unlabelled container in the freezer four months down the track (I'm speaking from experience here).
Do you have a favourite chicken soup memory? When I had my wisdom teeth out and was feeling rotten after quite traumatic surgery, my husband prepared a beautiful chicken soup and fed it to me in bed – I think it must have been what cured me! Take care of yourselves out there, and happy cooking. x J
---
Let me know if you try this recipe in the comments below, or using the hashtag #daysofjay on Instagram. Happy cooking!
---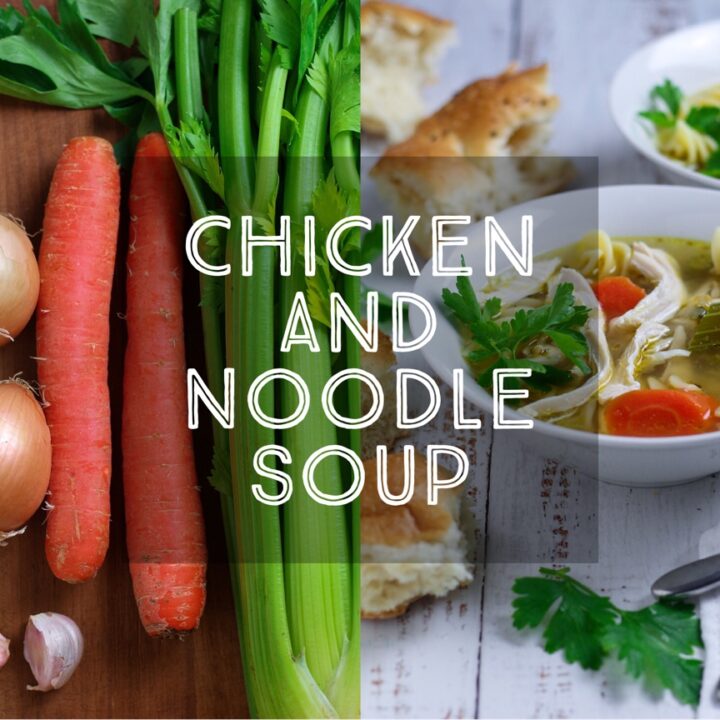 Chicken and Noodle Soup
Total Time:
1 hour
10 minutes
The ultimate bowl of comfort, everybody should know how to make a great Chicken and Noodle Soup. I use chicken wings to give the soup loads of body and flavour.
Ingredients
2 Tbsp olive oil
2 medium onions, peeled and roughly chopped
250g carrots, peeled and roughly chopped
3 celery sticks, roughly chopped
2cm fresh ginger, peeled and roughly chopped
2-3 cloves garlic, peeled and sliced
500g chicken wings
1 tsp dried oregano
1 tsp black peppercorns
½ tsp dried thyme
1 bay leaf
200g chicken breast
2 tsp sea salt
150g dried pasta
grated nutmeg
to serve:
small bunch flat-leaf parsley
crusty bread
Instructions
Heat the oil in a large, heavy-based saucepan. Add the onions and cook gently for 5 minutes, until beginning to soften. Add the carrot, celery and ginger to the pan and cook, stirring occasionally for a further 5 minutes.

Add the garlic, chicken wings, oregano, peppercorns, thyme and bay leaf to the pan and cover with 1.5 litres of cold water. Bring to the boil, then reduce the heat to a simmer. Cover with the lid slightly ajar and simmer for 1 hour, adding the chicken breast in the last 10 minutes of cooking time.

Meanwhile, cook the pasta until just before al-dente, drain and refresh under cold water, then set aside.

After an hour, remove from the heat, remove the chicken and allow to cool slightly. When cool enough to handle, shred the chicken discarding bones and skin and return to the pan.

Either stir the cooked pasta into the soup or place a ladleful of pasta in the bottom of each bowl before ladling the soup over the top. Grate over a little nutmeg and garnish with fresh parsley. Serve with crusty bread.

Nutrition Information:
Yield:

6
Serving Size:

1
Amount Per Serving:
Calories:

459
Total Fat:

27g
Saturated Fat:

8g
Trans Fat:

0g
Unsaturated Fat:

16g
Cholesterol:

97mg
Sodium:

1194mg
Carbohydrates:

27g
Fiber:

3g
Sugar:

4g
Protein:

27g
---
---
Disclosure: Some of the links on this website are affiliate links,
meaning, at no additional cost to you, I will earn a commission if you click through and make a purchase.
---
FREQUENTLY ASKED QUESTIONS
Can I use chicken breast only? I don't eat wing meat!
You'll still need to use the wings for the flavour, though rather than returning the meat to the soup you can add extra chicken breast instead. Cooking chicken breast for an hour runs the risk of making it tough!
Can I change the herbs and spices in this soup?
Yes, of course! You could send this soup in an Asian direction by adding cloves, coriander and star anise for example. This is a great base recipe to put your own stamp on.
Can I make this soup in advance? How do I store soup?
Absolutely, it will keep well chilled for around 3 days, or freeze it in smaller portions if keeping longer. Make sure to reheat the soup so it is piping hot before serving.
---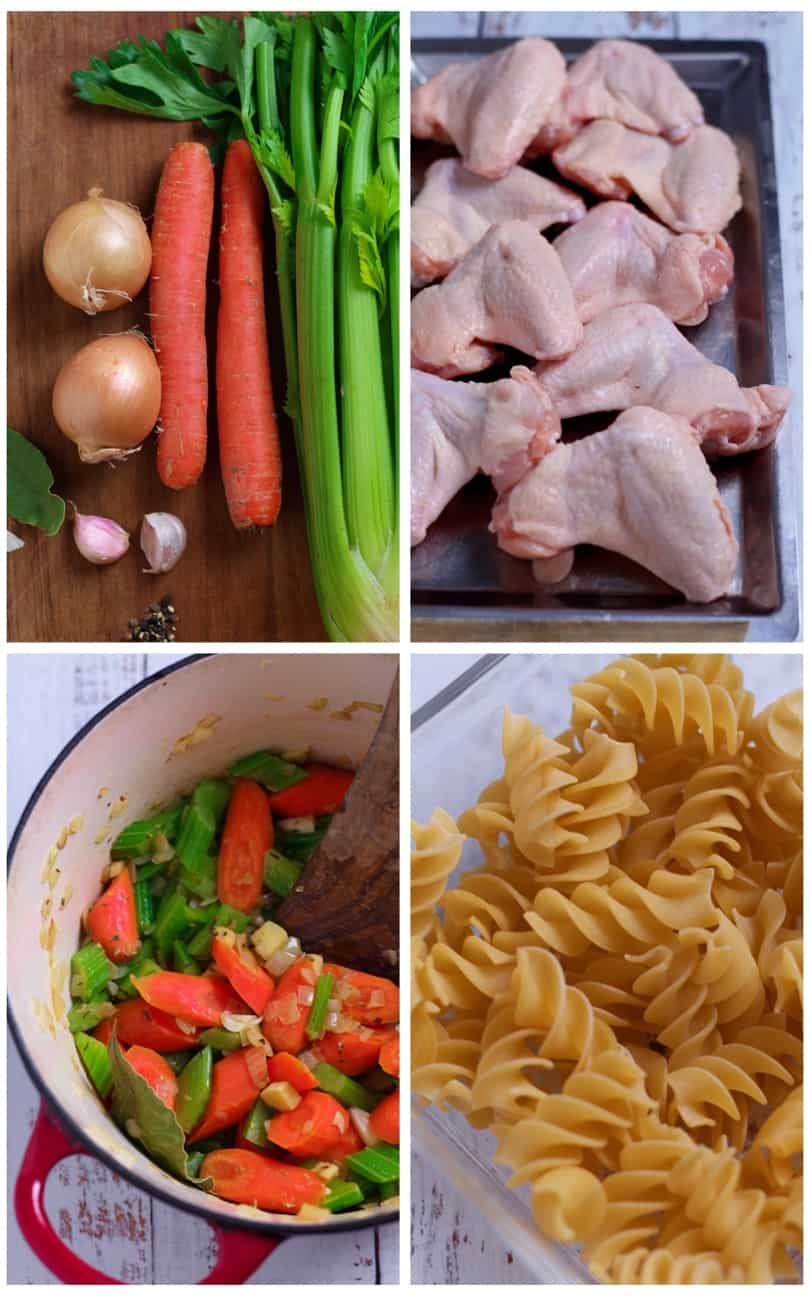 Chicken wings are full of gelatine and collagen which gives the soup great body.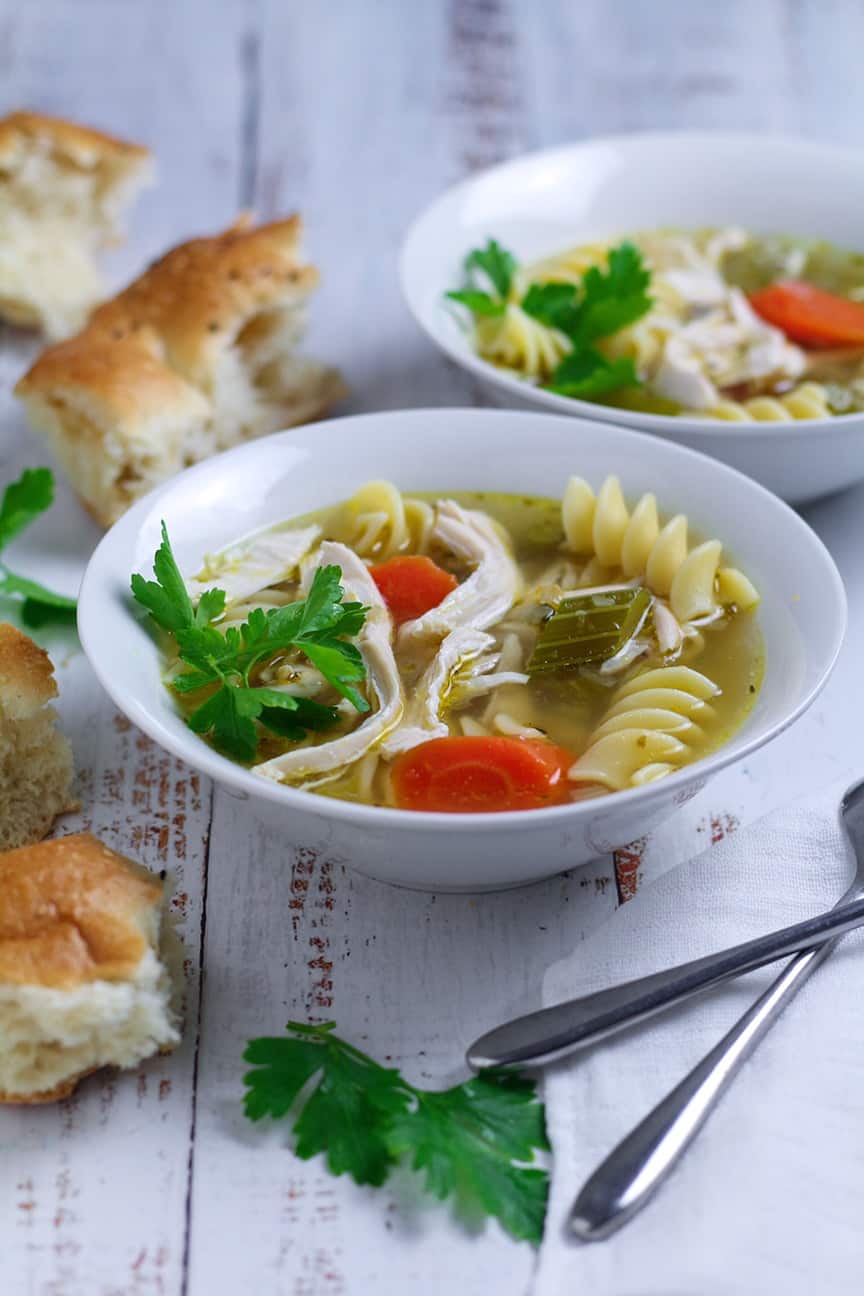 Cutting the vegetables into big chunks means they still have texture and flavour at the end of the cooking time.
CHICKEN AND NOODLE SOUP