As the weather warms up, the idea of spending hours in a hot kitchen becomes increasingly unattractive. When the sun is shining we all want light, quick meals, maximum flavour with minimum fuss so we can get back to enjoying the warmth outside. It's always good to have a few recipes up your sleeve for days when you want a crowd-pleasing meal on the table quickly, and what could be better than Sun-Dried Tomato and Basil Chicken?
This recipe is such a great combination of big summery flavours: basil, tomato, olives, capers, lemon, garlic and fragrant oregano. It's so easy too; Chicken breast is quickly fried until golden, then the creamy sauce is all cooked up in the same pan. And let me tell you, the sauce is so good that everyone will be fighting over the pan at the end.
This is a fantastic recipe for a middle-of-the-week meal, as it's ready in around half an hour from the moment you start to cook. Served with a big loaf of crusty bread to soak up the sauce it's a meal all by itself, though it's worth serving with a big, leafy green salad on the side. If you're not a fan of olives or capers you can leave them out or replace them, just be sure to season generously with salt and pepper to make up for the missing flavour.
I hope it's beautiful and sunny where you are too, take care out there and happy cooking! x J
---
Let me know if you try this recipe in the comments below, or using the hashtag #daysofjay on Instagram. Happy cooking!
---
Sun-Dried Tomato and Basil Chicken
Bursting with fabulous Mediterranean flavours, Sun-dried Tomato and Basil Chicken is the perfect one-pan meal. Quick to prepare and cook, maximum flavour, minimum effort, what are you waiting for?
Ingredients
4 chicken breasts, 150-200g ea.
2 Tbsp butter
1 Tbsp olive oil
2 cloves garlic, finely diced
1 tsp dried oregano
100g semi-dried tomatoes, diced (see notes)
100g green olives, torn in half
100ml white wine
200ml cream
125ml hot chicken stock, made from cubes or powder is fine
zest of 1 small lemon
small bunch of fresh basil
1 Tbsp capers
sea salt and black pepper
to serve:
baguette or other crusty bread
optional:
1 tsp cornflour / cornstarch (see notes)
Instructions
Lay the chicken breasts between two sheets of clingfilm or baking parchment. Use a rolling pin or similar to gently beat the thicker end of the breasts so that they are an even thickness. You are not trying to turn the chicken breasts into schnitzel, levelling the chicken breasts will help them to cook evenly. Season generously with salt and pepper.

Heat the butter and olive oil in a large, heavy-based frying pan until the butter is melted and foaming. Lay the chicken breasts in the pan and cook, without moving them, for 5 minutes. Turn the chicken breasts and cook a further 5 minutes, then transfer to a plate, cover loosely with foil and keep warm.

Add the garlic, oregano, tomatoes and olives to the pan and cook, stirring, for 2 minutes. Pour the white wine into the pan and use a wooden spatula to scrape up all the browned on flavour. Simmer for 1 minute, then pour in the cream and chicken stock. Stir through the lemon zest, then add the chicken breasts and any resting juices back to the pan.

Bring the liquid to a simmer, then turn the heat to medium and cook gently for 5 minutes until the sauce has thickened slightly. Taste and correct seasoning if necessary. Scatter over the basil and capers, then divide between 4 warm plates and serve with a crusty baguette or good quality bread to soak up all the sauce.
Notes
1. Sun-dried tomatoes come in a range from very moist and soft, to desert dry and hard. The sun-dried tomatoes I use here are the kind that come in a jar, covered in oil, rather than the extra-dry, chewy kind.

2. If you prefer a thicker sauce, mix 1 tsp of cornflour / cornstarch with 1 Tbsp of cold water and add the pan along with the wine and cream.
Nutrition Information:
Yield:

4
Serving Size:

1
Amount Per Serving:
Calories:

775
Total Fat:

38g
Saturated Fat:

18g
Trans Fat:

1g
Unsaturated Fat:

17g
Cholesterol:

175mg
Sodium:

1233mg
Carbohydrates:

54g
Fiber:

4g
Sugar:

8g
Protein:

50g
Nutrition information is calculated automatically and isn't always accurate.
Disclosure: Some of the links on this website are affiliate links,
meaning, at no additional cost to you, I will earn a commission if you click through and make a purchase.
---
FREQUENTLY ASKED QUESTIONS
Can I double this recipe?
Yes! You need to make two changes. You need to cook the chicken in batches, unless you have a seriously gigantic pan, otherwise it will steam rather than browning. You'll also need to reduce the creamy sauce for 5 minutes before adding the chicken back to the pan and continuing as in the recipe. Don't cook the chicken for longer in the sauce as it will toughen, if you need a thicker sauce, use cornstarch as suggested in the notes.
I'm in Australia and the only chicken breasts they sell are GIGANTIC! What can I do?
When I am in Australia I trim the chicken breasts down to 200g each and I save all the trimmings for a nice chicken salad or stir-fry.
Can I freeze Sundried Tomato and Basil Chicken?
Meals with cream in them can split a little after defrosting. It can be frozen but it might not look quite so beautiful. The meal can be refrigerated after cooking for up to 3 days.
---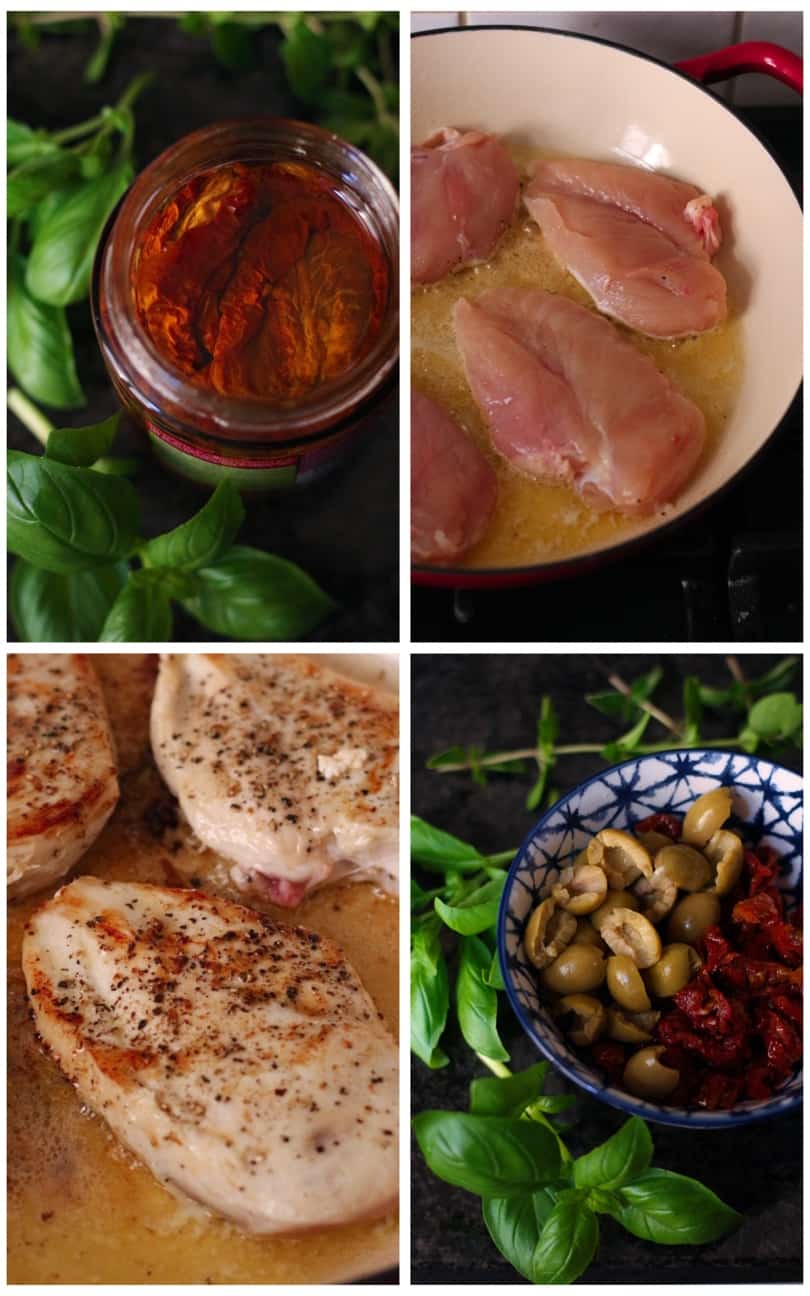 Make sure to get plenty of colour on the chicken breasts, that way there's lots of flavour.
I like to use green olives in this recipe, but Kalamata olives would be delicious too!
SUN-DRIED TOMATO AND BASIL CHICKEN