The sun is shining, the sky is brilliantly blue and the fields are full of waving green grass that has sprung up seemingly overnight. The bowl of strawberries on the kitchen table is filling the kitchen with the sweet smell of summer. Juicy and succulent, they are the perfect topping for a delicious Gluten-Free Chocolate Cake along with clouds of creamy mascarpone.
Mother's Day is just around the corner, and if you are lucky enough to be able to visit your mum this year, this could be the perfect cake to bring along. My mum is a long way from us down in New Zealand, so it will have to wait until her next visit! (Sorry Mum!) This cake is also quick and easy to make, no mixer or machinery required.
This cake is very dense and chocolatey. It's good enjoyed just as is with a dusting of cocoa powder or icing sugar, but I think the combination of sweet summer berries, luscious mascarpone cheese and chocolate can't be beaten. Mascarpone can be hard to come by, so if you can't get any, whipped cream or thick Greek-style yoghurt would be delicious too.
Wishing all the mothers out there a happy Mother's Day on Sunday and to all the rest of you, happy baking! xJ
---
---
FREQUENTLY ASKED QUESTIONS
Can I use other nuts than almonds to make this Gluten-Free Chocolate cake?
Yes! Hazelnuts will work as well.
Can I make this Gluten-Free Chocolate Cake in advance?
Definitely! Allow to cool, then store in an airtight container for up to 3 days. It will get better as time goes on! Decorate before serving.
What can I use instead of mascarpone?
You can top this Gluten-Free Chocolate Cake with anything you like! Chocolate ganache, whipped cream, greek yoghurt and tonnes of berries would be wonderful.
---
USE THE SWEETEST, MOST FRAGRANT SUMMER STRAWBERRIES YOU CAN FIND.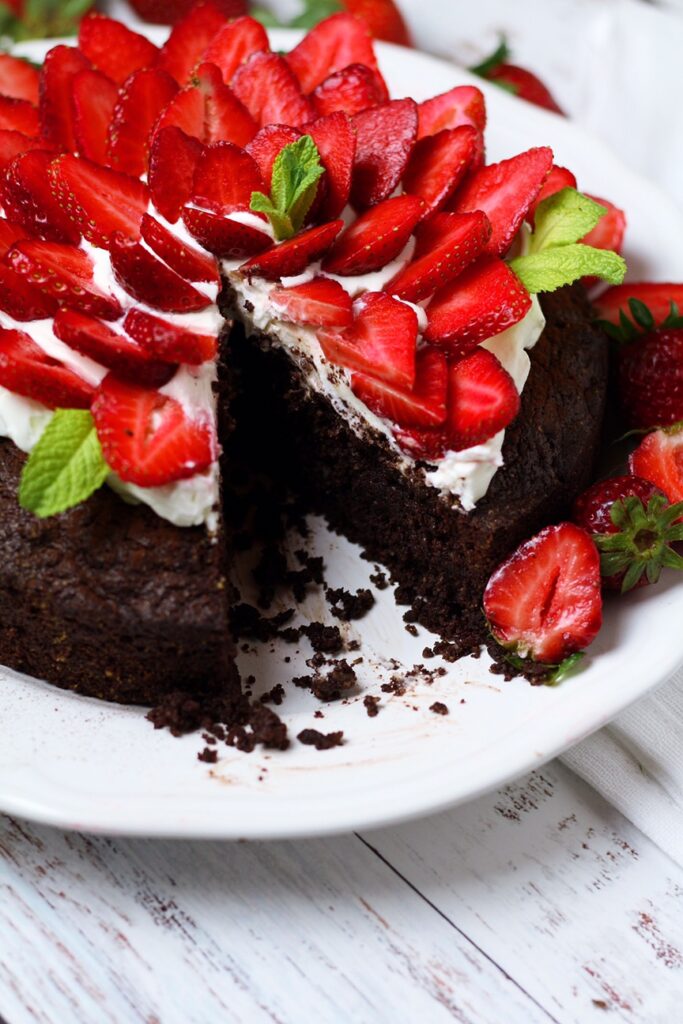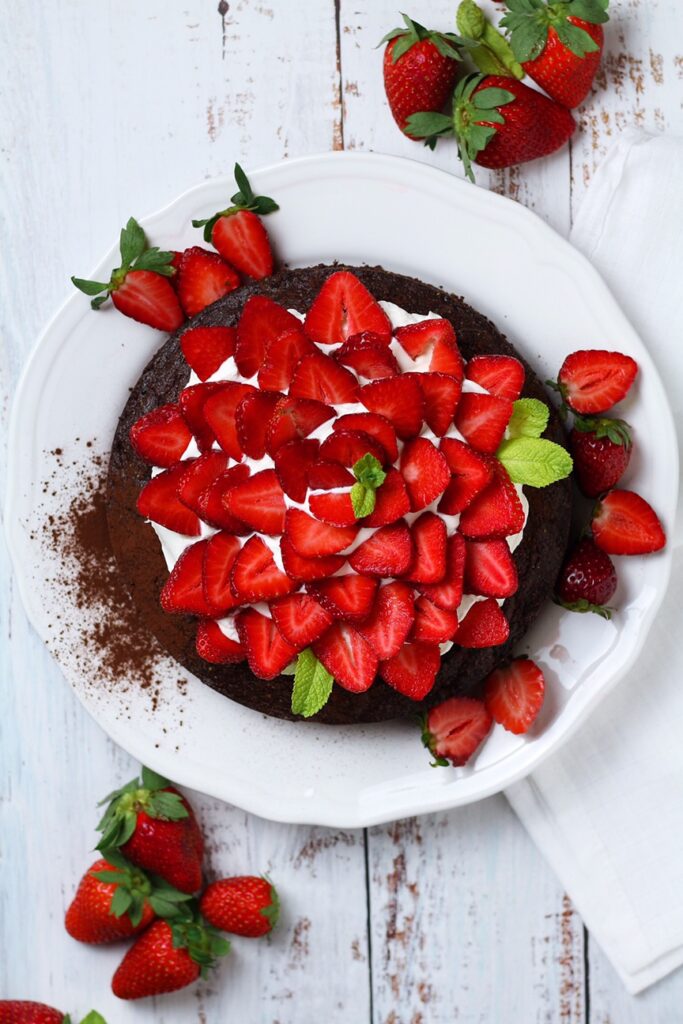 GLUTEN-FREE CHOCOLATE CAKE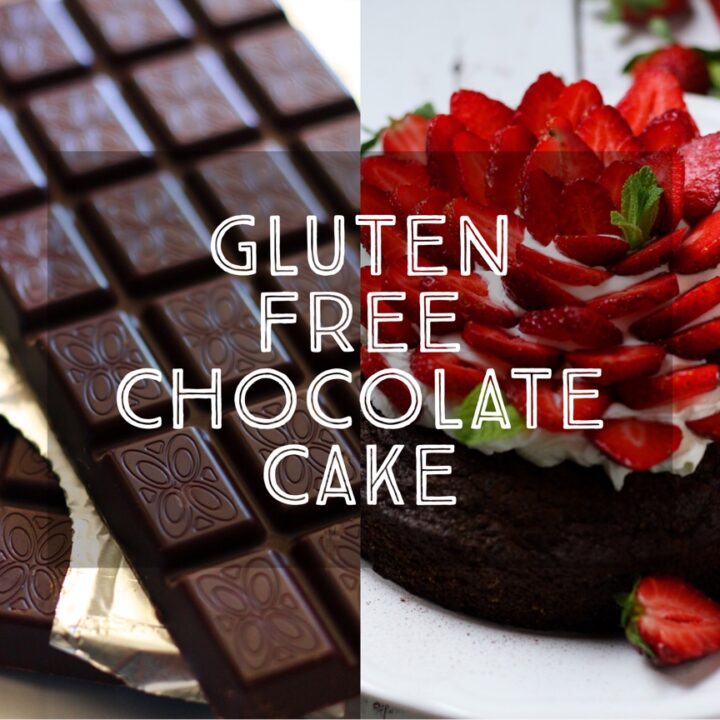 Gluten-Free Chocolate Cake
Try this delicious gluten-free chocolate cake recipe. Made with dark chocolate and ground almonds it's topped with sweetened mascarpone and fresh summer strawberries. Perfect for a party or to spoil your mum for Mother's Day!
Ingredients
for the cake:
200 g dark chocolate, 70% cocoa solids
125 g unsalted butter, cubed
150 g sugar
3 large eggs, at room temperature
1 tsp vanilla extract
200 g ground almonds
25 g unsweetened cocoa powder
½ tsp baking powder, most brands are gluten-free
pinch of salt
for the topping:
2 Tbsp unsweetened cocoa powder
200 g mascarpone
3-4 Tbsp natural yoghurt
2 Tbsp icing / powdered sugar
200 g strawberries
Instructions
Heat oven to 180°C / 350°F / Gas 4. Grease and line the base and sides of a 20cm / 8 in. springform cake tin with baking paper.
Break up the chocolate into small pieces. Place in a heatproof bowl with the butter and heat over simmering water, stirring occasionally until melted. Make sure the base of the bowl is not touching the water.
Remove from the heat, then beat in the sugar, eggs and vanilla until well combined. The mixture may look a little curdled, but don't worry, it will be fine in the end.
In a separate bowl whisk together the almonds, cocoa, baking powder and salt, then fold them gently but thoroughly through the chocolate mixture.
Use a spatula to help scrape all the cake mixture into the prepared tin, use a spoon to smooth the surface then give the tin a little shake to even it out. Bake in the lower third of the preheated oven for 40-45 minutes until a skewer inserted into the centre of the cake comes out clean, or perhaps with a few crumbs clinging to it.
Allow to cool in the tin for 15 minutes before gently loosening the sides. Cool for a further 15 minutes before removing the base.
When the cake is completely cool, dust with cocoa. Stir together the mascarpone and yoghurt until you have a whipped cream consistency, then and top the cake with a pile of cream and the strawberries.
To make the strawberry flower on top, hull the strawberries, then cut into 5mm / 0.2 in. slices. Arrange the strawberries pointed side up in circles, starting from the outside and working your way in.
Nutrition Information:
Yield:

12
Serving Size:

1 grams
Amount Per Serving:
Calories:

494
Total Fat:

34g
Saturated Fat:

15g
Trans Fat:

0g
Unsaturated Fat:

16g
Cholesterol:

93mg
Sodium:

226mg
Carbohydrates:

41g
Fiber:

5g
Sugar:

31g
Protein:

9g
If you enjoyed this recipe, please leave a star rating in the recipe card and share it using the buttons below so that others can find it too!
---
Looking for more chocolate recipes? Why not try: