Finally it seems summer has arrived in Munich! Long sunny days, relaxed evenings with friends and loved ones under the spreading chestnut trees, lots of barbecues and long walks along the Isar, it is the time of year when this very outdoor city really shines. It's a little known fact outside of Germany that you can actually bring your own food along to most of Munich's wonderful beer gardens, and I love nothing more than unpacking a huge picnic spread, washed down with plenty of fresh local beer and wine.
After just such an evening, I routinely have loads of leftover baguette or bread rolls (anyone who has eaten at my house knows I have a mortal fear of under catering) and what better use for yesterday's bread and the avalanche of sweet, juicy, ripe tomatoes that the summer brings, than to combine them into a glorious panzanella salad.
While this recipe is decidedly not traditional, it was given to me by my Aunt Peggi who is a wonderful cook, and is routinely the most popular dish on the table at any given barbecue! Garlicky toasted bread, tomatoes, salami, bunches of fresh basil, salty parmesan and of course, lashings of olive oil mean this is a salad that packs a huge flavour punch – best of all, it makes use of that stale bread that so often just gets wasted by being chucked out.
You'll find recipes like this and many more in my cookbook 'Simply Summer' available here from my website, or from Amazon and other online retailers.
Let me know if you try this recipe in the comments below, or using the hashtag #daysofjay on Instagram. Happy cooking!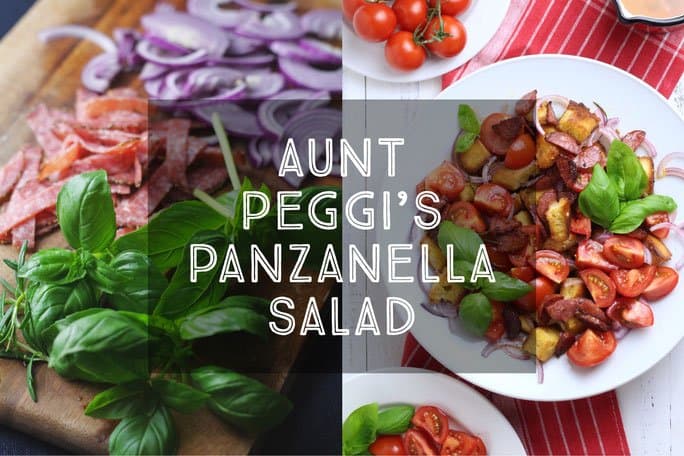 Aunt Peggi's Panzanella Salad
A glorious summer salad based on the Tuscan original. Make sure to use extra ripe and juicy tomatoes for the best flavour!
Ingredients
500

g

ripe tomatoes

1

tsp

sea salt

200-300

g

day old baguette, ciabatta or similar

3

Tbsp

olive oil

100

g

spicy Italian salami (or chorizo)

2

sprigs

fresh rosemary

1

red onion

1

bunch

basil
for the dressing:
2

Tbsp

red wine vinegar

1

tsp

mustard

1

tsp

sugar

100

ml

olive oil

salt & pepper
to serve:
plenty of shaved Parmesan cheese
Instructions
Heat the oven to 220°C / 425°F / Gas 7, and line an oven tray with baking paper.

Cut the tomatoes into bite sized pieces, put into a colander set over a bowl to catch the juices, stir through the sea salt and allow to drain for 10-15 minutes, stirring occasionally.

Tear, or cut the baguette/ciabatta into bite sized cubes and place onto the prepared tray. Stir the crushed garlic into the olive oil, then drizzle the oil mixture all over the bread, tossing well with your hands to ensure the bread is coated. Bake in the preheated oven for 8-10 minutes until golden brown and aromatic.

Cut the salami into thick slices, then fry together with the rosemary leaves in a little oil for 2-3 minutes until golden and starting to crisp. Drain on a plate lined with paper towel. Peel, halve and slice the onion finely and tear the basil leaves in half, then set aside while you make the dressing.

To make the dressing, whisk together the juice from the tomatoes, vinegar, mustard, and sugar. Drizzle in the olive oil while whisking, then season to taste, going gentle on the salt as the salami has plenty.

To serve, toss the toasted bread with the tomatoes, salami, and onion, pour over the dressing and mix well to combine. Let sit for 10 minutes before tossing again, scatter over the basil and parmesan just before serving.
No stale bread? No problem, as the bread is toasted you can go ahead and use fresh.
As this recipe uses plenty, make sure you use an olive oil that you like the flavour of. I prefer milder, mellower olive oils rather than a very herby, grassy extra virgin oil as I find it overpowers the flavour of the tomatoes, but use what you like and enjoy.
Meat free? Easy. Just leave out the salami!